PSP 'fully supports' FTAs but refuses to withdraw claim that Ceca gives Indian PMEs unfettered entry to Singapore
SINGAPORE — Following testy exchanges with Cabinet ministers lasting more than an hour, parliamentarians from the Progress Singapore Party (PSP) said that the party "fully supports" free trade agreements as a necessity for Singapore. However, they stopped short of supporting the Comprehensive Economic Cooperation Agreement (Ceca) between Singapore and India.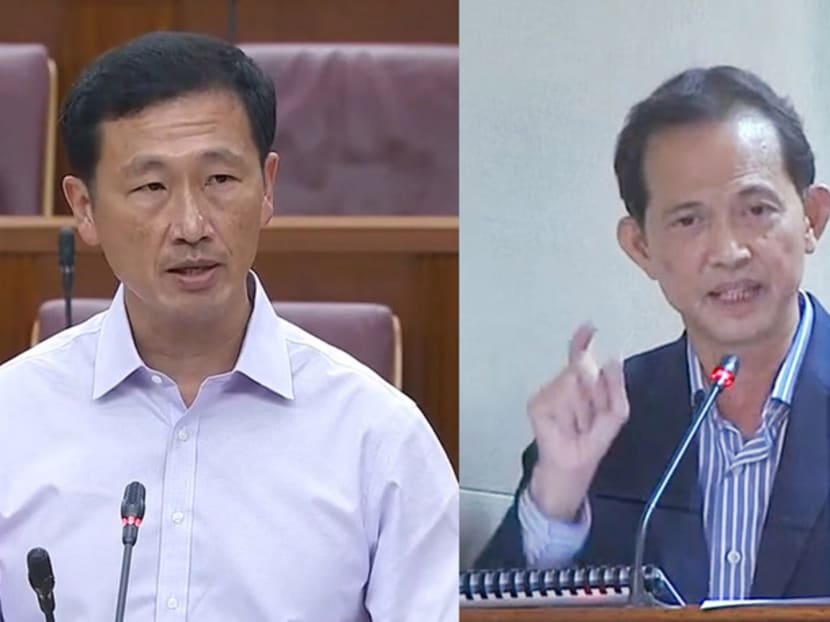 For more than an hour, PSP's Leong Mun Wai sparred with PAP ministers over Ceca
The testy exchanges came after the ministers spoke about the importance of free trade agreements such as Ceca to Singapore
PSP had previously made several statements that Ceca allowed 127 categories of Indian professionals to freely enter and work here
However, Health Minister Ong Ye Kung clarified that Singapore's immigration measures are exempted from Ceca
PSP did not walk back its past statements and said it still needed to study Ceca
SINGAPORE — Following testy exchanges with Cabinet ministers lasting more than an hour, parliamentarians from the Progress Singapore Party (PSP) said that the party "fully supports" free trade agreements as a necessity for Singapore. However, they stopped short of supporting the Comprehensive Economic Cooperation Agreement (Ceca) between Singapore and India.
Mr Leong Mun Wai and Ms Hazel Poa, the opposition party's two Non-Constituency Members of Parliament (NCMPs), eventually conceded as well that the movement of people under Ceca was not used "as a bargaining chip" during trade negotiations, though they did not unequivocally withdraw their claim that Ceca allowed the unfettered entry of certain Indian professionals here.
Their positions on Ceca and free trade agreements were spelt out in Parliament on Tuesday (July 6) after Health Minister Ong Ye Kung, a former trade negotiator, pressed the two opposition members to clarify their party's stance.
Mr Ong said: "Mr Leong is waffling — yes (or) no, it's quite hard to catch. If you are not withdrawing your allegations, then so be it.
"It is regrettable because generations of free trade agreement negotiators worked very hard to make sure our interests are protected," Mr Ong who is from the ruling People's Action Party (PAP) said.
"(A free trade agreement) is not a backdoor, it is not an avenue for any professional from any country to enter Singapore with a free hand."
The exchanges followed two ministerial statements by Mr Ong and Manpower Minister  Tan See Leng on the impact of globalisation, the role of trade deals and the approach that Singapore has taken. 
Ms Poa of PSP initially sought clarification on why Mr Ong said that her party had made "false allegations" about Ceca.
Mr Ong, in his ministerial statement, noted that PSP had repeatedly alleged that Ceca gave Indian professionals "a free hand" to work in Singapore and that this was a false statement.
She also asked about a clause in Ceca's Chapter 9, which states that Singapore or India "shall grant temporary entry and stay" to professionals. Ms Poa wanted to know if Singapore is "obliged" to approve the entry application if they met the conditions.
Responding, Mr Ong cited a number of past statements from PSP members, including one from former PSP secretary-general Tan Cheng Bock in August 2019, which asserted that Ceca "allowed the free movement of professionals in 127 sectors to enter and work in Singapore".
The former PSP chief had also given an interview in July last year, when he said that there were 127 categories of professionals "who come to Singapore and be given that free hand actually — practically free hand — to come and work here".
Regarding Chapter 9, Mr Ong told the House that there are "carve-outs" — exceptions within trade deals that cover sensitive areas such as taxation, national security and immigration.
Therefore, while Indian professionals may apply for employment passes, Singapore is not obliged to approve them and may still reject such applications.
These exceptions come at the beginning of the chapter, Mr Ong said.
He later said that such a question from Ms Poa was fair since she was not a trade negotiator and he thought that PAP and PSP might have some "common ground" for a future debate on Ceca.
However, upon hearing Mr Leong's response to his call for the PSP NCMPs to state whether it would walk back its claims, Mr Ong said he realised that he had been wrong to make such an assumption about common ground.
Mr Leong had probed the ministers on a number of issues, stating in the beginning that "we are not against free trade agreements" and that the party was concerned about "what price (Singapore) is paying" for the trade deal.
Among other questions, Mr Leong asked about the bargaining positions that Singapore had taken when negotiating such deals, how many India nationals entered Singapore to take up professional, managerial and executive (PME) jobs, jobs in information technology and finance, and the number of Singaporean workers displaced in all.
Mr Leong also criticised the foreign manpower policies of the Ministry of Manpower (MOM) for being "quite relaxed" when granting entry to foreigners, the education system for not producing enough Singaporean talents, and the PAP Government for not introducing anti-discrimination policies such as the Fair Consideration Framework earlier when it began its "foreign talent policy" 20 years ago.
"If you look at the way MOM has administered and regulated the flow of foreign PMEs into Singapore, you'll find that the policies… have a bit of tightening at a time, but generally it seems to be too little and too late," he said.
At one point, Speaker of Parliament Tan Chuan-Jin interjected to ask Mr Leong to keep his questions meaningful since some of what he asked had already been covered in the ministerial statements.
Mr Ong said in response to Mr Leong that Singapore had been very successful over the years in building its economy and in job creation, growing its hub status across many sectors.
"All of these would not have been possible if we had not ridden on the wave of globalisation, welcomed foreign talent and given our own people very good training and education to rise up and (have their) pick of positions," Mr Ong said.
The only problem is that there are not enough Singaporeans, he said, reiterating a point he made in his ministerial statement.
Mr Ong added that while manpower policies may work for a period of time, they are constantly being reviewed and may be adjusted due to changing circumstances.
"You can't say, because we implement something new now to respond to the situation, therefore we have failed. 'Why didn't you do it five years ago' — it doesn't work like that," he said.
Responding to Mr Leong's questions,  Manpower Minister Tan See Leng said that he "struggled" to follow Mr Leong's line of reasoning.
Explaining the context of Singapore's economic growth over the years, Dr Tan said that every 10 to 15 years in history has seen fairly dramatic transformation in its core industries.
"I think it's inconceivable that we would expect that policies that you would enact do not get refined… do not get adjusted over time," Dr Tan said.
"Every single initiative, every single policy we can always do better. The point is this — we are not that far off."
Asked again to clarify PSP's stance on free trade agreements and its misunderstanding that Ceca allows the free flow of Indian PMEs into Singapore, Mr Leong said that he has not yet decided on Ceca as a whole, though he is reassured that Singaporean's jobs and livelihoods had not been used as a bargaining chip.
"Whether Ceca has contributed to the overall influx of nationals from the country, I think we need to study a bit more, because we have to go back and look at the numbers provided by two ministers," Mr Leong said.
Mr Ong took this to mean that PSP acknowledges that free trade agreements, including Ceca, are fundamental to Singapore's economic survival and that Ceca does not allow unfettered access of Indian professionals into Singapore.
"I would say this is quite good common ground, but it must also mean that PSP will take back the allegations."
Mr Leong then clarified that this was a misinterpretation, repeating that PSP fully supports the propositions that these trade deals are for the good of Singapore and that the movement of people was not used as a bargaining chip.
"We don't agree that Ceca is net beneficial to Singapore at this stage."
Following this, Deputy Prime Minister Heng Swee Keat, who was the chief negotiator for Ceca, said that he was disturbed by how the PSP had taken this approach.
"I want to put on record clearly that the movement of natural persons is a very important chapter, but it was not used as a bargaining chip to trade for what else we got," Mr Heng said.
He urged Mr Leong to rethink his stance on Ceca, adding that he would better serve Singaporeans if he helped to encourage them to learn new skills and supported the unions in raising the abilities of Singaporeans to compete globally.
Closing out the debate, Mr Ong said he felt somewhat sad that PSP ultimately did not withdraw its allegations, given that the opposition party had heard factual explanations about Chapter 9 and how Ceca was negotiated.
Taking back their false claims would allow future discussions to ponder legitimate questions arising from free trade agreements such as employment policies and how Singapore can better protect, educate, and train workers.
"I couldn't hear a definitive position from Mr Leong or Ms Poa," Mr Ong said. "They waffled a bit, and then they cannot conclude either way now whether Ceca is for better or for worse for our workers. Either way, the honourable thing is to withdraw the allegations while you figure out which way you want to lean.
"But I don't think we saw what was logical or honourable."