Singapore didn't back down on Ceca terms despite India's demands, says DPM Heng who was pact's chief negotiator
SINGAPORE — In ironing out a free trade agreement with India, Deputy Prime Minister Heng Swee Keat, who was Singapore's chief negotiator at the time before he joined politics, recounted that he did not give in to the tough and "most intriguing" demands made by the other country in order to secure Singapore's end of the bargain.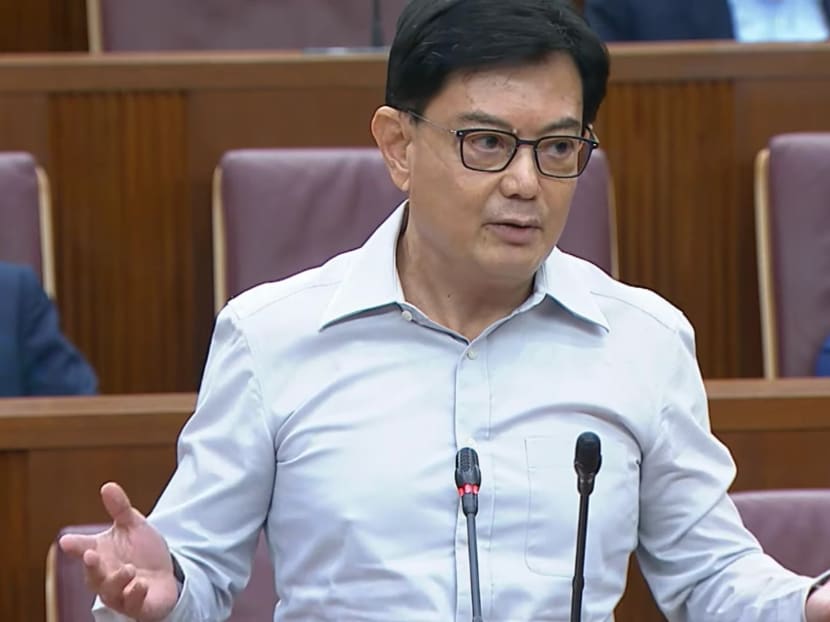 DPM Heng Swee Keat recounted his experience in handling Ceca talks with Indian counterpart before it was finalised
He said Singapore got what it needed from the free trade deal and did not agree to all demands
The Government did not use immigration as a bargaining chip when negotiating the terms, he added
Leader of Opposition Pritam Singh said the Government could have released information on Indian immigrants earlier to quell doubts 
Other MPs asked for stronger enforcement measures against companies that have discriminatory hiring practices
SINGAPORE — In ironing out a free trade agreement with India, Deputy Prime Minister Heng Swee Keat, who was Singapore's chief negotiator at the time before he joined politics, recounted that he did not give in to the tough and "most intriguing" demands made by the other country in order to secure Singapore's end of the bargain.
Mr Heng, who said that he did not plan on speaking in Parliament during Tuesday's (July 6) debate on the India-Singapore Comprehensive Economic Cooperation Agreement (Ceca), eventually rose to set "on record" what had transpired, seeing how it was a point of contention between Health Minister Ong Ye Kung and Non-Constituency Member of Parliament Leong Mun Wai. 
In particular, DPM Heng honed in on the hotly debated Chapter 9 in Ceca on the movement of natural persons, which lays out the criteria and procedures that would facilitate the entry of Singaporeans and Indians into either countries for the purposes of business and work. 
Looking in Mr Leong's direction, Mr Heng, who is also Coordinating Minister for Economic Policies, stated unequivocally: "I want to put on record clearly that the movement of natural persons is a very important chapter, but it was not used as a bargaining chip to trade for what else we got. It was not."
Mr Heng, who joined politics in 2011 as education minister, said that he had started working on free trade negotiations with Mr George Yeo, then trade and industry minister, in the early 2000s.
Mr Heng became the chief trade negotiator for Ceca when he was in the Ministry of Trade and Industry as a permanent secretary and he said that he spent three years negotiating with his Indian counterpart on Ceca, which later concluded in 2005.
"Although I was a permanent secretary and perm secs... don't 'get into the trenches', the India side decided that it was an important agreement and it would have a perm sec, so minister George Yeo said, 'Well, we have no choice'. So I ended up being the chief negotiator for Ceca.
"And I can tell you the amount of homework I had to do, to look at how we can come to an agreement. I went to every part of India because there were objections from every part of India — from business groups to states — and I can share with you… some of the most intriguing demands, which I managed to explain why we can't (agree to them)."
He added: "The chapter on the movement of natural persons was indeed one that the negotiators in India were very keen on and they said, 'What do we get?'. Well, I said, 'No, because this is of great importance to Singapore. You have a population that is over a billion'.
"Singapore had a population of, at that time, probably about three million or so. And I said, 'We would be easily swamped. So, we must have very strict agreements on this'."
Mr Heng also revealed that Chapter 9 was among the last chapters to complete during talks and was one of two chapters that were the most difficult to conclude. 
"For (these), I never let go (on our terms). And we got what we needed," he added. 
Mr Heng re-emphasised what Mr Ong said about the importance of free trade to Singapore and added: "Trade is more than three times our gross domestic product and will continue to be so."
Mr Ong said in his ministerial statement in the earlier part of the debate that there is no provision in the agreement that implies that Singapore must unconditionally let in professionals, managers and executives from India.  
He also said that the Government's ability to regulate immigration and foreign manpower is not affected by Ceca.
Mr Leong, who is from the Progress Singapore Party, then pressed Mr Ong on whether the chapter had been used as a bargaining chip during trade negotiations with India. Mr Ong replied in the negative, a point echoed later by DPM Heng.
Joining in the debate, Leader of the Opposition Pritam Singh pointed out that parliamentary questions relating to population figures of India nationals have been asked a number of times in the past, but the Government did not release figures until recently. 
"If this information had been made known earlier, it does occur to me whether a lot of the misunderstanding and reaction we see on Ceca could have been addressed and nipped in the bud. 
"I hope the Government understands that with more information, we can hold the line better in terms of some of these discussions moving into the realm of xenophobia and so forth," Mr Singh said. 
In response, Mr Ong agreed with Mr Singh that information can quell falsehoods much earlier. 
"Some information is better to come out early and then we can move on. Especially, as you said, when it concerns issues like racism and xenophobia, it's much better to quell it early," Mr Ong added. 
CALLS FOR STRICTER ENFORCEMENT
Some of the MPs, including Mr Patrick Tay from West Coast Group Representation Constituency (GRC), Mr Louis Ng from Nee Soon GRC and Mr Singh asked if the Ministry of Manpower (MOM) will consider imposing stronger enforcement measures against companies that have discriminatory hiring practices.
In particular, Mr Ng asked if the authorities will consider legislating the Tripartite Guidelines on Fair Employment, which sets out fair employment practices for adoption by employers.
Mr Singh also asked if MOM has any plans to introduce anti-discrimination legislation here.
In his reply to Mr Ng and Mr Singh, Manpower Minister Tan See Leng said that the Government is looking into refining and strengthening not only the guidelines, but the Tripartite Alliance for Fair and Progressive Employment (Tafep) as well.
Tafep was set up in 2006 by the tripartite partners of MOM, National Trades Union Congress and Singapore National Employers Federation to promote the adoption of fair, responsible and progressive employment practices.
On the topic of anti-discrimination legislation, Dr Tan said: "One of the assurance I want to give the House (and) everyone who has raised (the issue) and is concerned about it is to allow myself, together with the team and tripartite partners to go deep, to look at the different implications, look at also the various options we have to see how we can strengthen it."
Separately, Nominated Members of Parliament Janet Ang and Hoon Hian Teck told the House in their speeches why they believe free trade agreements remain important to Singapore's economy.
Professor Hoon, who is also the dean of Singapore Management University's School of Economics, pointed out that Singapore's rise in living standards over the past decades is in part due to the steady inflow of foreign direct investment, which he said has brought technology and good jobs.
Though he acknowledged that the stiffer competition from foreign labour may result in some domestic firms crashing out, he said that overall, productivity levels have risen due to globalisation. 
Similarly, Ms Ang said that businesses here have benefited greatly from free trade deals because they are a "key tool" for them to expand into new markets, which is necessary given Singapore's small domestic market.
She added that many businesses have been able to "ride the storm of Covid-19" because they are plugged into a wide network of free trade agreements.
In response to the ministerial statements, Mr Lam Yi Young, chief executive officer of the Singapore Business Federation, said in a statement to the media that foreign manpower is an "integral part of our workforce and the vast majority of businesses are committed to recruiting fairly based on merit".
He added that Singapore's limited domestic market makes it imperative that the country remains open and connected to the world, and to therefore be a champion for free trade.
"Our vision for Singapore's workforce is one where diversity is celebrated and individuals are respected, trained and developed on an equal opportunity basis," he said. 
"Even as businesses remain pro-Singaporean and consider Singaporeans first for their hiring needs, we cannot afford to be anti-foreigner or to artificially limit jobs to Singaporeans only."