Public housing to be built on part of Dover Forest; rest to be kept as nature park for now: Desmond Lee
SINGAPORE — Months after Singaporeans hotly debated the preservation of forests here, the Housing and Development Board (HDB) announced early on Friday (July 30) morning that it will be using about one-third of the Dover Forest in Ulu Pandan for public housing in line with the nation's long-term master plan.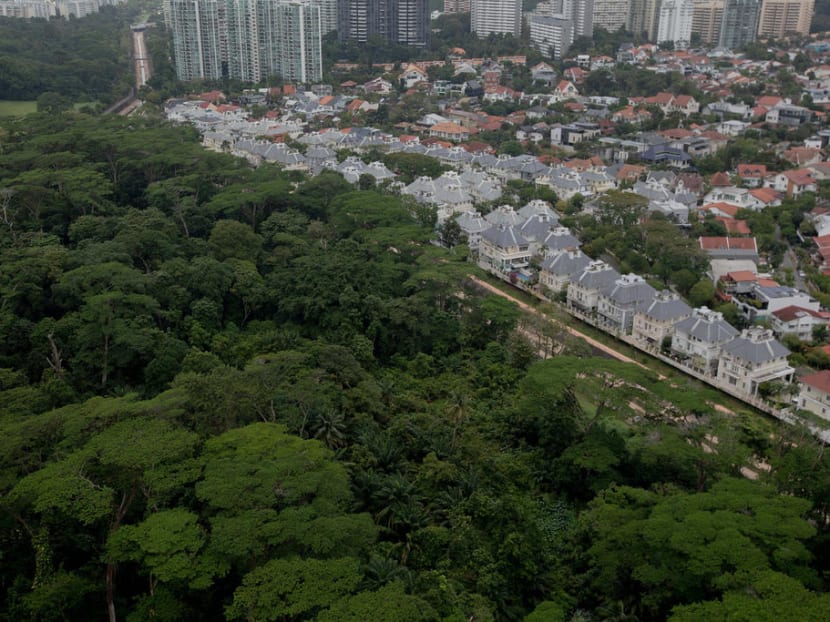 The eastern portion of the 33ha Dover Forest will be used for a roughly 11ha car-lite, public housing estate from the second half of 2022
The western portion, rich in biodiversity, will be retained for a "sizeable" nature park
The nature park will serve as a stepping-stone habitat for wildlife travelling between Clementi Forest and the Southern Ridges along a new Clementi Nature Corridor
National Development Minister Desmond Lee said there is an increasing demand for housing, particularly in mature estates such as Ulu Pandan
SINGAPORE — Months after Singaporeans hotly debated the preservation of forests here, the Housing and Development Board (HDB) announced early on Friday (July 30) morning that it will be using about one-third of the Dover Forest in Ulu Pandan for public housing in line with the nation's long-term master plan.
About 11 hectares of the eastern side of the forest — between Ghim Moh Link and Dover MRT Station — will be developed for a car-lite, public housing estate nestled in greenery with a stream running through it. The first of the housing projects is expected to launch from the second half of 2022.
The remaining western portion of the forest will be set aside for a "sizable" nature park, though HDB said that government agencies will revisit plans for the area in about 2030 after taking into consideration Singapore's land use needs at the time.
The forest is about 33-ha and has been zoned for residential development under the Urban Redevelopment Authority's Master Plan since 2003. It was once home to rubber plantations, fruit orchards and kampungs (villages), which were abandoned in the 1980s. After that, the area became overgrown with non-native vegetation.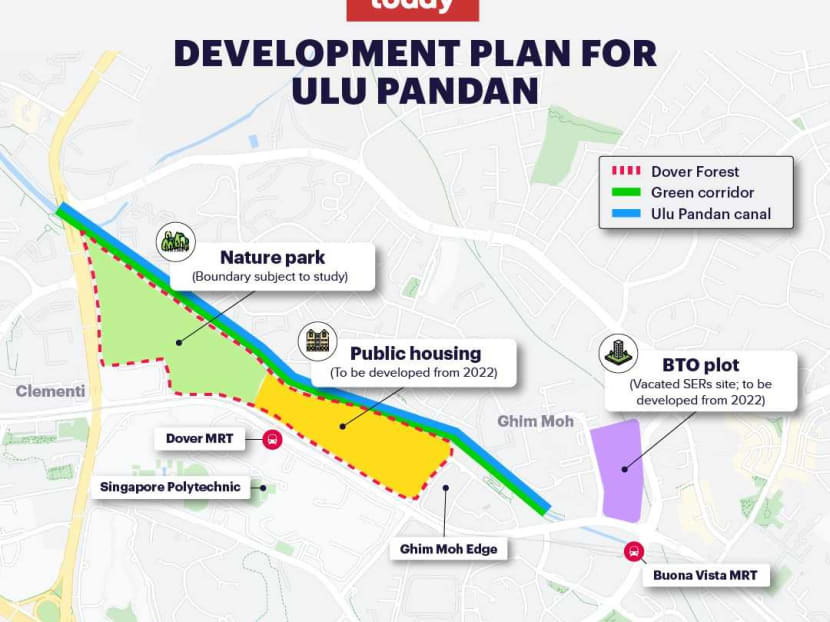 The area was also the subject of an environmental baseline study conducted by HDB, which found that Dover Forest is home to at least 158 species of animals — including critically endangered ones — and 120 plant species.
HDB also said that a former Selective En bloc Redevelopment Scheme (Sers) site — bounded by Commonwealth Avenue West, Ghim Moh Road and North Buona Vista Road — will be developed for a new Build-To-Order (BTO) estate from 2022 as well.
It said that it is the only brownfield site, or previously developed land, immediately available within the area, so there is a need to utilise parts of Dover Forest for housing.
In response to TODAY's queries, HDB said that since May this year, it has been announcing details such as the exact locations within a town, flat types and the number of dwelling units of individual projects only one quarter ahead of the project's scheduled BTO launch.
However, given the public interest over the areas such as the one in question, it decided to make known the housing plans for the Ulu Pandan area at this time.
"This is to assure the public that in meeting the housing demand, depending on the timing and quantity of projected housing supply required in a particular year, we do look first at available brownfield sites within the vicinity for development," it said.
Late last year, several online petitions were launched to save Singapore's forests, such as the Dover Forest, from development.
Views from about 1,800 Singaporeans, including nearby residents, were sought for the possible uses of the forest site during a public consultation exercise held by HDB between last December and March this year.
Feedback received by HDB ranged from suggestions to use part of the forest for homes, to fully retaining the site for greenery and recreation, and there were even questions about whether Singapore needs more housing.
'SIGNIFICANT DEMAND FOR PUBLIC HOUSING'
National Development Minister Desmond Lee said on Wednesday, during a press conference ahead of HDB's announcement, that it was necessary to proceed with development plans in the eastern portion of Dover Forest due to "significant demand for public housing".
To illustrate, he said that the overall number of applications received for each BTO flat increased from 2.3 in 2017 to 5.8 in 2020.
Mr Lee added that there was also a need to meet the aspirations of Singaporeans who want to live near their parents in mature housing estates. Application rates rose from 2.8 times in 2017 to 6.7 times last year for this group.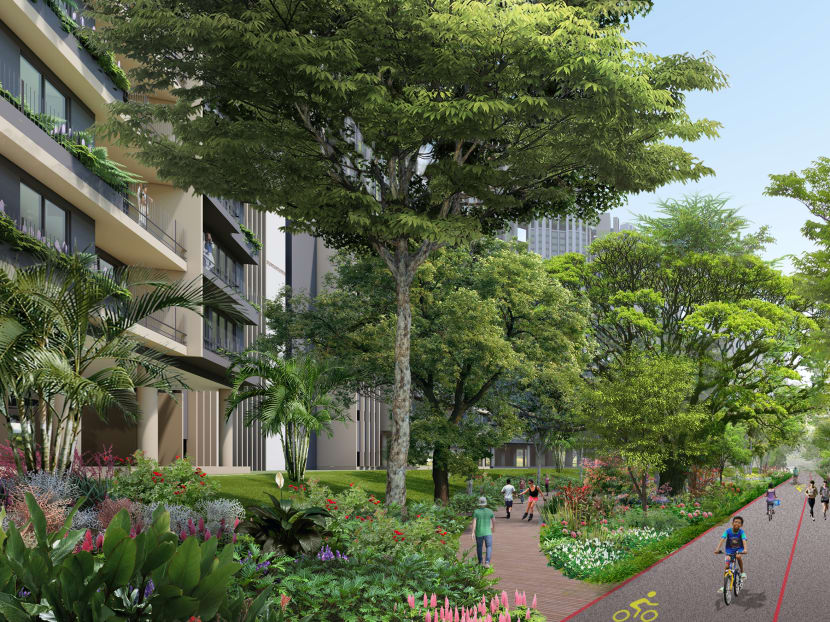 Ulu Pandan is part of the mature estate of Queenstown. The last BTO development in the vicinity, Ghim Moh Edge, was launched in November 2012 and completed in 2017. The project is located beside the eastern half of Dover Forest.
Mr Lee said that Singapore must be "judicious about the use of our limited land", while applying a scientific lens to assist in land use planning.
He acknowledged that there is still a need to be "responsible stewards of our land and natural environment".
The western portion of the forest is richer in biodiversity, he noted, and the authorities will put off their development plans in the medium term and set it aside for a "sizeable" nature park.
HDB said that the environmental baseline study found the western half contained more threatened flora species that provide both sources of food and habitat for animals and these are likely to be native to Singapore.
It also has a higher concentration of large trees of significance such as the critically endangered Ficus viren — a form of fig tree.
While the boundaries of this western portion of the Ulu Pandan site are still being studied, it will serve as a "stepping-stone" habitat for wildlife between Clementi Forest and the Southern Ridges, the National Parks Board (NParks) said. The board is working with HDB on this aspect of the project.
The Southern Ridges, which stretch for about 10km, connects Mount Faber Park, Telok Blangah Hill Park, HortPark, Kent Ridge Park and Labrador Nature Reserve.
The land use for the western portion will be revisited in about a decade's time, Mr Lee said. "In 10 years, many things will change. Maybe other parcels (will be) available for use and land availability."
The eastern portion, in comparison, consists of non-native species of trees. Still, efforts will be made to develop it "sensitively", he added.
HDB is proposing to conserve 5ha of greenery on the eastern portion, which comprises an existing natural stream, and along the Ulu Pandan Canal, which will be naturalised.
HDB also announced that it will be establishing a green corridor, up to 40m wide in places, along the canal to allow for the movement of wildlife such as the Grey Heron and Asian Softshell Turtle along Sungei Ulu Pandan.
CLEMENTI NATURE CORRIDOR
Separately, NParks announced on Friday that it will be launching the Clementi Nature Corridor to provide an ecological connection between the Bukit Timah Nature Reserve and the Southern Ridges.
NParks said that the corridor — which comprises forested sites in Clementi, Maju, Toh Tuck and the Rail Corridor — was identified as part of an island-wide ecological profiling exercise to better understand vegetated or forested areas in Singapore.
Work to identify areas where flora and fauna can thrive, along with connectivity routes within the corridor will continue, so that ecological connectivity can be maintained even if development takes place in the area in future, NParks said.
At present, there are no immediate development plans for Maju and Toh Tuck, while there are no immediate housing plans for Clementi.
NParks added that it will be forming a ground-led initiative, called Friends of Ulu Pandan, to strengthen the area's ecological resilience through forest restoration and habitat enhancement works.