Raeesah Khan's lie: A timeline of events leading up to the findings of Parliament's privileges committee
SINGAPORE — Parliament's Committee of Privileges on Thursday (Feb 10) released its findings on former Workers' Party (WP) Member of Parliament (MP) Raeesah Khan's conduct after she confessed to lying in the House last year.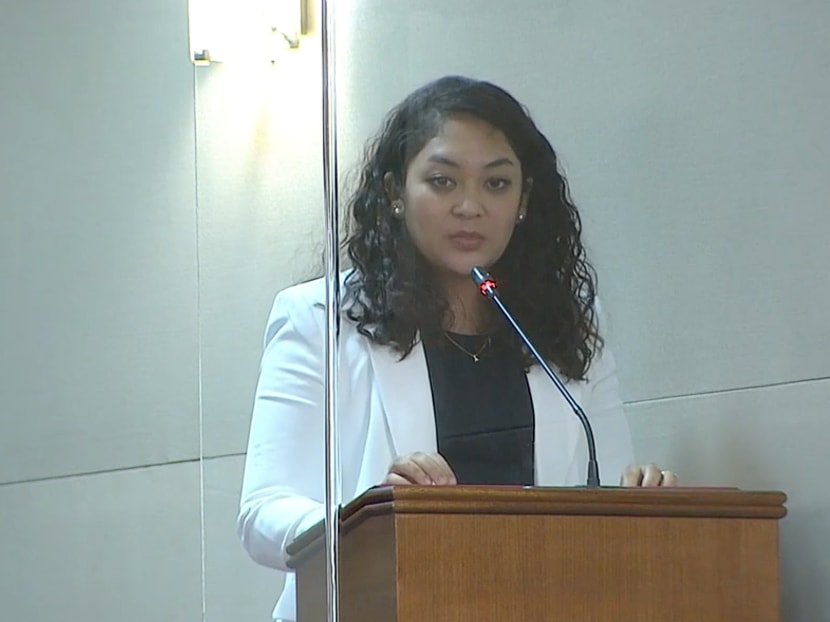 Former Workers' Party MP Raeesah Khan made a false claim in Parliament in August 2021 and a committee was tasked to look into her conduct
Since then, Ms Raeesah has resigned and the committee has released six reports outlining testimonies from witnesses involved
The following is a timeline of events that led to the findings by the committee released on Feb 10, 2022
SINGAPORE — Parliament's Committee of Privileges on Thursday (Feb 10) released its findings on former Workers' Party (WP) Member of Parliament (MP) Raeesah Khan's conduct after she confessed to lying in the House last year.
The committee recommended that Ms Khan be fined S$35,000 for her actions.
It also recommended that WP secretary-general Pritam Singh and vice-chairman Faisal Manap be referred to the Public Prosecutor, who will consider whether criminal proceedings should be launched against them. This concerns Mr Singh's conduct before the committee and Mr Faisal's possible contempt of Parliament.
Ms Khan was referred to the committee in November last year after she admitted to misleading Parliament over a claim that she accompanied a victim of sexual assault to a police station, where the victim was treated insensitively.
This did not happen.
She later said that she was a survivor of a sexual assault and heard about the alleged victim's experience during a women's support group she attended. 
Since then, Ms Raeesah has resigned as MP.
The parliamentary committee — chaired by Speaker of Parliament Tan Chuan-Jin — has released six interim reports outlining testimonies from various witnesses involved in the matter.
Video recordings of the hearings were also made available publicly. 
Some inconsistencies emerged during the hearings. Chief among them was whether WP's leaders, after learning that the anecdote was untrue, had told her to keep mum about the lie.
Ms Raeesah's mental state was also called into question.
A psychiatrist appointed by the committee later cleared her of having mental conditions, including dissociation and post-traumatic stress disorder. Dr Christopher Cheok also testified that she was mentally fit and of sound mind when she made statements in Parliament and during the committee's hearings.
Here's a timeline of the events leading up to  the release of the committee's findings:
Aug 3, 2021: In Parliament, Ms Raeesah delivers a speech, in which she claims that she accompanied a 25-year-old victim of sexual assault to a police station and alleges that the police treated the victim insensitively.
Pressed for details by Minister of State for Home Affairs Desmond Tan, Ms Raeesah replies that the incident happened three years ago and she does not want the victim to have to relive the trauma.
Oct 4: During an exchange in Parliament, Law and Home Affairs Minister K Shanmugam asks Ms Raeesah for details, so that the police can investigate the incident.
Ms Raeesah refuses, saying there are confidentiality concerns.
Oct 20: The police say in a statement that they cannot identify the case. They add that they had reached out to Ms Raeesah for details but have not heard back.
Nov 1: Ms Raeesah confesses to her lie and apologises. She discloses that she was a survivor of sexual assault herself and heard about the alleged victim's experience at the police station during a women's support group session she attended.
In response, Leader of the House Indranee Rajah refers Ms Raeesah's conduct to Parliament's privileges committee.
Later that day, Mr Singh says in a statement that Ms Raeesah should not have given an untruthful account in Parliament and that setting the record straight was "the correct thing to do".
Nov 2: WP forms a disciplinary panel, comprising Mr Singh, Mr Faisal and chairman Sylvia Lim, to look into the matter. 
Nov 3: Associate Professor Daniel Goh, a WP cadre member and former central executive committee member, publicly urges the party's leaders to take responsibility for "allowing this transgression to happen and persist over several months".
Nov 30: WP announces that Ms Raeesah has resigned from the party, effectively vacating her seat as MP.
Dec 1: The Committee of Privileges says it will continue looking into Ms Raeesah's conduct despite her resignation.
Dec 2: WP holds a press conference, where Mr Singh reveals that party leaders knew that Ms Raeesah had lied a week after she delivered the false account on Aug 3. 
Mr Singh says the party did not act on it earlier because he wanted to give her time to talk to her family about the matter and because she had to be the one to correct the untruth in Parliament.
He says that when he vetted Ms Raeesah's Aug 3 speech, he had asked her to substantiate her anecdote. Ms Raeesah would later testify at a privileges committee hearing that she did not understand what Mr Singh meant by "substantiate".
Mr Singh adds that WP will also look into Assoc Prof Goh's public questioning of the party leaders' handling of the case. 
Dec 3: The privileges committee releases its first special report on the case to Parliament. 
It outlines Ms Raeesah's testimony that when she made the confession to Mr Singh, Ms Lim and Mr Faisal on Aug 8, about a week after she mentioned the untruth in the House, they told her that if the party could get away with it, there was no need to clarify it.
Two party members also gave evidence, saying that after the meeting, Ms Raeesah told them that the party leaders had told her to "take the information to the grave".
Dec 6: Former WP MP Yaw Shin Leong, who was expelled from the party in 2012 over allegations of an extramarital affair, refutes a remark by Mr Singh at the Dec 2 press conference that he was dismissed because he did not hold himself accountable to the party and the public.
Mr Yaw says he had "accounted the situation candidly" to the party's leaders then and was "advised to stay silent", an allegation the party would later reject.
Dec 11: The privileges committee releases its second special report containing Mr Faisal's testimony that the party's top three leaders had known for months about the lie but did not reveal it to the rest of WP's leaders or cadres.
He gave more details of what happened at the Aug 8 meeting he had with Ms Raeesah, Mr Singh and Ms Lim.
Mr Faisal said that he had two meetings with Mr Singh and Ms Lim before his hearing with the committee. Asked by the committee, he repeatedly refused to give details of what they discussed despite being told that refusing to answer would constitute contempt of Parliament.
Dec 12: In the privileges committee's third special report, Mr Singh said that he did not speak to Ms Raeesah about the lie for nearly two months after the Aug 8 meeting. 
When they discussed the matter again on Oct 3, he told her that he would not "judge" her, which he said meant that she should "take responsibility and ownership of the issue". 
He denied asking her to take the lie "to the grave" and suggested that Ms Raeesah could have said so to the two party members close to her because she suffers from dissociation, where she talks without thinking.
Dec 14: A fourth report from the committee reveals Ms Lim's testimony that she was frustrated when she heard Ms Raeesah repeat her untruth in Parliament on Oct 4 when questioned by Mr Shanmugam.
Although she and Mr Singh met Ms Raeesah later on Oct 4, Ms Lim said that she did not believe it was possible for Ms Raeesah to correct her false claim the next day in Parliament because WP needed time to craft her clarification.
She provided the committee with notes of an exchange between Mr Singh and Ms Raeesah on Nov 29 at a WP disciplinary panel meeting that recorded Ms Raeesah agreeing she was told "it was (her) call" whether to tell the truth before the October parliamentary session.
Dec 15: Mr Singh appeared before the committee again and testified that the notes were accurate, the committee's fifth report says. 
He maintained that he had not told Ms Raeesah that she could choose whether to admit that she had lied to Parliament, but said that his words could have been interpreted that way.
Dec 22: The committee's sixth special report outlines that it had invited Dr Cheok, the psychiatrist, to testify as a medical expert after Mr Singh suggested that Ms Raeesah suffers from dissociation.
The senior consultant at the Institute of Mental Health assessed that she did not suffer from any significant psychiatric disorder that would impair her ability to speak truthfully.
Ms Raeesah stated again her claim that Mr Singh had told her to take her lie in Parliament "to the grave". 
She said that she had never told the WP disciplinary panel she was suffering from dissociation, but that she may have symptoms of post-traumatic stress disorder.
Feb 10, 2022: The Committee of Privileges releases its findings on Ms Raeesah's conduct.