Residents islandwide to clean their own estates on April 26; town council cleaners to get day off
SINGAPORE — Cleaners working for town councils will be given a day off on April 26 next year to open Singaporeans' eyes to how much trash they throw out in a day.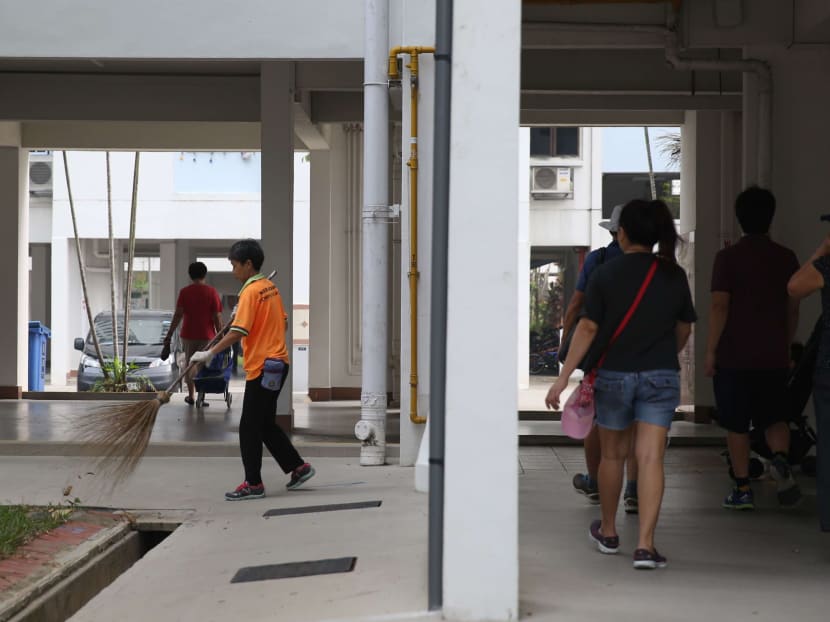 SINGAPORE — Cleaners working for town councils will be given a day off on April 26 next year to open Singaporeans' eyes to how much trash they throw out in a day.
Instead, it will be residents who will have to clean up their own estates themselves.
Called CleanSG Day, it is an initiative by the Public Hygiene Council, which was formed in 2011 to promote good hygiene practices and to improve personal and public hygiene standards in Singapore.
While a similar initiative was launched in certain estates in previous years, this will be the first time that the event will take place islandwide.
Mr Edward D'Silva, chairman of the Public Hygiene Council, told TODAY on Monday (Nov 18) that the council has already received approval from town councils to give their cleaners a day off on April 26 next year, which falls four days after Earth Day.
When asked if there are plans to make this an annual affair, Mr D'Silva said: "Next year is a pilot project and if it is successful, we would like to continue this to help educate the public and promote awareness of the extent of littering.
"We will also see if we can extend it to other public spaces, and maybe encourage private operators (to join the initiative)."
Mr D'Silva added that the pay of cleaners will not be affected by the initiative and that the respective town councils will inform their cleaners of when to return to work.
Town councils are responsible for the upkeep of public housing estates and to provide essential public services to residents, including the cleaning and maintenance of common areas in the estates such as void decks and lifts.  
The initiative was first reported on Sunday by environmental news website Eco-Business, which had cited unnamed sources and stated that the details were being worked out, including the exact date and whether cleaners would still get paid.
Speaking to TODAY, Mr D'Silva said that many residents are unaware that "an army of cleaners" clear their estates as early as 5am every day.
"The whole objective of this exercise is primarily to show to the bulk of heartland residents in Housing and Development Board flats, for them to see what will happen (when litter is not cleared)," Mr D'Silva said.
"We want to show our residents the amount of litter that they unwittingly throw. When they wake up in the morning, hopefully they will see a different amount of litter around the public spaces."
He said that the Public Hygiene Council was in talks with various residents' committees and community clubs to form groups to clean up the estates. It was also encouraging voluntary welfare organisations to conduct litter-picking in the afternoon of April 26.
The council is still firming up the details for CleanSG Day and will provide more information in due course.
The Public Hygiene Council's annual month-long campaign, Keep Clean, Singapore!, will also be launched on the same day by Mr Masagos Zulkifli, Environment and Water Resources Minister, at Our Tampines Hub, Mr D'Silva said.
The campaign is to encourage groups and individuals to clean up public spaces.
LITTERBUG PROBLEM RETURNING TO THE SPOTLIGHT
The CleanSG Day initiative comes as high-rise littering made a return to the spotlight earlier this year.
In September, Ms Lee Bee Wah, Member of Parliament for Nee Soon Group Representation Constituency, raised the issue of high-rise littering and referring to an incident of used sanitary pads being thrown from one of the flats in her constituency.
Ms Lee's Nee Soon South ward has been one of several to take part in previous anti-litter campaigns. Since 2012, about 200 residents from her constituency have been coming together each month to pick up litter.
Once a year since 2013, Nee Soon South residents has been cleaning up the entire constituency themselves. Cleaning in public areas would stop for 24 hours before the exercise. The weight of rubbish collected has gone down from over 1,000kg in 2013 to around 200kg in this year's exercise.
Miss Goh Pei Jin, a digital marketing specialist, said that giving cleaners a day off is "amazing", especially if it will let people see the effects of their littering.
The 20-year-old, who lives in Chua Chu Kang, said that she would consider signing up as a volunteer on the day. "I do believe it's good that people get to try to do their part in cleaning up our country."
However, she questioned the extent of its impact because those volunteering in clean-up groups are likely to be those who are already concerned about the issue of waste in Singapore.
Another resident, Mr Sivakumar, who wanted to be known only by his first name, said that the initiative was unlikely to have its desired effect since it was for just one day. He suggested that it be held on a monthly basis instead.
The 30-year-old communications executive, who lives in Bishan, added that instead of conducting this exercise in residential estates, the effect may be more visible in areas with high foot traffic such as tourist spots.