Singapore abstains from vote to suspend Russia from UN human rights body
SINGAPORE/NEW YORK CITY — Singapore on Thursday (April 7) abstained from a vote to suspend Russia from the United Nations (UN) Human Rights Council.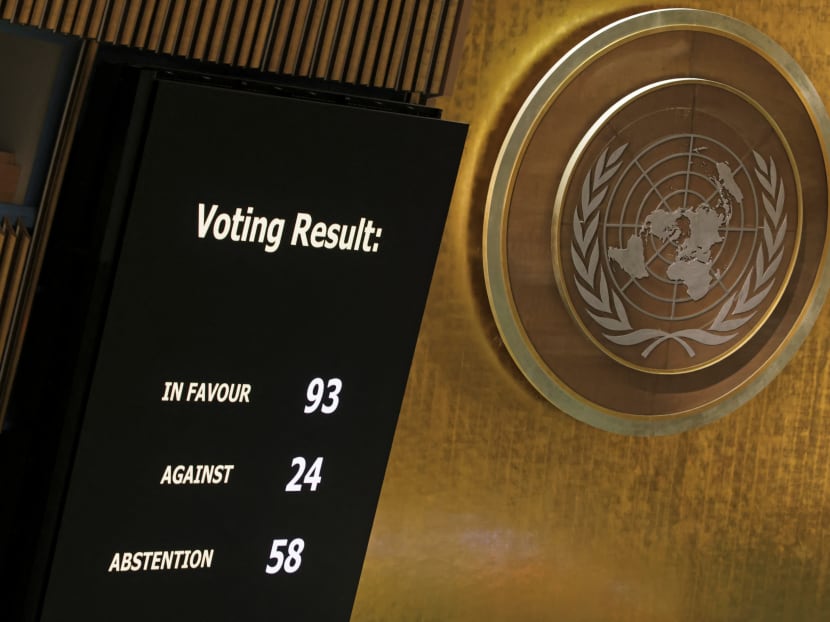 The United Nations General Assembly voted to suspend Russia from the Human Rights Council over reports of "gross and systematic violations and abuses of human rights" in Ukraine
Singapore, which abstained from the vote, continued to condemn Russia's invasion
Singapore's representative said the country was awaiting findings of an Independent International Commission of Inquiry
The commission is investigating alleged human rights violations in Ukraine
SINGAPORE/NEW YORK CITY — Singapore on Thursday (April 7) abstained from a vote to suspend Russia from the United Nations (UN) Human Rights Council.
Russia was eventually suspended from the council following a vote in the UN General Assembly where 93 countries voted in favour of the suspension, 24 countries voted against it and 58 countries, including Singapore, abstained. 
The push to suspend Russia was led by the United States over reports of "gross and systematic violations and abuses of human rights" in Ukraine.
Singapore chose to abstain from voting even though it voted in favour of two separate resolutions last month condemning Russia's invasion of Ukraine, as well as co-sponsored a resolution on the "situation of human rights in Ukraine stemming from the Russian aggression" tabled by Ukraine.
At the UN General Assembly Emergency Special Session held at the UN headquarters in New York City, Ms Jophie Tang, Singapore's deputy permanent representative to the UN, said that the country is "gravely concerned and distressed" by latest reports and images from Bucha and other Ukrainian towns and urged the "full and urgent" implementation of the earlier resolutions.
Ms Tang condemned Russia's invasion but said that Singapore was awaiting the completion of the work and the findings of an Independent International Commission of Inquiry. The commission was set up to investigate all alleged violations of abuses of human rights in Ukraine.
"There must be accountability for any gross and systematic human rights violations that have taken place in the conflict in Ukraine," she said.
"We urge all parties to cooperate with the commission and allow full and unhindered access for the commission to gather evidence and conduct its work."
Ms Tang added that no effort must be spared to protect the civilian population in Ukraine and ensure safe and unhindered humanitarian access to all those in need.
"We continue to call on the Russian Federation to cease its offensive military operation immediately, to remain engaged in meaningful negotiations with Ukraine, and to work towards a peaceful settlement in accordance with the UN Charter and international law." 
In response to media queries, an MFA spokesperson said the Republic said the inquiry commission was mandated by a UN resolution that was adopted on March 4.
"Singapore was a co-sponsor of this Human Rights Council resolution," said the ministry spokesperson.
"We reiterate our full support for the sovereignty, political independence, and territorial integrity of Ukraine," MFA added, reiterating that Singapore's position on the issue has been "clear and consistent" from the beginning of the Ukraine-Russia conflict.
"Our abstention on this particular resolution is consistent with our longstanding and steadfast support for the rules-based multilateral system and the due application of its mechanisms," said the spokesperson.
Following the suspension, Russia announced that it was quitting the body.
A two-thirds majority of voting members in the 193-member General Assembly in New York — abstentions do not count — was needed to suspend Russia from the 47-member Geneva-based Human Rights Council.
Mr Bilahari Kausikan, former permanent secretary at Singapore's Ministry of Foreign Affairs (MFA), told TODAY that the country's decision to abstain its vote is aligned with its foreign policy.
"Singapore always abstains on country-specific human rights resolutions and is generally not enthusiastic about excluding member states from UN bodies as the UN is a universal international organisation," he said. 
When asked about Russia's move to quit the body, he described it as a "face-saving move".
However, he finds it "hard to envisage restoration of Russia's membership as long as it is in Ukraine and Putin is in charge". Other countries that abstained included Cambodia, Indonesia, Malaysia and Thailand.
China, North Korea, Russia and Vietnam were among those that voted against the suspension.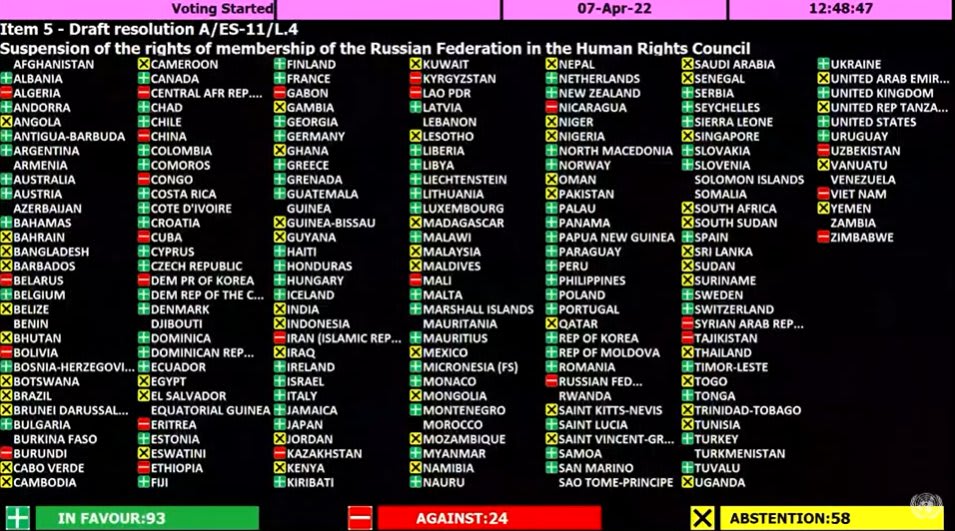 Singapore earlier announced sanctions against Russia for its invasion of Ukraine, including export controls on items that can be used as weapons to inflict harm or subjugate the Ukrainians.
Speaking to the Singapore media last Friday at the end of his working visit to the United States, Prime Minister Lee Hsien Loong said that the country did not pick sides but chose to uphold principles in its decision to impose sanctions.
"You have to take a stand; you have to have the courage to do this," Mr Lee said. "Because if you do not do this and do not stand up, where will you stand if one day you need help? And you say, 'Please come, fundamental principles are at stake'.
"We have to protect that principle," he stressed.
Russia has been saying that it is carrying out a "special military operation" that aims to destroy Ukraine's military infrastructure and denies attacking civilians. 
Ukraine and allies has been saying that Moscow invaded without provocation.
Russia had warned countries that a "yes" vote or abstention will be viewed as an "unfriendly gesture" with consequences for bilateral ties, based on a note seen by Reuters. WITH AGENCIES
ADDITIONAL REPORTING BY KIMBERLY LIM