How much is enough? Social workers and financial experts weigh in on meeting seniors' basic needs
SINGAPORE — Social workers interviewed said it is hard to determine how much senior citizens living alone require in order to meet basic standards of living, although some financial consultants said the figure would have to be much higher than S$1,379 in order to take into account healthcare needs.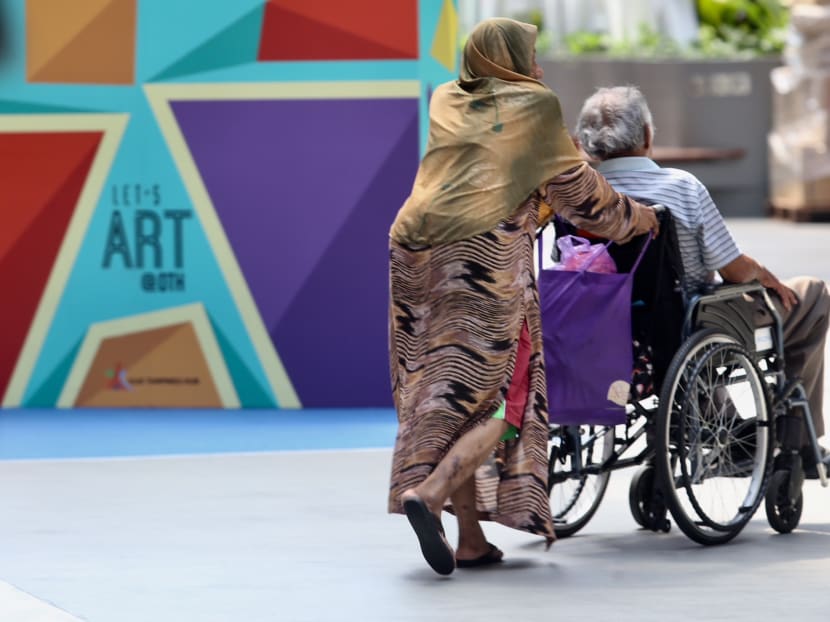 SINGAPORE — Social workers interviewed said it is hard to determine how much senior citizens living alone require in order to meet basic standards of living, although some financial consultants said the figure would have to be higher than S$1,379 in order to take into account healthcare needs. 
Commenting on a recent high profile study, the social workers nevertheless noted that seniors whom they work with currently do not have the means to meet basic needs on their own, while the financial consultants pointed out that senior citizens will have to deal with various health conditions, which in turn might require them to take more medication and supplements, and rely more on taxis to get around.
Last week, a study by a team of university researchers showed that a Singaporean senior citizen aged 65 and above and living alone needs about S$1,379 a month to meet basic standards of living. Those aged between 55 and 64 need S$1,721, while couples aged 65 and older need S$2,351 a month.
These figures, however, do not account for the costs of treatment for chronic conditions and major illness.
TODAY has reached out to the relevant government agencies for comments on the study.
The findings, published last Wednesday (May 22), have generated much debate, with financial consultants telling TODAY that a more realistic budget would be at least S$2,000.
While healthcare is kept affordable for Singaporeans through heavy government subsidies, the experts said that medical costs not covered by the subsidies should be factored in, given that it is common for seniors to develop illnesses as they age.
Due to their physical immobility, they would also require more taxi trips to travel for medical appointments.
Mr Dhananjaya Reddy Eswaravaka, the director of wealth advisory for financial advisory firm Financial Alliance, said frequent visits to the polyclinic could mean an additional S$50 to S$100 a month.
Apart from medicine, the elderly also require supplements, such as vitamins.
The budget developed by the team of researchers, led by Assistant Professor Ng Kok Hoe from the National University of Singapore's Lee Kuan Yew School of Public Policy, is for "very basic living", Mr Dhananjaya said.
Executive financial consultant Damian Pang agrees. While S$1,379 is "manageable" for an average older person who is healthy and has a simple lifestyle, it affords "little financial margins or buffer for simple pleasures, sudden needs or unforeseen changes".
According to Mr Dhananjaya, his clients receive about S$800 to S$1,000 a month from their Central Provident Fund (CPF) payouts.
Methodist Welfare Services, a voluntary welfare organisation that primarily serves the bottom 10 per cent of the household income group, said "a large percentage" of its clients will not be able to meet the monthly budget of S$1,379 due to a "lack of financial means or physical abilities".
For social worker Anne Chew, being able to have income sources that add up to more than S$1,000 a month would be a "luxury" for many older clients she serves.
As many of them were low-wage workers before they retired, their CPF payouts average to about S$200 to S$300 every month, she added.
A public financial assistance scheme such as the ComCare Long-Term Assistance provides S$600 a month on average, for those who are eligible.
According to Ms Chew, S$600 would usually last seniors on public assistance three weeks, and they have to "scrimp and save" for the last week while waiting for their next payout. 
For senior citizens who are working, many of them are in low-wage jobs such as cleaners, which pay a monthly income of about S$800, the social workers said. 
Mr Dhananjaya noted that the seniors' children also have their own financial obligations and responsibilities.
Social worker Jessica Vincent added: "The expectation that children will always take care of their elderly parents is not reality. How many adult working children can give S$1,379 to their parents every month?"
BASIC NEEDS INCLUDE 'SOCIAL NEEDS'
Financial consultants and social workers acknowledge difficulties in coming up with a definitive sum that older Singaporeans minimally need.
That is because what is deemed adequate also depends on an individual's lifestyle, desires, spending habits and needs.
"For example, if I spent my whole life visiting this doctor who knows all about my medical conditions, must I suddenly visit the polyclinic? If I have been used to taking certain medication or eating organic food, must I switch to cheaper alternatives or change my diet?" said Mr Pang.
A "mindset shift" on how Singapore as a society defines what is "basic living" is needed, said Ms Vincent.
"Going for holidays, supplements… is living, not extravagant expenditure. It's just basic quality of life, and that costs money," she added.
"It doesn't mean that once I reach 60 years old, I become a different person; I stay at home and eat porridge and face the four walls."
According to Dr Jamie Phang of Methodist Welfare Services, a large number of seniors cannot afford to have their social needs met. 
"We have observed the seniors we serve at the senior activity centres 'rationing' on social participation opportunities in order to meet 'survival' needs such as healthcare expenses," she said.
For example, they might choose to stay at home, instead of visiting friends or relatives, as that would mean having to spend on transport or meals.
While there are calls from government agencies for seniors to continue to be active and contribute to society as they age, Ms Vincent said that such expectations require them to spend money.
While financial assistance is available, only those who are in chronic conditions or are at the "very low end" of the income spectrum would qualify, noted social workers.
For example, Ms Vincent pointed out that seniors who have cable television or Internet connectivity at home would not qualify for financial assistance, even though they may be struggling to get by.
"If we don't believe in handouts, we have to believe in higher salaries or lower costs of living," she said.