21 HDB blocks in Redhill Close to house healthy essential foreign workers relocated from dorms
SINGAPORE — A number of foreign workers are now housed in eight blocks along Redhill Close, with another 13 blocks in the estate in the midst of being refurbished to resettle more.
SINGAPORE — A number of foreign workers are now housed in eight blocks along Redhill Close, with another 13 blocks in the estate in the midst of being refurbished to resettle more.
The National Development Ministry said in response to media queries that there is an urgent need to house foreign workers who are healthy and working in essential services away from the foreign worker dormitories. This is so that they can continue to deliver essential services, in areas like cleaning and facilities management.
The moving of these foreign workers into the 3-room flats in these blocks will be done progressively, as its refurbishment completes in the next few weeks.
"We will continue to monitor the situation and activate other locations if needed, to provide alternative accommodation for workers," read the statement.
These Housing and Development Board (HDB) blocks at Redhill had earlier undergone the Selective En bloc Redevelopment Scheme, a programme which involved the redevelopment of older housing estates by relocating the residents there to newer ones.
The 878 units in the estate had been empty for over a year after being vacated by the previous owners.
Mr Sam Tan, the Member of Parliament for the area, had issued residents a circular telling them that works to refurbish these blocks to provide temporary housing for foreign workers have begun.
He said the Government is taking a precautionary step to house "healthy essential workers" separately from those quarantined in dormitories.
"This will keep them safe from the disease, which will in turn keep us safe when they are working in our midst," he said.
WORKERS SATISFIED WITH FOOD, TOILET CLEANLINESS
When TODAY went down to the estate on Wednesday (April 8), the eight blocks housing the foreign workers were barricaded with security guards manning the entrances. Policemen were seen walking the grounds.
Due to the barricades surrounding the blocks, this reporter was not able to conduct proper interviews with the foreign workers who lived there. She could only shout her questions across the barricades to the foreign workers who were standing around. 
The workers told this reporter that they moved in on Tuesday from Acacia Lodge at Bukit Batok and would have to be isolated for two weeks.
During these two weeks, they would not be able to leave the cordoned area but food would be delivered to them three times a day.
When asked what kind of food they have received, two foreign workers said it was "Chinese food". Their meals contained rice, chicken and fruit, and they seemed satisfied with it.
When asked whether the toilets were clean, the workers replied in the affirmative.
The workers also seemed generally satisfied with their living conditions, saying all is "okay".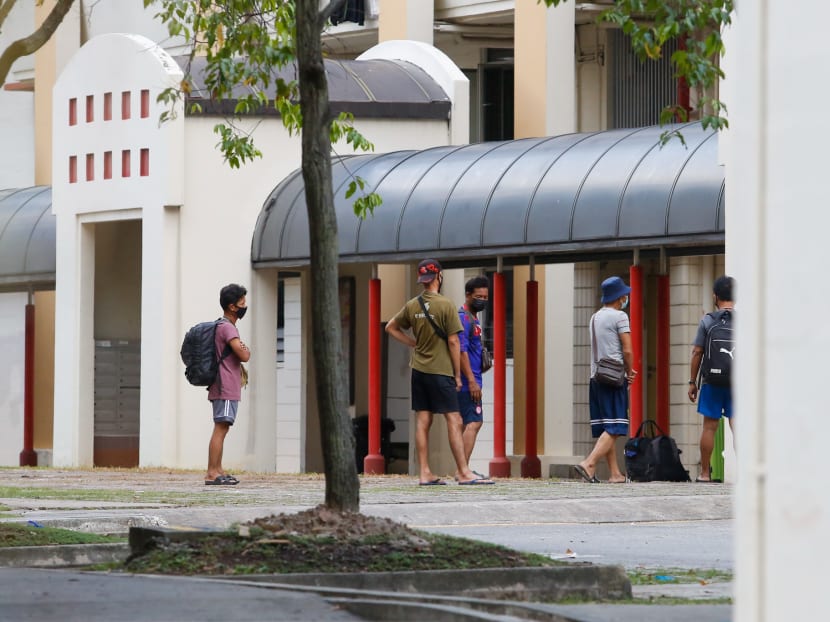 However, Singapore residents living around Redhill Close were a little concerned with the prospect of a large group of foreign workers living near them.
Ms Jenny Mak, 52, pointed out that the estate has a relatively large elderly population, who might be more vulnerable to getting serious complications from Covid-19 infection.
Ms Melissa Azmi, another resident in the estate, echoed similar sentiments, adding that she would have no issue if the foreign workers were kept behind the barricades.
"I have my grandfather at home and my mother. My son is three years old. I'm just concerned. Even though they house healthy foreign workers here, we will never know right?" said the 32-year-old, who works in the food and beverage sector.
An elderly resident who gave his name as Mr Woo said he would have a peace of mind if there could be a way of guaranteeing that the foreign workers housed at Redhill Close are free from Covid-19. An example could be medical proof from the Singapore General Hospital, suggested the 82-year-old retiree.
"I'm not saying they have the disease. But if the Government can provide proof that they went through some health checks, there would be some peace of mind," he said.
TODAY has sent queries to the Manpower Ministry.
The movement of some foreign workers to these blocks came after Manpower Minister Josephine Teo said on Sunday that foreign workers in essential services living in dormitories would be moved out and housed separately.
The number of Covid-19 cases in foreign worker dormitories has escalated quickly in the last few days, with the S11 Dormitory @ Punggol being the biggest cluster at 114 cases as of Wednesday.
Eight other dormitories across the island have also emerged as clusters.