Some NSmen clock longer ICT cycle to care for 1,800 Covid-19 patients at Singapore Expo
SINGAPORE — Dr Gabriel Cheong, 44, is no stranger to split-second decisions and life-and-death situations as a resident emergency physician at Mount Elizabeth Novena Hospital.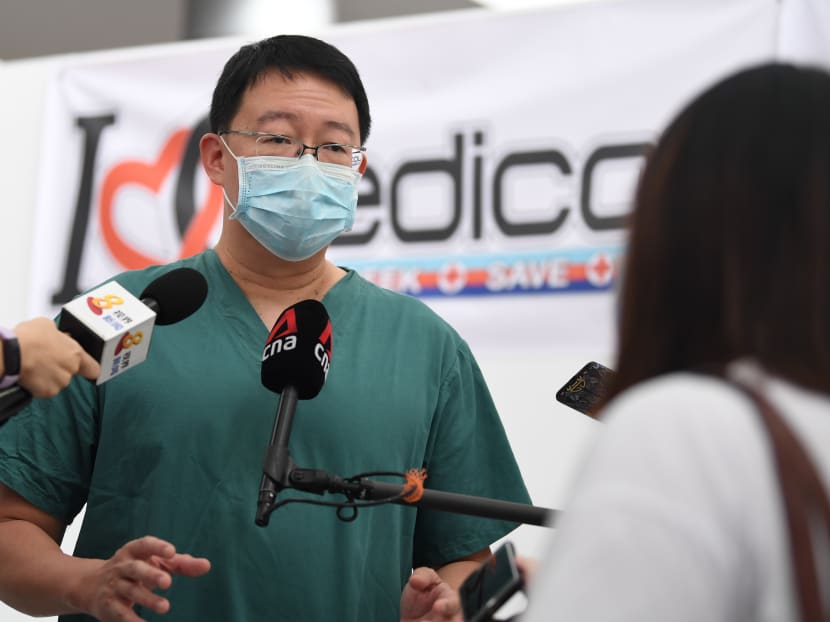 SINGAPORE — Dr Gabriel Cheong, 44, is no stranger to split-second decisions and life-and-death situations as a resident emergency physician at Mount Elizabeth Novena Hospital.
But for the last fortnight, Dr Cheong has been doing his in-camp training (ICT) as part of a team caring for 1,800 Covid-19 patients at an isolation facility at the Singapore Expo Convention and Exhibition Centre.
Operationally ready national servicemen (NSmen) typically serve their ICT for two weeks at a time. But Dr Cheong, who is commanding officer of the 2nd Combat Support Hospital under the Army Medical Services, told reporters on Thursday (April 30) that he, along with some other reserve soldiers, would be serving a longer cycle to care for patients.
"Most of my men are coming in for slightly longer than a normal ICT cycle. They are here for about 20 to 21 days, because we have to spend time training and preparing them, making sure they are safe before we can bring them into this environment." 
Dr Cheong, who holds the rank of Lieutenant-Colonel (National Service), is one of around 100 crew from the Singapore Armed Forces (SAF) Medical Corps who have been deployed to the Expo community care facility, which began operations on April 10.
The facility houses patients with mild symptoms or those on the road to recovery and thus do not require extensive medical intervention. 
The SAF has been providing medical support to patients in Halls Five and Six since last Wednesday. Woodlands Health Campus, under the National Healthcare Group, and healthcare provider Parkway Pantai, are offering medical support in Halls One to Four.
In all, 10 halls at the Expo are being converted into temporary isolation facilities for Covid-19 patients. 
As of Wednesday, 12,725 patients were being isolated and cared for at community facilities in the city-state. 
The SAF crew comprises regulars, full-time national servicemen and NSmen like Dr Cheong. They work two eight-hour shifts, with about 60 doing the day shift and 40 working at night. 
They conduct swab tests and medical reviews for patients, and sort them based on the level of care needed.
Despite the longer ICT, Dr Cheong said it was worthwhile, since he can tap his expertise and contribute to the country's fight against the pandemic.
In a visit to the Expo on Thursday, Minister for Defence Ng Eng Hen said that 2,000 SAF personnel are now deployed islandwide to help with efforts to contain the coronavirus. These include contact tracing, managing migrant worker dormitories and contributing to scientific efforts. 
"This is a large effort for the SAF," said Dr Ng.
Asked whether the SAF would deploy more servicemen to community care facilities such as the one at the Expo, Dr Ng said it would take directions from the multi-ministry task force overseeing Singapore's response to the outbreak.
"We want to be impactful and helpful, and the ministerial task force is the one that is overall in charge. They will give direction and (the SAF) will work under its direction," he said.
"If they need more help, we will evaluate their request and see if we can lean forward," he said.
Dr Ng added that while some servicemen who have been deployed were concerned that they might contract the virus, the SAF has reminded every member of its team to remain vigilant.
He said that so far, no SAF crew member has contracted the virus as a result of the deployments.
Senior Lieutenant-Colonel Daryl Tam, commander of the SAF's task force at the Expo, said measures were in place to ensure the safety of servicemen. A nurse, for instance, goes around to make sure they wear their personal protective equipment, including masks, properly.
Dr Cheong said that caring for patients on a larger scale at the Expo would ease the burden on hospitals.
"We help to free up so much more resources in the hospitals," he said.
"It is a very good thing for the medical fraternity as a whole, and the medical resources for the country as a whole, that we are able to do this."