S'pore to stop diesel car, taxi registrations, have 8 'EV-ready towns' including Bedok, Punggol, Queenstown by 2025
SINGAPORE — Singapore will stop all new diesel car and taxi registrations from 2025, by which time eight towns will have electric vehicle (EV) charging points at all Housing and Development Board (HDB) car parks.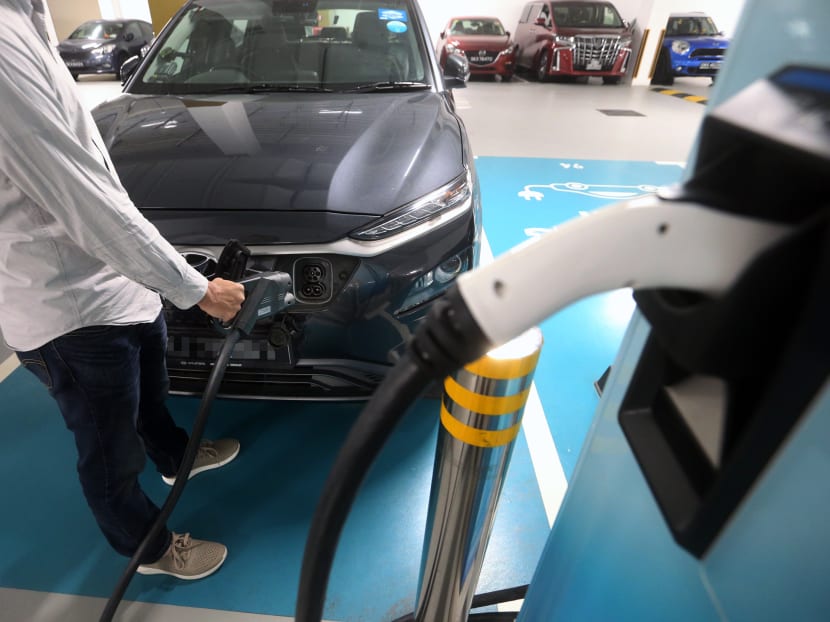 The authorities will stop all new diesel car and taxi registrations from 2025
By 2025, eight towns will also have electric vehicle charging points at all HDB car parks
LTA will co-fund the installation of 2,000 chargers at non-landed private residences
Road taxes for owners of electric vehicles will be lowered from 2022
SINGAPORE — Singapore will stop all new diesel car and taxi registrations from 2025, by which time eight towns will have electric vehicle (EV) charging points at all Housing and Development Board (HDB) car parks.
And, by 2030, all new car and taxi registrations must be of cleaner-energy models — including electric, hybrid and hydrogen fuel cell cars — to meet the country's goal to phase out internal combustion engine vehicles by 2040.
These were among the initiatives announced by Transport Minister Ong Ye Kung in Parliament on Thursday (March 4). They are part of the Singapore Green Plan 2030 charting the Republic's environmental targets over the next decade.
Mr Ong said: "In many countries, inter-city driving is common and that causes a lot of anxiety among EV users because they are afraid of battery depletion.
"But with our urban environment, Singapore is quite ideal as a test bed for the rapid adoption of EVs."
MORE CHARGING POINTS
The first eight "EV-ready towns" that will be equipped with charging points at HDB car parks are Ang Mo Kio, Bedok, Choa Chu Kang, Jurong West, Punggol, Queenstown, Sembawang and Tengah.
The Land Transport Authority (LTA) said that these towns were chosen because they are well spread out across the island and have many car parks with existing electrical capacity that can support charging points.
The authorities will build more charging points at other HDB towns and aim to make all towns EV-ready before 2040.
Under the Singapore Green Plan unveiled last month, 60,000 EV charging points will be built by 2030, more than double the target of 28,000 set last year.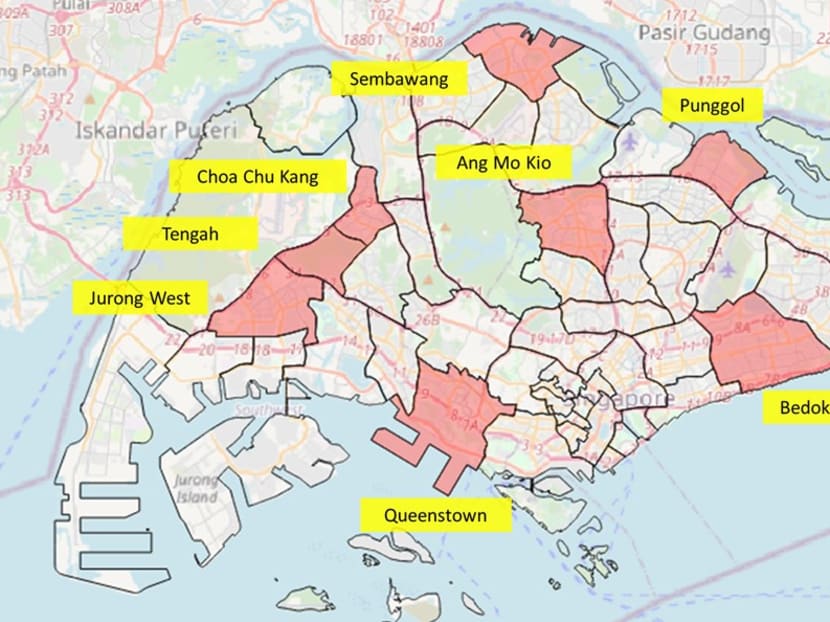 Giving more details on Thursday, LTA said that 40,000 of these charging points would be in public car parks and the remaining 20,000 on private premises.
They will be built first at public car parks where there is spare electrical capacity, before being expanded to other car parks.
Mr Ong said the authorities would focus on building slow chargers, because fast chargers require a major upgrade of almost all power substations and grid infrastructure.
Right now, some fast chargers can be found at petrol kiosks, shopping malls, and industrial and commercial sites. 
Mr Ong said: "Where the infrastructure supports it, or where we decide to selectively upgrade the infrastructure, fast chargers can then be installed."
Efforts to build EV charging points have already started, with LTA and the Urban Redevelopment Authority launching their first tender to build more than 600 charging points at over 200 public car parks in November last year.
For non-landed private residences, such as condominiums, LTA will introduce an EV Common Charger Grant to co-fund the installation of 2,000 shared chargers between July this year and December 2023. More details will be announced in the coming months.
The Government will ensure that all new HDB developments will cater enough electrical capacity to support EV slow chargers at 15 per cent of their parking spots at the minimum, LTA said.
It will impose this requirement on new private buildings as well as buildings undergoing major redevelopment in "due course".
LTA will also launch an industry consultation later this month to determine how the private sector can take part in building more public charging points.
To spearhead the new initiatives, the government agency will set up a National EV Centre to drive the adoption of such vehicles in Singapore.
The centre will work with government agencies, industry partners and unions to develop new EV-related technologies and equip workers with the skills to support the presence of more EVs on the roads.
ADJUSTING ROAD TAX
In the Budget statement last month, Deputy Prime Minister Heng Swee Keat said the Government would also lower the Additional Registration Fee floor for electric cars to zero between January 2022 and December 2023.
The change would make electric cars more affordable as the floor is now set at S$5,000 under the EV early adoption incentive, which kicked in on Jan 1. Under that incentive, those registering fully electric cars are given a 45 per cent rebate on the Additional Registration Fee, capped at S$20,000.
The Government will also adjust road taxes for mass-market electric cars, so that their owners may pay taxes comparable to those levied on owners with internal combustion engine cars of similar make.
From next year, the road tax brackets of electric cars with power ratings of 30 to 90 kilowatt (kW) and 90 to 230kW will be merged. Cars falling into this combined bracket will be subject to the present road tax formula of the lower 30 to 90kW band.
With this change, electric cars owners will pay up to 34 per cent less road tax, LTA said.
For example, owners of a Hyundai Kona Electric or a Kia Niro — both with power ratings of 150kW — will pay S$1,095 in yearly road taxes, instead of the S$1,447 at present. 
Owners of the more powerful 225kW standard Tesla Model 3 will pay S$1,500 in road taxes, down from S$2,300.
These changes will also apply to owners of hybrid petrol-electric cars who now pay road taxes based on their vehicles' maximum electric power rating.
The road tax brackets for cars with power ratings of less than 30kW and more than 230kW will stay unchanged.
For owners of electric and hybrid cars who have paid their road taxes beyond 2022, excess taxes paid under the existing road tax scheme will be used to offset future taxes.
If the vehicle is transferred to another owner before its next road tax renewal, excess road taxes paid will offset the transfer fee. The remainder will go to the vehicle's new registered owner.