S'poreans give S$345,000 to help foreign workers after Covid-19 cases spike in dormitories called 'squalid' by some
SINGAPORE — The increased spotlight on the plight of foreign workers and their vulnerability in the Covid-19 crisis has led to an outpouring of donations from Singaporeans despite economic hard times caused by the coronavirus. Several fundraising campaigns have smashed their targets within 24 hours, raising a total of S$345,000 in just a few days.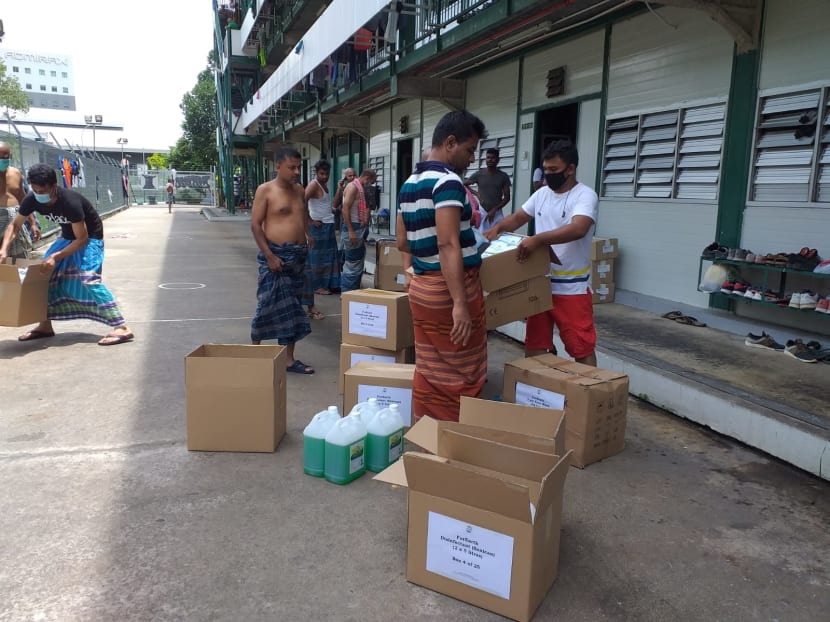 SINGAPORE — The increased spotlight on the plight of foreign workers and their vulnerability in the Covid-19 crisis has led to an outpouring of donations from Singaporeans despite economic hard times caused by the coronavirus.
Several fundraising campaigns have smashed their targets within 24 hours, raising a total of S$345,000 in just a few days.
Mr Ethan Guo, the general manager of Transient Workers Count Too (TWC2), set up a fundraiser on the night of April 5 when it was reported that the Covid-19 situation was beginning to affect a large number of foreign workers in dormitories. He started receiving messages from people asking what they could do to help.
The fundraiser, which was initially set at a target of S$20,000, is aimed at gathering donations to top-up foreign workers' prepaid SIM cards.
"I was not expecting we would even hit S$20,000. I was very surprised when I saw that we were already a quarter way there by lunchtime. By the next morning, we had already surpassed the target," said Mr Guo, whose organisation promotes equitable treatment for foreign workers in Singapore.
His target has been raised to S$120,000 and over S$116,000 has been collected as of 5pm on Thursday (April 9).
Mr Guo decided to raise funds to top-up SIM cards after receiving feedback from workers who said that they are in need of these cards to let them keep in touch with family back home.
Donated hygiene supplies being distributed by foreign workers in Cochrane Lodge 2, a dormitory in Admiralty. Photo: Zakir Hossain Khokan
"Most of the foreign workers are now stuck in dormitories with limited or no WiFi access. They also have no means or money to top up their cards to make basic phone calls or to buy data during such a critical time," he said.
Mr Guo added that his team is already in the midst of consolidating names and numbers of workers they have reached out to via Facebook and word-of-mouth. The top-up will then be done for them online, he said.
CONCERNS OVER FOREIGN WORKERS LIVING CONDITIONS
The number of Covid-19 cases in foreign worker dormitories has escalated quickly in the last few days with more than 20,000 workers currently quarantined in three dormitories after clusters of the infections were found.
S11 @ Punggol, Westlite Toh Guan and Toh Guan Dormitory have been gazetted as isolation areas and workers are to stay in their rooms for 14 days. Covid-19 cases have also been found at Singapore's largest foreign worker dormitory Sungei Tengah Lodge, which has also been gazetted as an isolation area, as well as Tampines Dormitory and Kranji Lodge.
Concerns about the virus spreading at the tight living quarters of dormitories have been raised after reports of unsanitary and crowded living conditions surfaced, prompting a petition titled "Protect our migrant workers from Covid-19" to be put up on Tuesday on petition website Change.org.
Some of the concerns highlighted in the petition included overcrowded spaces with 12 men per room and 60 men sharing toilets. Workers also reported that meals were not being delivered on time and that there were inadequate supplies of masks, sanitisers and other essential supplies.
The petition, directed to Manpower Minister Josephine Teo, had garnered over 9,000 signatures out of its goal of 10,000 as of 5pm on Thursday.
In a statement released on Wednesday, the Ministry of Manpower (MOM) said that every meal distribution exercise is now completed within two hours and portions have been increased after taking into account feedback from the workers.
To cope with the increased usage of washroom facilities and higher volumes of rubbish generated due to workers now spending the entire day in the dormitories, MOM said that the frequency of refuse collection and removal has been increased from once to three or four times daily. The disinfection and cleaning of the common areas and washroom facilities are also being carried out three times per day.
S$100,000 COLLECTED IN 12 HOURS
Beyond this Covid-19 situation, Mr Guo said the funds collected will assist foreign workers who have salary or work injury issues and those who have lost their jobs and have no income. The funds will also be used to top-up their EZ-Link cards as a single trip to the hospital or the MOM from places such as Tuas costs at least S$3 one way, he said.
In support of Mr Guo's campaign, social media personality Preeti Nair, 25, took to her Facebook, Instagram and YouTube pages on Wednesday morning. She urged her more than 50,000 followers to donate to a fundraiser she set up on Give.asia, a fundraising campaign website, to support non-governmental organisations such as Mr Guo's TWC2.
In a little over 12 hours, her goal of S$100,000 was reached, and as of 5pm on Thursday had hit S$155,000.
"What I am doing is just using my platform to bridge communities. We did not expect this at all."
"I personally thought it was a really ambitious goal so I am honestly speechless and grateful for the generosity and amount of kindness shown towards these foreign workers," said Ms Nair, who set up the fundraiser in collaboration with Utopia, a group of friends hoping to raise awareness of less visible and vulnerable communities here such as foreign workers.
The donations received will go to Mr Guo's TWC2 top-up campaign as well as to HealthServe, another organisation which has purchased healthcare bags containing personal hygiene items such as hand sanitiser, antibacterial soap and masks for these workers.
Ms Nair added that she intends on keeping the page open for as long as it's helpful.
Ms Julia Tan, 24, who works with crowdfunding platform FundedHere, launched the "10in10: Raising 10K (S$10,000) in 10 days for Migrant Workers" fundraising campaign on Give.asia on Monday, alongside the Social Development Initiative Academy, a social enterprise that champions the welfare of foreign workers in Singapore.
She had set a 10-day target but managed to raise the sum in less than 24 hours. As of 5pm on Thursday, she had raised S$15,000.
"We were incredibly surprised at the amount of community spirit displayed. This shows that despite the racist comments you sometimes see online that perceive foreign workers to be a disposable workforce, there are still Singaporeans who are able to see that foreign workers are human too and deserve human rights," she said.
The donations gathered from her fundraiser will go towards providing essential hygiene kits that include face masks and hand sanitisers, and dry essential food items like rice and oil.
GOOD FRIDAY LUNCH FOR FOREIGN WORKERS
Reverend Samuel Gift Stephen, 43, the chairman of the Alliance of Guest Workers Outreach, a coalition of 130 partners ranging from religious organisations to corporate companies who are passionate about migrant work, will provide 7,000 packets of food across 1,200 non-purpose-built dormitories starting on Good Friday.
"The bigger dormitories are taken care of but it's the smaller dormitories or those workers who are staying within the company itself. These are the guys who are really affected. Some don't even have money to buy food because their companies were suddenly shut down," he said.
"We decided to do this on Tuesday and within the span of 24 hours, we managed to get support from our partners. With the amount we have collected, we can actually provide about 30,000 meals," said Reverend Samuel who added that one vegetarian meal costs S$2. That represents another S$60,000 in donations.
"We will provide food for these workers as long as the donations keep coming in. We will take care of them until the end of Covid-19 if possible," he said.
Reverend Samuel is described as the "senior overseer" of the Smyrna Assembly, a charismatic style Christian church in Yishun.
He is also working closely with the Migrant Workers' Centre (MWC) to provide soap bars and hand sanitiser to these workers.
MWC announced on its Facebook page on Wednesday that it has secured enough reusable masks for distribution to about 350,000 foreign workers and the first batch of 120,000 reusable masks has been fully distributed.
However, foreign worker Zakir Hossain Khokan, 41, who lives in Cochrane Lodge 2, a dormitory in Admiralty, said that they are still in need of reusable face masks and small bottles of hand sanitiser.
Mr Zakir, a quality assurance and quality coordinator in construction, has been working with 27 other volunteers under One Bag One Book and Migrant Writers of Singapore, both non-governmental organisations aimed at helping foreign workers, to distribute hygiene products within his dormitory which has about 2,000 rooms. Twelve workers are housed in each room, he said.
"People have gotten my number and have arranged to deliver the boxes of hygiene products straight to me. They've gone out to buy it or ordered online and sent it straight to us," he said.