Sports Hub CEO Oon Jin Teik resigns, two more senior staff quit in leadership shake-up
SINGAPORE — Sports Hub chief executive officer Oon Jin Teik and two other senior management staff have resigned in what is the latest leadership upheaval at the S$1.33 billion project.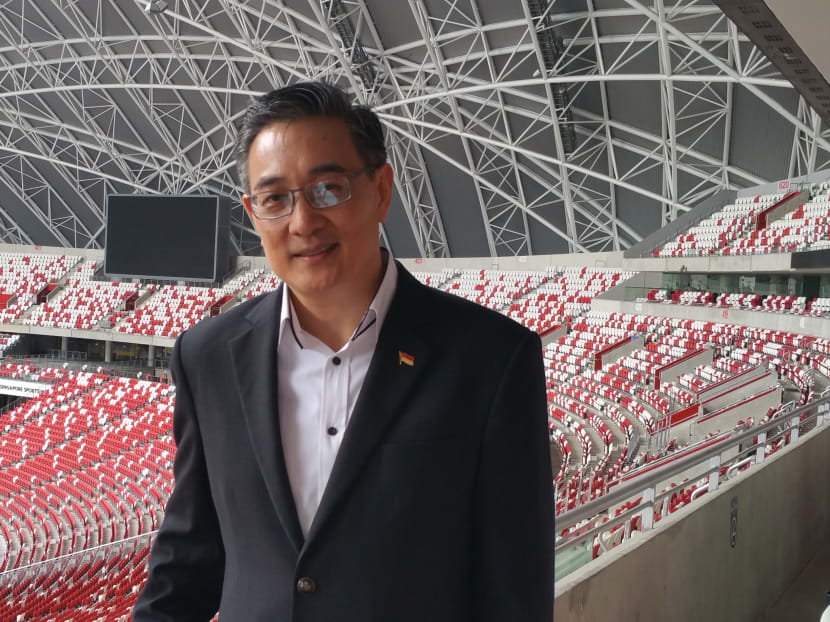 SINGAPORE — Sports Hub chief executive officer Oon Jin Teik and two other senior management staff have resigned in what is the latest leadership upheaval at the S$1.33 billion project.
Former national swimmer Oon, 55, who officially took on the role in January last year, had informed the board of his decision to quit and will leave his role after the 2019 HSBC Singapore Rugby Sevens in mid-April. Sports Hub's chief operating officer Wong Lup Wai and chief financial officer Sandy Tay had also resigned in the last few months, TODAY has learnt.
Mr Oon is the third CEO to leave the consortium since the Sports Hub opened its doors in June 2014.
In a press statement on Monday (Jan 28), Mr Oon said: "Coming from an international sports, global business, and public-private partnership background, I have been very fortunate to have worked with so many talented and dedicated colleagues during the past four and a half years.
"They have given me full support throughout my tenure and together with Sports Hub's internal and external partners, we have accomplished a lot. I am very proud of this national icon, the Singapore Sports Hub."
Responding to queries, the Sports Hub said: "We would like to thank Jin Teik for his invaluable contributions and dedication to Singapore Sports Hub over the last five years and he leaves with our very best wishes to pursue new endeavours."
Sports Hub chairman Bryn Jones will be the acting CEO after Mr Oon's departure while the board "conducts a global search to find the best individual to lead the Singapore Sports Hub going forward".
Mr Oon joined the Sports Hub in May 2014 as its COO and took on the role of acting CEO three years later after his predecessor Manu Sawhney's sudden resignation. Mr Oon was promoted to the top job in December 2017.
Mr Jones said at the time that Mr Oon was the right fit as leader and that the board of directors did not conduct a global search for its CEO.
Prior to the Sports Hub, Mr Oon was a senior executive for environmental solutions company Hyflux from 2011 to 2014 and was CEO of national sports governing body Singapore Sports Council, now known as Sport Singapore.
During his tenure with the Sports Hub, he was involved in several major events including the 2015 South-east Asian Games, 2015 Asean Para Games, National Day Parade in 2016, International Champions Cup (ICC) and concerts by Coldplay, Madonna and more.
He was also recently involved in the Sports Hub's joint bid with Sport Singapore and the Singapore Tourism Board to host the season-ending ATP Finals from 2021. Singapore is among five shortlisted cities alongside Manchester, Tokyo, Turin and current host London in the final phase of the bidding process and the result will be announced in March.
Mr Oon could not be reached for further comment on Monday. According to sources, Mr Oon's decision to quit was due to differences with the board over the business direction of the Sports Hub.
In response to TODAY's queries, the Sports Hub said that it would not be making any further comments on Mr Oon's resignation "in line with our policy not to comment on such internal matters".
On the resignations of Mr Oon, its COO and CFO, the Sports Hub said: "As in the normal course of business for all organisations where a certain level of attrition is to be expected, there have been some departures within the Singapore Sports Hub.
"Our focus is to ensure business continues as usual at the Singapore Sports Hub. We have a strong team in place and we remain fully focused on pursuing operational excellence, executing a vibrant repertoire of events, and delivering great experiences for our clients, colleagues, partners and patrons.
SPORTS HUB'S ISSUES
Mr Oon was the first Singaporean born here to helm the Sports Hub, which is the largest public-private partnership project in the world.
Frenchman Philippe Collin-Delavaud was the CEO from March 2011 to December 2015 before Mr Sawhney was appointed in October 2015.
However, Mr Sawhney's departure came during an internal investigation over allegations pertaining to his management style, treatment of his employees and his commercial decisions. He was later cleared of any wrongdoing after the Sports Hub investigated the complaints and decided that no action was warranted.
During Mr Sawhney's 19-month stint, there were a number of resignations from the Sports Hub's senior management and staff members.
READ ALSO:
Aside from the upheaval in its management team, the S$1.33 billion facility was also initially plagued by a number of issues when it first opened its doors.
These included initial pitch problems at the National Stadium and organisers' complaints about high costs and criticism of its lacklustre events calendar.
The pitch issues have since been resolved with the turf drawing praise from visiting sports teams in recent years. The Sports Hub had also beefed up its events calendar as the stadium hosted the sold-out Coldplay concerts, Singapore-Argentina international football friendly and the ICC, which saw over 95,000 spectators turning out to watch Arsenal, Paris Saint-Germain and Atletico Madrid during the tournament in July last year.