TODAY webinar: Youths have role to play in plugging gaps Government cannot fill, say panellists
SINGAPORE – While the Government does not have all the answers to every issue, youths must also come forward and contribute to Singapore's future, said panellists at TODAY's Live webinar on Tuesday (Nov 15).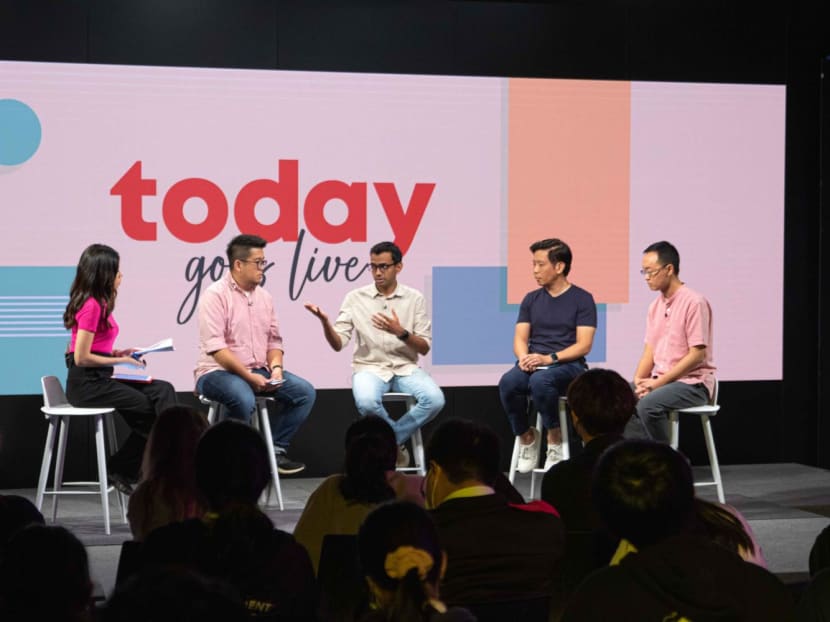 According to TODAY's Youth Survey 2022, Singapore youths believe in the 4G leaders but want more consultative political leadership 
One panellist at TODAY's Live webinar said that youths believe the era of "trust us" and "follow us, we know better" style of leadership is over
Panellists said that youths must also step forward and contribute to Singapore's future
SINGAPORE – While the Government does not have all the answers to every issue, youths must also come forward and contribute to Singapore's future, said panellists at TODAY's Live webinar on Tuesday (Nov 15).
The webinar was the fourth and final instalment in a series of webinar sessions streamed on Instagram and TikTok.
This was also the first year that the webinar was held in front of a live audience at the Nanyang Technological University's Wee Kim Wee School of Communication and Information.
Panellists were discussing the topic of "The Singapore that youths want" while responding to the results from TODAY's Youth Survey 2022, which showed that two-thirds of youth respondents have confidence in 4G leaders but want more consultative political leadership.
Former public policy consultant Chirag Agarwal, one of the panellists, said that there are avenues for alternative voices to surface in Singapore, such as select committees, and having more quality and robust exchanges in parliamentary debates.
Another panellist, TODAY correspondent Ng Jun Sen, also said there are public consultations and feedback exercises by the Government to get citizens to come forward and contribute in national developments.
The survey results showed that the era of "trust us" and "follow us, we know better" leadership style is over, according to youths, said panellist Nathaniel Koh, vice president of the Workers' Party Youth Wing.
The survey also showed that 67 per cent of the youths polled believe meritocracy works in Singapore, but some panellists say there are gaps in the system that need to be addressed. 
MERITOCRACY WORKS, BUT STRUCTURAL GAPS EXIST: PANELLIST 
When it comes to meritocracy, panellist Alvin Tan, the Minister of State for Culture, Community and Youth, and Trade and Industry, said that Singapore aims for equality of opportunity, not equality of outcomes.
"Equality of opportunity means everyone has access to education, to food and housing," said Mr Tan. 
"And then, from then on, with that base or foundation, we (the Government) try so hard within our limited resources to provide for people."
While Singapore aims to provide equal opportunities, there are still structural gaps that exist within the system, said Mr Ng.
He spoke about a recent TODAY article on how people working in vocational and social jobs are devalued and compensated lowly due to the high premium that Singapore places on the pursuit of educational qualifications.
People who come from low socioeconomic backgrounds also are less likely to experience equal opportunities, said Mr Agarwal, citing Professor Teo You Yenn's book, This Is What Inequality Looks Like.
He said the book shows that the opportunity of work-life balance is not as attainable for people from lower income families compared to those who are more affluent.
"Child care is an example. Most child care operating hours currently cater for office jobs," said Mr Agarwal.
This affects the opportunities for low income workers who work irregular hours to access child care support.
He also questioned whether this meant there was a bias towards those who work in office jobs.
Mr Koh is of the view that the meritocratic system in Singapore functions on two assumptions, which may not reflect the reality faced by Singaporeans.
"The first assumption is that everyone starts on a level playing field. But we all know, even with equal opportunities, different people will have different access to those opportunities. So how do we fill in that gap of opportunities?" said Mr Koh.
"Second, everyone has a different definition of success. There is an individual's definition of success and society's definition of success. So we need to be able to include different definitions of success."
ATTRACTING YOUTH VOICES 
While youths want more consultative leadership, there must also be young people who want to offer suggestions, said Mr Ng, in response to a question of whether there is a need for more alternative voices in Singapore politics.
Mr Tan added that there are gaps that the Government may not be able to fill, but youth-driven, ground-up and voluntary initiatives have been successful in addressing these gaps.
He also said that instead of asking about the Singapore that youths want, young people should also think of and embody the characteristics of youths that the country needs to develop and move forward.
Mr Koh said that Singapore youths can participate in the nation's development at the individual level by discussing and talking about current political issues, at the social level by volunteering and doing the legwork for organisations, and at the national level by joining political parties that align with their values.
A student from the audience member said that the session helped her understand the state of politics in Singapore.
"This session has inspired me to contribute more to society. I think a lot of youths at my age don't really care (about politics) because they are mostly focused on studies," said Lau Yu Yan, a 17-year-old student from National Junior College (NJC).
"But the (political) changes actually affect us in the future. So it's important to take time now to try to involve yourself in initiatives by starting small, such as volunteering."
Another student, 17-year-old Koen Wong Yong, also from NJC, said: "Knowing that the Government puts a lot of emphasis on people's opinions and actually takes into account what I say, I think now it is more important to do the work and submit my responses, so I can contribute to Singapore."