TODAY Youth Survey: S'pore youths have confidence in 4G leaders but expect them to be more accepting of different views
SINGAPORE — Ahead of the ruling People's Action Party's (PAP) leadership handover, a survey commissioned by TODAY has found that close to two-thirds of youths expect the fourth-generation (4G) leaders to be more willing to accept different views.
Close to two-thirds of people polled in the TODAY Youth Survey said they expect the fourth-generation leaders to be more willing to accept different views
Still, two-thirds also said they were confident in the leaders' ability to guide Singapore through an uncertain future
The youth also wanted the leaders to be more accepting of different definitions of success and to be more compassionate
Experts said this reflected a more educated citizenry and a sign of a maturing polity desiring for post-material goals
Yet, inflation and economic growth remained the most pressing issue that the young wanted to see the Government address
SINGAPORE — Ahead of Singapore's political leadership transition, a survey commissioned by TODAY has found that close to two-thirds (62 per cent) of youths expect the fourth-generation (4G) leaders to be more willing to accept different views.
At the same time, a similar proportion (65 per cent) of the respondents said they were confident that this new crop of leaders will be able to guide Singapore through a volatile and uncertain future.
These findings were from the TODAY Youth Survey 2022, which polled 1,000 people between the ages of 18 and 35 in September to measure the pulse of young people in Singapore.
This is the second edition of the survey. Last year's inaugural survey covered the topics of racism, religion, LGBTQ (lesbian, gay, bisexual, transgender and queer) attitudes, gender dynamics, the impact of Covid-19 on mental well-being and social ties, and career and material success. 
This year's survey looked at mental health, inflation and cost of living, climate change and sustainability, as well as work-life balance, politics and attitudes on LGBTQ issues.
Commenting on the findings, experts told TODAY that wanting a consultative leadership does not imply that young people do not trust their leaders to make the right decisions.
Dr Teo Kay Key, a research fellow at the Institute of Policy Studies (IPS), said that rather, the young want to feel heard and want to know how their feedback was considered during the policymaking process.
Dr Teo, who researches political and social attitudes, said that wanting the leadership to be more consultative can be seen as a development that comes with a society that is slowly maturing politically.
Generally, young adults today are more highly educated and exposed to other countries with different political experiences, which likely leads to the stronger emphasis on openness and consultation, she added.
"There is more interest in finding out how decisions are being made and wanting to have a say because it is a way of showing that they are invested in their nation." 
For Mr Aamir Bana, a 23-year-old university student, one area that future leaders could do better in demonstrating their openness to different views is on issues related to migrant workers in Singapore.
"There really isn't a sense that their voices are being heard," Mr Aamir said.
"One thing that came out of the whole Covid pandemic was that your average Singaporean now knows how a dormitory looks like. We know the cramped conditions they live in, we know the hours they work."
He said that although he believes the Government does listen to feedback from migrant worker rights groups, these conversations are often behind closed doors.
"But it's not very visible to others that (these) voices are being heard and taken into consideration," he added. "And it extends to people in rental flats, migrant workers and the LGBTQ community."
EXPECTATIONS OF POLITICAL LEADERS
Respondents in this year's survey were given a list of options and asked to select three expectations they wanted to see the most from the 4G leaders. 
The results: 
More willing to accept different points of view (62 per cent) 
More accepting of different definitions of success (47 per cent)
More compassionate (45 per cent)
More inclusive (42 per cent)
More tolerant of criticism (41 per cent)
Dr Felix Tan, a political analyst at the Nanyang Technological University, said the results showed that there is a higher number of educated young adults who are "more open to new ideas and different points of views".
Political analyst Eugene Tan from the Singapore Management University (SMU) said that there could also be a popular view among the youth that the Government need not prevail all the time on controversial issues.
One such topic for Mr Javier Loke, 28, is same-sex marriages.
Mr Loke, an IT systems analyst, hopes that the Government will be more open and receptive to different views so that people can contribute to the debate without fear of discrimination.
"In doing so, we can forge a closer and empathetic society," he added.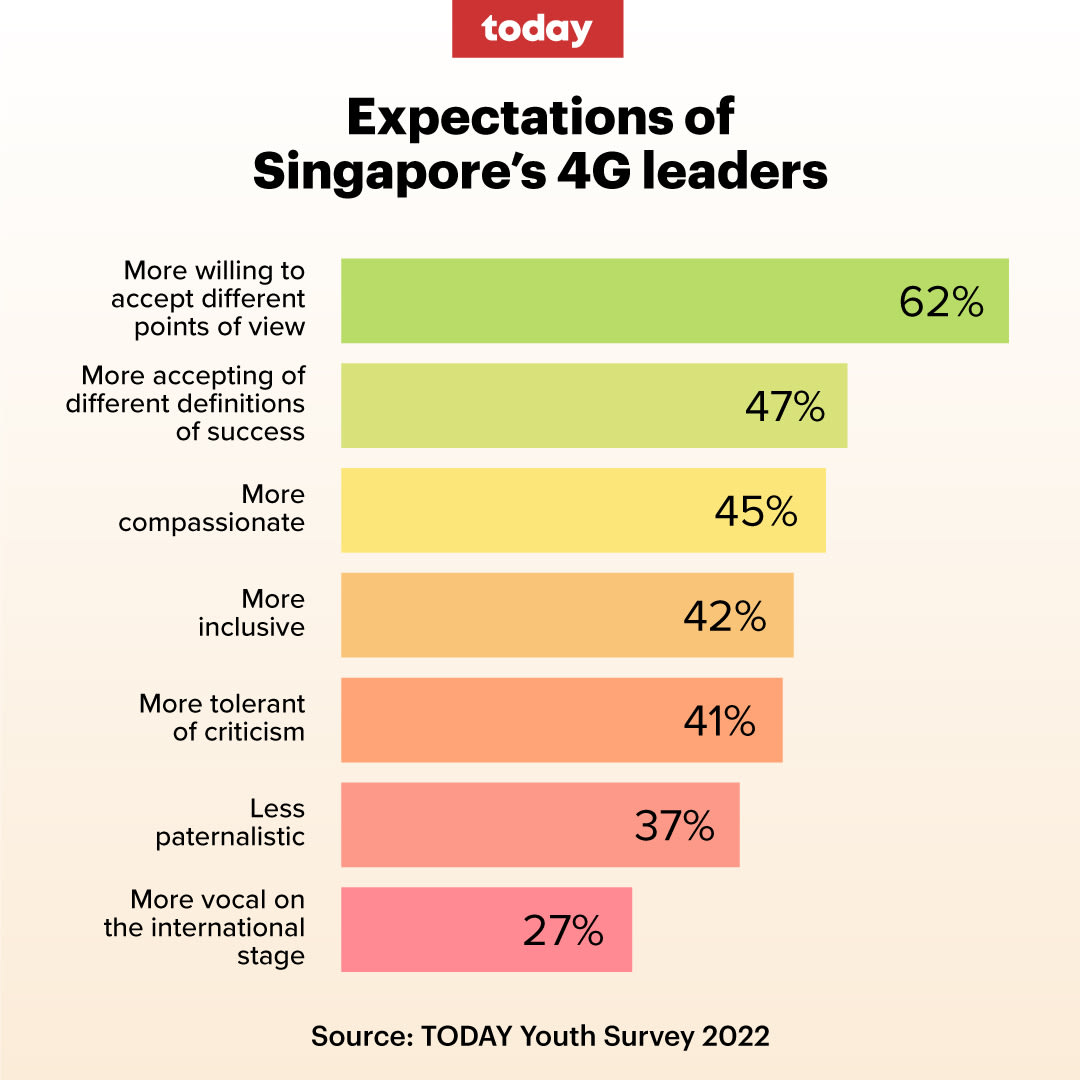 For future leaders to be seen as being more willing to accept different views, Mr Aamir believes the ruling People's Action Party (PAP) can begin by appointing more women in the 4G leadership team.
Sociologist Tan Ern Ser from the National University of Singapore said that the 4G leadership could move away from approaches that seem paternalistic.
"Don't come across as judgemental, dismissive and defensive," he said, adding that the Government should move towards a social compact centred on partnership instead.
However, whether an issue should be widely consulted with the public also depends on the issue at hand.
Dr Chew Han Ei, a senior research fellow at IPS, said: "For complex, high-involvement issues like, say, building an artificial intelligence hub, wide consultation may not be as useful as focused consultations with experts and industry players." 
Mr Clarence Ching, 28, said that one way the 4G leaders can show that they are more accepting of different definitions of success would be for the Public Service Commission (PSC), which doles out the prestigious PSC scholarships every year, to do more to reach out to polytechnic students and lower-ranking junior colleges.
The founder of social mobility non-profit Access Singapore added: "Schools also have the responsibility to encourage more students to apply and give more advice for potential PSC applicants." 
BREAD-AND-BUTTER MATTERS STILL TOP OF MIND
The survey respondents were also asked to select from options listing the most pressing issues that they thought the Government should focus on in the next three years.
The results:
Inflation and economic growth (75 per cent)
Income inequality (55 per cent)
Protecting jobs for locals (53 per cent)
Climate change (48 per cent)
Helping the less fortunate (38 per cent)
The survey showed that a majority (70 per cent) believed that the more well-off in society should pay higher taxes.
However, only 43 per cent of respondents said that they were willing to pay higher taxes to help build a more equitable society. Among this group, the majority of them were with the higher household income group — S$15,000 to S$19,999 (58 per cent were willing to pay higher taxes) and S$20,000 and above (63 per cent).
Associate Professor Tan from SMU said the results suggested that young people are seeking a socio-political compact that is grounded in both material and post-material concerns.
Mr Ching from Access Singapore said he was not surprised that inflation and economic growth came out tops despite the common perception that young people are less concerned about bread-and-butter issues.
"The economy in Singapore will always be one of the biggest concerns Singaporeans have especially when the economy isn't at its strongest," he said.
Hybrid webinars will be held on Nov 14 and 15 to discuss the findings of TODAY Youth Survey 2022. More details here.