#trending: Cleaners jamming on discarded piano at bin centre wow netizens
SINGAPORE — A TikTok video has surfaced showing two cleaning workers holding a mini concert at a bin centre. One of them was playing on a discard piano while the other belted out a classic hit by Malaysian rock band Lefthanded. Their performance delighted TikTok users who praised the duo for their talents.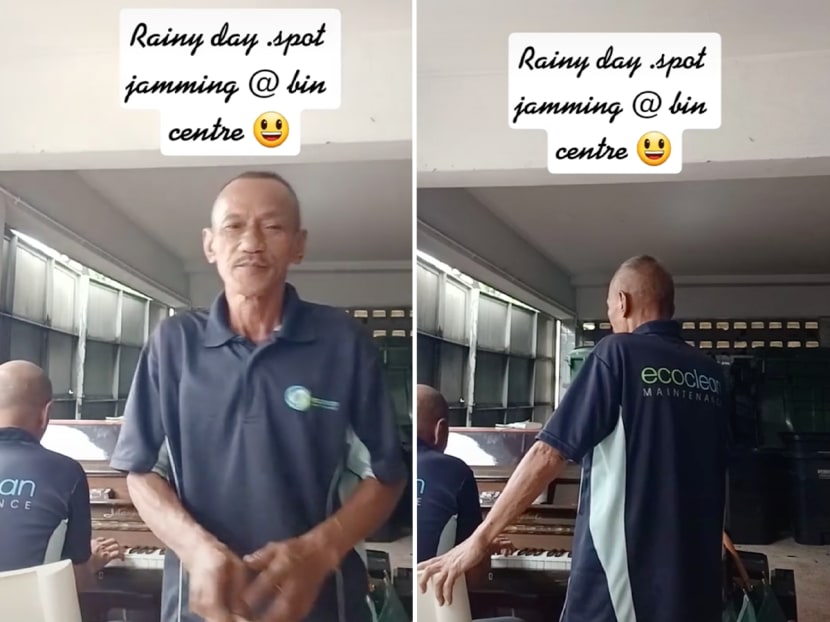 A video of two cleaners jamming to a Malay classic hit by rock band Lefthanded at a bin centre in Singapore went viral on TikTok
Many on TikTok praised the cleaners for their soulful performance
The video received 69,500 views and close to 5,000 likes within four days
SINGAPORE — Here's a heartwarming sight on a rainy day: Two cleaning workers jamming to some soft rock tunes on a piano in a bin centre.
TikTok user "marleygraveyard" uploaded a video of this "mini concert" on Aug 19 to praises and adoration from social media users.
The video received 69,500 views and close to 5,000 likes within four days. 
The four-minute long video showed the two men performing a soulful rendition of Ku Di Halaman Rindu, a classic by Malaysian rock band Lefthanded, on a seemingly discarded piano in the bin centre. The men were both wearing uniforms with the name of cleaning company Ecoclean Maintenence on them.
A reply by "marleygraveyard" in the comments section confirmed that the video was filmed in a bin centre in Pandan Valley condominium off Ulu Pandan Road.
TikTok users were in awe with the performance. One likened it to be as good as the original recording: "Macam (like the) original la.. it's really good.. 👏👏"
Another pointed out that the venue of the performance worked to the cleaners' favour because the bin centre gave "natural hall reverbs". 
Others got sentimental after hearing the stirring number. 
"Don't forget these uncles were once young men with dreams," one wrote. 
Another wrote: "Music is a universal language. You don't have to understand the lyrics to determine his passion and soul." 
One TikTok user concluded that music can be enjoyed by the "poor or rich" and saluted the TikTok video creator. 
TikTok users are also requesting more song covers from the two men, with some sending in song requests. Someone asked for Isabella, a Malay hit by Malaysian rock band Search.
Another suggested that the two men go to Changi City Point to perform at the piano that is open to public.
"People will definitely enjoy it!" the person added in Malay. 
Maybe we will see a mini busking concert by the duo a la busker Jeff Ng some day?