#trending: Clubgoers beseech S'pore nightclubs to open earlier so they can 'sleep by midnight'
SINGAPORE — In an Instagram post uploaded on Tuesday (June 28), comedy account Milotruckdreams criticised Singapore nightclubs for their late opening hours and suggested that a night out should start earlier instead. The idea has quickly caught on among club-goers, who have been calling for petitions and tagging nightclub accounts under the post.
SINGAPORE — Since the reopening of nightlife establishments in April, nightclubs have been swarmed by partygoers. Just last month, capacity limits and Covid-19 testing were scrapped, opening dance floors to even bigger crowds.
However, it looks like not everyone is ready to go back to staying out late.
On Tuesday (June 28), comedy account Milotruckdreams put up an Instagram post gently criticising Singapore nightclubs for their late opening hours that disrupts "your sleep schedule" and suggesting that a night out should start earlier instead.
The idea has quickly caught on among club-goers, who have been calling for petitions and tagging nightclubs such as Zouk Singapore and Cherry Discotheque under the post — which has since gathered more than 11,100 likes.
In her rant, Milotruckdreams observed that nightclubs usually open at 10pm, with the revelry starting from around 11pm.
"That's already almost bedtime," she lamented. "Why can't things start at, like, 7.30pm?"
She then went on to outline a preferable schedule allowing someone who finishes work at 6pm to head into town, have dinner with friends, hit the clubs at 7.30pm and sleep before midnight.
One selling point of this novel idea included being able to take public transport home and not having to pay for the escalating fare surges of private-hire cars.
One Instagram user noted: "All the night buses home just discontinued as well. No better time for this change."
More importantly, the anonymous comedian remarked that being able to sleep earlier will also allow club-goers to make plans for the following morning instead of wasting half the day as they commonly do.
One comment agreed, saying how impossible it is to attempt an early start the next day: "My friend wanna kill me because Saturday morning I cannot wake for yoga."
Another said: "Start early end early!! Next day still can function and work."
This might well include the nightclubs' DJs and other staff members, who Milotruckdreams said "still must go sell insurance" the next morning.
Readers were highly amused by her light dig at the seemingly vast number of people working in the insurance industry, with many commenting on it.
"I died when I read this," one said.
On Wednesday, Instagram user "jermheng" uploaded a video of his own heartfelt re-enactment of the rant piece, writing: "Finally, we feel understood."
His Instagram Reel has been viewed more than 8,600 times, prompting further impassioned comments: "Finally someone articulates exactly my thoughts on clubbing perfectly!!!!!!!! We want to dance AND get our beauty sleep."
A majority of the original post's readers have cheered the "8pm club movement" as one with universal appeal. As one said: "This is exactly what I have been telling all my friends!!! I am old but I want to party also!!!"
Others affirmed: "People in their 30s need this."
Even younger club-goers are all for it, with one saying: "I 100% agree because I'm 21 with a curfew."
Those outside the "target demographic" joined in as well: "I don't even club and this is hilarious but #facts."
Similarly, in the original post, Milotruckdreams proposed that more people will go to nightclubs if the opening hours fit their schedules.
One complaint read: "I want to dance to some tunes then go back to feed my cat, why cannot?"
However, the lighthearted post has also drawn some unwanted attention. Milotruckdreams has previously indicated many times via her Instagram account that her posts are satirical and not meant to be taken too seriously.
Despite her disclaimers, Instagram Stories shared by the account featured lengthy "mini essays" by men, which were sent to her via direct messages and comments, attempting to explain why nightclubs open late at night.
"Y'all are really the backbone of society," she responded sarcastically. "How embarrassing, I'll work harder to create ****posts that have more substance and academic rigour. Apologies to all the local intelligentsia for putting up with my filth."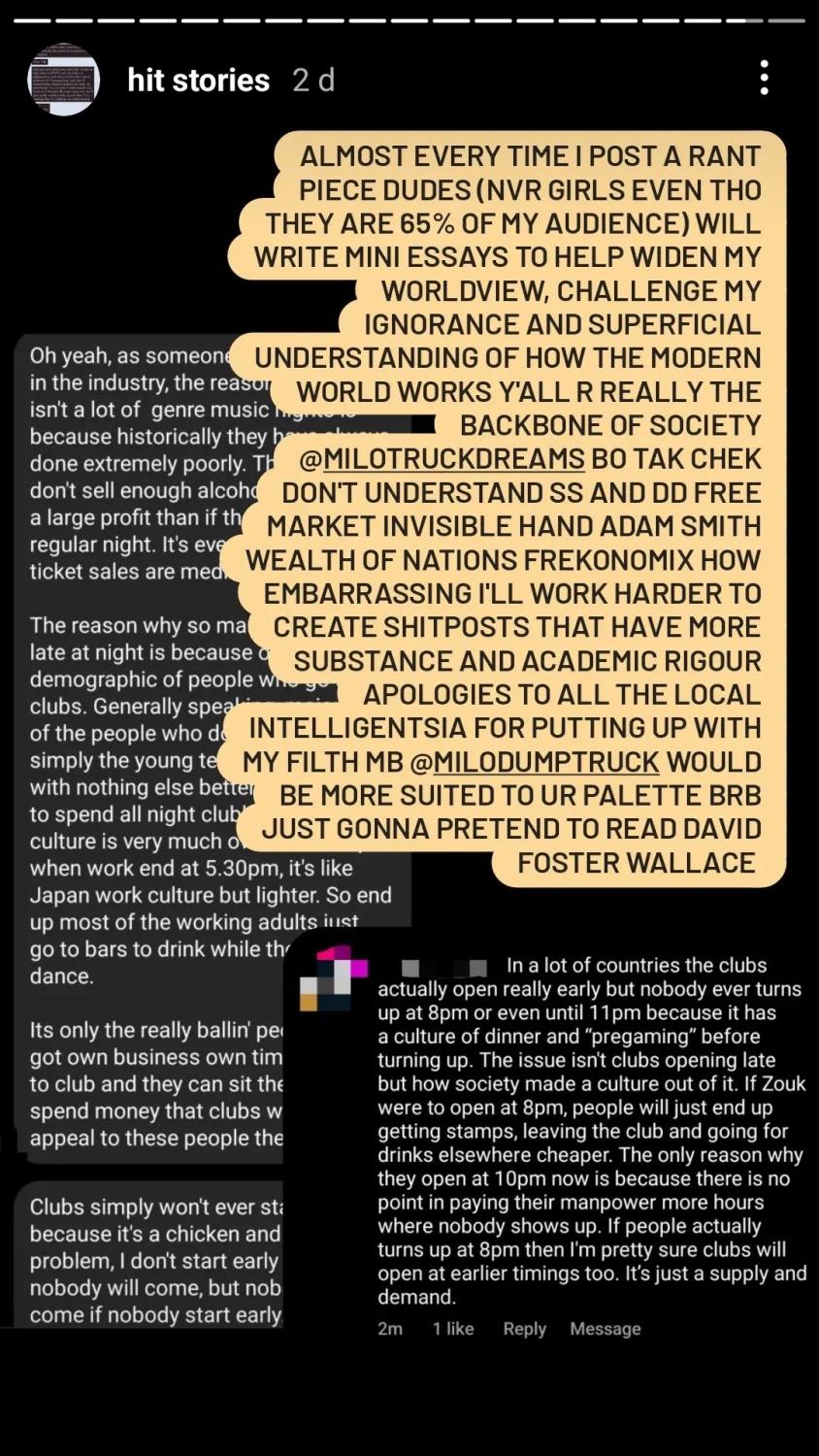 Still, it appears that her fans, who enjoy her Singaporean tone of voice, far outnumber the critics.
Over the past few days, Instagram users have been sharing the post with their friends as well as tagging popular nightclub and party organiser accounts — and some have noticed, including indie music rave organiser Eatmepoptart.
One Instagram user yelled: "Where's the petition at?!?!"
Another hailed: "Milotruckdreams for president 2022."
It seems people are ready for a change or, in one Milotruckdreams supporter's words, "solid steady raring to go". 
Who knows? We might just see an "evening club" revolution in the near future.