#trending: Influencer Naomi Neo responds to backlash after scaring 4-year-old son in TikTok ghost prank video
SINGAPORE — Influencer Naomi Neo has responded to a growing backlash from the online community after she posted a video of a TikTok ghost prank she played on her four-year-old son last Thursday (Aug 11).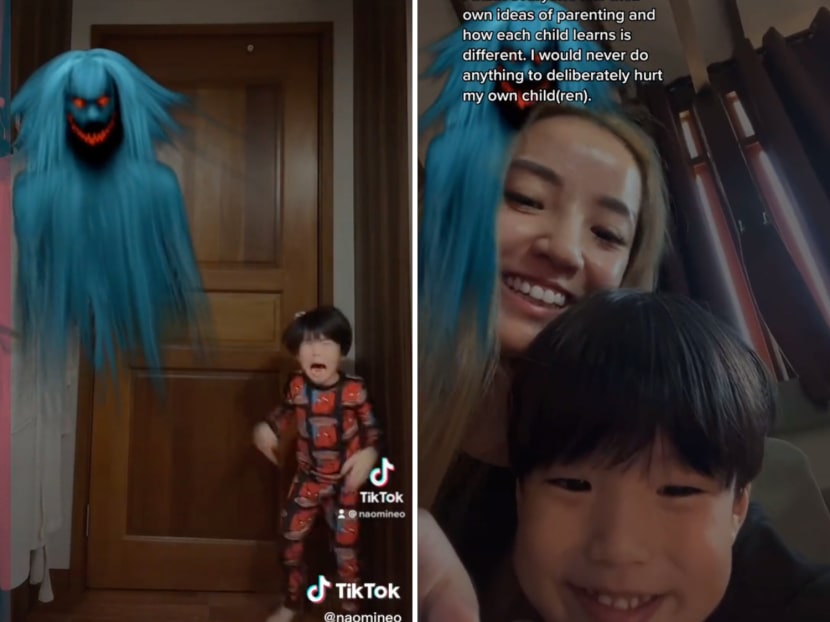 SINGAPORE — Influencer Naomi Neo has responded to a growing backlash from the online community after she posted a video of a TikTok ghost prank she played on her four-year-old son last Thursday (Aug 11).
Ms Neo's video is one of the latest in a viral TikTok trend which sees parents and older siblings prank young children by placing a front-facing phone camera in front of them so they can see themselves, then running out of the room and locking them in as creepy laughter plays and a blue ghost pops up on the screen.
Predictably, many of these videos end in screaming and tears as the terrified children try in vain to escape the room.
Similarly, Ms Neo's video of herself and her husband pranking their son Kyzo showed the young boy appearing to be so frightened by the "ghost" that he began to scream, cry and jump up and down. Since last Thursday, it has gained 22.9 million views.
Though Ms Neo stated in the caption that she had "apologised with tears already", many comments under the video still criticised her for pulling the "traumatising" prank on him.
One asked: "How could you do such a thing?"
Some shared their own stories of similar childhood trauma, such as TikTok user "miyabeelim" who said: "My mum locked me in a well-lit room when I was 3 (I'm now 29) as a prank.
"There were no eerie sounds or videos but I was traumatised. This will cause your child to have a fear of being alone in a room, please talk to him about it soon.
"I still wake my husband up in the middle of the night to accompany me to the toilet now, this fear may or may not go away."
Another agreed, saying: "My mum and dad did this to me 44 years ago (they just left me in the room alone), and to this day (50), I am traumatised even thinking about it.
"So, very very bad idea, please don't do that."
In a response video, TikTok user "loveeverydaytiktok" called the influencer's video "totally unnecessary".
A self-proclaimed "millennial auntie", the TikToker acknowledged the need for engaging content creation as part of Ms Neo's job, but suggested that she could use other funny videos or lovey-dovey moments with her kids instead of such pranks.
"There's just something not right about putting your child in a fearful situation so that you can ... get some kind of response from your followers. It's just not right."
Noting that Ms Neo had also used the #fyp (for your page) hashtag in her caption, "loveeverydaytiktok" concluded: "You know, it's not just for fun... She didn't do this video just for fun, but mostly to get views."
"Maybe I'm old-fashioned, but I don't think that's the right way," she said.
Her video, posted on Saturday, has attracted more than 100,500 views.
Echoing her views, 24-year-old TikToker Nicole Liel of recent NDP 2022 fame also responded to the trend with one of her signature comedic rant videos.
"Y'all know this trend?" she says as she points to the ghost filter hovering above her face. "If my parents ever do this kind of s*** to me ... instant confirmation ah, of their place in the old folks' home.
"Mm-mm-mm. My filial piety? Out the window."
She goes on to exclaim: "This s*** is trauma-inducing ... If I didn't have a fear of ghosts, right, I would have a fear of ghosts after that."
"I won't want to let my kid do this filter ... (because) then now I have to accompany my kid (to) go pee lah, every night or whatever nonsense."
Posted on Sunday, Ms Liel's video view count has already hit 77,600. It also attracted a comment from local comedian Fauzi Azzhar, who has gained more than 77,500 views on his own reaction video using the blue ghost filter.
In the video, he stares unamused into the camera, with a caption that reads: "To the parents who are running away and almost snapping your children's hands while closing the door: Stop."
Responding to a commenter who called him and other critics of the trend "dramatic", he said: "You don't understand the trauma I went through as a kid when this stupid s*** was done. The trust is gone."
This is not the first time Ms Neo has gotten flak for prank videos with Kyzo. In April this year, she pulled the "invisible prank" on the young boy, pretending she could not see him.
Again, the video ended with the boy crying. It was viewed more than 14 million times.
Slightly earlier, in March, she posted a video of Kyzo in tearful distress because he thought that she was not there to pick him up from preschool. With 54.1 million views, this was one of her most popular videos to date.
However, it was only when her recent ghost prank video went viral that she began to receive a widespread, intense backlash from viewers.
Responding to the influx of negative comments, Ms Neo posted a follow-up video on Sunday, which has attracted more than 301,500 views in just one day.
In this video, she again uses the blue ghost filter, but this time with both her and Kyzo smiling at the camera. In the next clip, the young boy can be heard telling his mother: "I want to do (the video) again."
Ms Neo shows him the phone screen, presumably displaying the ghost filter, as he laughs: "Funny!"
Prompted by an off-screen male voice which appears to be his father, he confirms that the ghost is "fake" and that he "still wants to do (it) next time".
"Appreciate the advice, but let's not tell a mum/dad what works best for their kids," Ms Neo writes in the caption. "I would never do anything to deliberately hurt my own child(ren)."
Agreeing with her, one commenter said: "They say this will cause trauma but there's a difference between living with prankster parents and living with parents who traumatise their kids."
Another joked: "These people act like they don't use 'later ghost will come find you' whenever their child misbehaves."
On the original video, Ms Neo also had her fair share of supporters, including viewers who remained tickled by the prank and poked fun at the dissenters for being "too sensitive".
"That was mean..." read one comment. "Do it again."
Some observed that from other videos, she and her husband "definitely seemed like good parents", but had perhaps missed the mark this time.
Earlier this month, a Filipino TikTok influencer who professed to be an early childhood educator also posted a video condemning the popular "ghost prank" videos.
In her video, which was viewed 1.2 million times, user "nanasilayro" or Nana said simply: "This is not okay."
"I'm not sure people are aware of the consequences of the 'trend' that they're doing ... this will cause long-term trauma."
A lot can happen, she explained, including physical accidents, "very very bad trust issues" and mutism.
Online users on other social media platforms such as Twitter and Reddit have also condemned the ghost prank trend.
"I get pranking your kids for a little fun but once you see their TRUE fear ... why continue with the prank and why post it for others to laugh at your kid?" one asked.
On the Hardwarezone forum, one user referenced a YouTube family channel called "DaddyOFive", on which an American couple used to post light-hearted prank videos of their five children.
The pranks escalated, however, until Child Protection Services and the court stepped in, reassigning custody of two of his five children.