Understanding why some people are not taking Covid-19 vaccines and how to gain their confidence
SINGAPORE — Ever since Singapore kicked off its national vaccination programme for Covid-19, data on take-up rate has increasingly painted an encouraging picture: More than 4.4 million doses of vaccines have been administered as of Wednesday (June 9).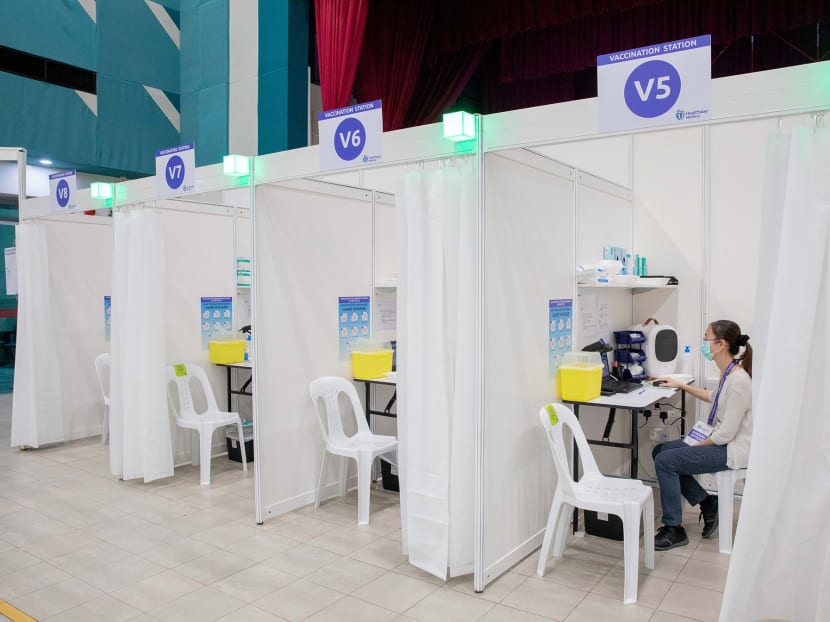 The overall uptake of Covid-19 vaccines in Singapore has been progressing well
However, there are still people who are not keen to be vaccinated
Experts help explain the psychology of vaccine hesitancy
To address misinformation and doubts, a virtual public forum was held last weekend
More than 150 people, mostly teenagers, are being trained to do outreach to foster vaccine confidence
SINGAPORE — Ever since Singapore kicked off its national vaccination programme for Covid-19, data on take-up rate has increasingly painted an encouraging picture: More than 4.4 million doses of vaccines have been administered as of Wednesday (June 9).
However, there remains a proportion of the population who may be wary and are hesitant about getting their shots.
The following are the statistics so far.
About 1.9 million people have completed the regimen of taking two doses and about 2.5 million — or 44 per cent of the population — have received at least the first dose.
About 74 per cent of eligible seniors aged 60 and older, nearly 74 per cent of eligible persons aged 45 to 59, and 65 per cent of eligible recipients aged 40 to 44 have received their shots or booked their appointments.
For eligible teenagers, about 85 per cent have received their first vaccine shot or booked to receive it. 
By August, the Government is expecting half its population to be fully vaccinated, with this rate rising to 75 per cent or more by October.
Separately, a survey by the Centre for Information Integrity and the Internet (In-Cube) from the National Technological University (NTU), showed that more people are willing to be vaccinated now than ever.
The online survey, done in March and involving 1,000 Singapore adult residents, found that around 65 per cent of the respondents agreed or strongly agreed with the statement: "I am willing to get vaccinated against Covid-19".
Associate Professor Edson C Tandoc Jr, director of In-Cube, said that this was higher than the 55.3 per cent who agreed with the statement in an earlier online national survey by the centre in December last year.
So for people who have not signed up for the voluntary vaccination exercise, what could be holding them back?  
PARENTS' WORRIES FOR CHILDREN
Mrs LS Tan's 16-year-old twin daughters are among the 10 per cent in the graduating student cohort who have not signed up for their vaccination.
On Monday, Education Minister Chan Chun Sing said that 90 per cent of the students from graduating cohorts have signed up to be vaccinated and around half of them have received their first doses.
Students aged 12 and above will be invited to take the vaccines from June 1 in a progressive roll-out, with priority given to those who are taking their N-, O- and A-level examinations this year, as well as special needs students. 
Mrs Tan, 47, a homemaker, said that she weighed the risks after researching and following closely news here and overseas on Covid-19 developments. She is also not vaccinated.
Her main concern is that the vaccines using messenger ribonucleic acid (mRNA) technology are "quite new".
The ones from pharmaceutical firms Pfizer-BioNTech and Moderna approved for use here are mRNA vaccines.
"(The mRNA vaccines) have no long-term track records to show what will happen later. Even though many say it is safe and there aren't many side effects at the moment, how will it impact the body 10 or 20 years down the road? I don't think I am alone in having such thoughts," she said.
However, Mrs Tan said that she will consider letting her children take inactivated virus vaccines. This is because she feels that the traditional vaccination approach is "safer", given its longer track record.
Inactivated virus vaccines use viruses to trigger an immune system response. The viruses have been disabled or "killed" so that they can no longer replicate but retain their whole spike protein, which is what viruses use to enter human cells. 
Earlier this week, the Ministry of Health's expert committee for Covid-19 vaccination has said that based on its continued review of data and evidence, the Pfizer-BioNTech and Moderna vaccines are deemed to be safe and highly effective, and show protection against coronavirus variants of concern.
It also said that the protection from inactivated virus vaccines are varied and there is no evidence now to suggest that these have higher vaccine efficacy against the notable virus strains than the mRNA vaccines. 
Associate Professor Chong Chia Yin, senior consultant at KK Women's and Children's Hospital (KKH), said: "Understandably, parents and caregivers would be concerned about the safety, efficacy and effects of any vaccination, including the Covid-19 vaccination in their child."
Dr Liew Woei Kang, consultant paediatrician at Mount Elizabeth Novena Hospital, said that it is "natural" for parents and caregivers to have such concerns, but vaccine hesitancy may be heightened due to "fake science circulating on social media".
Since the vaccination programme was rolled out to teenagers aged 12 and above, Dr Liew — who practises at Paediatric Allergy Immunology Rheumatology Centre — said that he has received many enquiries from concerned parents and relatives asking if he would recommend the vaccine to their children.
Common concerns revolve around the mRNA vaccines being relatively new and little data available on its long-term safety. 
Dr Liew, whose own children aged 17 and 12 will be going ahead with their vaccinations, said: "The kids are mostly enthusiastic to receive the vaccine; it is usually the parents who are wary.
"Adults, including senior citizens, are mature individuals who can make their own decisions for their health, whereas parents sometimes fear making the wrong decision on behalf of their children. This certainly adds to the hesitancy parents will go through."
Mrs Tan said that some people feel that she is being "kiasi" (afraid of dying) but she feels that her children are still safe in Singapore and they have no plans to travel anytime soon.
"Some people asked me why I believe this or that article on vaccines. Some told me not to be so 'selfish' and contribute to the trial numbers, but what if something happens to my children?" she asked.
WHAT DOCTORS SAY
Doctors approached by TODAY said that the known and potential benefits of Covid-19 vaccination outweigh known and potential risks, and reiterated that the vaccines used here have been found to be safe and highly effective in clinical trials.
Dr Liew said that the Pfizer-BioNTech vaccine was found to be "safe and highly effective" in a randomised controlled clinical trial in the United States that included some 2,260 participants aged 12 to 15, who were randomised to receive either the vaccine or placebo. 
Addressing parents' concerns, Assoc Prof Chong who is from the infectious disease service at KKH's department of paediatrics, said: "We would like to reassure parents that vaccination can help protect your child from getting Covid-19.
"Getting a Covid-19 vaccine will also help prevent your child from becoming seriously ill or developing long-term health problems, especially those with underlying medical conditions (such as diabetes, obesity, cardiovascular diseases) if they contract Covid-19."
Other benefits of getting vaccinated include reducing the chances of infecting someone else or other family members, especially those who are vulnerable such as elders or those with weakened immune systems, Assoc Prof Chong said.
"Having the vaccine may also give parents and children peace of mind to return to activities like in-person schooling and sports," she added.
Dr Liew from Mount Elizabeth Novena Hospital said that most adolescents including those with chronic medical diseases can receive the Pfizer-BioNTech vaccine, and restrictions for those with severe food and drug allergies were recently relaxed.
The exception is for those with severe vaccine reaction or anaphylaxis and the severely immunocompromised.
"I have told my patients to control their diseases (or underlying allergies) optimally prior to vaccination and to raise the alert if they feel unwell after vaccination," Dr Liew said.
He also said it is not true that teenagers do not get sick from Covid-19.
As of May 10, statistics from the US revealed that more than 1.6 million infections occurred in the 12 to 17 age group, he added.
"Of these (infected cases), there were 127 deaths and a cumulative hospitalisation rate of 53.1 per 100,000 population.
"Children also get a rare complication called Multisystem Inflammatory Syndrome in Children, which is a severe hyper-inflammatory condition that requires admission into intensive care units and can be fatal."  
Assoc Prof Chong and Associate Professor Thoon Koh Cheng from KKH said that since the use of Covid-19 vaccine, "there have not been any reports of adverse events causing permanent damage to the cognitive or reproductive organs to date". 
There are women who conceived after receiving the first dose of the vaccine, therefore the vaccine does not impact fertility, they added.
Assoc Prof Thoon is a senior consultant and head of infectious disease service at KKH's department of paediatrics.
On concerns over the lack of long-term safety data, Dr Liew said that most side effects of vaccines usually occur "within the first few weeks to months of vaccination".
Pointing out that more than 4 million people under 17 have received the Covid-19 vaccine in the US, he said: "There is a wealth of data from the US, United Kingdom and Israel on their safety.
"Adolescents are young adults, specifically their immune systems are mature and well-functioning to deal with Covid-19 vaccination. 
"The medical community will continue our surveillance for adverse effects post-vaccination but as with most things in life, we would never have a complete picture before making decisions. But we should trust in science and evidence-based medicine."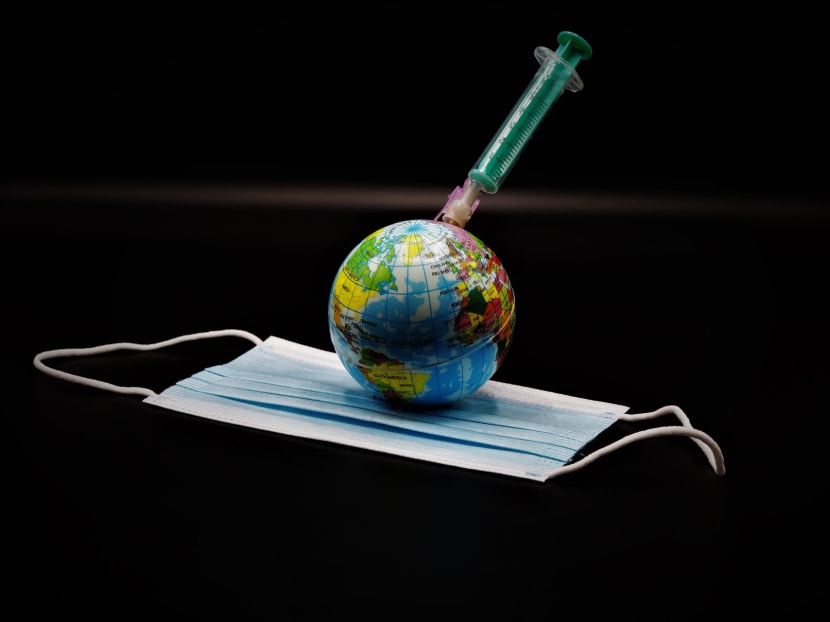 PSYCHOLOGY OF VACCINE HESITANCY
Vaccine hesitancy is not a new phenomenon and has been documented for other types of vaccinations.
Assoc Prof Thoon said: "Vaccine hesitancy may arise due to concerns surrounding potential side effects from the vaccines, concerns about their efficacy or even misinformation."
Sociologist Tan Ern Ser from the National University of Singapore (NUS) said that those who have no access to, are unable to comprehend or do not trust official information may also be less accepting of vaccination.
There may be a small group of people who perceive vaccination as an "instrument of oppression" as well, that they are unlikely to catch the virus or rationalise that the vaccine is ineffective, Assoc Prof Tan added.
Researchers studying vaccine scepticism said that it may not be the lack of information or knowledge that drives resistance, but certain psychological beliefs.
A study published in January in open-access research journal Nature Communications found that in Ireland and the UK, people resistant to the Covid-19 vaccine were less likely to obtain information about the pandemic from traditional and authoritative sources.
They also had similar levels of mistrust in these sources compared to vaccine-accepting respondents.
Based on In-Cube's March survey findings in Singapore, Assoc Prof Edson of NTU said that:
People from higher-income households expressed stronger levels of willingness to get vaccinated

A strong predictor of willingness to get vaccinated is trust in information about Covid-19 that comes from the Government and health professionals

Those who think Covid-19 still poses a serious threat and those who think they remain at risk of getting the disease are more willing to get vaccinated
Interestingly, he added that some people who remain hesitant about getting vaccinated are well-read about the topic.
"The hesitation may be due to the conflicting claims that they have come across.
"For this group, (giving them) more details may be less helpful but hearing from their peers who have been vaccinated may be more persuasive," he said.
He also said that it is difficult to ascertain the real intention behind those who create questionable claims about Covid-19 vaccines.
However, people who share the information do so sometimes out of real concern for others as well as to manage their own uncertainty.
The "different camps" of doctors offering conflicting views over the past year or so is partly why Mrs Amanda Lim, 38, will not take the Covid-19 vaccine until she is "done" having children and breastfeeding.  
Now seven months' pregnant with her second child, the nutritionist and personal trainer is planning to have a third.
Emphasising that she is not against vaccinations, Ms Lim, who has gone for her flu and whooping cough vaccinations, said: "The existing evidence we have doesn't extend very far — we don't know the long-term outcomes on babies (when a woman is vaccinated during pregnancy).
"It is also a bit difficult to navigate (the differing information), especially when everyone is working off the same evidence. It's not like some of the doctors have evidence that others don't have."
Associate Professor Tan Lay Kok, head and senior consultant at KKH's department of maternal fetal medicine, said that pregnant and breastfeeding women should "strongly consider" getting the Covid-19 vaccination after discussing with their healthcare provider.
Based on a US study of mRNA Covid-19 vaccines that included 3,958 pregnant women, no obvious safety signals were flagged among those who received the vaccines. 
There is also no evidence to suggest that the efficacy or effectiveness of vaccines administered to pregnant women should be inferior to when it is done outside pregnancy, he added.
WAYS TO INCREASE VACCINE CONFIDENCE
Rather than shame, guilt or embarrass those who are vaccine-hesitant, research showed that taking advantage of messaging that uses positive emotions may be more effective in fostering vaccine confidence.
For example, a paper published last October in Health Communication, a peer-reviewed academic journal covering communication in the healthcare industry, suggested that as part of vaccine education strategy, people should:
Acknowledge the fear and anxiety of those still not keen to take vaccines

Appeal to altruism and hope as part of vaccine education

Emphasise the safety and efficacy standards of the Covid-19 vaccine development process
To address Covid-19 vaccine misinformation, questions and doubts, the Saw Swee Hock School of Public Health in NUS conducted a virtual public forum last weekend with the support of the Rotary Club of Singapore.
An expert panel took questions from the public on the safety, benefits and possible adverse effects of the vaccines. 
During the second part of the event, the experts trained more than 150 people to serve as public health ambassadors. About 87 per cent are under the age of 19.
The idea is for them to be equipped with the necessary knowledge and skills to reach out to the public, including those who need assurance about vaccination.
After training, this group will conduct outreach programmes within the community when the situation permits.
Student ambassadors will conduct the outreach within their schools, guidelines from the Ministry of Education stated. 
For sociologist Tan Ern Ser from NUS, his personal take is that using family and friends as "ambassadors" will work better than volunteers.
He suggested mobilising friends and family members to "nudge or apply some subtle social pressure" as this may work to encourage those who are hesitant to go for their vaccination.
"Better still, accompany them to the vaccination centre."
On using cash or material rewards to incentivise vaccination, he said: "I believe that is not the way to go. It undermines the intrinsic rewards of doing the right thing for oneself and loved ones.
"It could also have an unintended consequence of establishing an unhealthy precedence of people expecting an incentive for doing what is socially responsible in the first place."