Volunteer, stay informed and speak to your MP on issues of concern — panellists on how Covid-19 lessons can be learned
SINGAPORE — Singaporeans can help bring empathy to policy-making by taking an active interest and participation in the issues that have arisen during Singapore's experience with the Covid-19 pandemic. This was one of the points made by panellists at a National University of Singapore (NUS) forum on Tuesday (Jan 26).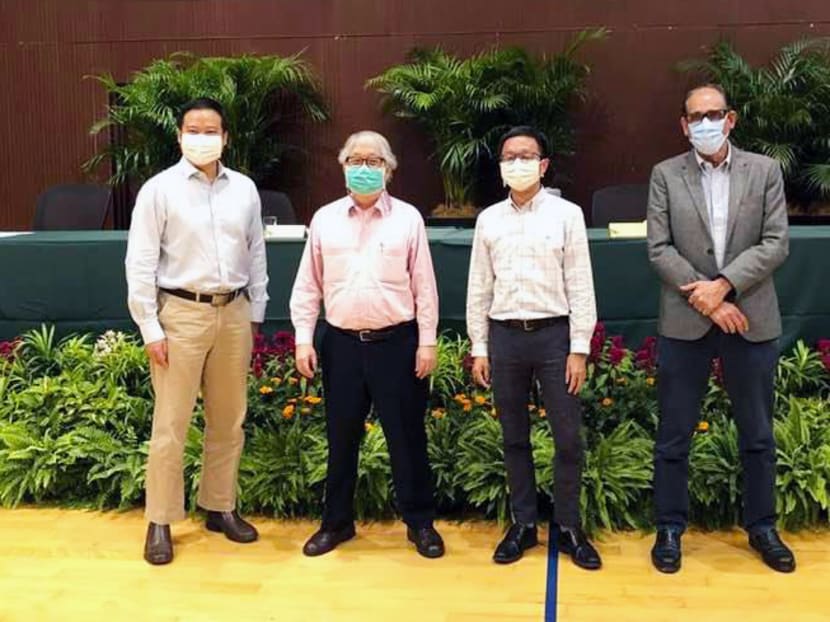 Panellists at a National University of Singapore forum talked about the economy, politics and the migrant workers' situation here
One noted that the Covid-19 outbreak in migrant worker dormitories barely made an impact during the 2020 General Election
The pandemic has caused the economy to recover "unevenly", another panellist said
On inequalities during the pandemic, some took aim at Singapore's homeownership focus
SINGAPORE — Singaporeans can help bring empathy to policy-making by taking an active interest and participation in the issues that have arisen during Singapore's experience with the Covid-19 pandemic. This was one of the points made by panellists at a National University of Singapore (NUS) forum on Tuesday (Jan 26).
One of them, Assistant Professor Ng Kok Hoe, said that for there to be change, people have to stay informed, support those who challenge dominant narratives and talk to their political representatives if they have an issue with how something is done.
The senior research fellow at the Lee Kuan Yew School of Public Policy added: "If you're unhappy about an issue, tell your MP (Member of Parliament) that you're not okay with that." 
The Tembusu Forum was moderated by Tembusu College rector Tommy Koh and also featured Dr Jeremy Lim, chairman of migrant worker non-profit HealthServe, and The Straits Times' associate editor Vikram Khanna as panellists discussing the impact of the pandemic on Singapore.
In their opening remarks, the panellists spoke about their learning points from the crisis. Mr Vikram gave a presentation about Covid-19's economic impact, Dr Lim spoke about the outbreak in the foreign worker dormitories, and Dr Ng also touched on the migrant worker issue and the uneven effect the pandemic can have on various socioeconomic groups here.
Audience members, many of whom were undergraduates watching the panel discussion online, peppered the speakers with questions about the migrant workers' situation and what individuals can do to make a difference.
Dr Lim, who is also director of global health at the Saw Swee Hock School of Public Health, said that it is not possible to have averted the outbreak in the dorms even if the Government heeded the call of activist groups.
This is because the way migrant workers were housed in Singapore were long-held policy decisions that were informed by labour economics.
"It is this very ingrained mindset that (migrant workers) chose to come here and it's still better than where they come from. It's worthwhile reflecting on whether minimum standards for basic human decency and global health security are needed, and the answer is probably yes," Dr Lim said.
Prof Koh then asked about the current public opinion on migrant workers, pointing out that the crisis may have changed how people feel about these workers' living standards.
"I thought after the disaster of the outbreak of Covid-19 in the dormitories, public opinion in Singapore has turned around and Singaporeans feel that we should house them better than how we're doing it now, because what happened to them will ultimately affect us," Prof Koh said.
In response, Dr Ng said that it was common to hear people today still say that migrant workers in Singapore "have it so much better here than they do back home".
He noted international news reports during the 2020 General Election that said the outbreak in the dormitories "barely made a whisper" in the polls and was not a prominent part of any party's electoral campaigns.
"(The political parties) probably got it right that this was not a 'vote-swinging' issue and SIngaporeans will not vote one way or the other because of migrant workers — there were no votes in it," Dr Ng added.
Agreeing, Mr Vikram said that the same situation also applied for the non-resident population, such as foreign domestic workers and foreigners living in Singapore, which makes up more than a quarter of the total population and who also faced problems during the crisis.
He described how MPs told him privately that they would send these groups to the "back of the queue" at Meet-the-People's sessions because the MPs had to serve their Singaporean constituents first.
The economics columnist said: "The pandemic has shown us that you cannot prioritise (people's concerns) this way — if one person is affected, others will be affected, too, whether they are foreign or not."
UNEVEN IMPACT OF PANDEMIC
In his opening speech, Mr Vikram talked about how some companies have profited hugely from the health crisis — supermarkets, electronics and digital industries have flourished, but industries such as travel and hospitality, events management and departmental stores have tanked.
For example, with people switching from shopping at physical retail outlets to shopping online, this meant that some businesses would see their fortunes surge during the pandemic. They include online marketplace Amazon or Singapore's Sea Group, which owns e-commerce tech firm Shopee. 
"They have prospered beyond what they even imagined pre-pandemic. This is unfortunately… an uneven development," Mr Vikram said.
Dr Ng also said that there still remains stark inequalities in society as well, which will persist or worsen past the Covid-19 crisis if nothing is being done about them now.
An example would be the differences in public housing policies for homeowners and for low-income households who live in public rental flats.
Dr Ng, who studies homelessness in Singapore, claimed that conditions in the public rental housing system are dire because Singapore has provided it "grudgingly" since it was seen as a distraction from the national project of homeownership.
Because of this, rental flats have become smaller, older and less adequate, he said.
Mr Vikram said that beyond the low-income groups, there is also a whole cohort of unstable income earners in the gig economy who find it harder to get a mortgage, and may need to rely on renting flats.
Prof Koh said that the issue of rented housing versus homeownership was a "mental block" for Singapore.
He recounted how he had moderated a question-and-answer session with founding prime minister Lee Kuan Yew at the 50th anniversary of the Housing and Development Board in 2010, and had asked the veteran politician then to acknowledge whether there may be some young people in self-employment or in contractual jobs that face difficulties becoming a homeowner.
"Mr Lee's answer was no. (Home ownership) has become an ideology in Singapore that it is a mental block to building better rental housing for the poor, and good rental housing for the young middle class," Prof Koh said.
EMPATHY IN POLICIES
Concluding the discussion on the pandemic impact, Prof Koh then asked the panellists for their views on how people can ensure "empathy" in policies and programmes in the future.
Prof Koh also gave his own suggestion to the audience of undergraduates: "If the issue is important enough, volunteer."
On this point, Dr Lim from non-profit HealthServe said that it was key to "walk in people's shoes" for a long period of time and not sporadically.
In medical schools, for example, it is routine for medical students to journey with low-income patients over a period of one to two years in order to understand how their health is affected by social determinants, Dr Lim said.
Dr Ng replied that to many people, policy change always feels distant and slow. But the individual can help speed up the process by keeping abreast of current issues and participate politically by going to Meet-the-People's sessions to voice their views.
He then gave an anecdote about how at some void decks of public housing blocks, defensive architecture was installed at common facilities such as benches to prevent the homeless from sleeping there.
"When we were doing our street count (for our study on homelessness), we saw some of the most hideous examples of it — probably a resident complained — and so these improvised armrests were installed."
He suggested that people who desire to see change should also do the same by seeking out their political representatives.
"If you see that in your void deck, take an evening and wait for your MP and tell him you're not okay with that, and if the armrests aren't removed, he will lose your vote. Tell them that," Dr Ng said.