Where the Jobs Are: Driven by passion to help seniors, youths take up geriatric and community nursing
As fresh graduates and other young Singaporeans face a challenging job market amid the economic downturn, TODAY is running an eight-part weekly Where the Jobs Are series, shining a spotlight on sectors that may be overlooked but are offering interesting opportunities.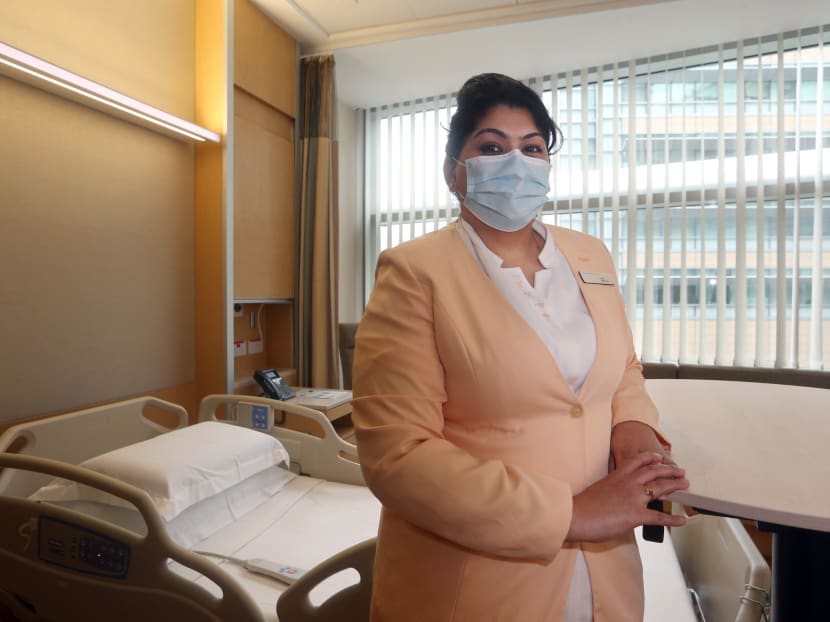 As fresh graduates and other young Singaporeans face a challenging job market amid the economic downturn, TODAY is running an eight-part weekly Where the Jobs Are series, shining a spotlight on sectors that may be overlooked but are offering interesting opportunities.    
In the second instalment, we focus on the geriatric and community nursing fields, which are drawing more interest among young healthcare professionals as Singapore's population ages.
The community and geriatric nursing fields are emerging, with more nurses keen to join their ranks
Nurses specialising in these areas say they are driven by their passion for helping seniors
They hope to build their careers in this growing part of the nursing profession
SINGAPORE — After staff nurse Anita Kaur was called upon to care for her ailing grandmother who suffered a stroke in 2015, the 35-year-old decided to specialise in gerontology.
A staff nurse at Mount Elizabeth Novena Hospital since 2013, she pursued an advanced diploma course in gerontology, the study of ageing, in 2016. Now, she is able to better look after elderly patients who are hospitalised.
"When I went into gerontology, it made me feel like I can do my best for (my grandparents)," she said.
"They were the ones who brought me up, so with this knowledge from my course, I can put it to use for them."
She said that when her grandmother had a severe stroke in her 80s, she cared for her and educated members of her household on how to do so.
And while her grandparents may have inspired her to join the field, Ms Kaur said that they had reservations at first about her becoming a nurse.
"Initially, when I joined nursing, my grandfather said 'this is not a joy, it's a dirty job'," said Ms Kaur, whose grandmother died in 2018.
"But after that, (when I joined), they supported me all the way." 
Over the years, some of her colleagues have also had friends and loved ones label the profession as one that evokes foul smells, dirty conditions and the mental deterioration of elderly patients.
Ms Kaur begs to differ.
"Most of these cliches could be eliminated if we are empathetic and compassionate towards elderly patients," she said.
With those aged 65 and older expected to form nearly half of Singapore's population by 2050, hospitals and nurses said that the geriatric and community nursing fields would experience rising demand and be more sought after in the coming years.
Ms Josephine Ong, director of nursing for the Singapore operations division at private healthcare group Parkway Pantai, which oversees Mount Elizabeth Novena Hospital, said that geriatric nursing is an emerging sub-sector of the profession.
"Ten years ago, most of our nurses were not as keen to specialise in geriatric nursing," she said. "However, in recent years, we are pleased to observe that the interest is growing." 
Over the last half a decade, about 5 to 10 per cent of Parkway Pantai's nurses who took advanced diploma courses chose to specialise in gerontology.
"It's an encouraging trend and we certainly support it, so as to build our expertise in geriatric care and to provide the best care for our geriatric… patients," Ms Ong said.
Across the group's four hospitals — Mount Elizabeth Novena, Mount Elizabeth, Parkway East and Gleneagles — there are 12 nurses with an advanced diploma in gerontology.
For Ms Kaur, she treasures moments on the job when she is able to see her patients recover.
She recalled an occasion when an 80-year-old patient she had taken care of returned for an appointment two months later.
"I was pleasantly surprised and touched when she addressed me by name from a distance," said Ms Kaur. "This is the sort of moment nurses live for… I could truly sense my patient's joy in her voice, for all the effort I put in to help her."
"I feel a sense of achievement or satisfaction when a patient with illness has recovered and is able to lead a joyful life," she added.
A typical day for her is much like that of nurses in the wards, she said, but she is able to advise her colleagues when they have questions on how to care for elderly patients.
"Sometimes, other nurses will ask for certain advice on how to calm (elderly patients) down."
She has three rotating shifts — from 7am to 3pm, 1.30pm to 9.45pm, or 9pm to 7.30am.
The job of a geriatric nurse includes going through a checklist to gauge elderly patients' psychosocial and mental state as well as finding out more about their family history.
This is often not straightforward, as many elderly patients hide their afflictions or have been abused by family members but do not dare to reveal this.
"It takes a lot of time and patience, and communication skills," said Ms Kaur.
CARING FOR PATIENTS IN THE COMMUNITY
Community nursing is also set to draw greater interest among young nurses, as care is taken beyond hospitals into the community.
Ms How Ai Xin, a nurse clinician at Tan Tock Seng Hospital (TTSH), became a community nurse because she enjoyed interacting with elderly persons.
The 34-year-old, who has been a nurse for 14 years, discovered this passion during a work attachment when she was studying nursing at a polytechnic and had the chance to work with seniors.
"I like how (elderly people) interact with me. Sometimes, they will share their wisdom about their lives."
She said that younger Singaporeans often do not pay much attention to the needs of seniors in their twilight years.
"But, for me, it's actually when they're passing on that they also need to maintain their dignity, (so) we have to ensure they pass on smoothly."
Ms How worked for about nine years in a geriatric ward at TTSH, completing her advanced diploma in gerontology in 2015.
It was only last year that she became a community nurse, covering the Ang Mo Kio, Bishan and Hougang towns. Her day-to-day routine is not within hospital wards, but in the community — at the homes of her patients.
She would arrive with a small luggage of medical equipment to treat patients as well as teach their caregivers how to administer care.
She visits one to three homes a day from 8am to 5.30pm.
"(As a) community nurse, I can see the other side of the patient, where they are more stable and more active, compared with when they are in the hospital," said Ms How.
"I can get a better picture of how my patients are handling their medical condition once out of hospital and back in their homes."
Some of her proudest moments on the job are when she is able to improve the living conditions of a patient.
She recounted a case where a family did not know how to care for a patient with dementia and left him to sleep on a beach chair away from other family members, instead of a bed. This was because the patient would accuse the family of causing him harm.
"Slowly, we started to give him treatment, negotiating with the family on what we can do. The family is getting involved in the care, and we do see improvements in the patient's health and family relationship."
Ms How said that for people who are keen to become community nurses, at least three years' experience as a ward nurse is needed.
Like geriatric nursing, Ms How said that community nursing is an emerging field: "It is a growing sector and undergoing many improvements, (and is about) being less reliant on hospital care. Young people might not know about this."
At TTSH, there are about 161 gerontology-trained nurses who have gone for further studies such as pursuing advanced diplomas or master's degrees in gerontology.
Of these, 67, or about 42 per cent, are 35 years old and below, the hospital said. There are 41 community health nurses like Ms How among them, 19 of whom are aged 35 and below.
The authorities do not break down statistics across sub-sectors in the nursing profession, but the Ministry of Manpower (MOM) said in its job situation report in December last year that enrolled nurses and registered nurses draw a median monthly salary of S$3,900.
Those in the 25th percentile earn S$3,300, while nurses in the 75th percentile draw S$5,200.
Both Ms Kaur and Ms How declined to reveal their salaries.
Parkway Pantai's Ms Ong said that for fresh graduates, the group offers starting salaries from S$2,600 a month, depending on the experience of the candidates.
Based on MOM's job situation report, there were nearly 6,700 openings in the healthcare sector at the end of November last year.
These opportunities, which are for fresh graduates and mid-career professionals with healthcare and non-healthcare backgrounds, include jobs, company-hosted traineeships or attachments as well as training places.
Among the nearly 5,500 job vacancies, the majority (about 75 per cent) are long-term positions, of which close to 30 per cent are professional and executive roles such as nurses, allied health professionals, and finance and human resources executives.
OPPORTUNITIES ABOUND
Ms How said that at TTSH, there are various opportunities for nurses to develop their careers and specialisations, be they in gerontology, community nursing or education.
Apart from sending nurses for courses, the hospital conducts in-house training to upskill nurses. There are also overseas attachments to help nurses experience different healthcare systems.
Ms Ong of Parkway Pantai said that to help nurses pursue various specialties, the group may also sponsor employees for advanced diplomas in areas such as gerontology.
The healthcare group also offers job rotations and transfers within various nursing departments, such as the intensive care unit, operating theatres or endoscopy, before they decide on a specialisation.
Based on the Ministry of Health's website, there are several career tracks for nurses. Staff nurses with a diploma or degree can progress to take up roles such as nurse clinicians, nurse educators and nurse managers.
Nurse clinicians will be provided with opportunities to develop their knowledge in a specialised field, such as critical care and oncology, and lead a team of nurses.
Nurse educators may work in a hospital to develop and roll out education and training programmes for nurses, or be a full-time nursing lecturer at an educational institution.
Nurse managers oversee a ward or department at a healthcare institution. Under the management track, they may move to senior roles, such as senior nurse managers and assistant directors.
Ms Kaur and Ms How said that they are looking to stay in nursing to continue making an impact on lives.
"I am unable to see myself doing other jobs, as this is where my interest lies," said Ms Kaur.
"As I enjoy physical and hands-on work with my patients, I am moving towards the path of nurse clinician."
For Ms How, she is encouraged by the growth of community nursing and hopes to stay in the field.
"I do see that there are many more areas (in community nursing) to explore and develop, and so, I think this field holds many more opportunities."