Woman Up: Manning up to the problems of toxic masculinity in Singapore's society
SINGAPORE — On the surface, Jane's ex-boyfriend of four years seemed like a decent man. Her friends remarked that he was polite, friendly and could engage them on a variety of topics.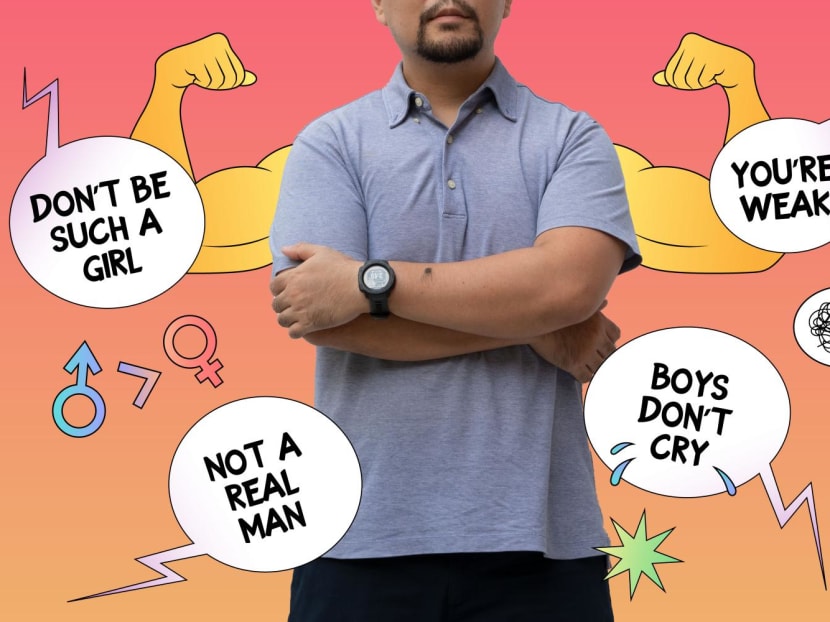 The Government's White Paper on women's development, which was submitted to Parliament earlier this year, laid out various ways which public policy can and should be used to promote gender equality in Singapore. But policies can only go so far if mindsets don't change.
In this four-part Woman Up series, TODAY takes a look at the ways in which societal biases and perceptions are still holding women back from true equality — and why it's a problem men should also care about. This is the final instalment which looks at how toxic masculinity not only affects women, but men too. The first instalment on the role of women at home can be read here, while the second instalment on gender equality in the workplace can be read here.  The third instalment on modern motherhood can be read here. 
According to a 2021 poll, the top three behaviours associated with toxic masculinity were: Exhibiting power over women, dominance, and propensity for violence
Experts said such behaviours could even have an influence on the kinds of crimes men commit against women 
And even if it doesn't, men who display such characteristics could create a toxic environment in the workplace
Some experts added that masculinity becomes toxic when men feel they need to conform to rigid gender norms
SINGAPORE — On the surface, Jane's ex-boyfriend of four years seemed like a decent man. Her friends remarked that he was polite, friendly and could engage them on a variety of topics. 
But when alone and behind closed doors, the same tongue that won her friends over with charm and wit dripped venom instead.
Starting from about two years into their relationship, Jane, now 24, said he began being verbally and emotionally abusive and would often shout at her, sometimes even in public. It was so bad that a stranger once approached them to ask if everything was alright.
Jane declined to give her real name out of fear of being identified by her 25-year-old tormentor.
"There was also name-calling, belittling, putting me down, ranting at me and hanging up on me and expecting that I call back immediately," said Jane, who recently graduated from university and is seeking employment.
"It made me feel small in the relationship and really made me doubt my capabilities at certain points in time."
While Jane ended her toxic relationship with her domineering ex-boyfriend last year, her account is far from unusual.
Stories frequently pop up on social media and in the news of abusive behaviour, sometimes violent and horrific, by men towards their partners, colleagues or family members. 
And experts say such abusive behaviour is one manifestation of a multi-faceted problem that has come to be known as "toxic masculinity" — the dangerous and destructive ways that some men present their manliness.
These can range from seemingly harmless behaviour such as believing men should not show their emotions, to non-violent behaviour such as making sexist remarks and engaging in "locker room talk" and all the way to criminal acts such as voyeurism, physical abuse and sexual assault. 
The thread that winds its way through these actions is the belief that being a real man requires one to assert dominance and control over oneself and others, especially those perceived to be "weaker", such as women and children, experts said.
Conversations about toxic masculinity have been gaining prominence in Singapore.
For instance, last year, Ms Corinna Lim, the executive director of the Association of Women for Action and Research (Aware), raised suggestions to review Basic Military Training, and other aspects of National Service (NS), to reduce "any unnecessary practice that promotes unhealthy masculinity norms".
Ms Lim said then that the use of homophobic and misogynistic terms, as well as the constant shaming and humiliation, are forms of "toxic masculinity" perpetuated in NS.
In any case, experts were also quick to point out that investigating toxic masculinity is not meant to lead to a condemnation of all men or of the idea of masculinity itself.
It is, instead, an attempt to identify the harmful ways that boys and men are pressured to exhibit their masculinity, in order to inculcate a healthier and kinder society.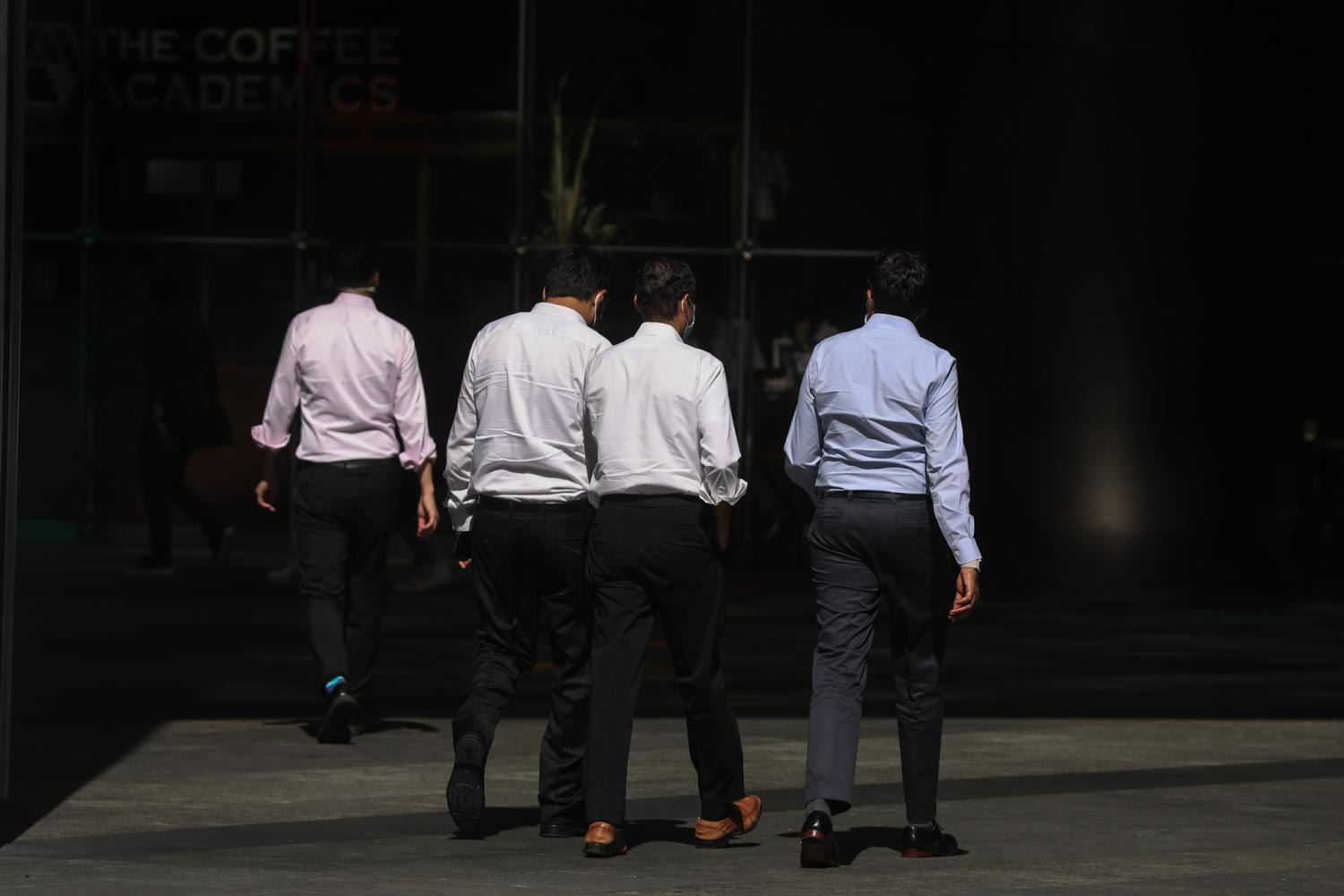 WHERE DOES TOXIC MASCULINITY COME FROM?
Toxic masculinity has its roots in rigid gender norms, said Mrs Sarojini Padmanathan, a member of the Alliance for Action to Strengthen Marriages and Family Relationships.
But that is not to say that all gender norms are necessarily toxic. Ms Jennifer Chan, a counsellor at the psychology clinic Mind What Matters, noted that gender norms had a social and economic function in the past. 
For example, after World War II, resources were limited and so many parents of the Silent Generation chose to prioritise the education and well-being of male children, she said.
"These, then, were the kinds of families many Baby Boomers were born into," said Ms Chan, adding that this became ingrained in their minds as what families should strive for.
"Social constructs take root in the subconscious — for example, a father is more capable of generating an income; a mother's place is to care for the home and children," said Ms Chan, whose clinical interests include gender roles, parenting and family.
And amid the tough competition for limited economic resources, shame became a tool that was used to motivate children, especially boys, to study hard and succeed, she added.  
This also led to women perpetuating gender stereotypes and toxic masculinity, said Mrs Padmanathan.
"I am used to hearing from my mom and aunties that a man should earn more than his wife, and he should marry someone lower-educated than him so that he would always be looked up to," she said.  
"Thus women and the society have helped to preserve the male ego, lest it be hurt."
Ms Chan said that a popular phrase in post-war culture was: "Behind every successful man there is a strong woman".
Back then, she said that a woman's worth was valued by what she does to provide a man "freedom to concentrate on his job and garner success for himself and his family".
She was in essence, "an object, a tool, an asset to be deployed for a man's own purpose, status and pleasure", she Ms Chan.
Some examples Ms Chan cited of how a woman needed to be "useful" included meeting the man's sexual needs, birthing offspring, parenting or being responsible for their children's academic performance.
And when a woman fails to meet these expectations, she said the belief is that it threatens the status quo and action must be taken to regain control.
"Unfortunately, this might be through dominance, oppression, gaslighting, manipulation and control," said Ms Chan. "If all else fails, violence and abuse may ensue."
Finally, experts said the proliferation of the internet and technology has also driven some toxic behaviours, including the mass consumption of pornography, which has been shown to lead its consumers to "objectify women and view them as sexual objects for their own gratification", said Dr Munidasa Winslow, the founder of the psychiatry and psychology clinic Promises Healthcare.
NO PLACE FOR TOXIC MASCULINITY, AT WORK OR HOME
A few years ago, Mr Shai Ganu had a senior colleague who would bang his fists on the table during meetings and tell people to "shut up" and perform tasks exactly the way he wanted them to. 
"That is a form of asserting dominance, which really should have no place in today's workplace. It's just not respectful, and it does not respect differences of opinions," said Mr Ganu, who is a committee member at BoardAgender, an initiative to advance more women into senior leadership roles and boardrooms.
"If you have a domineering alpha male boss, he generally makes it a point to diminish the importance and prominence of anybody else in the organisation, particularly subordinates or team members, because he wants to maintain the alpha status."
Such men also tend to hog the limelight, keep credit to themselves and have no desire to nurture those under their charge, Mr Ganu added. 
While such behaviour may have been common and accepted in decades past, it is now to the benefit of companies to stop enabling it, he said.
"You're disenfranchising a group of talent because they can't shine, or are not being allowed to."
He also pointed out that disgruntled employees could leave scathing comments on company review sites such as Glassdoor, which would only make it harder for the employer in question to hire new staff.
"In this war for talent where everybody is struggling to find the right people for the right jobs, is it worth the risk?"
Outside the workplace, too, some are pushing for more expansive definitions of masculinity.
Among them is a trio of interns from advertising agency BBH Singapore, who launched a two-week social media campaign on July 1 called Redefine Masculinity.
Ms Kang Jingyi, 21, Ms Kirianne Lim, 22, and Ms Ong Tze Kym, 21, told TODAY that when they were given a brief by their bosses to launch a social campaign to address a current societal issue that is occurring in Singapore, they thought about the NS experiences some of their male peers related to them.
This included hearing verbal insults that degraded women, or being labeled a "gu niang" (roughly translated from Chinese to mean like a lady). 
"Repetition of such terms caused some of them to have negative views about men who are not physically strong or built," said the team.  
The team added that they were tired of the stereotypical narrative that masculinity is embodied by a "successful, career-driven man, who must support his wife, kids and parents while showing no signs of struggle or weakness", and that a man who is "vulnerable, modest, a feminist, empathic" is not a "true man". 
Such ideas, the team noted, actually harm boys and men too. 
"These norms expect boys to be 'manly', and penalise those who are unable to earn or prove their masculinity through bullying, harassment, teasing and physical violence," they said.
After discussions with organisations such as Aware and Dads for Life, the trio came up with a series of Instagram posts on the benefits of expressing one's emotions, and affirmations that men are still men even if they do not conform to traditional gender norms. 
What they promote, they said, is "positive masculinity", which can be expressed in many healthy ways and give boys and men an opportunity to stretch beyond the confines of traditional norms and explore their true selves and desires.
"Examples of such forms could include being emotionally vulnerable, not being competitive and even challenging gender roles such as being stay-home dads," they said.
Mr Kelvin Seah, who has been a stay-home dad since 2018, can be said to reflect positive masculinity in action. 
"I think one of the most clear-cut, so-called definitions of masculinity is your ability to be the breadwinner or the main breadwinner of the family," said the 52-year-old father of two boys, aged 11 and 13. "So my decision runs counter to that kind of a cultural stereotype."  
His decision was made when in 2017, his younger son was diagnosed with moderate autism, which prompted him and his wife, Ms Shaw Lim, 50, to reassess their parenting strategies.
Eventually, the couple agreed that Mr Seah should be the one caring for the children while Ms Lim heads out to work, as they agreed that their sons need a positive male role model to feature heavily in their lives. 
And Mr Seah said he knows all too well what it is like not to have one, as his own father was emotionally absent, so he was all the more determined to be a better mentor for his sons.  
"Values are caught and not taught. If a parent is absent, how will they catch it? And where will they get their role model from, if not their father?"
When asked how he would teach his sons about masculinity, Mr Seah said he would tell them to consider carefully whether those gender norms fit in with the way they were raised and the way they see the world. 
"Maybe there will be occasions when (the norm) doesn't align with values that you hold dear, or where you don't really feel comfortable," he said. "Then, you need to be free to say, 'No, I don't have to follow society's script.'"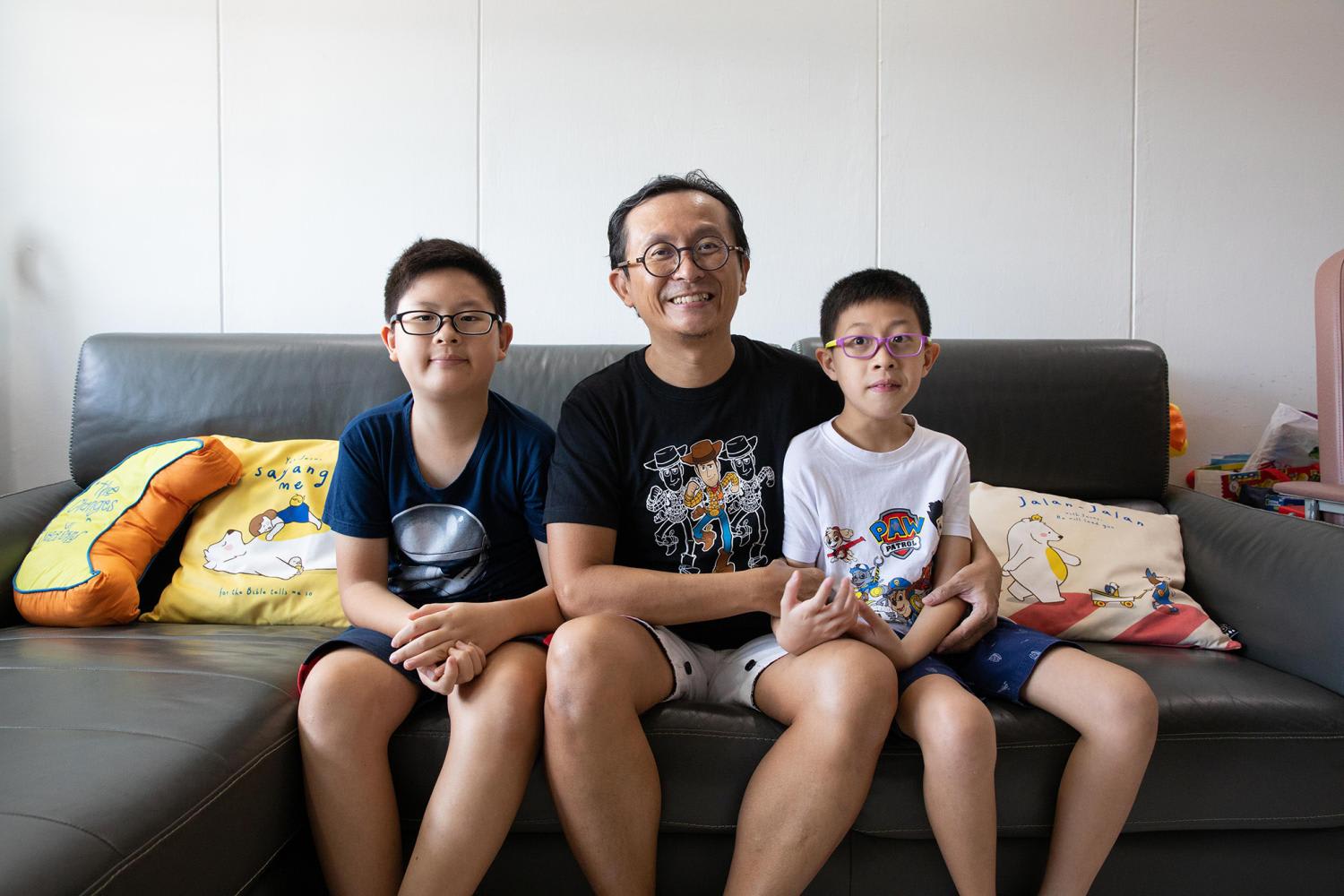 WHEN TOXIC MASCULINITY LEADS TO CRIME
There are many studies that have examined the correlation between toxic masculinity and criminal behaviour, which indicate that violence is a mechanism some men use to assert or reclaim their sense of masculinity, said Dr Omer Ali Saifudeen, a senior lecturer at the School of Humanities and Behavioural Sciences in the Singapore University of Social Sciences (SUSS).
Dr Omer, whose research interests include criminology, said other studies have demonstrated how toxic beliefs about masculinity could lead to rape culture and other forms of violence. 
Last year, a group called The Healthy Masculinity Project, comprising male Singaporean citizens and permanent residents dedicated to starting a conversation on gender inequality from the perspective of men, conducted a poll among 115 individuals — of which, 85 per cent identified as men — asking them what behaviours or traits they associated with toxic masculinity. 
The top three cited were exhibiting power over women, dominance, and a propensity for violence. 
One particularly egregious example of toxic masculinity turning violent is that of Clarence Teo Shun Jie, a former locum, who was jailed last year for the brutal assault on his ex-girlfriend Rachel Lim En Hui when she refused to have sex with him. 
Ms Lim suffered severe injuries in the form of multiple facial fractures, a fracture to her little finger and a brain haemorrhage. She was hospitalised for 20 days and had screws and a plate inserted in her fractured hand.
The case also reflects another troubling fact — that when toxic masculinity culminates in violence, it often affects the women closest to the male perpetrator.
Dr Winslow of Promises Healthcare, said statistical evidence indicates that most perpetrators of violent crimes against women, such as assault, rape and murder, are men who were already known by their female victims.
But when it comes to less violent crimes such as voyeurism, strangers can just as easily fall prey.
Ms Shailey Hingorani, head of research and advocacy at Aware, said that "technology-facilitated sexual violence" is one of the symptoms of the "widespread practice of sexual objectification of women and girls".
TODAY previously reported in April this year that Aware saw 163 new cases of tech-enabled sexual violence in 2021 — a drop from a record high of 191 new cases in 2020.
Nevertheless, the proportion of tech-enabled cases compared to overall cases of sexual violence has remained consistent at 19 per cent, Aware said.
One example of a tech-enabled sexual crime is the Telegram chat group SG Nasi Lemak, which was created in late 2018 as a platform for men to share obscene photos and videos of random women and even schoolgirls in uniform. 
The chat group is no longer accessible but had more than 44,000 members when it was still active. In order to remain in the group, members had to stay active by uploading and sharing pornographic material.  
Four men, who were identified as the administrators of the chat group, have since been dealt with in court.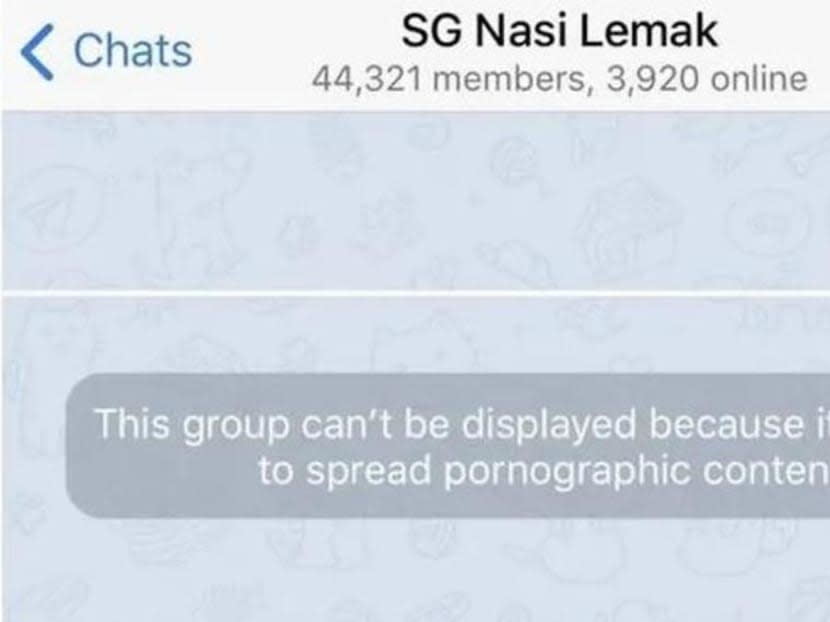 Ms Hingorani said that members of chat groups like SG Nasi Lemak often actively encourage each other to go out and commit acts of voyeurism. 
"Some perpetrators have spoken of a sense of camaraderie with the other users in these groups," she said.
"However, this particular type of male bonding is centred on dominating others by capturing and/or circulating their images without consent, with total disregard for the trauma, stress and practical repercussions on the victims."
Ms Hingorani said the proliferation and mass consumption of internet pornography have also created distorted and unhealthy gender representations, such as the idea that women are always ready for sex. 
Moreover, she said studies have found that increased use of pornography predicted more sexist attitudes in American adolescents two years after they were first surveyed.
Another US study Ms Hingorani cited found that adolescents who intentionally viewed violent pornography were almost six times more likely to report sexually aggressive behavior than those who had not.
"Experts believe that increased exposure in boys to violent porn normalises behaviours that their sexual partners might consider 'scary', such as choking," she said, adding that a 2019 study found that 13 per cent of sexually active girls aged 14 to 17 have been choked by their partners.
HOW TO MOVE FORWARD WHEN LABELS GET IN THE WAY
But while there is growing awareness that toxic masculinity in all its forms should be eradicated, there are still plenty of obstacles in the way, including the stigma attached to the term "toxic masculinity" itself.
Mr Bryan Tan, the chief executive officer of Dads for Life and Centre for Fathering, noted that such labels hurt, and it is hard to have a dialogue if the term itself "turns men off".
"The only way to get a man's voice in is to stop turning us away. All of us (men) are masculine…to have an aspect of us called toxic just doesn't sit well with us."
Aware's Ms Hingorani said that Mr Tan's point is useful. 
"It's always good to know your audience," she said. "We are mindful that some terms are more off-putting than others to men, and our intention in using them is certainly not to put anyone off."
Still, she said that she hopes men can make the effort to look beyond "whatever knee-jerk aversion they have to certain terms", and understand the ideas at their core, which are ideas that benefit men just as much as they benefit others. 
"After all, we see a similar misunderstanding of, and aversion, to the term 'feminism' —  a movement that seeks equality and progress for all individuals, not just women." 
Dr Winslow said that when facilitating conversations to effect change, "it is important to maintain an open and respectful discourse". 
"Rather than focusing on where you want the person to be, in terms of their beliefs or behaviour, start with where they currently are and walk with them as how they see the world and themselves, and how their beliefs and actions affect those around them," he said.
"When we bring the focus onto the individual and their present situation, they will be more sensitive to the pressing issues in their day-to-day life and receptive to nudges in changing themselves and their situations for their own betterment."
Be that as it may, Mr Tan believes that it is also important to confront the reasons why some men might behave poorly.
While he does not condone such actions, he said that when some men exhibit behaviours such as seeking female companionship outside of marriage or indulge in "the desires of the flesh", it could point to a symptom of an unmet need.
"Be it a need for affection, attention, love, or comfort…all those things we see that are undesirable out there are symptoms of unhealthy ways to address those needs," he said.
As such, he hopes the Centre for Fathering can become a safe space for men to talk about the issues that they face, so they can also get advice on how to deal with it in a healthy manner.
That said, Mr Tan believes that healthy masculinity is about having integrity, being loyal, and honouring and respecting everyone in the family, including women. 
This means that when a man witnesses toxic behaviours such as sexist or obscene talk, he should "stand up and correct them".   
"No one should be exposed to harm," he said. "It's not just a family issue. It's a societal issue."