Young climate activist wants to phase out fossil fuels, move to cleaner energy, but is realistic
SINGAPORE — If environmentalist Ho Xiang Tian had his way, the lights on Jurong Island would be permanently turned off, as he told close to 2,000 attendees at the inaugural Singapore Climate Rally at Hong Lim Park on Sept 21.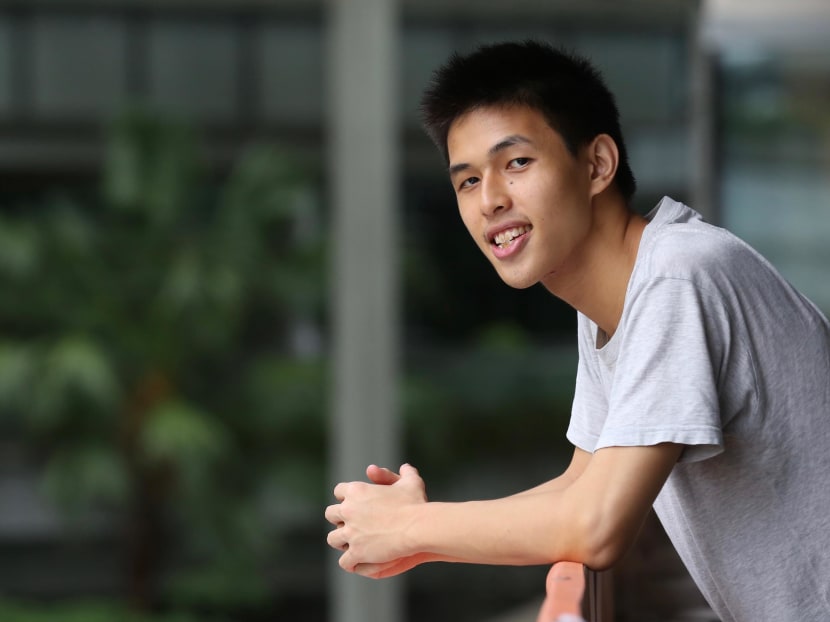 The climate change movement around the world is being spearheaded by youths, such as 16-year-old Swede Greta Thunberg. Singapore has its very own young climate champions too, including those who spoke at the inaugural Singapore Climate Rally earlier this month. TODAY speaks to three of them on how they are spreading the message on climate change. Read the other profiles here and here.
SINGAPORE — If environmentalist Ho Xiang Tian had his way, the lights on Jurong Island would be permanently turned off, as he told close to 2,000 attendees at the inaugural Singapore Climate Rally at Hong Lim Park on Sept 21.
The 23-year-old student acknowledged in an interview with TODAY on Wednesday (Sept 25) that shutting down the man-made industrial island would have enormous economic implications — but he stressed that failing to act decisively on climate change would have similar results.
Mr Ho, the co-founder of the environmental interest group Lepak In SG, is getting used to the reality of being a front-line activist. The rally was Mr Ho's first time speaking in front of such a large audience.
He acknowledges that he is a little worried that he may come across as too critical of the authorities, but he added: "We can't be afraid to stick our necks out, or nothing will change."
While the rally drew many supporters with its panel of impassioned speakers, it attracted just as many detractors who accused the attendees and speakers of being hypocrites who would go home to their air-conditioned rooms, among other things.
Though Mr Ho generally avoided reading comments online, knowing that they would be unpleasant, he came across one which effectively told the speakers to kill themselves since "human beings are the ones that emit carbon dioxide".
Still, he is choosing not to let the vitriol affect him.
Contrary to some of these accusations, he said neither he nor his family use air-conditioning at their executive HDB flat in Singapore's east, and they use public transportation as much as they can.
"I didn't go to any elite schools, and neither did my sister. My mum is an accountant, and my father is a software engineer. We're an average middle-class family," said the former Singapore Polytechnic graduate, who is now a second-year sustainable infrastructure engineering student at the Singapore Institute of Technology.
He did admit, however, that he is not wanting. "But because I have this privilege, I feel like this should be used for a good cause, and not just to secure (my future)," he said.
CLOSING DOWN JURONG ISLAND A 'CHALLENGE'
Mr Ho commands plenty of facts and figures to support his somewhat provocative statement about Jurong Island such as the fact that households in Singapore contribute only 6 per cent of the Republic's carbon emissions, while industries contribute 60 per cent of them.
"It makes no sense to me that we are told to switch off our lights when (they are) not in use, but the lights on Jurong Island never seem to be switched off," he said in his spirited oration at the rally, to loud cheers and applause from the crowd, including mothers and fathers, as well as youths.
Still, away from the rhetoric of public speaking, Mr Ho took a more practical approach.
He told TODAY that it would be a challenge to shut down the island that houses many of Singapore's petrochemical companies — and regional countries could take over those operations, perhaps with less regulation.
"But it does not change the fact that we need to get rid of fossil fuels, and transit towards other kinds of (green alternatives)," stressed Mr Ho, wearing his trademark attire of slippers and shorts that he wore at the rally.
THESE ARE NOT FAR-FETCHED IDEAS
Given the physical limitations, Singapore would have its work cut out to try to rely entirely on renewable energy – the lack of space would make it hard to establish big enough solar or wind farms, for example. However, Mr Ho has some ideas.
He said that if countries around the region, with more land or suitable geographical features, could produce renewable energy, Singapore would be able to "tap on it".
It is not a far-fetched idea. In July this year, Singapore firm Sun Cable unveiled plans to build the world's largest solar farm in Tennant Creek in Australia's Northern Territory, which could export 3 gigawatts of power via a 3,800km undersea cable to Singapore.
This would provide one-fifth of Singapore's electricity needs, according to a recent Reuters report that stated the A$20 billion (S$18.7 billion) project would be backed by Australian billionaire and co-founder of the Atlassian software company, Mr Mike Cannon-Brookes.
'WORK WITH US'
Ultimately, Mr Ho conceded that the issue of finding sustainable energy sources for Singapore is complex, and will not be easy to solve, so there is the need for closer collaboration between the Government and environment groups.
"I don't think I, or the environment community, have all the answers. After all, we are a small community. But if we work together with the Government, we can come up with something better than what is being done now," he said.
While he could not go into details, citing the nature of his meetings, he said he has met officials from the Ministry of the Environment and Water Resources. It is a start, but there is scope for more contact, he added.
"They want to get a ground sensing of how people feel, and we share with them the issues that we are concerned about, and some things that we think they can do," said Mr Ho.
While the two parties did not always see eye to eye, he said the ministry has at least been open enough to explain why to him. "I can understand why because sometimes the direction they want to go is quite different from the direction that we think they should be going."
'RAISE YOUR VOICES'
Some critics of the climate action movement have argued that proposed solutions to tackle climate change may impact Singapore's economy and affect the livelihoods of some. Doing away with the fossil fuel industry could result in massive job losses, for instance.
But Mr Ho countered that climate change will impact the economy regardless. "These people don't want to impact the economy now. They just want to let the economy in the future suffer. Maybe they won't be around then, but people who will be around would have something to say about that."
Addressing comments from those who said they are too concerned about bread-and-butter issues to care about the environment, he noted that only a small minority of Singaporeans are really in dire need.
"Those thinking of how to feed themselves in the next 10 years should also (be aware) that climate change will get a lot worse by then," he warned.
Given that droughts arising from climate change could drive up food prices, Mr Ho stressed this group ought to be thinking of what they could do to prevent that from happening.
He suggests that people who are still not convinced that climate change is happening should read up on the science behind it.
"If they are not sure what actions they can take, they can read up where most of the carbon emissions are coming from, and see what they could do to reduce those," he said.
Mr Ho also cautioned against anyone thumbing their noses at individual action, thinking that it will have no impact.
Using figures that were used in a survey conducted by Energy Efficient Singapore, he calculated that if every household in Singapore stops using air-conditioning and water heaters, carbon emissions from Singapore could be cut by 3 per cent.
But the numbers could be so much more if both corporations and the Government stepped in, he said.
While he is not suggesting street protests, he is urging concerned Singaporeans to write to their Members of Parliament to show them how worried they are about the issue.
"Raise your voice to the people in power, and let them see that this is not the future you want to see."