Malaysia GE2022: Key parties in Sabah, Sarawak score expected wins but face decision over which coalition to back
KUCHING — With Malaysia voting in the country's first-ever hung parliament following its General Elections on Saturday (Nov 19), parties in Sabah and Sarawak are well on track to play the widely touted kingmaker's role in deciding who to back to form the next government.
Parties in the East Malaysian states of Sabah and Sarawak will be playing a kingmaker's role in light of Malaysia voting in a hung parliament
In Sarawak, GPS swept 23 out of 31 seats while in Sabah, GRS took 12 out of 13 seats, in a showing that was not unexpected, say analysts
Both GRS and GPS are coy over which coalition they would work with to form the next government though they are discussing the formation of a 'Borneo bloc' where they support a government that benefits both Sabah and Sarawak
Analysts say the East Malaysian parties will consider several factors such as their history with the different coalitions, the level of political stability it can bring and how much coalitions can commit to fulfilling the 1963 Malaysia Agreement
KUCHING — With Malaysia voting in the country's first-ever hung parliament following its general elections on Saturday (Nov 19), parties in Sabah and Sarawak are well on track to play the widely touted kingmaker's role in deciding who to back to form the next government.
But while there was little surprise in the performance of key political parties in Sabah and Sarawak, which together make up a quarter of the 222 parliamentary seats, the worse-than-expected performance of ruling Barisan Nasional (BN) could force the East Malaysian states to think harder on whom they would partner with, say analysts.
In Sarawak, the main coalition Gabungan Parti Sarawak (GPS), swept 22 out of the 31 parliamentary seats it contested in. 
This was slightly higher than its showing at the previous general election in 2018, where it had swept 19 seats while in a formal alliance with Barisan Nasional (BN). 
In Sabah, the main ruling coalition Gabungan Rakyat Sabah (GRS) took 12 out of 13 seats that it contested. It did not contest in the 2018 election as it was formed in 2020, but analysts had previously told TODAY that multi-cornered fight in Sabah would favour GRS and its electoral partner BN in Sabah. 
Leaders of the two coalitions that garnered the most votes at the polls have wasted no time in openly courting the East Malaysian states for support.
Speaking at a press conference early Sunday morning, Perikatan Nasional (PN) chairperson and former PM Muhyiddin Yassin said his coalition, which has obtained 73 seats as of 4am, was ready to discuss with parties from Sabah and Sarawak about forming the federal government. 
Meanwhile, ex-DPM Anwar Ibrahim, chairman of Pakatan Harapan (PH) which has scored 82 seats, said in a press conference later that he had secured agreement from "several quarters" to form the federal government. He did not specify who he had made the agreement with.
But for now, the East Malaysian leaders are coy over their preference.
Speaking earlier at a press conference in Sarawak's capital of Kuching shortly after midnight, GPS chairman and Sarawak Premier Abang Johari Tun Openg was evasive on which peninsular coalition his party would join, saying that this would be "decided later".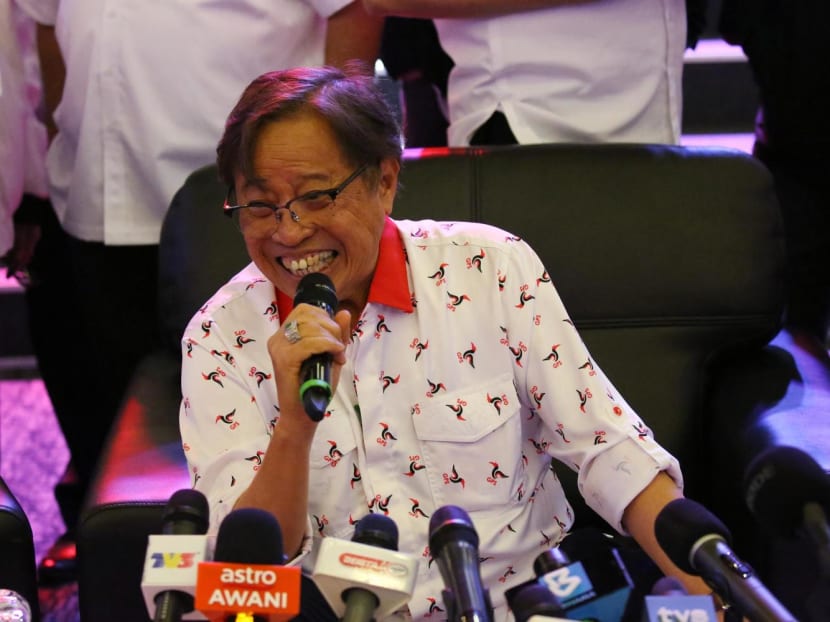 His answer was in response to a question on whether GPS has decided on who it would cooperate with, given that PH and PN were on their way to winning the most seats.
When pressed on how soon he would come to a decision on which coalition to work with, Mr Abang Johari said the decision would be made until one of the coalitions contacted him.
"So far, no one has contacted me. Maybe they're still counting votes over there," he said. 
Over in Sabah, GRS chairman Hajiji Noor said he and Mr Abang Johari had agreed to discuss closer collaboration between the two parties as "a Borneo bloc".
"This is to ensure we support the federal government that will be beneficial to Sabah and Sarawak," he said in a press conference.
WHO WILL SABAH AND SARAWAK WORK WITH?
Analysts had previously tipped GPS to back BN in the event that the latter had a decent showing in the latest elections, given that GPS had previously been in an alliance with BN.
But with PN performing way better than BN which secured only 30 seats, this means that GPS will have to reconsider who it chooses to partner with.
Dr Lee Poh Onn, a senior fellow at Iseas–Yusof Ishak Institute in Singapore, said that GPS could possibly work with PN.  
The Sarawak party is "more reluctant" to work with Pakatan Harapan (PH), given that both are critics of each other, said Dr Lee.
Mr Abang Johari had previously called PH's component party, the Democratic Action Party, "Sarawak's enemy" given DAP's criticisms of GPS' policies.
He also more recently said PH had failed to fulfil its 2018 general election manifesto of paying Sarawak 20 per cent of its oil royalty and that this was a lesson to Sarawakians that "(must) not be repeated again".
However, Dr Lee did not rule out the possibility entirely of GPS working with PH, saying that "anything can happen in politics".
Prior to the elections, the different coalitions had also looked to woo Sabah and Sarawak by offering someone from either state to take up the post of Deputy Prime Minister, which would be a first for the East Malaysian states.
Although PN did not offer Sabah or Sarawak the position, it may be dangled soon to induce GPS to support them, said Dr Lee. 
However, he added that GPS does not take the DPM role seriously and recognises the offer as a "cosmetic move" by coalitions. 
Reiterating his point, Mr Abang Johari said at the press conference on Saturday that "there is no point" in offering a DPM post to Sabah or Sarawak.
"We are putting the Malaysia Agreement 1963 first. But if they offer (the DPM role) with power, why not?" he added. 
The agreement is a contentious issue among residents of Sabah and Sarawak who believe that the federal government has not accorded them the rights, such as the amount of oil royalties and petroleum cash payments owed to the states based on the agreement. 
Mr Abang Johari had said in a television interview last week that his party wants a stable federal government following the elections so that the country can deal with the economic downturn, which is expected next year.
Mr Hajiji Noor of Sabah's GRS said that his party will back a federal government that can offer stability to Sabah and Sarawak.
WHAT VOTERS SAY
Ms Tiffany Yeo, a 27-year-old writer from Sarawak, said GPS' win was not surprising, given the landslide win that the party had during the state elections in 2021. 
She noted that the party had done well at a state level, including managing the Covid-19 crisis.
She added that she hoped the party will "ultimately decide on the right thing" and "join forces with people who actually deserve" to govern the country. 
Other voters that TODAY spoke to at polling centres around Sarawak on Saturday morning said they hoped the new government would improve the country's economy, and address issues such as better implementation of education policies.
Visit our Malaysia Elections 2022 page for the latest coverage, updates from TODAY journalists on the ground and more.