#trending: Malaysia shouldn't be claiming credit for Michelle Yeoh's historic Oscar win, say netizens
MALAYSIA — In the midst of the fanfare for actress Michelle Yeoh's celebrated Oscar win, some Malaysians are saying that the credit should be fully given to Yeoh and not to Malaysia.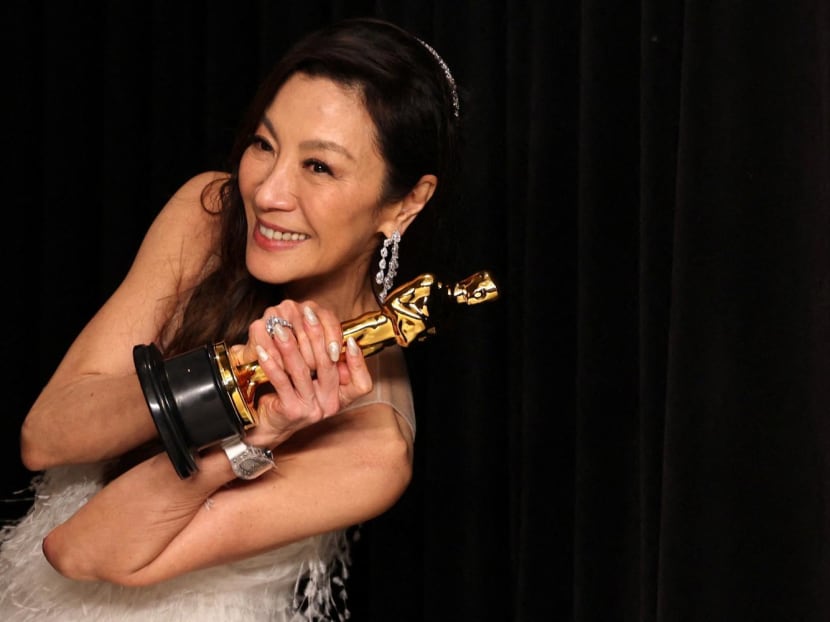 Many Malaysians are celebrating actress Michelle Yeoh's historic Oscar win, but some people are casting doubt on the country staking claim in her win
Malaysian online users felt that Yeoh had achieved success on her own and that Malaysia's film industry did not play a part in moulding her acting career
They pointed out that their fellow citizens achieved success in the film industry only after leaving Malaysia 
MALAYSIA — In the midst of the fanfare for actress Michelle Yeoh's celebrated Oscar win, some Malaysians are saying that the credit should be fully given to Yeoh and not to Malaysia.
The 60-year-old actress made history on Monday (March 13) by becoming the first Malaysian and Asian to win Best Actress at the Oscars for playing Evelyn Wang in sci-fi comedy film Everything Everywhere All At Once.
Malaysians took to social media to congratulate Yeoh on her historic win, many cheering her on using the popular local phrase, "Malaysia boleh (can do it)". 
Giant billboards were also erected around Malaysia to pay homage to Yeoh, with one dubbing her as the "pride of Malaysia".
Among the Malaysian politicians who praised Yeoh for her win was Prime Minister Anwar Ibrahim, who called her illustrious career an inspiration to Malaysian actors. 
"In creating history by being not just the first Malaysian but the very first Asian actress to win in this category, we take enormous pride in her achievement," he wrote on Facebook. 
'MICHELLE YEOH DIDN'T WIN THE OSCAR FOR MALAYSIA'
Though Yeoh hails from Malaysia, some fans felt that her birth country had no stake in her successful film career and was undeserving of claiming credit.
In a thread celebrating Yeoh's "first Oscar for Malaysia", one Twitter user wrote: "She didn't win it for Malaysia. She won it for herself. Michelle Yeoh made a name for herself in Hollywood, not in the Malaysian cinema industry."
Another said: "I don't think Malaysia should 'tumpang' (hop on) and claim her achievement today… I see her as a global citizen working hard to prove herself in her work." 
Born in Ipoh, Yeoh got her start in entertainment after winning the Miss Malaysia World Pageant at the age of 20. 
The actress moved to Hong Kong in the 1990s where she built her formidable filmography as an action star before finally debuting in Hollywood as a Bond girl in the 1997 film, Tomorrow Never Dies.
Online users claimed that Malaysia's film industry has not been nurturing to its native talents, with one remarking: "A Malaysian made history... given that none of our local film industry had actively helped in this project or her rise to stardom."
Twitter users also pointed to other Malaysian artistes who gained commercial success after they left Malaysia to work internationally. One said: "Most Malaysians became famous and successful only after they left Malaysia. Case in point, Michelle Yeoh, Ronnie Chieng, James Wan, etc."
Comedian Ronnie Chieng stars in American satirical talk show The Daily Show, while James Wan is a Malaysian-born director behind horror blockbusters such as Saw, Insidious, and The Conjuring. 
Independent filmmaker Pete Teo previously called out Malaysian institutions for failing to support the art scene in Malaysia.
Mr Teo wrote in a Twitter thread in January in response to Yeoh's Golden Globe win: "Our public institutions have not earned the right to call these artists their own. It makes my skin crawl that they try to." 
He blamed Malaysia's National Film Development Corporation for inadequate funding and support to homegrown filmmakers. 
'MICHELLE YEOH IS NOT FROM HONG KONG'
Hong Kong actor Chapman To posted on Facebook on Monday (March 13) to publicly remind the Hong Kong government that Yeoh is from Malaysia, not Hong Kong.
He wrote: "A reminder to the Hong Kong government. Michelle Yeoh is Malaysian. Don't take advantage and claim she is a Hong Konger." 
Malaysian news outlet The Star reported that the Hong Kong's culture chief had previously described Yeoh as a "Hong Kong actor" when she clinched the best actress award for a musical or comedy at the Golden Globe in January. 
Mr Kevin Yeung, Hong Kong's secretary for culture, sports and tourism, said that the award was "well-deserved".