#trending: Netizens call US Congress' grilling of TikTok CEO Chew Shou Zi 'beyond unprofessional', others say he was evasive
SINGAPORE — The five-hour grilling  of TikTok chief executive officer Chew Shou Zi before the United States Congress left many netizens incensed at what they said was the disrespect shown to him during what some called a "witch hunt".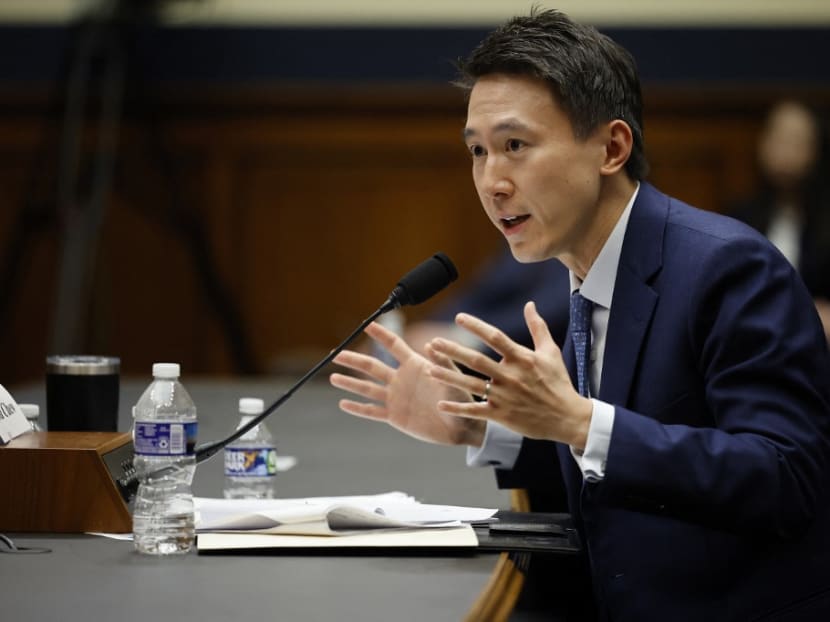 Many netizens said TikTok chief executive officer Chew Shou Zi was treated with disrespect during a five-hour grilling by US Congress on Thursday (March 24)
They also said some US lawmakers displayed their ignorance about technology as they questioned him about national security concerns related to the popular app
Others online were critical of Mr Chew's performance, saying that he was evasive on some questions
Mr Chew effectively admitted that TikTok's parent company ByteDance spied on American citizens, claimed some netizens
SINGAPORE — The five-hour grilling  of TikTok chief executive officer Chew Shou Zi before the United States Congress left many netizens incensed at what they said was the disrespect shown to him during what some called a "witch hunt".
Others said that the US lawmakers displayed basic ignorance about technology in their questions to Mr Chew, a Singaporean.
On the other side of the ledger, some online were unimpressed by Mr Chew's responses as he addressed issues such as growing security concerns that TikTok user data could be shared with China's government.
Over five hours of testimony, Mr Chew repeatedly denied that the app, used by 150 million Americans, shares data or has connections with the Chinese Communist Party and argued the platform was doing everything to ensure safety for its 150 million American users.
After watching the proceedings, many netizens felt the congressional hearing was simply a "waste of time".
They said that Mr Chew was constantly interrupted with lawmakers demanding that he provide "yes or no answers" despite being asked complex and nuanced questions that could not be easily answered.
In a TikTok video of Georgia representative Buddy Carter questioning Mr Chew, user "justmemamac" writes: "Watch how many times this congressman interrupted him. This is a witch hunt."
On a video of the full hearing on YouTube, another user wrote: "They don't give Chew the proper time to answer, this is plain gaslighting.''
Referring to Facebook CEO Mark Zuckerberg's 2018 testimony in Congress after the Cambridge Analytica scandal to talk about data privacy, the same user added: "Can't recall them being that tough against Zuckerberg."
A Twitter user wrote: "The TikTok hearing is mainly members of Congress shouting 'yes or no? yes or no?' over CEO Chew Shou Zi after questions that can't meaningfully be answered with either."
Some in the US felt that the manner of the questioning was "disrespectful", "absolutely embarrassing" and "beyond unprofessional".
Ms Nicole A Tinson, CEO of a national nonprofit which increases economic and social mobility in the Black community, said on Twitter: "I honestly do not like the way many of the representatives are questioning the TikTok CEO Chew Shou Zi.
"I understand protecting the best interests of Americans, our data and our security, but there's a disdain in the way they are speaking to him."
Referring to a clip in which Texas representative Dan Crenshaw refers to Mr Chew as a Chinese citizen, another Twitter user remarked: "All they needed was an Asian person (from any country in Asia) to be racist against."
Other critics took issue with how the Congress representatives appeared to not be familiar with technology and social media platforms, with one YouTube user dubbing the hearing: "Fossils arguing with a tech guy about tech."
"Can we get computer literate people on there?" asked another.
In another widely shared clip from the hearing, North Carolina representative Richard Hudson asked: "Mr Chew, does TikTok access the home WiFi network?"
A video clip of the interaction has amassed more than 6.5 million views and 21,100 comments on TikTok.
Many social media users were quick to jump on the question, sharing stories of their tech-illiterate older relatives struggling to use applications and responding with similar "dumb" questions to make fun of the congressman.
One top comment on TikTok asked: "Does TikTok access my battery to steal my electricity?"
One Twitter user tried to make light of the matter: "Let's just cut to the chase here Mr Chew. The American people want answers. What happens to TikTok when the batteries run out?"
Some likened it to a question from Mr Zuckerberg's 2018 hearing which questioned how Facebook sustained a free business model — to which the CEO responded, after a pregnant pause: "Senator, we run ads."
His response has since become something of a meme online.
However, others also suggested that representative Hudson, in asking about WiFi, might have intended to ask about whether or not TikTok can detect and connect to devices on the same local network, which could be a valid concern for users.
During the hearing, representative Carter also tried to ask if TikTok tracks when a user's pupils dilate in order to identify content that is pleasing to them.
Mr Chew responded: "We do not collect body, face or voice data to identify our users... The only face data that we collect is when you use the filters that have, say, sunglasses on your face? We need to know where your eyes are."
Here, representative Carter interrupted: "Why do you need to know where the eyes are if you're not seeing if they're dilated?"
Needless to say, this did not go over well with anyone familiar with how camera filters work.
"I get secondhand embarrassment watching these corpses try to make points," read the caption on a TikTok video of the interaction, which has amassed 4.4 million views.
However, despite the criticism of Congress' questioning, a number of netizens remained unimpressed by Mr Chew's responses. They accused him of "dodging questions" and giving "convoluted answers".
One such question, posed by Arizona representative Debbie Lesko, asked if the TikTok CEO agrees that "the Chinese government has persecuted the Uyghur population".
Mr Chew had avoided a direct answer to this question, implying that it was not related to his role "to describe TikTok and what (they) do as a platform".
On Twitter, Emmy-nominated Chinese American freelance journalist Melissa Chan wrote: "The question to the TikTok CEO about China's persecution of Uyghurs is relevant because what's happened to Uyghurs is a fact, not an opinion.
"Not being able to acknowledge this indicates the CEO is unable to speak freely. What power prevents him from doing so?"
Netizens also found fault with Mr Chew's response to allegations of surveillance. When Florida representative Neal Dunn asked if ByteDance, TikTok's parent company, has "spied on American citizens", Mr Chew replied: "I don't think that spying is the right way to describe it."
Many took this as an admission of guilt, as with other instances during the hearing when, instead of directly answering questions, Mr Chew said he would "get back to (the representatives) on the specifics".
For these detractors, Mr Chew's performance in Congress has cemented their support for stricter TikTok legislation.
They also suggested that the criticisms of data collection and youth safety on TikTok should be "extended to all social media platforms regardless of place of origin" — such as Facebook, Instagram, Reddit and YouTube.