No matter who wins the presidential election, Indonesia's politics set on irrevocable course
JAKARTA — When Ms Rita Djoekorno steps out of the mosque after religious classes, other Muslim women would glare at her and make snide remarks at times.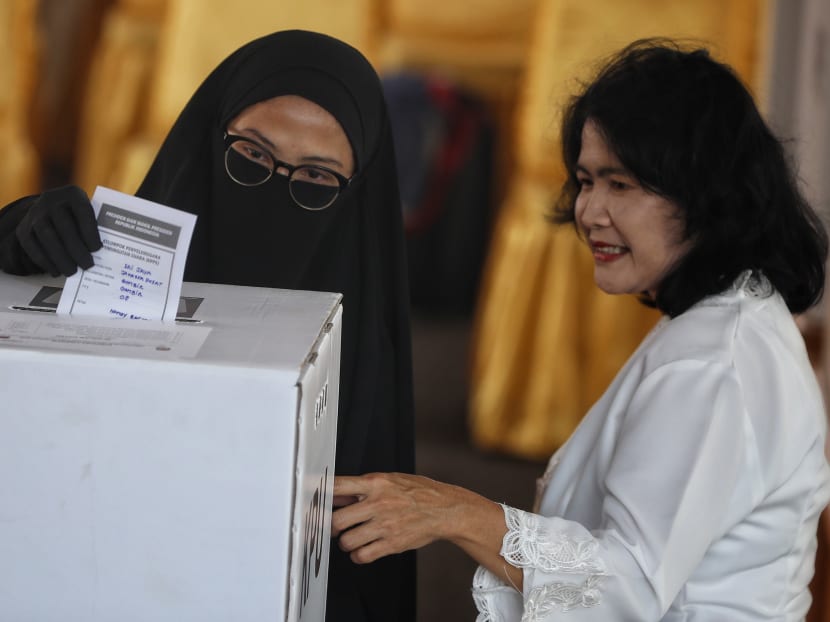 JAKARTA — When Ms Rita Djoekorno steps out of the mosque after religious classes, other Muslim women would glare at her and make snide remarks at times.
"They would say, 'You're not Muslim enough' just because I don't wear the headscarf," said the 35-year-old Indonesian, who works in public relations.
"Even within the Muslim community, I feel that moderate practising Muslims like myself are constantly judged by our conservative brothers and sisters," she said.
Regardless of the outcome of its presidential and general elections held on Wednesday (April 17), Indonesia — the country with the world's largest population of Muslims — will have to contend with the growing force of Islamic conservatism, which has dominated the political scene in recent years and divided the nation.
This has sparked concerns among both Muslims and non-Muslims in a country where many still uphold its sacred constitutional ideology of "Pancasila", which places emphasis on religious tolerance and unity in diversity.
Read also
Indonesia's Widodo looks set for election victory — his challenger says no
A day before Indonesia votes, fact-checkers ramp up efforts to debunk fake news
During the hustings, both 57-year-old incumbent president Joko Widodo — better known as Jokowi — and his challenger Prabowo Subianto, 67, have played the religion card and were seen to be pandering to conservative Muslims.
Mr Widodo chose the 75-year-old firebrand cleric Ma'aruf Amin as his running mate, while Mr Prabowo is backed by several hardline Islamic groups.
Indonesian analysts specialising in politics and religion pointed out that the rise of religion-based politics and conservatism started after the downfall of former president Suharto's dictatorial regime in 1998.
Fearing that Islam could erode the Indonesian identity, Suharto — who was known for curbing political dissent — had suppressed conservative Islamic movements made up of returning students from Saudi Arabia, which had the goal of establishing an Islamic Indonesia.
"In short, the (post-Suharto) Reformasi era led to the rise of political Islam in Indonesia," said Dr Noor Huda Ismail, a visiting fellow at the S Rajaratnam School of International Studies (RSIS) who researches on Islam and counterterrorism.
After being suppressed for some time, the Islamic movements grew into a political force, spreading their ideology across a country that now has a population of over 260 million.
Their rise has been aided by the Internet and, subsequently, by social media platforms, which amplified their voices and widened their reach, analysts said.
Senior research analyst Ade Banani of Universitas Indonesia said that conservatism started to shape Indonesian society from the late 2000s.
More women, for instance, started to don the hijab or headscarf. Instead of wearing the tighter-fitting kebaya traditionally worn in Indonesia, they chose to wear the abaya — a loose-fitting robe commonly worn by women in the Middle East.
"Previously, Muslim women could step into mosques wearing short-sleeved or sleeveless clothes before they changed to appropriate garments. Now, no one does that," said Ms Ade.
A SENSE OF ALIENATION
Growing conservatism, coupled with the rise of identity politics, has led to greater polarisation in Indonesia than ever, analysts said.
Dr Alexander Arifianto, a research fellow at RSIS who studies Indonesian politics, said religion did not really dominate the political scene, even in the last presidential polls in 2014. But identity politics came to the fore in this year's elections.
Conservatives have become increasingly vocal, wanting a more Islamic Indonesia — while at the same time, moderates and non-Muslims feeling increasingly sidelined are pushing back.
"What you have now are two camps — the conservative Muslims (on one side) and the progressive Muslims as well as non-Muslims (on the other). There is an 'us versus them' mentality," said Dr Arifianto.
The minority non-Muslims have mixed sentiments towards rising conservatism.
Some feel the situation is still tenable and that the government would protect them. But there are others who feel that growing intolerance is making life uncomfortable.
Read also
17 million first-time voters hold key to Indonesia's presidency
Fake news causing confusion in Indonesia presidential election
Researcher Ms Mibe, who is Catholic, said she used to have friends who would send her Christmas greetings.
In recent years, they have stopped because Muslim religious scholars advised against doing so. Sending such greetings to non-Muslims is not allowed under Islam, the scholars told them.
"I don't want to generalise and say that all Indonesian Muslims are like that, because there are still a sizeable number of moderates," said Ms Mibe, 39, who declined to give her full name.
"But the growing conservatism is frightening. It makes me uncomfortable because people are now seeing their friends and family based on religious identity. And the conservatives are alienating the others."
Moderates like Ms Rita pointed out that individuals like her are also frowned upon.
"They want the moderates to be just like the conservatives. It's not enough that you pray five times a day or can read the Quran (Islam's holy book)," she said.
NOT UNIQUE TO INDONESIA
Growing conservatism is not unique to Indonesia, analysts said.
Similar attitudes are taking root in neighbouring countries like Malaysia and Singapore, which tend to look at one another as reference points, given historical and cultural connections.
Malaysian civil society activist Marina Mahathir, who has frequently spoken out against Muslim conservatism, told TODAY that Malaysian Muslims have increasingly become "more conscious about their Islamic identity".
Moderate Muslims and non-Muslims in her country are "alarmed" by the growing conservatism as it could lead to intolerance, she said.
Parties that opposed Malaysia's ratification of the International Convention on the Elimination of All Forms of Racial Discrimination (ICERD) as well as the Rome Statute of the International Criminal Court painted a picture that Islam, as the country's main religion, is under siege, said Ms Marina.
The Rome Statute of the International Criminal Court is a treaty that covers serious crimes and crimes against humanity.
Given rising conservatism in Indonesia and Malaysia, Mr Mohamed Imran Mohamed Taib, the director of Centre for Interfaith Understanding, cautioned of a possible spillover effect on Singapore.
He cited factors such as similar ethno-religious make-up and the fact that Singapore has a sizeable number of transient workers and residents, who maintain connections to their home countries.
Then, there is the danger of extreme views being spread through social media. "These views and ideas may be intended for domestic politics of a particular country but because of social media, they enter and influence the minds of those in Singapore," he said.
THE AFTERMATH OF AN ELECTION
Ms Ade of Universitas Indonesia said that although both Mr Widodo and Mr Prabowo were conscious of the fact that they were playing the religion card, they believe that they have the ability to control the rising conservative sentiments among the country's Muslims.
However, most politicians "overlook the impact of unleashing religious discourse in politics", said Dr Noor Huda.
"The use of religion in politics will endanger our social life as we will judge people only by a specific 'performative religion'. (People) will be labelled 'less good persons' simply because (they) have (a) different political choice and therefore they could be labelled 'less-religious'," he added.
"In the long run, people will no longer believe in the secular life that celebrates differences."
Extremists could also take advantage of the rising conservatism to spread their ideology and messages as well as influence people to join their cause, analysts said.
As a result of conservatism, people could form exclusivist or segregationist views. Dr Noor Huda cautioned that an individual goes through the cognitive process of exclusivism before he or she is further radicalised.
Nevertheless, the trend does not mean Indonesia is heading towards becoming an Islamic state. Among Mr Widodo's supporters, for instance, there is strong resistance among moderate Muslims and non-Muslims against "Islamisation", analysts pointed out.
Both Mr Widodo and Mr Subianto had also, during the hustings, spoken about the need to uphold the "Pancasila" ideology.
Besides, Ms Ade said Indonesia's diversity of ethnic groups and languages will be an obstacle in becoming "completely Islamic".
Notwithstanding the growing religiosity, many Indonesians still hold on dearly to their cultural roots, some of which have Hindu elements, she added.
For instance, the country continues to retain traditions such as the wayang kulit, or shadow puppet theater, which could be traced back to Hinduism.
And the spirit of "Pancasila" remains strong. "I think our founding fathers will rise up from the dead the moment the country forgets about Pancasila," said Ms Ade.