Who was Abby Choi and what we know so far about the Hong Kong socialite's alleged body parts murder
SINGAPORE — Hong Kong socialite Abby Choi's death has grabbed international headlines since the grisly details of her alleged murder emerged last Friday (Feb 24).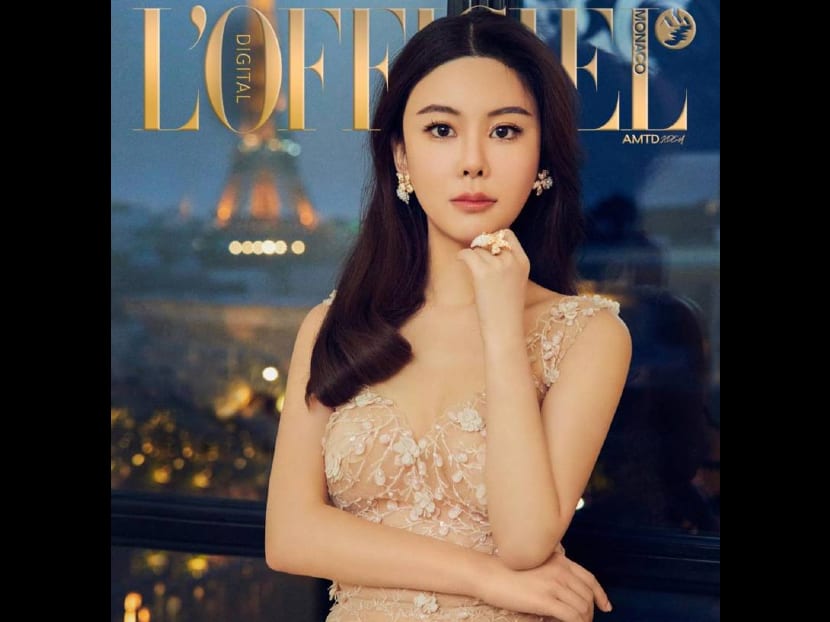 Hong Kong socialite Abby Choi's death has grabbed international headlines since the grisly details of her alleged murder emerged on Feb 24
Five people linked to her ex-husband's family have been arrested in connection with the case
Media reports showed that she was a social media influencer, an heiress and a mother of four children whom she had with two men
So far, the police in Hong Kong have discovered ribs in a soup pot and limbs in a refrigerator believed to be parts of Choi's dismembered body
The search for her missing torso and hands as well as police investigations are ongoing
SINGAPORE — Hong Kong socialite Abby Choi's death has grabbed international headlines since the grisly details of her alleged murder emerged last Friday (Feb 24).
The police in Hong Kong discovered ribs in a soup pot and limbs in a refrigerator — believed to be parts of Choi's dismembered body — in a three-storey house in the rural Tai Po district a few days after she was reported missing last Tuesday.
Five people linked to her ex-husband's family have been arrested in connection with the alleged murder, with investigations still in progress.
After the gruesome news surfaced, many people started following the social media influencer on her Instagram account posthumously to offer condolences.
So who exactly was Abby Choi?
ASPIRING FASHIONISTA
Abby Choi Tin Fung, 28, put herself out on social media to be a fashion star and media personality
With a large following of fans from not only Hong Kong but other parts of the world, she made headway to become one of the most sought-after influencers in the fashion industry
She was a regular attendee of the prestigious Paris Fashion Week and had been featured in several magazines including Elle, Harper's Bazaar and Vogue
Among her circle of friends includes Moka Fang, wife of Hong Kong singer Aaron Kwok. Fang posted a tribute on Weibo, saying she was "extremely devastated".
Less than two weeks before her death, Choi graced the digital cover of fashion and luxury lifestyle magazine L'Officiel Monaco
L'Officiel described Choi as a "fashion icon" and "true trendsetter" who had "taken the world by storm with her impeccable sense of style and her unbridled passion for fashion"
The magazine wrote: "The future looks bright for this rising star, and all eyes are on her as she takes the next step in her journey."
HEIRESS
The oldest of three daughters, Choi came from a wealthy family that runs a construction business with dealings in China
The Hong Kong native had a reported personal net worth of more than HK$100 million (S$17.2 million), The Straits Times in Singapore reported
Not much else is known about her family
Choi's mother, who goes by the username "Fifth Sister" on a Douyin account, used to regularly share snippets of her own lavish lifestyle on the social media platform before her daughter's death
MOTHER OF FOUR CHILDREN
At the age of 18, the teenage Choi married her first husband Alex Kwong Kong Chi and had two children with him. The couple had a son and a daughter, now aged 10 and eight respectively
The couple later divorced on an undisclosed date
In December 2016, Choi had a matrimonial ceremony with her current partner Tam Chuk Kwan but never legally registered their marriage. She bore two children with him
Mr Tam's father is reportedly the founder of TamJai Yunnan Mixian, a rice noodle restaurant chain in Hong Kong with operations in mainland China. The business was acquired by Toridoll Holdings Corporation from Japan in 2017
Speaking to the Hong Kong media on Sunday through a family friend, Mr Tam described Choi as a "kind-hearted and good" person and vowed to continue to care for her four children
"She supported me and loved me very much. She also brought up four cute and obedient kids. I feel anyone who could be her family and friends are blessed," he said
An international school attended by one of Choi's children has limited the use of electronic devices to minimise the impact of gruesome online news reports about the murder
WHAT THE POLICE HAVE FOUND SO FAR
A skull and several ribs believed to be Choi's were found in a large soup pot by the Hong Kong police on Sunday. This is in addition to two legs belonging to a woman discovered in a refrigerator at the Tai Po flat last Friday.
Superintendent Alan Chung of the Kowloon West regional crime unit revealed that the body parts were found in one of two large soup pots that the police retrieved from the crime scene last Friday.
The pots were taken to a mortuary the next day where forensic experts found the skull and ribs while examining the contents, Hong Kong daily South China Morning Post reported while quoting Mr Chung.
"When we found the two pots of soup at the scene, one of the pots measuring 50cm deep and 40cm in diameter was almost full and covered with thick fat, some green and orange carrots and meat believed to be human flesh," he said.
"Forensic experts recommended that we not carry out any inspection at the site to preserve evidence, so we decided to transport the pots to a mortuary for further inspection."
DNA tests confirmed that the remains belonged to the 28-year-old socialite.
A hole measuring 6.5cm by 5.5cm was also found at the back of the skull, with forensic experts believing that it could have been the result of a fatal blow.
Choi is believed to have been attacked in a seven-seater vehicle, which was found to have blood spatters inside.
Over the weekend, the police carried out searches at the Tai Po flat and a cemetery in Tseung Kwan O after investigations revealed that Choi's former father-in-law and brother-in-law went there a day after she was reported missing.
About 100 officers, including divers from the elite Special Duties Unit and officers from the Police Tactical Unit, took part in the search operation at the cemetery.
A drone was used for an aerial search and police tracking dogs were also deployed to detect parts of Choi's corpse.
The operation was called off after officers failed to find the missing body parts, such as her torso.
More than 100 police officers combed through a landfill on Tuesday (Feb 28) in search of Choi's body parts, after a review of security camera footage allegedly showed a suspect moving bags from the flat where parts of her body were found to a nearby refuse collection area, a source said.
However, the hunt drew a blank and about a dozen police officers returned to the village in Tai Po to interview residents on March 1. 
So far, the police have uncovered a meat grinder, electric saw, two types of meat cleavers, a hammer, black raincoats, face shields and a purple handbag that belonged to her at the crime scene, Hong Kong news outlets reported.
The suspects were said to have covered the walls of the flat with a sail.
WHO WERE ARRESTED AND CHARGED
Four people were charged in connection with Choi's case appeared in court on Monday (Feb 27) morning.
Her ex-husband Alex Kwong, 28, his older brother Anthony, 31, and their father Kwong Kau, 65, have all been charged with murder, the police said. The younger men's 63-year-old mother Jenny Li faces one count of perverting the course of justice.
All four suspects were denied bail and a court hearing on the case was adjourned to May 8.
Another suspect, a 47-year-old woman said to be the lover of Kwong Kau, has also been arrested.
The woman is accused of allegedly helping to rent the ground-floor flat of the house in Tai Po for Kwong Kau, although it is not yet known if she was aware of the murder.
The woman, who worked as a masseuse and had been in a relationship with Choi's father-in-law for about six months, is also suspected of helping him evade police.
On March 3, a sixth person was arrested in connection with the case. A 41-year-old man is accused of trying to help a suspect flee Hong Kong by sea. The city resident, surnamed Lam, was alleged to have tried to collect hundreds of thousands of dollars to help a suspect flee by boat. 
A seventh suspect was arrested on Tuesday (March 7). A Hong Kong woman, Irene Pun Hau-yin, is accused of arranging a boat in an attempt to help a suspect flee the city has been arrested in mainland China.
The 29-year-old, who is a friend of Choi's ex-husband, had allegedly arranged for a yacht to help Kwong flee to Macau "knowing or believing him to be guilty of the offence of (murder)". Pun has been granted S$8,600 bail by the Hong Kong courts.