The Big Read: Fans, businesses primed and eager for F1's post-pandemic comeback — what's at stake for Singapore?
SINGAPORE — After being prevented from travelling to Singapore for two years due to pandemic-forced border closures, Malaysian Chin Yi Yun decided to celebrate her recent freedom to travel with a big bang: By attending the Formula One (F1) Grand Prix here later this month.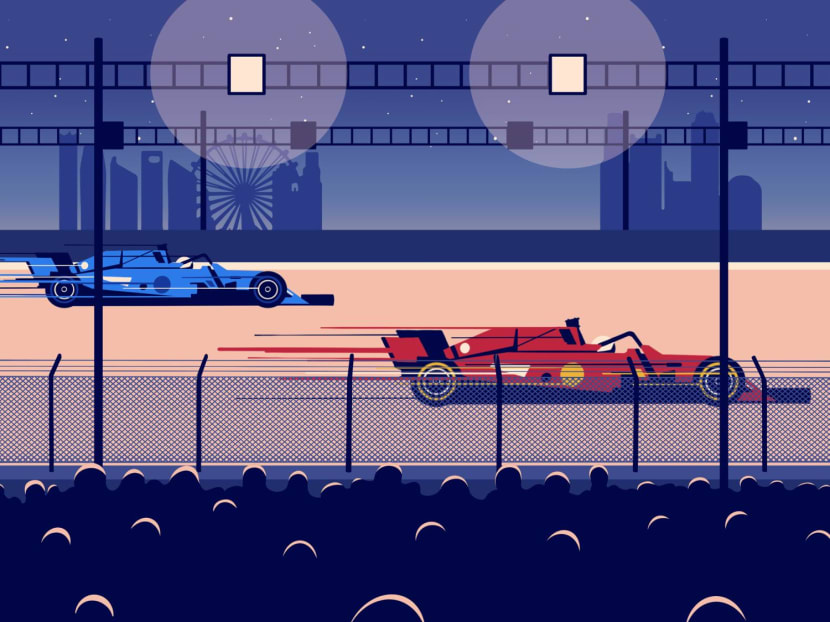 Formula 1 Singapore Grand Prix is set to see its biggest turnout since the first night race in 2008, with tickets for this year's edition expected to sell out
Some will be coming from overseas to watch, other fans are just as eager watching from their screens at home
Hotels near the track prepare for full capacity, with some offering packages, themed activities and extension of services
Bars and restaurants welcome the increase in demand while noting that business costs and manpower shortages have increased
Analysts say while hosting the F1 signals Singapore's readiness for a post-pandemic future, some caution that there may still be "ill winds" related to the coronavirus 
 
SINGAPORE — After being prevented from travelling to Singapore for two years due to pandemic-forced border closures, Malaysian Chin Yi Yun decided to celebrate her recent freedom to travel with a big bang: By attending the Formula One (F1) Grand Prix here later this month.
"The tight and winding Singapore street circuit is truly one of a kind and I've missed seeing it on the calendar for the past two years," said the 34-year-old human resource business partner from Kuala Lumpur who used to visit the Republic yearly to meet friends and loved ones. 
This will be Ms Chin's first attendance at Singapore's F1 race, although she had previously been to several races in her home country, as well as other cities such as the Melbourne Grand Prix in 2010 and the Abu Dhabi Grand Prix in 2014. 
"Part of the charm of Formula 1 is the enthusiasm and passion of the crowd on race day and I'm very much looking forward to being a part of that energy," said Ms Chin, who will be watching the Grand Prix with her sister who recently relocated to Singapore, and the latter's fiance.
"We are all big fans of F1, so it's very special that we will be able to experience this race together for the first time," said Ms Chin.
Ms Chin is among thousands of fans who have bought tickets to the racing extravaganza since they went on sale on April 13.
The race, which will be held from Sept 30 to Oct 2, had been cancelled for the past two years due to the Covid-19 pandemic.
In response to TODAY'S queries, a spokesperson for race organiser and promoter Singapore GP said that ticket sales for this year's edition are already stronger than 2019, which saw the second highest attendance since Singapore began hosting the event.
The 2019 race drew 268,000 spectators over three days, while in 2008, 300,000 people attended the inaugural race.
"Majority of the ticket categories are already sold out, or very close to selling out. We expect a sell-out event come race day on Oct 2," the Singapore GP spokesman added.
He also said that due to the overwhelming demand, all hospitality packages have also been taken up.
"We have seen particularly strong interest from companies in the financial, automotive, IT, construction, Mice (meetings, incentives, conferences, exhibitions), and oil and gas industries this year," the spokesperson added.
Singapore's F1 race is more than just a glamorous racing spectacle; it is regarded as a marquee event that not only brings significant economic benefits to the country but also enhances its global branding.
Since its debut in 2008, the F1 race here has generated more than S$1.5 billion in incremental tourism receipts, and attracted more than 550,000 unique international visitors.
This year, the event has taken on an added significance, since it is also meant to signal to the world that Singapore has bounced back strongly from the pandemic.
Experts say a successful hosting of the event will show that Singapore is capable of instituting the necessary measures to safeguard the health and safety of participants, attendees and personnel during major events.
This year's race was preceded by the signing of a contract in January for Singapore to host the F1 Grand Prix for another seven years — the longest extension for the race to date. 
With the Covid-19 situation far from being tamed back then, the deal had raised a few eyebrows, with some observers pointing to uncertainties over audience turnout due to travel restrictions, and whether a live music festival — a staple of F1 races — could be held on the sidelines. 
Eight months on, Singapore — like many countries — has relaxed much of its Covid-19 restrictions as the nation settles into a state of endemicity, with masks no longer mandatory outdoors, and capacity limits for events removed in April. 
Nightlife businesses are now fully reopened, with testing limits removed in June. 
Concerns of a dull F1 season here were also removed after it was announced that the race weekend will also feature outdoor musical concerts, including 92 performances from Singapore and international acts that will take place across nine stages at the F1 Circuit Park in Marina Bay. 
With F1 fans, here and overseas, showing their enthusiasm for the race by snapping up tickets — priced from S$298 onwards — businesses and restaurants around the F1 track are hoping for their cash registers to ring non-stop during the racing week. However, they also face operational challenges in dealing with the uptick in demand.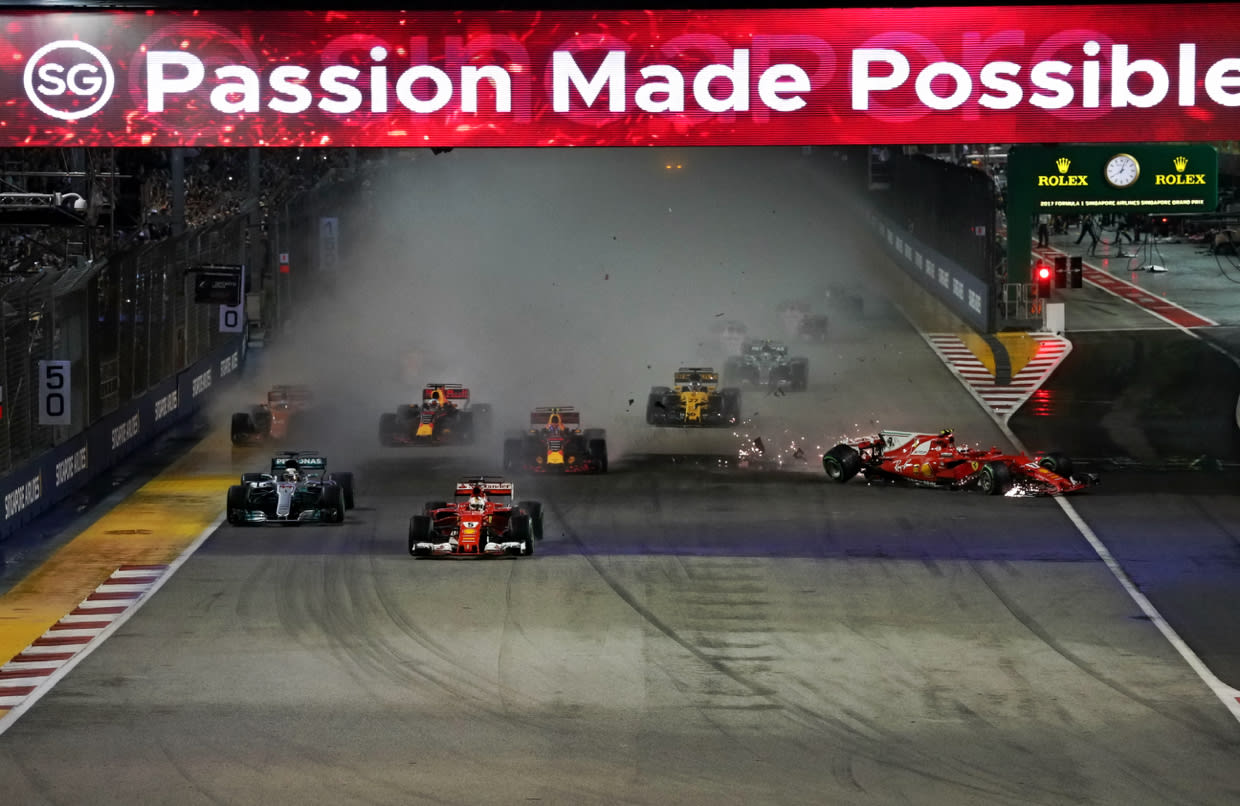 With just two weeks to go before the flag-off, TODAY looks at how fans and businesses are getting ready to welcome the return of the men in their mighty machines and what is at stake for Singapore in hosting its largest sporting event since the start of the Covid-19 pandemic. 
FANS ALREADY FEELING THE EXCITEMENT
As Singapore gears up for its F1 party, Red Bull's Max Verstappen won the Italian Grand Prix on Sept 11 behind the safety car, scoring 335 points, thus clinching his fifth victory in a row and 11th from 16 races this season.
Ferrari's Charles Leclerc, Verstappen's closest rival, is a distant second, with three wins.
However, if Verstappen scores 22 points more than Leclerc in the next race under the floodlights in Singapore on Oct 2, the title battle will be over. Otherwise, it will continue in Japan a week later.
With the championship title still up for grabs, F1 fans here told TODAY that they are all revved up for the action.
Having missed two years of F1 action, German national Julian Buschi, 28, could feel the "pent-up excitement" building up in him.
"One can feel it even now…F1 is already in everyone's mind and people are looking forward to it," said the Hamburg native, who works as a chartering manager in Singapore and has lived here for four years.
Mr Buschi, who will be attending all three days of the race with either friends or clients, remarked that he missed the social aspect of such an event "with a great atmosphere around the city". 
He still remembers fellow German Sebastian Vettel's victory during the race he attended three years ago.
"When Vettel won his last F1 race … it (was) a big moment for us German fans," said Mr Buschi, adding that as a child, he had been a fan of retired F1 legend Michael Schumacher.
"With Red Bull dominating the season, it seems hard to see the Ferrari or Mercedes being able to give a close fight to Verstappen, but a street circuit with possibly rain showers can make it very much unpredictable," he added.
Mr Paviter Singh, 40, who has bought the walkabout ticket for the Sept 30 race predicted that it would be "a high energy race from the start". He has attended the F1 event almost every year since 2011.
"I'm anticipating Lewis Hamilton to use his street racing prowess to take on Max Verstappen. It'll be an interesting battle to watch," said the course head of a business school, adding that he supports the Red Bull team.
He used to be a Red Bull sports ambassador before, which gave him opportunity to visit the Red Bull pit garage in 2016 during the practice sessions, he said.
Feeling excited to see the Marina Bay Street circuit coming alive again, Mr Singh added: "The Singapore GP is not just about the race. With all the amazing performances and entertainment at various zones, it's a weekend not to miss."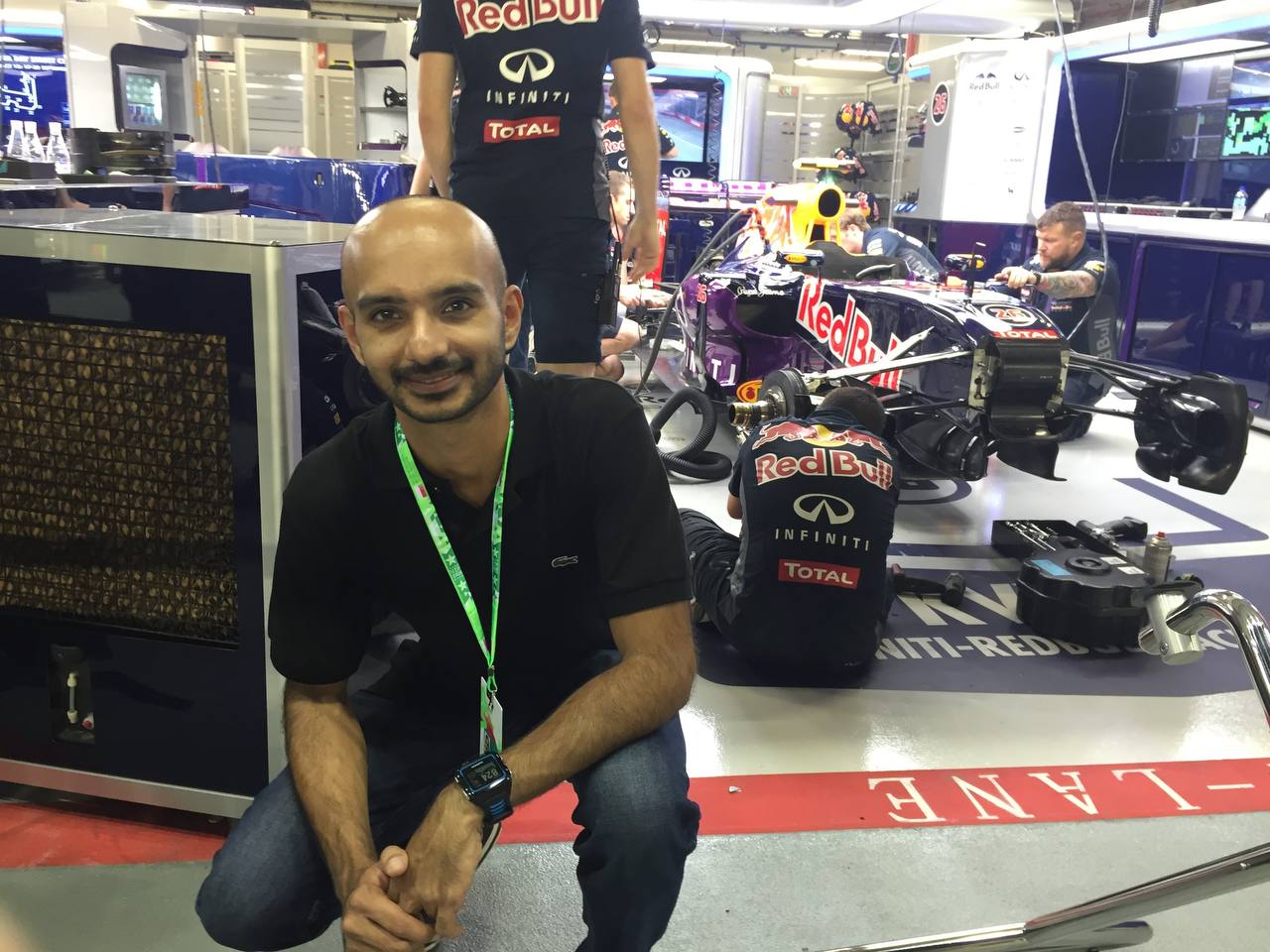 Ms Valerie Khoo, who bought the Sunday Zone 4 walkabout ticket, hopes to see a lot of buzz around and outside of the racing circuit, such as sales of F1 merchandise and drivers' meet-and-greet events outside of the track.
Although the 27-year-old financial planner, who first went for the race when she was 13, was eager to attend Westlife's concert on Saturday, Oct 1, she did not manage to get the three-day ticket.
"I'm only able to catch the headline performance by Green Day on Sunday night after the race."
Deepti Narwani, a 26-year-old account director at a football media company, became a fan after watching her first F1 race — the inaugural Singapore edition — when she was just 12.
"I just got hooked onto the whole sport…The more I started watching, the more I started to understand the technical side of it," she said, adding that it also led her to pursue sports media as a career.
For her, it will a be exhilarating to return to the stands this year.
"It feels like we are finally returning to normality and I can't wait to watch the race in person," she said.
Communications manager Wong Kai Yi — future brother-in-law of Ms Chin the Malaysian — fondly recalled attending the inaugural Singapore Grand Prix.
"It was a completely different era from what's on track now, and it's interesting to see how the sport has evolved over the past decade and a half."
Mr Wong, 33, said that he felt relieved when he heard that the Singapore race would take place this year. "The past two years have been a rollercoaster for Formula 1 fans — uncertainty whether the Singapore Grand Prix would go ahead or not, or even be renewed." 
Sales manager Gulshan Shah, 28, has attended every single race here since the inaugural GP in 2008 when he was 14 years old.
"And sometimes I do travel out the country to attend other races as well," said Mr Gulshan, who bought his Padang Combination tickets — which gives him access to Zone 4 for the first night, and all zones on Oct 1 and 2 — as far back as in May for S$798.  
He is rooting for Ferrari's victory for this race.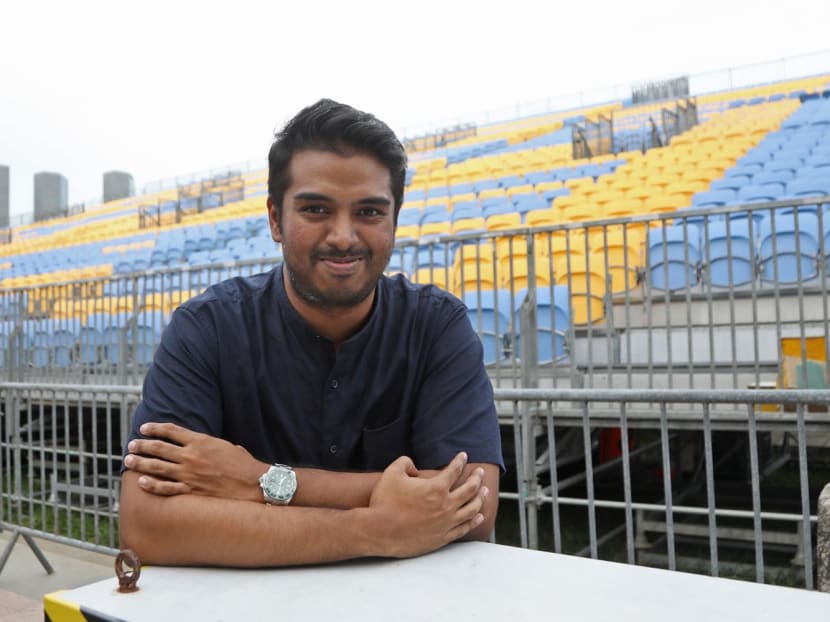 Fans who will be watching the race from the comfort of their homes are no less excited.
Customer success manager Ashley Pereira, 34, has not attended a single F1 race in person before, preferring to watch it on television.
"I am able to follow the race better through television. My friends and I usually gather at someone's house to view the race."
He added that he usually tries to get a glimpse of the practice or qualifying sessions as he loves to hear the roar of the engines as they go by. 
Anticipating a closer race between the cars and teams this year, because of the changes made to the 2022 cars, he is hoping that both Charles Leclerc and Carlos Sains Jr will be on the podium.
"But Max and Red Bull are a force to be reckoned with. And Ferrari's pit and tyre strategy hasn't been the best this year."
HOTELS NEAR VENUE DELIGHT IN STRONG DEMAND
Hotels around the race venue told TODAY that they are seeing strong demand for rooms during the race week, with most expecting 100 per cent occupancy and some already fully booked.
Mr Melvin Lim, general manager of Parkroyal Collection Marina Bay, Singapore, said that bookings and demand for track-facing guest rooms have been brisk, months ahead of the race.
In response to TODAY's queries on pricing, he said: " The rates this year are higher compared to pre-Covid years which may be attributed to the exponential increase in the level of excitement, anticipation and economic opportunities of the return of Singapore Night this month."
He declined to elaborate on the rate of increase but added that to ride on the demand, the hotel is offering a 2022 Singapore Night Race Track View Package with rates from S$2,500++ per room per night during the race weekend.
He said that the hotel's six function rooms have also been fully booked by corporate clients and guests, along with the hotel's accompanying food and beverage (F&B) packages. 
Apart from hosting one of the F1 teams, the hotel has also been selected to provide catering services for trackside hospitality suites, Mr Lim added. 
"We are optimistic that as a whole, the business for this year's race will be exceptionally positive for the hotel," he said. 
 
Ms Jeane Lim, general manager of Grand Park City Hall, said that enquiries for rooms began after the F1 tickets went on sale on April 13.
"So far, the demand is on par with what we observed in the last race in 2019. We are expecting full occupancy for stays from Sept 29 to Oct 2 as bookings are continuing apace," she said.
Over at Conrad Centennial Singapore, general manager Mike Williamson said that demand for room reservations during the race weekend has been strong since June, with levels returning to that of pre-pandemic times and the pricing of rooms "based on occupancy and demand". 
He added that the hotel has curated F1 themed experiences for guests to immerse in the thrill of the race during their stay at Conrad Singapore.
 
"Between Sept 30 and Oct 3, guests can challenge themselves to a test drive at one of three race simulators set up at the lobby. The driver with the fastest lap time each day will receive a prize, with all daily winners invited to complete a final race on Oct 3 where the ultimate champion will be crowned." 
He added that  guests checking into the hotel during the period will receive a special F1-themed welcome amenity.
Operating times and services have also been adjusted to better cater to guests' needs, with in-room dining available 24 hours from Sept 26 till Oct 3 and extended hours of the service of drinks at some sections within the hotel.
"Housekeeping services will be shifted to start later than our usual 9am, so guests returning after a late night can continue to sleep in and have a good rest."
Fairmont Singapore and Swissôtel The Stamford managing director Marcus Hanna said that the hotels' take-up rate has been higher than originally anticipated, thanks in part to their "ideal location" along the race track offering superb views.
The two hotels expect revenue for the race weekend to be "far ahead" of previous years, he said, adding: "Covid-19 seems to have created a pent-up demand, especially for events and experiences that were not possible during the pandemic." 
BARS, RESTAURANTS GRAPPLE WITH SUPPLY-SIDE CONSTRAINTS
While restaurants, especially those near to the F1 venue, are expecting to reap dividends from burgeoning demand during the race week, some are worried whether they have the capacity to handle it. 
Mr Kurt Wee, president of the Association of Small and Medium Enterprises, said that many restaurants and operators in the F&B sector already have a waitlist for diners, mainly due to a surge in tourist consumption demand for that period.
"F&B sectors (are) primary beneficiaries and thereafter the retail sector. There are many events, non-F1-related, that have also been organised before or after F1 to encourage more incoming traffic (to these outlets)," he said.
A spokesperson of the Restaurant Association of Singapore said that while the industry is "delighted with the return of large-scale events to Singapore", it would still need to grapple with several challenges.
Agreeing, Mr Nasen Thiagarajan, president of the Singapore Nightlife Business Association, cited manpower shortage as a key challenge during the F1 period for nightlife and F&B operators.
"To cope with demand during F1, businesses are looking at their operating hours to close off low periods and focus on peak periods in order to utilise their manpower better," said Mr Nasen, who is also chief executive officer of Harry's International, which operates a chain of bars and restaurants across Singapore.
He added that labour costs, which have already skyrocketed in recent months, will be even higher for the week of F1, especially for part-timers as multiple industries compete to secure manpower.
He estimated manpower costs to be 30 per cent higher than the F1 period in 2019. 
Although Mr Nasen believes this F1 will yield higher revenues for nightspots, profits are likely to be lower as a result of business owners being able to deploy their limited staff only during periods where high revenue opportunities are forecasted, instead of optimising business hours. 
"High costs due to utilities, raw materials, operating expenses, logistics, transport would also be another reason (for lower profits)."
Mr Stephane Colleoni, the owner of OSO Italian Restaurant at Peck Seah Street in Tanjong Pagar, said that reservations in his restaurant have been full for the past five months.
"I have constantly been getting calls all week for further reservations but I am unable to accept any more," he said.
Like Mr Nasen, Mr Colleoni also wishes that he is able to employ more waiters and cooks to cater to the hot demand during the F1 period.
"I do not want to employ part-timers. I prefer having full-time workers but they are low in supply."
Despite the manpower challenges, some new businesses which opened this year are still hoping to cash in on the F1 frenzy. 
A spokesperson for Singapura Club, an establishment selling pan-Asian cuisine, said that the outlet is expected to be "80 per cent full" during the F1 week, adding that tourists have been coming in for the past one to two months.
"Our restaurant will be displaying F1 flags and posters (and) we are having a live band," she added.
Two limousine drivers also told TODAY that there has been an increase in demand for their services too for the F1 week.
"I can see overseas clients are coming back for business trips and leisure. So I guess, it's a good sign and (I) expect more coming in," said Mr Yusup Baliah, who drives for Straits Limousine.
However, he added, the industry is facing a shortage of drivers due to high rental and running costs. "We do face problems... when a high volume of bookings comes in, we have to reject bookings."
Agreeing, a driver from Bon Limousine company said that in spite of increased demand, the lack of manpower meant that not all the bookings could be accepted.
WHAT DOES IT MEAN FOR SINGAPORE? 
This year's F1 race represents an important turning point for Singapore, a harbinger of a vibrant, post-Covid-19 economy, said several industry and marketing experts.
Associate Professor Ang Swee Hoon from the Department of Marketing, National University of Singapore (NUS) Business School, said that being able to keep to the commitment of hosting the event shows the nation's dependability.
"Singapore has been preparing ourselves to be a safe and gracious host to various international events. F1 marks the first major international event in this endeavour that Singapore is ready to welcome the world of sports, and specifically F1 racing, to the nation," she added.
Agreeing, Professor Lawrence Loh, director at NUS Business School' Centre for Governance and Sustainability, said that a successful hosting of the F1 is "the most visible signal to the world that Singapore is back in business despite the pandemic".
He added that Singapore's risk-taking attitude in signing a long renewal deal for the F1 and in confirming this year's race at the start of the year seems to be yielding good returns.
"Nothing ventured, nothing gained. The gambit seems to be paying off as many countries have opened up — global aviation is bursting at the seams lately, it's a happy problem."
Some analysts however cautioned that a few things could potentially put a damper on the event, such as instances of Covid-19 cases and outbreaks among the F1 teams and drivers, and possibly even the entertainers flying in.
"F1 has been taking significant precautions with regularly testing and managing of close contacts, so this risk is minimised," said Mr James Walton, sports business group leader of Deloitte Southeast Asia.
"However, the organisers may have to be prepared for the scenario that headline acts could get cancelled at short notice in the event of an infection." 
TODAY has sent queries to Singapore GP and STB about the safe management measures and vaccination policies for participating drivers and performers.
On its website, Singapore GP says that "all patrons attending the Formula 1 Singapore Airlines Singapore Grand Prix 2022 must be fully vaccinated".
This is in line with Singapore's vaccination-differentiated safe management measures for activities and events involving more than 500 people.
"In order to safely host the Formula 1 Singapore Airlines Singapore Grand Prix 2022, Singapore GP will continue to work with the Singapore Government on the implementation of safe management measures throughout the Circuit Park," said Singapore GP on its website.
"Singapore GP reserves the right to change the programmes, facilities, services and off-track activities on offer if required to do so to adhere to prevailing safe management measures." 
Mr Walton noted that earlier this year — when Singapore announced in late January that it would host the 2022 Grand Prix — there were questions whether the event would be full capacity; whether safe distancing would still be practised; and whether tourists would be able, and willing, to fly in.
"There was a feeling then, though, that there would be enough of a time period, given the direction the Covid-19 pandemic was heading, that would bring resolution to these issues," he added.
"We have been fortunate that there has not been another major variant with more severe implications that could thwart the plans or deliver a setback."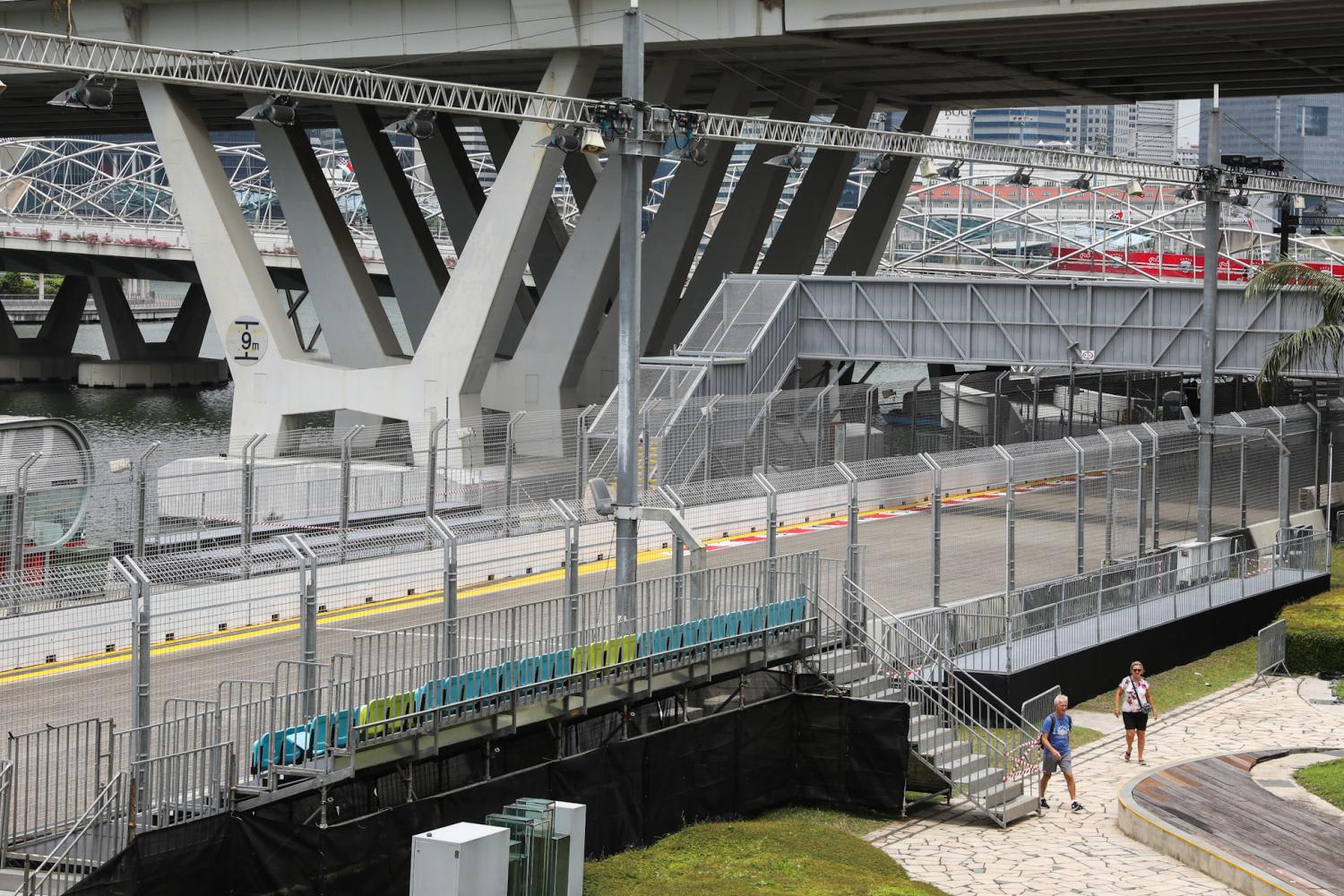 While Singapore has staged major sporting events this year without incident, they were not huge ones.
"The HSBC Rugby 7s earlier this year (in April) had restricted capacity (and masks on) and the preseason European club football friendlies were a much more 'local event' with few regional attendees," said Mr Walton. 
Still, the experts note that the timing of the race at this time of the year works in Singapore's favour, given that the Covid-19 situation has stabilised and that most restrictions have been lifted.
The reopening of Changi Airport Terminals 2 and 4 — in October and September respectively — has also demonstrated Singapore's resilience while driving business and consumer confidence as part of the road to recovery, said Mr Paul Kent, a partner at consultancy firm KPMG in Singapore.
"It goes towards positioning Singapore as a destination for a full experience, rather than just a stop-over location and is expected to contribute significantly to the four to six million international visitors that Singapore expects this year."
Matthew Marsh, a former British racing driver and presenter of online TV show GoF1, also observed that while most of the F1 races in other countries were also sold out, things did not go smoothly in some places which were not able to cope with a return of the crowds.
He told TODAY that while races such as the British Grand Prix and Italian Grand Prix were impressive, other events like the Spanish Grand Prix in Barcelona and Hungarian Grand Prix had "poor traffic management".
Also, certain other venues having races such as the Miami Grand Prix faced logistical and manpower issues in its hotels and restaurants. 
He described Singapore's Grand Prix as having a "fantastic kind of combination of private enterprise and public involvement... (which) works brilliantly".
He noted that while it's not unique for a grand prix to be promoted in this way, no one else has managed to do it as well as Singapore has.
"The Singapore Grand Prix took the quality level and experience level that's typical around the world to a new and higher level. So I'm expecting more of the same this year," he said.
"I can tell you also that it's the Grand Prix that is most popular with people who work in the sport. I've never heard anybody speak negatively about it."