Air purifiers can reduce risk of viral infections like Covid-19, but nothing beats natural ventilation, say experts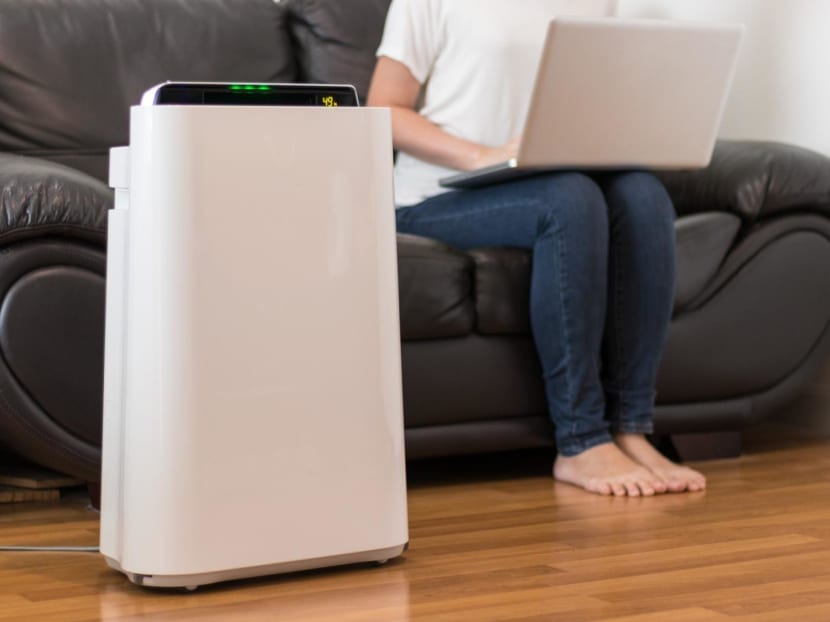 Portable air purifiers are easily available in the market but not every product will work for the space in which you live or work
How effective the filters are depends on the type used and other factors
Experts help to address some commonly held views regarding the "negative ions" technology used in some of these appliances and if the gadgets work on mould
They said that good natural ventilation is still key in reducing airborne contaminants
SINGAPORE — A sick child or family member from the ongoing influenza season may have gotten people thinking about ways to clear the germ-filled air at home.
Although there has been a greater awareness of airborne viruses due to Covid-19 and how they are spread, it still bears reminding that poor indoor air quality and circulation can be a threat to good health, especially in Singapore where people spend an inordinate amount of time indoors at home, in malls and in air-conditioned spaces such as cars, buses and trains.
At home, too, there can be cigarette smoke or fumes from cooking.
In the United States, there has been a big push to ban gas stoves, which are being blamed for contributing to indoor air pollution. This was after a study last year by Australia and American researchers estimated that nearly 13 per cent of current childhood asthma cases in the US are attributable to gas stove use.
Even air fresheners and a round of spraying disinfectants and wiping down surfaces can release pollutants in the form of toxic chemicals that household cleaners contain.
In finding a convenient way to clean indoor air, some consumers have been turning to portable air purifiers.
Just how effective are they or are they just another health hype? And with prices ranging from less than S$100 to a few thousand dollars, how does a consumer decide if it is really worth investing in one?
To help break down how these appliances work and what people should look out for when getting one, TODAY spoke to a few experts:
Associate Professor Tham Kwok Wai from the department of the built environment at the National University of Singapore's College of Design and Engineering
The National Environment Agency (NEA)
Dr Edwin Chng, medical director of Parkway Shenton's network of general practitioner clinics
HOW AIR PURIFIERS WORK
Snazzy advertising terms aside, all portable air purifiers generally work by passing air through a fan and a filter to trap airborne contaminants.
The purifiers may comprise a single technology or multiple technologies to achieve disinfection, Assoc Prof Tham said.
WHAT SORT OF FILTERS ARE NEEDED?
Filters recommended for use in air-conditioning and mechanical ventilation systems to treat re-circulated air are rated:
MERV 14
F8
ISO ePM1 70 per cent to 80 per cent
They may differ in rating system but they have similar filtration efficiency, NEA said.
Another class of filters that is deemed more efficient are high-efficiency particulate air (Hepa) filters, which are able to remove 99.97 per cent of virus aerosols from the air. Viruses and bacteria commonly cling onto fine particles and the Hepa filters work by trapping these particles through a complex web of fibres.
If you are considering a portable air purifier for an enclosed space in a higher-risk environment, NEA's advice is that it should be fitted with high-efficiency filters such as Hepa filters and these also need to be the appropriate size for the intended space.
For lower-risk environments, a lower-grade filter may be considered.
In the context of Covid-19 transmission, NEA considers home environments a "lower-risk" space because they are private spaces with relatively low human traffic, unless a household member occupying the space has an infection.
DO YOU NEED AN AIR PURIFIER?
It depends on what you hope to achieve with an air purifier and the type of filter you choose. 
As a way of minimising the spread of infections, an air purifier in the home is "better than none", especially if the natural ventilation in the room is not good, Assoc Prof Tham said.
However, he pointed to published evidence showing that infection transmission primarily occurs in close contact situations, such as when there is prolonged interaction in close proximity, and in poorly ventilated areas.
In these situations, the infectious particles emitted by the infected person is not diluted enough.
NEA said that air purifiers can be an interim measure to remove virus aerosols in enclosed, poorly ventilated spaces.
However, all of the experts emphasised that localised air cleaning provided by air purifiers should not be a long-term substitute for good natural ventilation.
It is important to note that air cleaning does not replace the need for adequate ventilation to reduce aerosol transmission risk.

Dr Edwin Chng, medical director of Parkway Shenton's network of general practitioner clinics
Dr Chng said: "(For example), Hepa filters are at least 99.97 per cent efficient at capturing viral particles associated with Covid-19.
"But it is important to note that air cleaning does not replace the need for adequate ventilation to reduce aerosol transmission risk.
"This is in addition to other practices such as social distancing, mask-wearing and regular surface cleaning and disinfection, because portable air cleaners do not remove surface contamination."
DOES ROOM SIZE MATTER?
Another important thing to consider when choosing an air purifier is the clean air delivery rate, or CADR, Dr Chng added. This determines the size and number of devices needed in a space to effectively clean the air.
"The higher the CADR, the more particles the air cleaner can filter and the larger area it can serve. In general, the total CADR of the air purifiers should be at least five times the room volume in cubic metres," he said.
WHAT ABOUT THE 'NEGATIVE IONS' TECHNOLOGY?
One disinfection method employed by some air purifiers involves inactivating viruses and bacteria using technologies such as ultraviolet germicidal irradiation (UVGI) or ionisation, Assoc Prof Tham said.
UVGI is generated electronically, releasing irradiation similar to that of ultraviolet rays of natural sunlight. 
Air ionisers release negative ions into the air. They work by inducing an electrical charge around the airborne particles, causing them to clump together. They then grow in size and become large enough to land on surfaces.
The jury is still out on how effective these electronic air-cleaning technologies are in inactivating airborne viruses. 
For example, while UVGI has been demonstrated to be effective against Covid-19 bio-aerosols, this is highly dependent on individual product design, NEA's website states.
OTHER WAYS TO MAXIMISE VENTILATION
There are other ways to improve ventilation and reduce indoor air contaminants at home and while travelling.
AT HOME
Avoid using materials that emit chemicals such as formaldehyde, which is a known carcinogen (cancer-causing substance). Sources of formaldehyde include furnishings, carpets, paints, etc
 
Reduce or avoid the use of "fleece-like" materials such as fabric and carpets. Even if they do not emit harmful chemicals, they are repositories of dust and dirt, and can also absorb and later release gaseous pollutants
 
Ensure good ventilation while cooking. Use an effective kitchen hood to remove and vent smells out of the kitchen as much as possible. Smells indicate that the particles generated from cooking, many of which are harmful by-products released through high-temperature cooking, are airborne and can be inhaled. 

One pollutant that may be linked to cooking is particulate matter 2.5 (PM2.5), which can be inhaled. PM2.5 has been associated with premature death, increased hospital admissions, heart and lung problems.
 
Maximise ventilation, particularly in bedrooms where unwell family members spend the most time recuperating. Consider using standing fans to either draw air from outside the room or push the air in the room outdoors to increase ventilation rate
 
Switch on the exhaust fan in bathrooms
ON A BUS OR PLANE
While travelling on a bus or by plane, try to direct the air supply from overhead diffusers towards your breathing zone (conventionally, the "breathing zone" is the area surrounding the nose and mouth)
 
The air should have been cleaned before it is supplied, and serves to dilute any infectious particles that would otherwise penetrate your breathing zone
 
As most infection occurs in close contact situations, continue to use a face mask because it effectively stops the larger-sized aerosols associated with talking. It also substantially prevents the release of infectious particles if one is sick
 
To reduce the concentration of infectious particles that one may be exposed to, choose seats and rooms that are well-ventilated
Source: Associate Professor Tham Kwok Wai from the department of the built environment at the National University of Singapore's College of Design and Engineering
WHAT ABOUT WEARABLE AIR PURIFIERS?
Assoc Prof Tham said that wearable miniature personal air purifiers, which has become increasingly popular in the past few years, mainly use ionising technologies.
NEA said that there is no robust data to show the effectiveness of wearable air purifiers and their impact on the health of the wearer is also not well understood. Furthermore, the ionisation technology used may generate ozone and other secondary by-products.
When inhaled, ozone has been linked to airway and lung irritation problems.
In all cases, consumers are encouraged to exercise caution and check that the product claims and the intended use of the product are supported by efficacy and safety data.

National Environment Agency
Although several studies have reported that negative ions have a destructive effect on bacteria and viruses, there is not enough evidence to clearly support the claims, Assoc Prof Tham said.
He said that the destructive effect of negative ions on viruses and bacteria are demonstrated mainly in small enclosed experimental setups. This means it does not show how it performs in real-world conditions where the space is not small or enclosed.
In addition, there is also usually air movement that disperses the negative ions, and this may prevent a significant level of disinfection.
NEA said: "In all cases, consumers are encouraged to exercise caution and check that the product claims and the intended use of the product are supported by efficacy and safety data."
DO AIR PURIFIERS WORK ON MOULD, ALLERGENS?
Not all air purifiers are equipped to deal with every indoor contaminant.
For example, if there is an existing mould infestation due to damp conditions in a building, an air purifier may not be able to overcome the problem.
The United States' Environment Protection Agency (EPA) said that portable air purifiers do not eliminate mould although they may be able to remove some airborne particles generated by mould.
For a mould problem, you will have to remove the mould itself and eliminate the source of dampness or moisture.
To filter gaseous indoor pollutants, such as volatile organic chemicals, the US EPA advised choosing an air purifier with an activated carbon filter or other absorbent filter designed to remove gases.
Volatile organic chemicals are emitted by many household products, such as disinfectants, aerosol sprays, building materials, furnishings and craft materials.
Exposure to high levels of certain types of volatile organic chemicals has been linked to health problems such as eye, nose and throat irritation, damage to the liver, kidney and central nervous system. Some are suspected to cause cancer.
And what about asthma or allergy symptoms from common allergens such as pet dander, house dust mites and pollen?
Studies have shown that Hepa air purifiers may help improve allergy symptoms. A 2020 study published in Yonsei Medical Journal, a peer-reviewed English medical journal in South Korea, is one example.
The study found that the use of Hepa filters significantly lowered indoor allergens and significantly reduced medication requirements for patients with allergic rhinitis.
However, some research suggested otherwise. For example, a report published in the American Academy of Pediatrics in 2016 concluded that air filters do not have a meaningful effect on allergens such as dust mites because they are carried on larger particles and quickly settle on surfaces.