Carbon tax, insurance claims for mental illness and GST hike among topics raised by youth at post-Budget forum
SINGAPORE — The issues of climate change and carbon tax occupied the minds of young participants attending a post-Budget forum organised by the National Youth Council (NYC).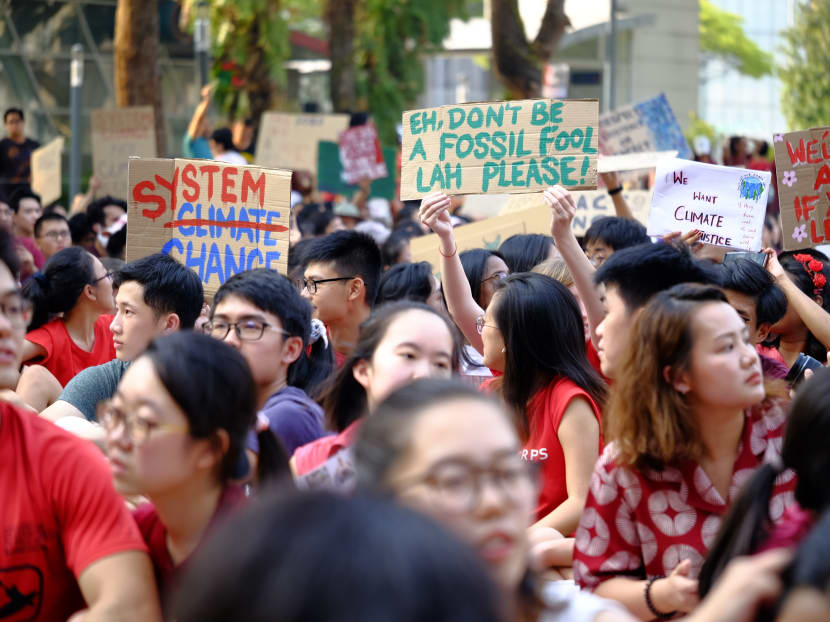 The National Youth Council held a forum for young people to discuss the Budget with a panel 
The panellists included Ms Indranee Rajah, Minister from the Prime Minister's Office
Questions were asked about carbon tax, insurance claims for mental illnesses and the Goods and Services Tax increase
The council said that in a separate earlier exercise conducted with youth, it found that they prioritised national spending on healthcare, housing and support for vulnerable groups
SINGAPORE — The issues of climate change and carbon tax occupied the minds of young participants attending a post-Budget forum organised by the National Youth Council (NYC).
During the one-hour session on Wednesday (March 30) evening, three of the 15 questions raised were on these topics.
One of them wanted to know, for example, how the impending rise in carbon tax would be passed on to consumers. The tax will jump from the S$5 per tonne of greenhouse gas emissions now to S$25 in 2024.
Another wanted to know whether the Government is planning to impose the tax on imported products.
NYC's forum titled, Budget 2022 – Conversations on Our Way Forward, was held a month after the Budget. 
It was attended by 226 youths aged 15-35. Of these, 74 attended physically and 152 online.
The panel leading the discussion at Hybrid Experience@Suntec Singapore, which is equipped to host events for an online and on-site audience, comprised:
Ms Indranee Rajah, Minister in the Prime Minister's Office
Mr Alvin Tan, Minister of State for Culture, Community and Youth
Mr Wong Jin Feng, chairman of Nee Soon East Youth Network
Ms Faridah Saad, president of Mendaki Club, which caters to a community of Malay-Muslim young professionals and students who are engaged in general affairs concerning Singapore
In response to the question on consumers possibly bearing the brunt of price increases due to the carbon tax hike, Ms Indranee acknowledged that the increases do tend to get passed down to the consumer "unless the Government does something to help to intervene".
This is because for companies to be more carbon-efficient, the process "can sometimes be expensive" since they have to either invest in new technology or employ more people, she said.  
To defray the costs, the Government will look into seeing how it can channel the revenue from the increased carbon tax into helping companies with this transition.
She added that hopefully, the cost of transition would be a bit lower for them and in turn, the cost that they would have to charge to consumers would be reduced.
INSURANCE PAYOUTS
Another question asked by a participant was whether the Government would consider increasing the claims amount for mental illnesses under the Central Provident Fund's Medishield insurance scheme, since the current cap "is quite minimal" and many insurers here still do not include mental health conditions in their provisions for insurance policies.
Mr Tan from the Ministry of Culture, Community and Youth said that the Government is about to start a public consultation soon through the Interagency Taskforce on Mental Health and Well-being under the Ministry of Health, and it welcomes all feedback related to this topic. 
The task force was renamed from the Covid-19 Mental Wellness Taskforce last August and is chaired by Dr Janil Puthucheary, Senior Minister of State for Health. It aims to develop a national strategy for mental health beyond the Covid-19 pandemic.
Mr Tan said that on a broader outlook, for mental health issues, "it's quite critical for us to provide the training, support and resources so that you can then work on the ground, help one another and provide peer support."
GOODS AND SERVICES TAX
During the forum, the panellists had to tackle a question as well on the Goods and Services Tax (GST), which will increase from 7 per cent now to 8 per cent next year and again in 2024 to 9 per cent.
A participant asked whether it would be possible to delay the hike, given the rise in cost of living and oil prices. 
To this, Ms Indranee said that the Government had already delayed the GST increase. It was first mentioned in Budget 2018 and was supposed to be raised between 2021 and 2025. In 2020, though, then Finance Minister Heng Swee Keat said that it will not be raised in 2021 because of the Covid-19 crisis.  
Ms Indranee added that with the S$6.6 billion Assurance Package announced at the Budget last month, the GST is effectively delayed by five years for the majority of Singaporeans, who will be receiving cash payouts over five years to offset the increases.
RESPONSES TO BUDGET 2022 AMONG THE YOUTH
Separately, NYC had engaged with and polled more than 1,200 young people, aged 15 to 35, to gather their feedback and sentiments on the Government's policy announcements made during the Budget. 
In a media statement released on Wednesday before the forum, the council said that from its engagement, it found that young people prioritised national spending on healthcare, housing and support for vulnerable groups — over spending for security and external relations, and economic development.
The desire for greater support was influenced by needs and desires across different life stages — with nearly half of older youth aged 30 to 34 wanting more support for middle-income and "sandwiched" households that have to care for and support young children and ageing parents.
On the other hand, youth in their early to mid-20s wanted more support for jobseekers, part-timers and gig workers. 
Those who younger were interested about updates on the Singapore Green Plan and more platforms for mental health support.
NYC also said that the youth welcomed the budgetary measures to address climate change, but wanted more incentives for businesses to reduce their carbon footprint. 
They were also happy with the continued Covid-19-related support for businesses even as Singapore's economy picks up.
David Chua, chief executive officer of NYC, said: "While youths acknowledge that support measures announced at Budget 2022 can address cost-of-living concerns, current geo-political issues have led youths to expect cost of living to rise.
"The NYC will work closely with government agencies to raise awareness on the suite of support measures to address these concerns. We will also press on with our mental health awareness efforts to ensure all youths can seek help and find support."