Experts laud 'ambitious' S'pore Green Plan 2030; some urge more climate change education
SINGAPORE — Academics and experts have lauded the recently launched Singapore Green Plan 2030 as ambitious, though some would like to see more education on climate change at schools and institutes of higher learning.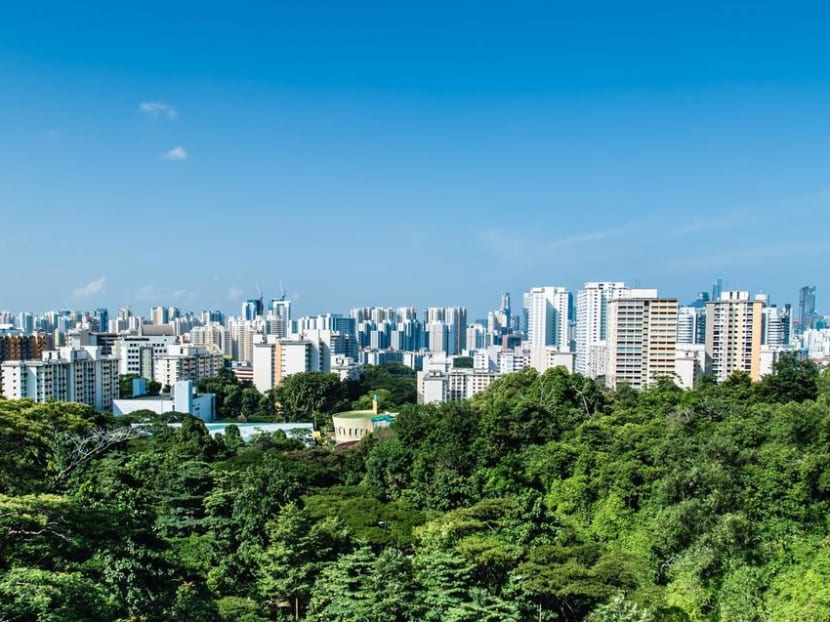 One expert said some of the targets go beyond what was enshrined in the 2015 Sustainable Singapore Blueprint
While new short-term targets are good, it is important to have yearly statistics so people know if they can meet them, said another
All students should take a course on how the earth works, said one climate scientist
Targets on electric vehicles (EVs) were welcomed by car dealers and EV enthusiasts
SINGAPORE — Academics and experts have lauded the recently launched Singapore Green Plan 2030 as ambitious, though some would like to see more education on climate change at schools and institutes of higher learning.
National University of Singapore's (NUS) Energy Studies Institute research fellow Melissa Low told TODAY that some of the road map's targets, which were revealed on Wednesday (Feb 10), go beyond those enshrined in the Sustainable Singapore Blueprint.
The blueprint, which maps out the Government's vision to create a more liveable and sustainable future, was last updated in 2015.
One example that Ms Low highlighted is the nation's network of cycling paths, which was originally targeted at 700km by 2030 in the blueprint. However, this has been almost doubled to 1,320km in the Green Plan.
The Government first flagged the 1,320km target  in January last year.
Others, Ms Low said, are more ambitious in terms of their timeline, such as the 20 per cent reduction of waste to be sent to the Semakau Landfill by 2026 as an interim target before reaching the final target of a 30 per cent reduction by 2030, which was announced during the Zero Waste Masterplan in 2019.
Semakau is projected to run out of space by 2035, and the authorities had earlier stated that such targets will be necessary to help extend the landfill's lifespan.
Mr Louis Ng, Member of Parliament (MP) for Nee Soon Group Representation Constituency, said he was heartened to see short-term goals included within the Green Plan.
If the various green goals were left until the "second half of the century", he said the public may not appreciate how urgent the climate crisis is.
TARGETS SEND 'STRONG SIGNAL' ON URGENCY
"A nearer target... sends a very strong signal that this is an urgent issue that we need to tackle, and our economy needs to change," said Mr Ng, who also chairs the Government Parliamentary Committee for Sustainability and the Environment.
Climate scientist Benjamin Horton, who lectures at the Asian School of the Environment in Nanyang Technological University (NTU), broadly agreed with Mr Ng's sentiments.
But he said it is equally important to see short-term statistics which could be revealed at the end of each financial year.
"Then we can see whether we are above or below our targets. If we are above it, what are we going to do to correct that so we meet the goal," said Professor Horton, who also heads the Earth Observatory of Singapore at NTU.
Prof Horton said he was pleased to see five ministries — the ministries of Education, National Development, Sustainability and the Environment, Trade and Industry, and Transport — coming together to work on a "new green deal".
"I think it's poignant that it's delivered just before Chinese New Year. What I'd like to see is climate-related topics discussed around the dinner table," he said.
One element that Prof Horton felt was missing from the Green Plan were targets relating to education on climate change.
"I'm a believer that every single student that goes to university must take a course in how our planet works," he said, as such knowledge would be vital in contributing to a more sustainable future.
Ms Fang Eu-Lin, the sustainability leader at PricewaterhouseCoopers Singapore, agreed that starting with education is a way for youths to have sustainability "in their DNA", and nurturing sustainability leaders of the future.
Mr Ng demurred on this, as surveys have shown that the public is already aware of sustainability issues. Instead, action is needed, and students should instead be given the opportunity to contribute to improving the environment.
One suggestion he raised is the establishment of a co-curricular activity group, such as a national climate change corp, where students can join and gain different badges for taking part.
"It really just shows a strong emphasis on taking action, rather than just studying about climate issues," he said.
Touching on a newly announced target for schools, Ms Low said it will be "interesting but challenging", though Prof Horton added that it will also provide an opportunity to educate young minds about the world around them.
Under the Green Plan, the schools sector has been set a target of achieving an overall two-thirds reduction in net carbon emissions, with at least 20 per cent of schools carbon neutral, by 2030.
Both Ms Low and Prof Horton offered up a slew of practical changes that could be adopted to meet these goals.
They include upgrading appliances such as air-conditioners to be more energy efficient, discouraging the use of disposable products, implementing recycling programmes and installing solar panels on rooftops.
"Schools will likely need to adopt green procurement practices, conduct audits and begin to measure and track their carbon footprint in order to be able to reduce their carbon emissions," said Ms Low.
Prof Horton added that increasing greenery in school will not only help with cooling them naturally, but aid with carbon capture as well. It also has the added benefit of allowing teachers to show their students how the earth works, he said.
Meanwhile, conservation scientist and Non-Constituency MP Koh Lian Pin said there is also a need for proactive engagement and genuine consultation between the ministries, the public and other stakeholders.
On Feb 1, the Singapore Parliament passed a motion put forward by Mr Ng declaring climate change a global emergency.
On Wednesday, the ministries said that more details about the Green Plan will be released at the upcoming Budget 2021 on Feb 16, and the subsequent Committee of Supply debates in Parliament.
ELECTRIC VEHICLE TARGETS WELCOMED BY DEALERS, ENTHUSIASTS
Under the Green Plan, the Government set 2030 targets for all newly registered cars to be "cleaner-energy models", and also doubled the targeted number of electric vehicle (EV) charging points from 28,000 to 60,000 by 2030.
Car dealers and EV enthusiasts welcomed this move, but outlined some challenges that the authorities may face in meeting its targets.
Mr Joe Nguyen, an EV owner, said that this is a timely target, given that some car producers are already looking to exclusively offer electric vehicles in the future. For example, General Motors plans to do so by 2035.
"When (Singaporeans) look for their next car, there will be many choices for EVs and hybrid models," said the 49-year old.
However, car dealer Steven Lim said that it will be a challenge to overhaul infrastructure here. For instance, the majority of Singaporeans live in public housing and cannot simply plug in their vehicles to charge as someone living in a private home can.
He asked: "Will every parking lot have a charger? Are the petrol stations going to switch to become charging stations?"
In the Green Plan, the Government also said it will revise Singapore's multi-layered vehicle tax system to increase the incentives for people to buy EVs. Under the current rules, EV buyers can obtain tax breaks of up to S$45,000.
However, no details of the additional incentives have been announced yet.
Mr Neo Tiam Ting, president of the Automobile Importer and Exporter Association, said that the exorbitant prices of EVs will remain an obstacle to demand.
For instance, a Tesla Model 3 Standard Range is retailing here at around S$113,000 before COE. While tax incentives for EV owners were enhanced recently, this may not be enough to sway consumers.
"When consumers purchase cars, they will calculate between EVs and hybrid cars — what is the difference in price, and then they will decide."