F&B outlets and retailers have 'fully exhausted' their reserves, more closures expected if landlords don't help
SINGAPORE — With their reserves "fully exhausted" and earnings in "deep red", retailers and food-and-beverage (F&B) establishments said that more of them could be forced to close if further assistance is not provided.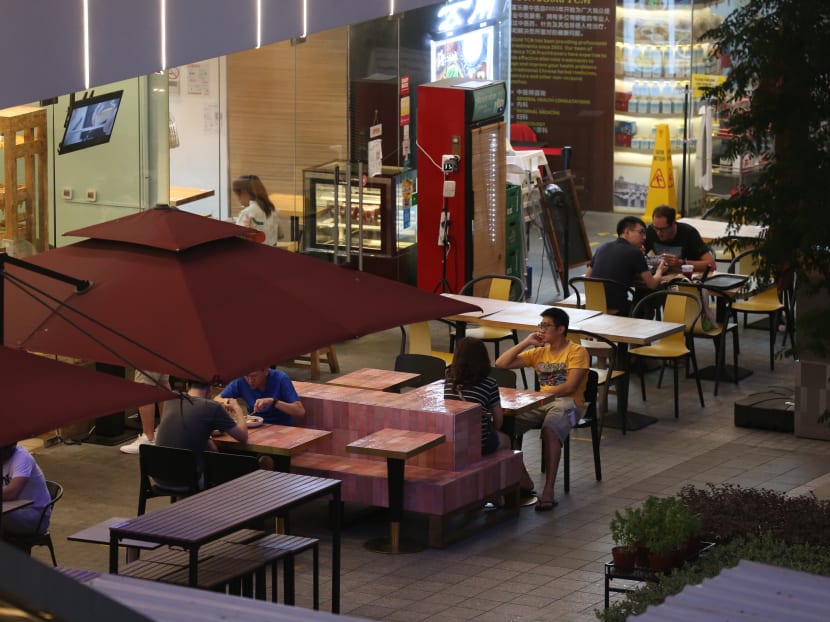 F&B outlets and retailers said more of them will close without assistance such as rental relief from landlords
They are already in "deep red", a representative from a tenants association said
They added that there has been little support from landlords during the heightened alert period since May
SINGAPORE — With their reserves "fully exhausted" and earnings in "deep red", retailers and food-and-beverage (F&B) establishments said that more of them could be forced to close if further assistance is not provided.
Mr Terence Yow, chairman of the Singapore Tenants United for Fairness (SGTuff), estimated that about 10 to 20 per cent of customer-facing businesses have shut, with numbers probably higher in the Central Business District and central shopping districts, since the country went into a heightened alert from May 8 due to a surge in coronavirus infections.
And he expects a similar proportion to pull their shutters in the next few months without sufficient help from their landlords.
"We honestly think that this could be the last chance or ability for us to hold out, as long as we can get out of this and as long as we can get some significant help from landlords or (in managing) manpower costs," he said.
Mr Andrew Kwan, president of the Restaurant Association of Singapore (RAS), said: "If the (companies in the) industry were left to their own devices, I think many would shut down. And that would not be good overall because not only does the company go down, it carries along with it all the employees as well."
The Alliance of Frontline Business Trade Associations, which comprises SGTuff, RAS, the Association of Small- and Medium-sized Enterprises (Asme), and the Singapore Retailers Association, banded together in a hastily assembled virtual press conference on Wednesday (July 21), a day after the stricter restrictions were announced, to repeat their calls for more support.
The Government's Covid-19 task force announced on Tuesday that social gatherings would be capped at two people and dining in would be banned from Thursday till Aug 18.
With further loss of revenue expected over the next month, the alliance on Wednesday appealed for landlords to take on a fair share of the burden with their tenants, for support on wage costs and for the bank loan principal moratorium to be extended to June 2022.
In addition, Mr R Dhinakaran, president of the Singapore Retailers Association, also requested that the Government consider waiving the levy for foreign workers in these frontline industries.
Mr Yow of SGTuff said that 80 to 90 per cent of frontline businesses have not received significant support from landlords in the form of rental relief since Singapore went into Phase 2 (heightened alert) in May.
The last time most landlords chipped in was in July last year when it became mandatory for them to waive up to two months of base rent for eligible small- and medium-sized enterprises (SMEs) that have suffered significant losses due to Covid-19.
The Government covered another two months of rent.
However, Mr Kurt Wee, president of Asme, said that there's "hardly (any) sharing of the pain this round".
The alliance believes that landlords should give rental rebates based on tenants' business performance, which means those that suffered a bigger drop in sales should get more support.
As for government assistance, Mr Wee is hoping that the authorities will provide higher levels of wage support this time round, compared to the first time heightened alert phase in May.
At the time, the Government provided 50 per cent subsidies in manpower costs for Singapore workers in businesses that had to suspend their operation. Later, 30 per cent subsidies were given to retailers as they were allowed to operate but had seen their business affected with a decline in footfall.
Then, it also announced that the Inland Revenue Authority of Singapore would be directly disbursing half a month of rental relief through cash payouts from mid-August to qualifying tenants in privately owned commercial properties under a new Rental Support Scheme.
This is a change in approach compared with past rental reliefs, in which cash grants were given to landlords, who were then encouraged to pass on the relief to tenants through rental waivers.
However, Mr Dhinakaran said that SMEs are living "hand-to-mouth", firefighting daily with cash flow challenges, but landlords are not sympathetic, saying that tenants would already be getting help from the Government through the new rental support scheme.
Finance Minister Lawrence Wong said on Tuesday that businesses and workers affected by the tightened rules will get help from the Government through a new package of targeted support measures.
While the specific details have yet to be ironed out, he said that the Government would take reference from the support provided in the previous heightened alert period, which worked out to between S$800 million and S$900 million in total.