New under-17 youth league, trained talent scouts among plans to 'rebuild' Singapore football
SINGAPORE — A new under-17 youth football league and courses to train talent scouts were unveiled on Thursday (May 25) to raise standards for the sport here, although some parents expressed concerns over the load that a new league would add on young players.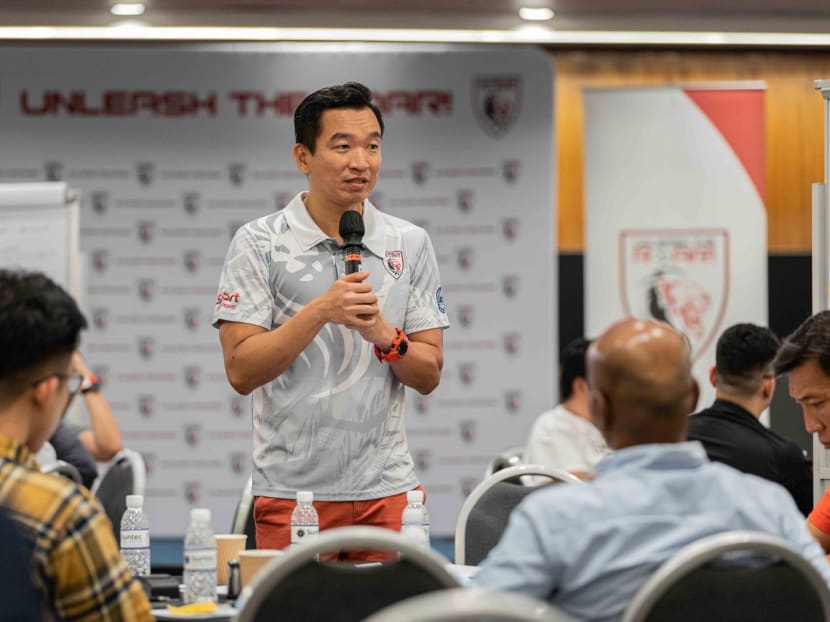 Two new initiatives will be launched to raise football standards in Singapore
They are a new under-17 football league and courses to train talent scouts to improve the pipeline for young players
These were announced at a public consultation by national football project Unleash the Roar 
Parents and former national players at the event welcomed the plans but wanted more clarity on how they would be carried out
One parent asked whether a new youth league will take more time away from his child's other commitments such as his school team, as well as studies 
SINGAPORE — A new under-17 youth football league and courses to train talent scouts were unveiled on Thursday (May 25) to raise standards for the sport here, although some parents expressed concerns over the load that a new league would add on young players.
The two initiatives will be launched by next year under the Unleash the Roar project, a 2021 plan to identify and develop young football talent in the country.
They were announced during a public consultation on Thursday evening held at the Suntec Singapore Convention & Exhibition Centre.
Parents and former national football players who attended the event told TODAY that the new initiatives could help in developing young football players.
However, they wanted more clarity on how it would be carried out, given the myriad of leagues and competitions for children, such as the National School Games and private academy leagues. 
One parent asked whether the new league will take more time away from his child's other commitments such as playing for the school team and academic work.
The event, which was open to the public through sign-ups, was attended by more than 150 people, including football coaches, parents of young football players, former national footballers, fans and journalists. 
The Football Association of Singapore (FAS) leadership such as acting-president Bernard Tan and general secretary Yazeen Buhari were also present. 
The participants were divided into 18 tables and had an hour-long discussion about various topics involving the Singapore football scene. 
The media was not permitted to report on the content of the discussions, but TODAY observed that the different groups were engaged in lively conversation, with many taking notes. 
Participants also told TODAY after the event that they felt the event was helpful as a first step to address the dire state of the nation's football scene, but hope to see words put into action in the future.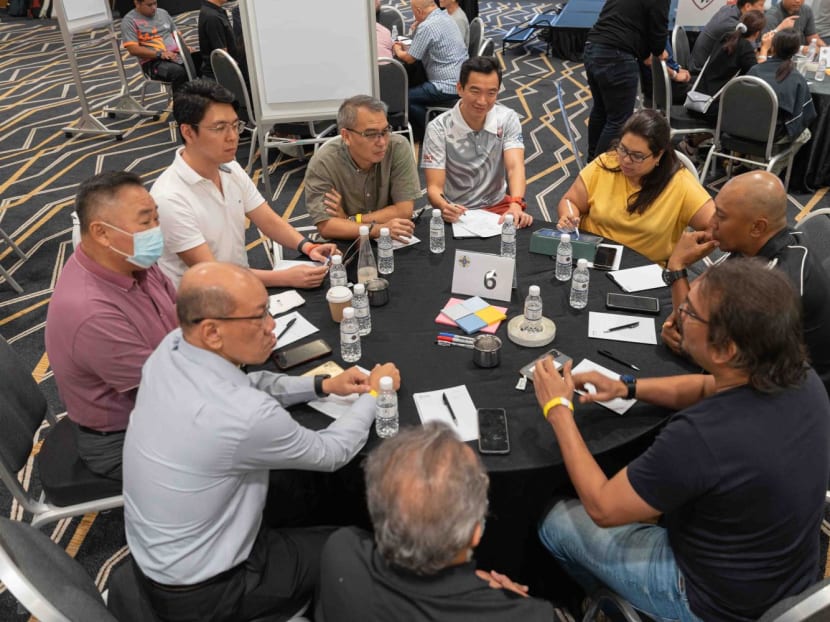 'WE NEED TO GO BACK TO BASICS'
Giving a speech at the event, Unleash the Roar chairman Eric Chua said that he had heard comments that the session was "ill-timed".
This was because it came on the back of Singapore's humiliating 7-0 defeat during the 2023 SEA Games earlier this month at the hands of its causeway rivals, Malaysia. 
"The easy thing to do, might have been to postpone today's session. But in my opinion, that would not have been the right thing to do," he said.
Mr Chua is also Senior Parliamentary Secretary in the Ministry of Social and Family Development, as well as the Ministry of Culture, Community and Youth.
"This SEA Games 2023 campaign is difficult to accept, but it is the reality of the situation we face in local football today, that our local football ecosystem is much weaker now compared to before." 
He added that this is partly due to an impact on the talent pipeline here, where the identification and development of footballing talent is "no longer working well". 
Mr Chua did not specify what had caused this impact on the talent pipeline. 
He said that one option would be to "sit by, wallow, and do nothing" and the other option would be to "take concrete actions and rebuild Singapore football". 
"I vote for the second course of action," he added. "We need to go back to basics, rebuild our grassroots, harness, and develop our youth talent so that we can once again have a team that is competitive at the regional level."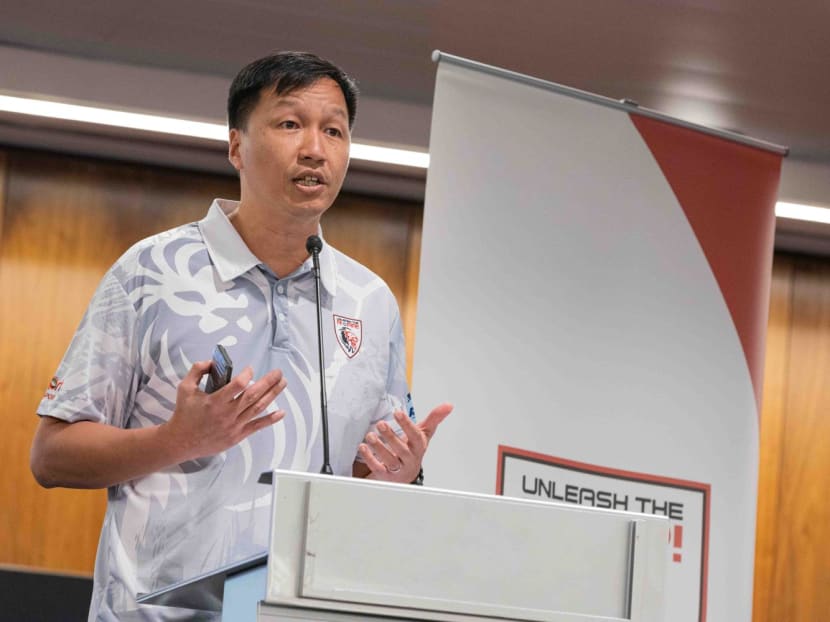 NEW INITIATIVES UNDER UNLEASH THE ROAR 
Mr Marcus Tan, who heads national sports governing body Sport Singapore's sport development group, unveiled the measures that Unleash the Roar will take to help bolster footballing talent here. 
One is establishing talent scouting courses for coaches, former players, as well as members of the public. 
These trained scouts will then be deployed to football training and games to ensure that more talent is identified, and FAS has already started these courses since March. 
"This course is very important, as it allows us to have a common base of picking up the talents," Mr Tan said.
"Having the scouts watching daily games and training in different schools stretches the network wider." 
Another initiative is a "Singapore Youth League" with three categories: Under 17s, under 15s and under 13s. 
Each league will have a three-tier format, with a promotion and relegation system. 
These leagues are planned to be rolled out by next year and will be played outside of the National School Games.
This will "increase the (playing) load of our youth", Mr Tan added.
The competitions will take up 28 weeks in a calendar year and new rules will be put in place to nurture development such as unlimited substitutions. 
MORE DETAILS NEEDED
Parents and former national football players who spoke to TODAY said that they welcomed the new moves to improve the talent pipeline, but some questioned their feasibility and also suggested improvements. 
Former national footballer and Unleash the Roar ambassador Rafi Ali said that a youth league will not only allow young players to have more playing time, but also better hone their skills. 
"The more games they play the better they become, because a lot of training with fewer games is also not good," the 50-year-old said. 
With more games, technical issues such as tactical awareness and passing ability can be better improved. 
However, Mr Hari Dhayalan, a parent whose 10-year-old boy is part of the Unleash the Roar Programme, said that he is unsure if having too many competitions is a good thing, since his son now plays for the school team and in a private football academy.
The 42-year-old, a chief operating officer of a technology company, asked: "If the (youth) league comes in, who is going to participate? Is it going to be a singular platform (merged with the private leagues)?
"That aspect needs to be more constructive and structured.
"There are only seven days in a week… physically, it is impossible for a player to recover if he plays for his school, youth league and private academy… and this is even before you talk about studies," he said. 
As for the talent scouting courses, the parents agreed that it is a good initiative because it will allow footballing talent to be developed on the same page across different academies. 
"A singular methodology is a great idea, not just about developing players but developing coaches," Mr Dhayalan said. 
He also said that it had been mentioned in his focus group that in Singapore football, different academies are "trying to do good things, but always in their own way, and not the Singapore way". 
"(Scouting) should be consistent, not one club doing it one way, one club doing another way," he added. 
Agreeing, Mr Gavin Choo, whose six-year-old son plays football, said he hopes that this new scouting system does not only stop in schools. 
"They have to do more than that, because not all schools have a football CCA (co-curricular activity)," the 46-year-old civil servant said. 
"Unleash the Roar and the Ministry of Education will have to work on having a basic football curriculum in their CCAs," he suggested. 
This would mean that scouting can be done fairly across all schools, increasing the chances of identifying talent, he added.
PUT WORDS INTO ACTION
Fans and former players who attended the focus group discussions said that they had been pessimistic about the recent trajectory of Singapore's football, but noted that the event signalled that there is willpower from the authorities to improve the situation. 
They are hoping that action will be taken after their feedback has been considered. 
One football fan, who wanted to be known only as Sal, hopes that the consultation session was more than just a space to voice his opinions.
The 37-year-old, who has been a fan of the national team since 1994, said: "Actions speak louder than words.
"If we have 10 sessions of this, and our football still doesn't improve, then I've wasted my time." 
Former national footballer Rafi said that his takeaway from his discussion with parents, fans and coaches showed that everyone needed to be on the same page in order for the sport to move forward. 
For instance, it is not enough that the Unleash the Roar project succeeds, but other stakeholders such as parents have to believe in the project. 
"I spoke to some of the parents and they are concerned that there is no future in Singapore football, and they are torn and discourage their kids from playing." 
He added that with better coordination among FAS, schools and private academies, as well as the Unleash the Roar project, parents will then have more faith in Singapore's footballing prospects. 
Agreeing, Mr Dhayalan said that attending the event has helped him get in sync and better understand the Government's aspirations for the football scene here. 
"The details on the (Unleash the Roar) project are still not super clear, but at least I can understand and feel that there is good intention to put things right."