'I prayed a lot': Confined for months, a migrant worker saw the grip Covid-19 had on sufferers
SINGAPORE — To celebrate Deepavali, Mr Shermaraja Arunachalam, a scissors-lift operator, would usually go shopping for new clothes and have a mass cookout with his dormitory mates. This year, things will not be the same.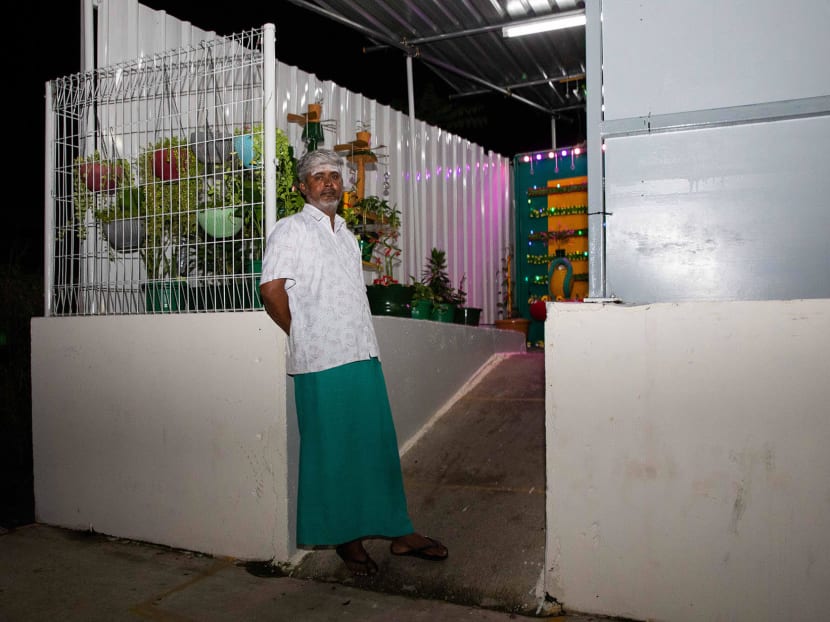 Migrant worker Shermaraja Arunachalam has spent more than half a year cut off from the outside world
He recalls his experience fighting the invisible enemy that is Covid-19
On Deepavali, all he wants is to spend some time outside the dormitory for a while and celebrate with some friends
SINGAPORE — To celebrate Deepavali, Mr Shermaraja Arunachalam, a scissors-lift operator, would usually go shopping for new clothes and have a mass cookout with his dormitory mates.
Away from his family and home in Tamil Nadu, India, those festive get-togethers helped to ease his homesickness.  
This year, things will not be the same.
Under the shadow of the Covid-19 pandemic, celebrating the Festival of Lights — which is on Nov 14 this year — would be a muted one for Mr Shermaraja, a 42-year-old Hindu. He works in the process and maintenance sector earning S$700 a month.
Mr Shermaraja is among more than 300,000 migrant workers in Singapore who have endured lockdown-like conditions since April.
Now, six months later, he and his dormitory mates are only just starting to sense that they may get some reprieve.
In June, he himself tested positive for Covid-19 and was quarantined at the Singapore Expo community care facility for 22 days before being moved to a cruise ship, Star Cruise's Aquarius, where he spent more than two months confined to the vessel.
While the wider community here is gradually having some normality as they go about their lives, Mr Shermaraja and many migrant workers remain indoors, save for work and essential errands.
As part of the measures to ease restrictions for migrant workers to stay safe within and outside the dormitories, from Oct 31, workers who have recovered and those who have tested negative recently under a rostered routine testing regime are allowed to visit recreation centres on their rest days — at staggered time slots.
During an interview facilitated by non-governmental agency Hope Initiative Alliance (HIA) last week, Mr Shermaraja gave TODAY a glimpse into his life since returning to work last month after being cooped up for almost half a year.
He also talked about his fears battling an invisible enemy — he had no symptoms when he was infected with the coronavirus — as well as his grim encounters with depressed, suicidal workers.
HIA is an inter-racial and inter-religious alliance of social service organisations, civil groups and corporations that support vulnerable and marginalised communities including migrant workers.
Mr Shermaraja cannot leave his dormitory located on Jalan Besut near Boon Lay, which has been cleared of Covid-19, except for work and essential errands.
For the interview with TODAY, Mr Shermaraja Arunachalam had to seek permission to get on the pavement by the main gate to have his photos taken. 
He said that a typical work day for him now is waking up at around 5am and leaving the dormitory earlier to arrive at his work site around 6am.
Work ends around 6pm and he is back at the dormitory by around 7pm.
There are regulations for workers taking employer-provided transportation.
"If I need to buy something, I'll ask the driver to help," he said.
While he understands the need for safe distancing, Mr Shermaraja said that he and his friends cannot help but "feel bad", especially with Deepavali coming up this weekend.
SHOCK AND ANGER
The main breadwinner of his family, Mr Shermaraja left his wife, only child and his ageing parents to work in Singapore in search of a better future for his family.
He had a five-year work stint here from 2011 to 2016, but returned last year when he needed money for his 11-year-old son's medical treatments for motor delay issues.
He did not expect to spend almost six months locked away due to the pandemic.
Mr Shermaraja and his dormitory mates were closed off from the outside world when the premises of their accommodation were sealed off on April 7. At the time, he was staying in a factory-converted dormitory at Tuas and there were 12 workers to a room.
His first swab test returned negative but he was tested positive when he took a second test in June. His dormitory mates tested positive, too.
The positive results came as a shock, Mr Shermaraja said, because all of them had no symptoms.
"I had no symptoms at all — no runny nose, sore throat, no fever. I was really scared when they told me I tested positive and I was told to pack my bags (to go to the Singapore Expo community care facility). I prayed a lot," he said.
Recounting how he felt, Mr Shermaraja said that he and his dormitory mates were largely "angry with corona".
"We never go anywhere, and most of our time was at work and at the dorm – how did the coronavirus come to us?
"I also wondered how did I test positive in June when I stayed in the dorm in April and May and didn't go anywhere," he said.
On June 4, a day after he was informed of his positive diagnosis, Mr Shermaraja was taken to the Singapore Expo facility.
'I THOUGHT I WAS GOING TO DIE'
Although he did not feel unwell, the transfer to the community care facility filled him with dread. At one point, he feared his symptomless infection would kill him.
 "I was very stressed out. When I saw the news on what's happening around the world, like in Italy, and people were dying, I thought I was also going to die from (the) corona(virus), too.
"I kept thinking I've not done any harm to anyone, why am I going to die?
"I wondered what would happen to my family if anything happened to me. I told Brother Samuel Lim, 'If anything happens, can you help me to take care of my family?'."
He was referring to Mr Lim, a partnerships manager at HIA who was providing support to the workers from factory-converted dormitories.
Reverend Ezekiel Tan, president of HIA, told TODAY: "Many of (the workers) thought that when they contract Covid-19, they will die. So there was a lot of fear and uncertainty initially because they are not as well-informed as Singaporeans. Back then, many also thought they were 'left to die' in the dorms."
After spending 22 days at the Singapore Expo community care facility, Mr Shermaraja was moved to a cruise ship, which he said felt "like hell" to him. He spent another 72 days there.
"I had a room buddy for the first 10 days and then he was transferred elsewhere, so I was alone. The ship is nice but how to remain positive?
"It was hard to go through it. There was no one to talk to me.
"Thankfully, Brother Samuel would call me every morning," he said, adding that he was glad that he could still take regular walks on the ship's decks to get some fresh air.
Concerned that he would add to his family's emotional burden and fears, Mr Shermaraja put on a brave front each time he called them even though he was feeling lousy from the isolation and uncertainty.
"I'm an only son to my parents and they were very worried. My family cried and asked me to go home. I didn't tell them what was really happening. I didn't want them to be worried," he said.
'SO MANY STRESSED AND DEPRESSED PEOPLE'
Mr Shermaraja said that some workers he encountered on the cruise ship took their situation a lot worse than he did.
"One guy I met kept saying, 'I want to (commit) suicide'. I saw so many stressed and depressed people. I would tell them not to think about that, that everything would be over soon and not to worry," he said.
He believes that the long isolation affected their mental health.
"Before Covid-19, we can go anywhere. But after Covid-19, we face plenty of restrictions. I'm not complaining about this and I understand (why it has to be done) but I think (the restrictions) gave many of us a hard feeling (as in, we don't feel good about it)," he said.
Mr Shermaraja said that he felt immense sadness whenever he learns of cases of suicide among workers.
"I feel bad for their families. If they go, who will take care of them? Their family will suffer. I want to tell other workers, please don't make this mistake," he said.
HOPING TO MOVE ON
Despite the toll on their mental well-being, Mr Shermaraja feels that Singapore is "the safest place in the world".
He and his fellow workers are very thankful to HIA and Singaporeans for their support, he said.  
There is still much uncertainty with the ongoing pandemic, BUT Mr Shermaraja seems to have some clear plans for his personal goals.
"My son has been asking when I'll go home. I told him to wait as I came to Singapore for his sake. I need to (improve my work skills). I hope to apply for some courses and go to the next level (at work)," he said, referring to his aim of taking courses to get a forklift licence here.
He has a licence from India but it has to be converted to a Singapore one. He then plans on going for more courses to become a supervisor.
As for an even shorter-term goal, he hopes to get an exit pass approval to visit his dormitory's assigned recreation centre in Jurong with his friends to celebrate Deepavali this weekend. 
IMRPOVING THE MENTAL WELL-BEING OF MIGRANT WORKERS
Lack of information, being confined to a small area for a prolonged period as well as uncertainties over their employment and financial situation were among the factors triggering mental stress in migrant workers during the initial weeks of the pandemic, Reverend Ezekiel Tan said.
He is the president of Hope Initiative Alliance (HIA), a non-governmental organisation (NGO) that supports vulnerable and marginalised communities including migrant workers.
With the majority of workers back at work now, Reverend Tan said the general observation is that there have been improvements in their mental well-being.
"Previously, they faced only the four walls. Now they can see space beyond a confined area. Knowing they have work, there would be a salary and in turn, stability — that certainly helps," he said.
At the same time, they can now apply to go to recreational centres on rest days, he added.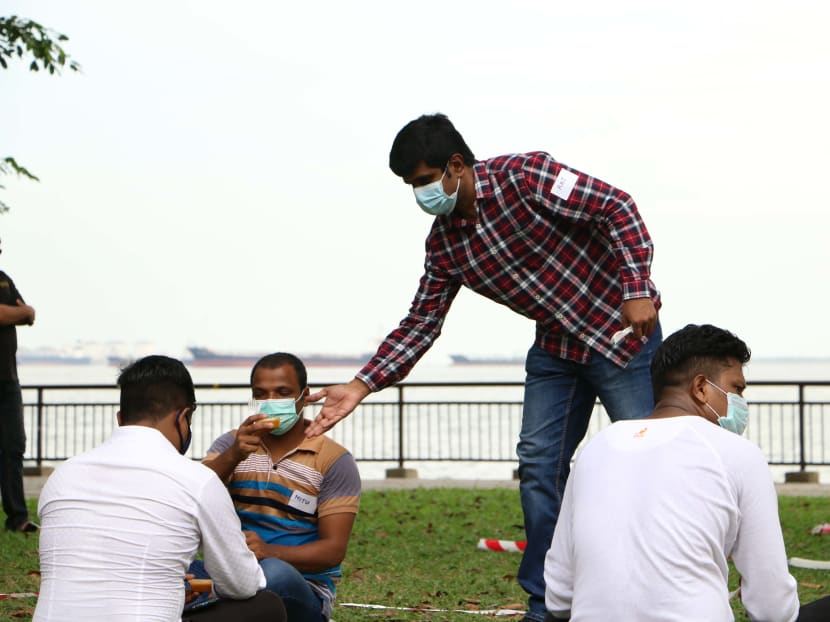 On Nov 6, the Ministry of Manpower (MOM) announced that a task force named Project Dawn has been set up to improve awareness of mental health issues among migrant workers and provide better support to workers who need mental health support.
It comprises representatives from MOM, the Institute of Mental Health, NGOs such as Migrant Workers' Centre and HealthServe, as well as psychologists in the public service. Some initiatives include training officers from the Forward Assurance and Support Team (Fast) who are stationed at dormitories, to enable them to carry out psychological first aid. Fast teams comprise officers from MOM, Singapore Armed Forces and the Singapore Police Force. 
Reverend Tan said that a small group of workers will continue to face challenges and mental stress due to termination of employment as the businesses they work for may downsize or are facing financial difficulties.
With some countries in the region facing second or third waves of infections, concerns for their loved ones back home can also trigger anxiety, he added.
A significant number of the workers go through mental distress of varying degrees and it is often hard to track how many harbour suicidal thoughts because some do but keep mum about them or do not exhibit any symptoms.
"A small percentage of those we see in the dorms experience severe mental distress — there are pockets of them that we and our partners spot but I'm afraid we don't have numbers for these," he said.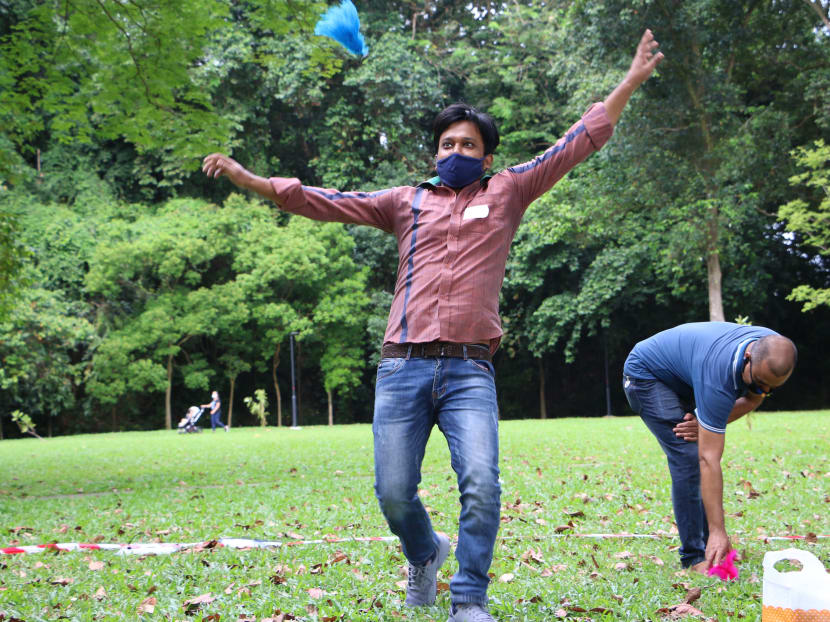 HIA is among the NGOs that have worked with other voluntary welfare organisations and government agencies to look out for migrant workers during the Covid-19 pandemic.
Alliance of Guest Worker Outreach, an initiative under HIA, said that it provided more than one million meals to feed workers, mainly in factory-converted dormitories, in a span of four months during the period when the circuit breaker to restrict movement started in April.
It runs a counselling and befriending programme, and several projects to support the well-being of these workers.
It is also looking into launching a support group for individuals who harbour suicidal thoughts or have attempted suicide, Reverend Tan said.
On Saturday (Nov 14), a team of volunteers from the alliance will be delivering chicken biryani meals to around 8,000 migrant workers as a way to celebrate Deepavali.
HIA hopes to increase its pool of volunteers and involve more community partners in its projects.
Reverend Tan said that the availability of support for "guest workers" who need help can certainly be "beefed up". HIA refers to them as guest workers "to honour their contributions and treat them as guests in our nation, who are deserving of respect", he explained.
On the arguments by certain social media users about why there is a need to consider the mental well-being of a transient community of workers when many Singaporeans are struggling to survive the economic fallout from Covid-19, Reverend Tan said: "What is the soul of Singapore? Are we a gracious society that cares for our neighbours or one that cares only for itself?
"The truth of the matter is that they are doing jobs that many Singaporeans don't want to do. They contribute to the economy, prosperity and general well-being of our nation."