Mask-wearing required only in healthcare facilities, on public transport from Aug 29; optional in taxis, private-hire cars
SINGAPORE — As the coronavirus pandemic situation improves in Singapore, face masks will become optional in most indoor settings from Aug 29 onwards, the Ministry of Health (MOH) said on Wednesday (Aug 24)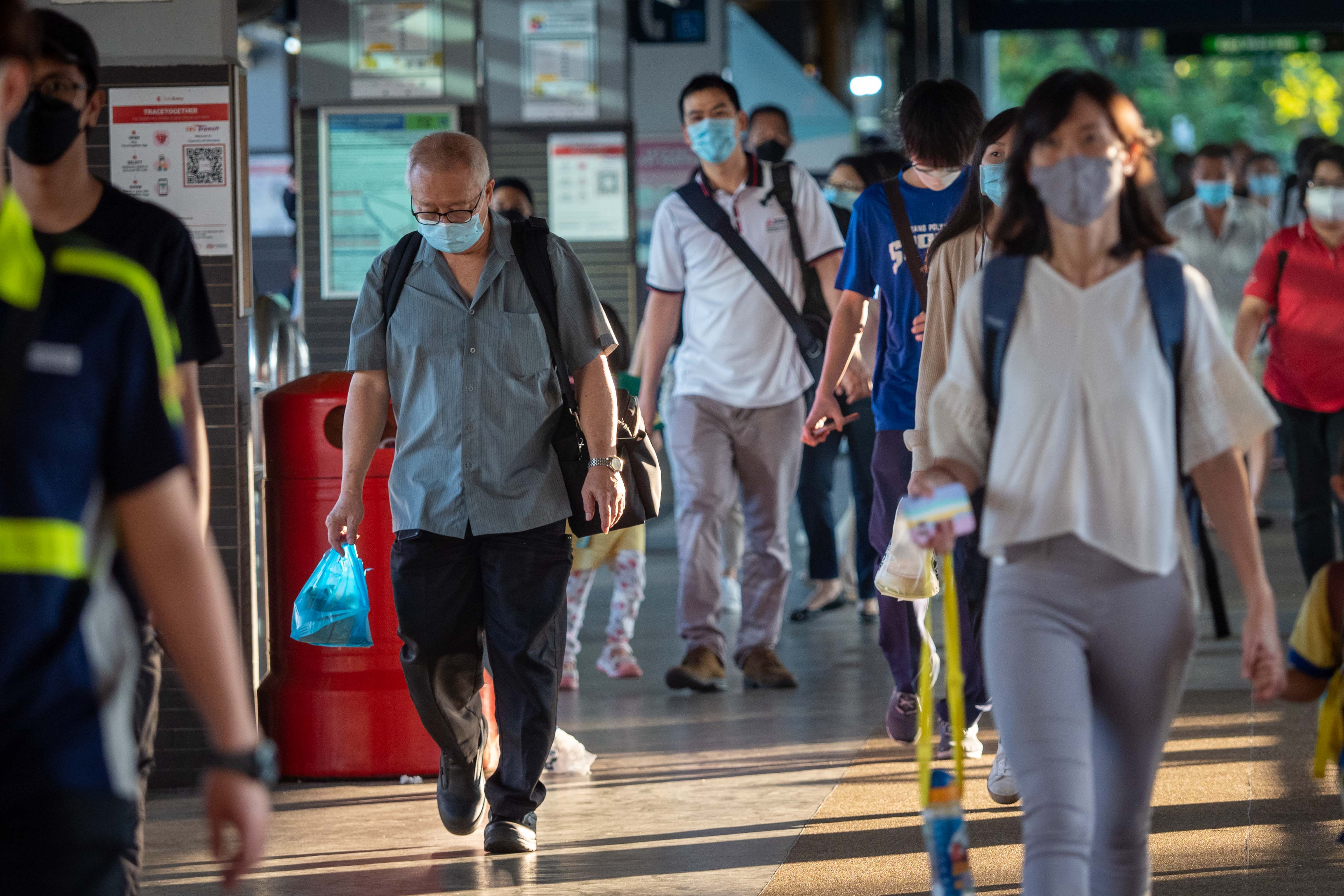 SINGAPORE — As the coronavirus pandemic situation improves in Singapore, face masks will become optional in most indoor settings from Aug 29 onwards, the Ministry of Health (MOH) said on Wednesday (Aug 24).
This includes private transport modes as well as school buses, private bus services, private-hire vehicles and taxis.
However, face masks will still be required on public transport such as public buses and MRT trains, and in indoor public transport facilities such as boarding areas, as well as in places where essential services are carried out in enclosed and crowded areas that are frequently used by vulnerable persons.
This announcement came a few days after Prime Minister Lee Hsien Loong said during the annual National Day Rally that the Government is relaxing the wearing of face masks to "prevent people from getting tired".
On Wednesday, MOH elaborated in a press release that face masks will still be required in the following settings:
Healthcare facilities, residential care homes (including welfare and sheltered homes for the aged, as well as adult disability homes) and ambulances. These include the indoor premises of hospitals and polyclinics, among others
Public transport: MRT or LRT trains and public buses, as well as indoor public transport facilities such as boarding areas within bus interchanges and MRT platforms
Mask-wearing will be optional on private bus services such as school buses, company buses and shuttle buses, as well as taxis and private-hire vehicles.
As for commercial flights and ferries, mask-wearing will not be required on:
Outbound commercial flights and ferries from Singapore to destinations that do not require mask-wearing onboard
Inbound commercial flights and ferries into Singapore from destinations that do not require mask-wearing onboard
Passengers will still be required to wear masks when going to or leaving destinations that require mask-wearing onboard, MOH said.
Commuters should check with the individual private or transport operators, which may still require mask-wearing as part of their company policy.
During a press conference on Wednesday by the Government's Covid-19 task force, Deputy Prime Minister Lawrence Wong, who is a co-chair, said that masks will be optional at airports.
MOH cautioned that despite the relaxation of mask-wearing rules, members of the public are encouraged to continue to exercise responsibility and caution, such as wearing masks when in crowded places, or when visiting or interacting with vulnerable persons.
"Mask-wearing remains an effective way for us to minimise the risk of disease transmission.
"In particular, experts have advised that the elderly and immuno-compromised should continue to wear masks in crowded indoor settings to reduce their risk of catching any respiratory infections," MOH added.
The mask-wearing rule was last relaxed from March 29, with the wearing of face masks mandated only in indoor settings, though people were still encouraged to wear them when they leave home, especially in crowded areas.
During the press conference, Mr Wong was asked why masks would still be required on public transport yet not at large events such as concerts, where thousands of people would be together in a crowd for hours.
He said that mass events are not essential and are unlikely to have a high proportion of older, vulnerable people.
"But I think public transport, that's more critical and there will be elderly (taking) public transport. They have to use public transport to get around and that's why we think that's a more important setting. And likewise in healthcare." 
Mr Wong also said that organisers and venue operators will "have to work out" scenarios where patrons and participants refuse to wear face masks despite the organisers wanting them to do so.
Such organisers and operators have to see whether there is a contractual basis for people to wear masks, such as if it is stated on a concert ticket, Mr Wong added.
As for company settings, if there is "general compliance and employees also understand the safety", he does not think employers will make their employees wear masks.
"But if there are specific settings that are high risk, and employers feel that for the safety of everyone, they would prefer to advise all their employees to wear masks. I would imagine that in Singapore, the compliance rate will be very high," Mr Wong said.
TODAY earlier reported that most private-hire drivers, taxi drivers and airline crew prefer passengers to keep their masks on during flights and on rides.
Mr Wong said at the press conference that when mask-wearing becomes optional, individual taxi and private-hire drivers may ask their passengers to put on masks, but they cannot make it a requirement.
"The taxi driver can suggest or request, but there is no law to require it. So... this is not enforceable. There is no basis of law for the taxi driver to say you have to — it's optional."
In earlier interviews with TODAY, parents and teachers were mostly receptive to people not needing to wear face masks in schools.
FOOD HANDLERS
MOH said that mask-wearing will also still be required as part of "sectoral regulations", such as the Singapore Food Agency's requirement for food handlers to maintain good hygiene standards.
Posting on her Facebook page, Dr Amy Khor, Senior Minister of State for Sustainability and the Environment, said that food handlers will need to continue to don face masks or spit guards during food preparation for hygiene purposes "to prevent contamination of food during the food handling process".
This applies to all individuals engaged in the sale and preparation of food and drinks at all retail food establishments, including hawker centres, coffee shops and restaurants. For instance, hawker and coffee shop assistants who scoop food will need to wear face masks.
Persons serving plated food to consumers, collecting payments, or involved in cleaning activities need not have to wear masks, Dr Khor added.