Migrant workers get back to cooking and daily runs after communal activities resume in dorms
SINGAPORE — For seven months this year, Mr Zhang Jinlei stayed inside his dormitory room. He could not freely leave its compounds except when work resumed, as part of the authorities' measures to curb the spread of the coronavirus in Singapore.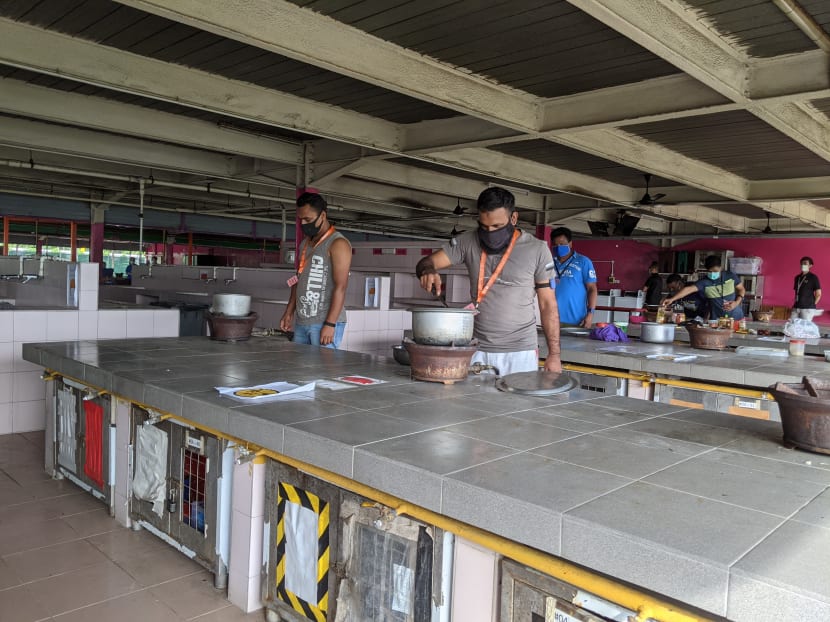 Since November, dormitory operators can apply to the Ministry of Manpower (MOM) to resume the use of its communal facilities
MOM has approved about 30 of the 50 operators of purpose-built and quick-build dormitories that applied for this 
Dormitories still have to ensure safe distancing, segregation within compounds and staggered timings for facilities such as common kitchens
SINGAPORE — For seven months this year, Mr Zhang Jinlei stayed inside his dormitory room. He could not freely leave its compounds except when work resumed, as part of the authorities' measures to curb the spread of the coronavirus in Singapore. 
Last month, the Ministry of Manpower (MOM) eased movement restrictions for migrant workers living in dormitories and the 36-year-old has been running within the dormitory compounds for half an hour daily. 
Before Covid-19 struck, the construction worker regularly ran outside his dormitory along Tanah Merah Coast Road.  
When asked by reporters how he felt about getting back to his favourite activity, Mr Zhang beamed and said: "Happy!"
Among the communal facilities that can be used again at his dormitory Changi Lodge 2, he said that his favourite was the gym room's treadmill. 
Clutching his abdomen with both hands, he remarked: "I gained more than 10kg over the few months of the lockdown."
Mr Annamalai Lokesh, a 26-year-old construction worker from India, said that one of his favourite facilities was the communal kitchen. 
"(Now it opens) six months after cooking stopped, everyone feels good," Mr Annamalai said. He has been in Singapore for the past six years.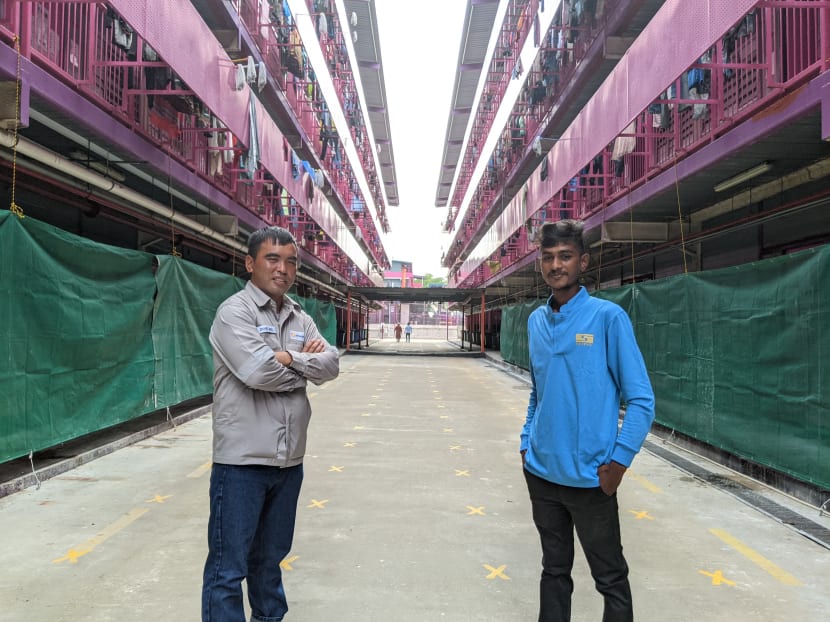 Communal activities at dormitories resumed last month. This easing of movement restrictions came after an earlier announcement by MOM in October that residents who test negative for Covid-19 or have demonstrated immunity after recovering from the disease were allowed to visit designated recreation centres and to go out for daily needs such as going to the barber or making remittances.
They can leave for these activities only after booking an exit pass via a mobile application. 
Migrant workers in Singapore have been placed under strict lockdown since April and have not been allowed to leave their dormitories, except on a limited basis. At that time, the vast majority of the coronavirus infections here was in the migrant worker community living in purpose-built dormitories, casting the spotlight on the packed and unsanitary living conditions there.
During the four months of lockdown, where he had to stay inside his room, Mr Zhang said that he spent his time lifting weights, watching his roommates play games provided by his company and calling his family on his mobile phone. 
With the number of cases coming down drastically, MOM has been relaxing the restrictions on migrant worker movement since August. 
Second Minister of Manpower Tan See Leng said on Monday that as Singapore enters the final phase of reopening its economy after the partial lockdown earlier in the year, it will further ease movement restrictions on migrant workers, including allowing them to be in the community once a month. 
Speaking to reporters during a site visit to Changi Lodge 2 last Sunday (Dec 13), Mr Tan Fang Qun, regional commander of the Assurance, Care and Engagement (ACE) Group, said that dormitory operators have been applying to the ministry to resume the use of communal facilities since November. The group is a division of MOM that works to ensure that dormitories here become more resilient and to prevent new public health threats to the migrant worker population. 
Mr Tan said that the authorities approved about 30 of the 50 operators of purpose-built and quick-build dormitories that made the applications.
Before making an application, these dormitories have to fulfil these criteria:
They should have no active Covid-19 cases within the dormitory

Their residents need to wear contact-tracing devices known as BluePass tokens

The residents must download an app, called FWMOMCare, that allows the authorities to monitor the health of migrant workers 
For the dormitory operators, they must ensure that the residents comply with safe distancing regulations even when communal activities are resumed, such as keeping a distance of at least 1m when using stoves and having staggered timings for dorm residents to use the kitchen. 
During the site tour of Changi Lodge 2, reporters were told that dorm residents had to follow allocated timings based on the levels their rooms were located in order to use the kitchen.
With these staggered timings, residents from only a maximum of 20 rooms may use the kitchen at any one time, compared with those from 70 rooms before the pandemic. 
The game room is limited to a maximum of 10 residents each time, compared with an average of 20 to 30 people previously. 
Residents are allowed to use the television rooms, by booking three-hour slots two to three days beforehand. And those who gather to watch movies in the TV rooms have to be working for the same company or be living in the same block to ensure segregation. 
When asked, Mr Annamalai said that the booking system process has been smooth and fuss-free. 
If a Covid-19 case is discovered within a dormitory that has been approved to resume communal activities, Mr Tan of the ACE Group said that the use of communal facilities will be suspended until close contacts of the positive case have been quarantined. 
Mr Johnathan Cheah, group managing director of S11 Capital Investments that manages Changi Lodge 2 and the S11 dormitory in Punggol, said residents understand that the resumption of these communal activities, especially cooking, is not a "free for all". 
"There's no need to rush for it. They understand that as time goes, we will be able to make these arrangements better."
Mr Cheah added that most migrant workers in the dormitories that his company operates have been in lockdown for four to five months because work did not resume for many of them even when the two-month partial lockdown imposed in April and May was over for the rest of the country's population. 
"For many of them, they really miss that normal life. I think that for Singaporeans, we were a little bit luckier, right? After two months, we were allowed to go out and there was some kind of normality.
"I would like to believe that humans are social creatures. We need time outside of our home. We need to meet our friends. We need to meet our families. And we enjoy all these social activities. So it is the same with our migrant worker friends," he said.