Paralysed former journalist co-writes book on rare degenerative disease ALS to show he 'still can give back to society'
SINGAPORE — When asked during an interview with TODAY about how he felt about the launch of his book, former newscaster Mohamad Asri Sunawan did not immediately answer.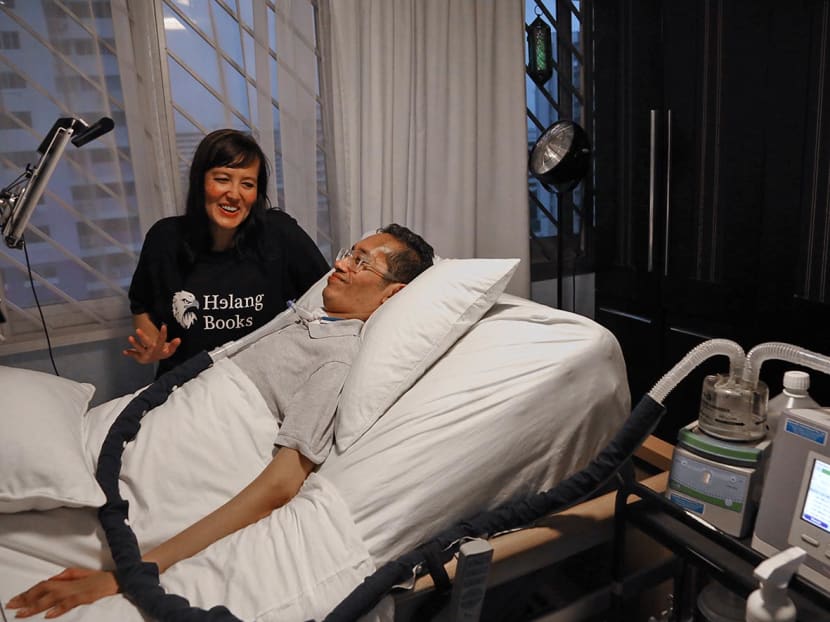 Former broadcast journalist Asri Sunawan was diagnosed with a degenerative motor neurone disease back in 2018
Despite the life-changing diagnosis in the prime of his life, Mr Asri, also commonly known as Riz, is determined to make the best of the situation
He actively contributes to the community and co-founded a support network for fellow patients and their loved ones
Most recently, he co-authored and translated a book to raise awareness about his rare disease
SINGAPORE — When asked during an interview with TODAY about how he felt about the launch of his book, former newscaster Mohamad Asri Sunawan did not immediately answer. 
Instead, his gaze began moving around rapidly for a few moments, before a tablet placed in front of his face narrated his reply on his behalf: "Of course, I am nervous. It is my first time in a public event (in a while)."
The assistive technology device has in recent years become an important mode of communication for the 43-year-old former radio presenter and broadcast journalist more publicly known as Riz Sunawan, who was in 2018 diagnosed with the degenerative disease Amyotrophic Lateral Sclerosis (ALS).
ALS, the most common form of motor neurone disease, is a terminal illness that progressively damages parts of the nervous system and weakens a patient's ability to move.
Despite his condition, the now-bedridden Mr Asri continued contributing to the community to his best abilities.
And most recently on Dec 16, he launched a bilingual book that he co-wrote to raise awareness about the condition and raise funds to defray his medical expenses, which amount to about S$2,000 to S$3,000 a month.
SUDDEN DIAGNOSIS
Mr Asri used to cycle frequently and was regularly an emcee for various community events. It was while pursuing these activities that he loved that he first sensed something was amiss.
"I remembered it was Aug 31, 2018. I just finished rehearsals for an event that I was hosting. I just tripped and fell that easily by the roadside," he told TODAY earlier this month ahead of his book launch. 
In another incident, he found himself suddenly unable to lift his feet to the bicycle pedal just as he was about to set off for a leisure ride.
He was later that year diagnosed with ALS, a type of motor neurone disease.
"On the average, someone with ALS has up to five years to live. I was stunned and froze upon hearing that," he said.
The incidence of ALS or motor neurone disease is two for every 100,000 of total population, the International Alliance of ALS/MND Associations website showed.
The disease more often afflicts people between 40 and 70 years old, though research has found that the incidence is higher in people aged over 50 years, the alliance added.
Public healthcare group SingHealth's health and lifestyle portal, HealthXchange, said that an estimated 300 to 400 people suffer from motor neurone disease in Singapore.
Mr Asri's father, Mr Sunawan Dasuri, 73, said that the family was shocked by the sudden diagnosis — the oldest of his three children struck down at the prime of his life.
Mr Sunawan, a retired civil servant, added: "He was very passionate about journalism. So when he did not get to engage the community (due to) his inability to speak or write, that made him feel a great loss."
Over time, Mr Asri's physical state deteriorated and he became bedridden. He underwent a tracheostomy in mid-2020, where a tube was inserted into his windpipe to help with his breathing.
He used to conduct voice training for broadcast journalists and news presenters at Berita Mediacorp, but now, he communicates less with his own voice. 
Instead, he often relies on the eye-operated assistive device to communicate with others and to access his social media accounts and messaging applications, on which he typically replies promptly if he is not undergoing therapy.
I am now paralysed from my neck below. But I want to share that in whatever situation that you're in, you still can give back to society.

Mohamad Asri Sunawan
Despite his condition, Mr Asri still continues to find ways to contribute to society. 
For instance, he is a committee member of Bulan Bahasa, the annual national-scale event held by the Malay Language Council, a body that promotes Malay language and the appreciation of the Malay culture.
Ms Rahayu Mahzam, Senior Parliamentary Secretary for Health who chairs the Bulan Bahasa committee, told TODAY: "Riz remains active and very often turns up for meetings. He also gives meaningful inputs. We always feel his presence and contributions in the team."
Mr Asri also co-founded the Motor Neurone Disease Association Singapore in March last year to provide support for fellow patients and their loved ones.
Mr Sunawan said of his son: "Once he sets his sights on something, he perseveres until he sees it through successfully."
This tenacity is one of Mr Asri's traits that has not changed despite his illness, as well as his concern for others, the father added.
His son, who is single, is especially doting on his nieces, constantly asking about their progress in school, for example.
Asked what motivated him to remain involved in community activities, Mr Asri said: "For me, (it's about not letting) your illness or circumstances define you. I find joy and strength in doing things that make others happy.
"I am now paralysed from my neck below. But I want to share that in whatever situation that you're in, you still can give back to society."
The idea for the book came from Ms Hidayah Amin, a Singapore author who co-wrote Mr Asri's book entitled My Name is Riz. I have Motor Neurone Disease.
The book is part of her existing I am Unique children's book series, which tells the stories of children with special needs or health conditions.
The latest volume lets readers have a peek into Mr Asri's life as an individual with motor neurone disease, documenting the daily challenges he faces living with the condition.
He wrote at one point in the book: "How can I be happy when I know that I will not live for long?"
Even beyond the pages, Mr Asri was very realistic about his mortality.
Ms Hidayah, visibly overwhelmed with emotions as her voice broke, said: "One day, he sent me a message and he said, 'Okay, Hidayah, if I were to pass away before this book is launched, can you please go ahead and launch this book?'" 
She told TODAY that he had told her he was "approaching his fifth year", and that someone he knew who was diagnosed slightly earlier than him, had died recently.
Although the book candidly journals Mr Asri's lowest emotions, like the man himself, it also takes a more optimistic and inspirational point of view in its later pages.
Besides co-writing it, Mr Asri, who was appointed as a Malay Language Ambassador in 2010, also translated the whole book — all using his eyes and his trusty assistive tablet.
The unconventional writing process was not much of a challenge, Ms Hidayah said. Instead, the biggest obstacle was to convince Mr Asri to agree to the book idea in the first place.
Mr Asri later told TODAY that he was initially reluctant because he did not want to be seen as seeking the limelight.
"Then I somehow realised (that in order) to create awareness for any causes, you don't have a choice but to be seen," he said.
"The book is the legacy that I will leave behind for future generations, to leave a beacon of hope for anyone who is struggling.
"I hope, through my book, readers will gain the strength and inspiration that they need to live life to the fullest."