PE 2023: Dishing out life advice, Tan Kin Lian says be frugal, do not fear failure and think out of the box
SINGAPORE — Whenever others tell him that something cannot be done because it is a rule or that he lacks the authority, Mr Tan Kin Lian does not back down from what he sees as an obstacle he can overcome.
Singaporeans will head to the polls on Sept 1 to vote for the country's ninth president. To help voters get to know the three presidential candidates better, TODAY sat down with each of them to find out what makes them tick. 
In this interview, Mr Tan Kin Lian shares advice for youths on how to make decisions in matters of love and money, and how he has bounced back from failure in the past. Check out our interviews with Mr Ng Kok Song and Mr Tharman Shanmugaratnam, which were published on Wednesday and Thursday respectively.
TODAY sat down with presidential candidate Tan Kin Lian in a face-to-face interview to learn about the values important to him and his advice for young Singaporeans
Mr Tan said it was important not to be choosy in matters of love, and to be frugal when it comes to spending money
He also reflected on how it is important to keep trying, using the example of his second bid for presidency as an example
He also spoke about how both he and his hero, legendary strategist Zhuge Liang from third century China, have similar qualities of wanting to serve others before themselves
SINGAPORE — Whenever others tell him that something cannot be done because it is a rule or that he lacks the authority, Mr Tan Kin Lian does not back down from what he sees as an obstacle he can overcome.
"Never think that challenges cannot be solved," said the former NTUC Income chief executive in response to a question about the core values that he lives his life by. 
"Many people say 'that's not the rule', 'you don't have the authority'. (But) you cannot start anything with a negative attitude," he said, referring to his repeated calls to influence government policy should he be elected, even though experts have also repeatedly pointed out that the Constitution forbids the office of the President to do so.
"It will not be easy; you need to find a way, but never say it cannot be done. If not, you're stuck," he said.
The presidential candidate was speaking to TODAY at his home in Yio Chu Kang on Aug 18, before the debate over his social media posts about "pretty girls" had erupted. It was only two days later that an online user uploaded a video compilation of these Facebook posts on TikTok, sparking strong reactions from his critics and supporters alike.
During the hour-long interview with TODAY, a relaxed and jovial Mr Tan offered plentiful life advice for young people and talked about how his ability to think out of the box and bounce back from failure has served him well throughout his life.
Advice #1: When seeking a life partner, do not simply chase after the best-looking people.
"When you look for a life partner, you are looking for the prettiest girl and… the most gorgeous man. Everybody does. I say don't  — the competition is too big," said the 75-year-old who is making his second run at the presidency, having lost in 2011.
"Why don't you choose someone, not the prettiest girl or the most gorgeous man, but someone who respects you, who likes you more than you like that person?" 
This philosophy was one he came across through his own experiences, and won him his own partner, he said.
"Before I met my wife, I was choosing the prettiest girl — they don't want me! They got better competition. So when I met my wife, she accepted me and then we got married. So I think I'm not so fussy, I'm not so choosy."
This strategy is also a reflection of how he is a creative thinker, he said.
"Beauty is skin deep. Everybody can be beautiful with makeup… so why don't you look for other qualities? Now this is called thinking out of the box," said the grandfather of five. 
Advice #2: Be frugal and live a simple lifestyle.
Mr Tan believes many people overspend and are left with little to no savings. Despite his wealth, he often buys things from lesser-known brands that are still of "quite good quality", and he does not drive a car.
"Public transport is more convenient, it's also much cheaper," he said. "I get to meet people on the bus and the train, and I can see what life is like for ordinary people. So I do encourage young people, don't overspend. Be frugal and have savings."
This philosophy of living simply comes up often in Mr Tan's blogs and in his posts on social media where he regularly takes photos of his hawker centre meals, which he has almost every day.
He has also been outspoken about how he ran NTUC Income in a similar vein, where operating expenses were kept low and higher bonuses went to policyholders instead of top management.  
While he did not elaborate on where this proclivity for frugality has come from, Mr Tan has implied on his blog that it stems from growing up with humble means. He chose to leave school after Secondary 4 to work in order to support his family who lived in rental rooms throughout his youth. 
'NEVER SAY IT CANNOT BE DONE'
The topic of young people's financial health is one that is close to his heart and indeed a key message of his campaign is that he wants to build a better future for Singapore's youths. 
"I want young people to be able to say 'I'm confident of the future', 'I'm confident I can raise a family and bring up children', and 'I don't have to worry about this'. I will do my best, if I'm elected, to bring about those conditions."
He added that this involves bringing down the cost of living, making housing affordable and jobs more secure.
Mr Tan has repeatedly said that if elected, he hopes to use the "soft power" of the presidency to influence government policy in these areas, though experts have pointed out each time that this is not within the purview of the President.
For example, Dr Felix Tan, a political analyst at Nanyang Technological University, has said that while the President can make recommendations on policy, "at the end of the day, it is up to the Cabinet, the Government of the day, to decide".
Dr Tan has also pointed out that the President cannot overturn the Constitution.
To this, Mr Tan's feels that simply accepting such an outcome is to have a "negative attitude". If one stops trying to find a way to get it done, it is akin to accepting defeat, he said. 
Which brings us to advice #3: Keep trying to find a way. Failure is a good way to learn.
One way to create change is to first test potential solutions on a smaller scale, he said. If it works, then the solution can be expanded. If it does not, one need not worry as the failure would become a learning experience. 
"I've gone through many times in my life where the things I want to do fail at first. But that's no problem, because you can try again."
Mr Tan's unsuccessful bid for the presidency in 2011 is one such example. He received the lowest vote share among the four candidates, of 4.9 per cent, and lost his deposit of S$48,000.
When TODAY asked him about the disparaging comments his family received back then and whether he fears it would happen again, he shifted his posture slightly before responding in an audibly hushed tone.
"They said harmful things, insulting things to me and also to my family. For me, I'm able to handle this. But for my family, they think that I should not take part in the contest because this problem will come back," he said. 
By submitting his nomination papers on Tuesday, he acknowledged that he has not heeded their suggestions.
But he reiterated, as he does on his daily walkabouts, that his current attempt at the presidency is borne out of a desire to give Singaporeans the option of voting for an "independent" candidate, and that he is confident he will not fail this time around. 
It is with this mindset of perseverance, he said, that he plans to implement another one of his ideas if elected: To open up the Istana grounds on Saturday mornings for people to cycle in.
"Of course it's subject to security and other practical arrangements but I believe it can be done. If it really is creating more trouble than not, we can always stop it, but we can give it a try."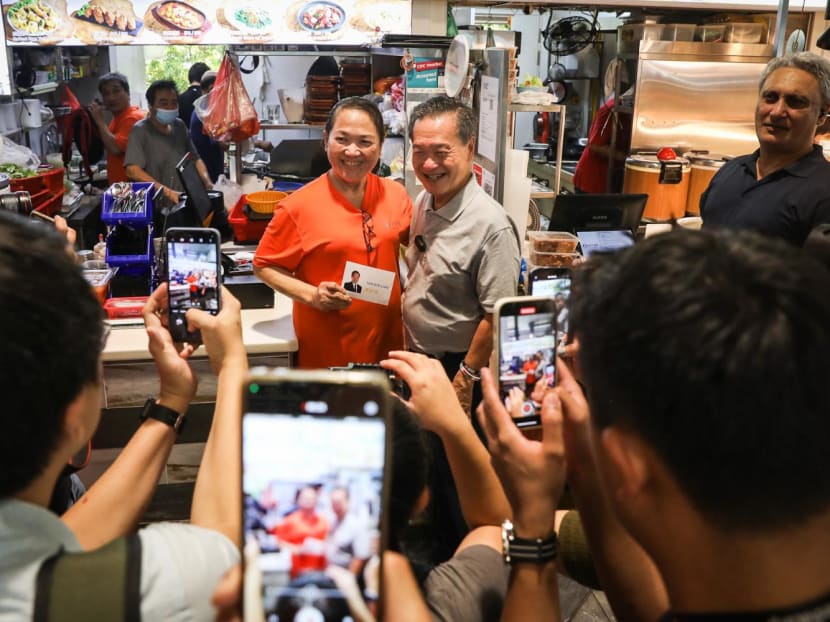 'I'M OUT OF THE BOX' 
Advice #4: Think of others, not of yourself. 
Mr Tan said most people are surprised to learn that one of his core values is that he would much rather do things for others than to act purely in his own interest. 
"They will give me feedback about things I should or should not do from, I would say, a selfish perspective. For themselves, it would be better to do certain things for themselves, but I do things for other people," he said.
"I don't need all the advantages, I don't need. I would rather be prepared to help others."
Before the interview with Mr Tan drew to a close, TODAY asked him if he looked up to anyone who embodies his core values. He answered without any hint of hesitation.
Mr Tan's Chinese name is anglicised as Chen Qin Liang, he said, and his hero is also a Liang.
Zhuge Liang, who lived during the "Three Kingdoms" period of China in the third century, was an accomplished strategist and had earned a reputation as an intelligent Chinese scholar in his lifetime. 
Mr Tan told the story of how Zhuge Liang helped the king of the weakest kingdom defeat a much stronger army using his advice. 
"(Zhuge Liang) used his wit and his cunning, but that required him to be able to analyse and understand the situation. That's the same quality I have," he said.
"Any problem, I can see what are the key elements and what must you do to achieve success.
"Most people have only a certain way of thinking and they try to think the same way as everybody. I'm out of the box."