Premature baby 'size of a palm' home after 400 days in KKH, parents learn to rise above heartache
SINGAPORE — A baby girl who had been in her mother's womb for just about six months was born prematurely at KK Women's and Children's Hospital (KKH), weighing only 750g.
A Singaporean couple had an extreme preterm baby born at 25 weeks of pregnancy and weighing just 750g
The parents tell of their pain, trauma and heartache from before the baby was born to her hospital stay lasting over 400 days
In Singapore, one in 10 babies are born premature
Factors that increase the risk of a preterm birth are the greater use of IVF, the advanced age of a mother when conceiving, stress and the mother's health problems
A neonatologist said the more premature the baby, the higher the likelihood of short- and long-term complications
SINGAPORE — A baby who had been in her mother's womb for just about six months was born at KK Women's and Children's Hospital (KKH), weighing just 750g.
Against all odds stacked against her — her parents were given the choice to end the pregnancy, for one — the toddler finally made it home on Tuesday (March 30) after being hospitalised for more than a year.
Born last February, Shelyn Chua Yun Ni is what doctors call an extreme preterm baby, or "micro-preemie" in layman's terms.
She is the second child of Mr Veroy Chua, 35 and Ms Astral Lim, 42, both Singaporeans who work as property agents. They have been calling their baby girl "Nini" for short.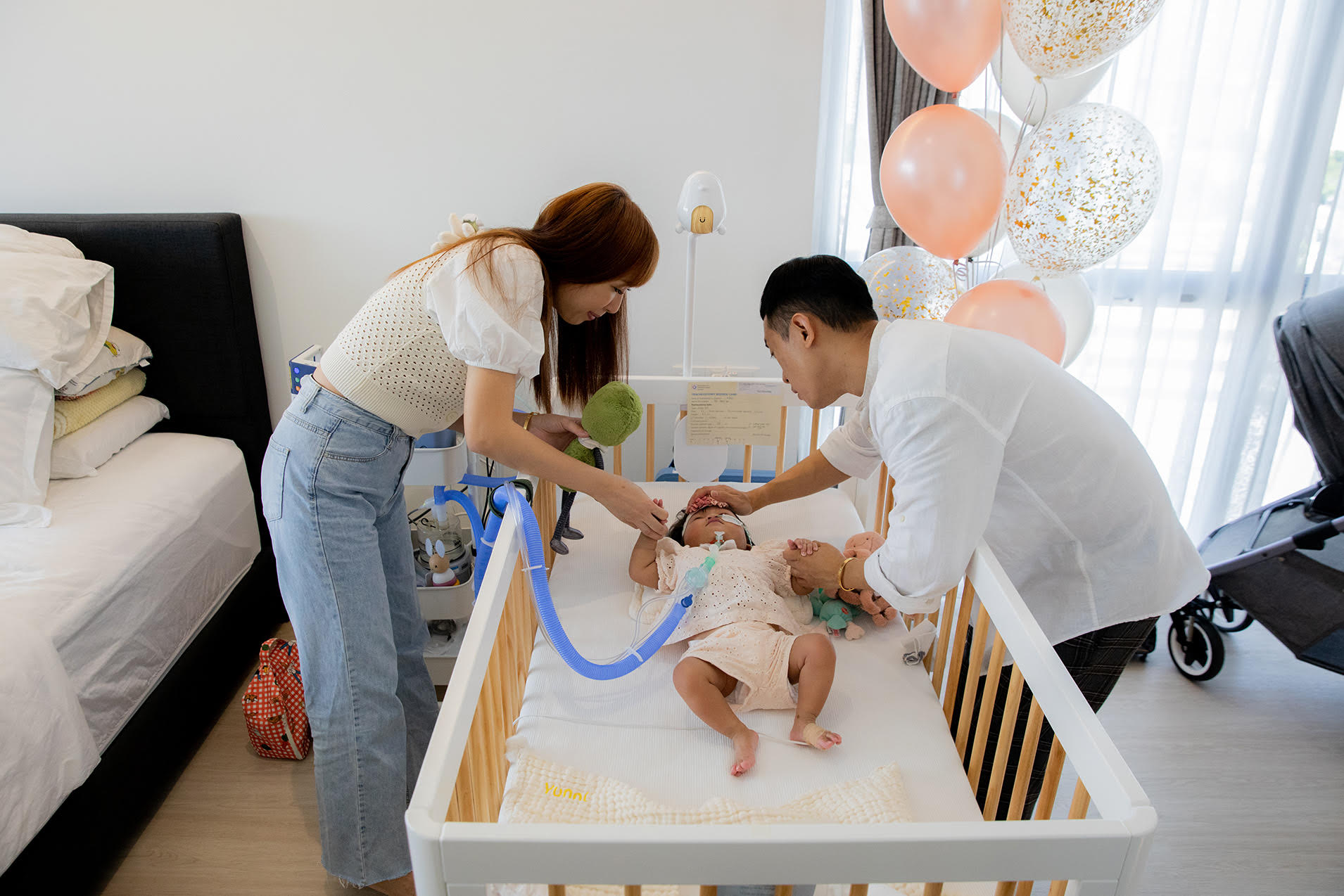 In an interview with TODAY, Ms Lim said: "When I first saw Nini, I cried. She wasn't even the size of my palm. I felt like a terrible mum."
She would never forget the guilt she felt while in the operating theatre.
"I felt so sad that my baby had to go through this. On the surgical table, I felt I wasn't competent as a mother. What have I not done enough as a mum? I kept blaming myself."
Even before that, questions had hung over the couple ever since complications set in at the halfway mark of what should have been a 40-week pregnancy. 
Will their premature baby make it? Will there be long-term complications?
The couple have an older three-year-old daughter. The first pregnancy was smooth.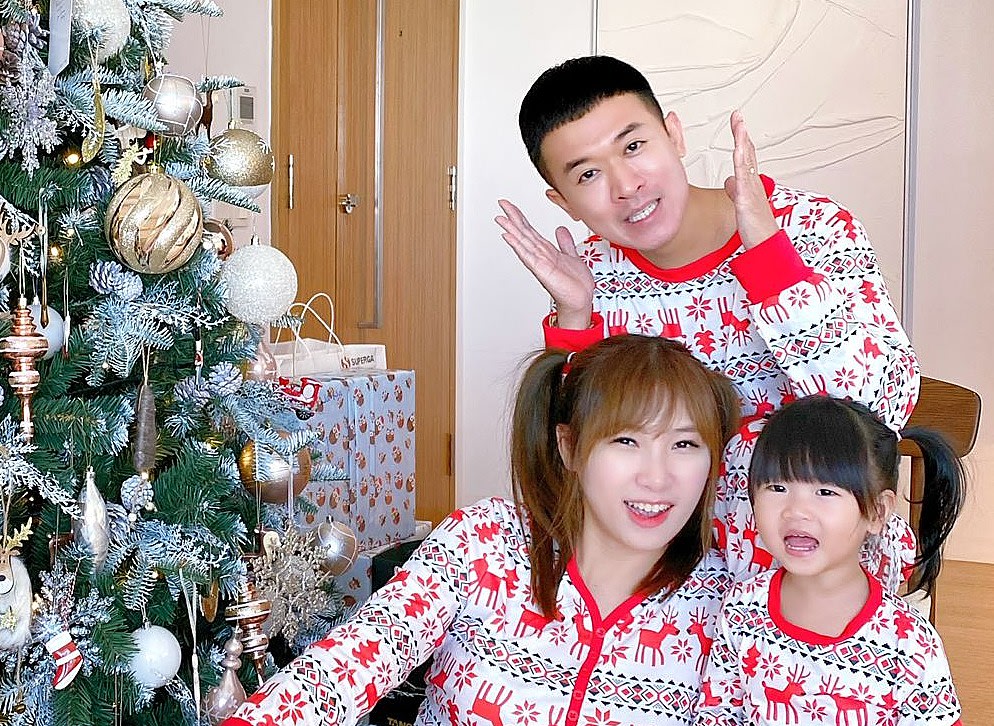 BLEEDING AND EARLY CONTRACTIONS
Diagnosed with placenta previa, Ms Lim experienced bleeding and early contractions way before her delivery date.
Placenta previa occurs when the placenta partially or completely covers the opening of the cervix, the lower part of the womb that leads to the birth canal.
Even though she followed her doctor's orders to go on bed rest, Ms Lim's water bag broke and she went into labour early. At the time, she was being treated in a private hospital.
"I was very shocked and didn't know what to expect. I recall that my usually laidback gynaecologist appeared very upset."
The couple were given the option to either end the pregnancy or transfer to KKH to give the baby a chance of survival.
Mr Chua said that KKH had more experience in managing complicated births. The couple would also not be able to cover the high costs involved in having a premature baby in a private hospital.
Dr Tan Pih Lin, consultant at KKH's department of neonatology, said that about 13.5 per cent of deliveries in KKH are preterm births.
The hospital sees a larger proportion of premature deliveries because it is a tertiary centre, she said.
It now cares for more than two-thirds of infants in Singapore with "very low birth weight" of less than 1.5kg.
The Chuas were warned that even if their child survived, the extreme prematurity would be very difficult for the baby and them.
Mr Chua remembered that it was their gynaecologist in private practice who gave them the "very bleak news".
"Our whole world came crashing down. I asked myself if it was responsible of me to say, 'Let's press on', if my child was going to be suffering in any way."
Ms Lim said that her baby had not moved the whole time that day. "I was at a loss and then suddenly, I felt a forceful kick in my tummy. That was when I knew my baby wants to live."
Mr Chua said that despite their fears and uncertainties, they took that as a sign not to give up.
Their transfer to KKH went by in a blur. By then, Ms Lim was in intense pain and was running a high fever while she tried to "hold the baby in".
HOW COMMON ARE PRETERM BIRTHS?
In Singapore, around one in 10 babies are born too early. A premature birth is defined as birth earlier than 37 weeks of gestation.
Dr Tan said that "very preterm" babies (born between 28 and 32 weeks' gestation) and extreme preterm babies (less than 28 weeks) account for around 20 per cent of premature births.
"Babies delivered at 22 to 25 weeks are termed 'borderline viability', which means extremely low survival."  
Dr Christopher Chong, an obstetrician and gynaecologist at Gleneagles Hospital in Singapore, told TODAY that premature births have risen by around 2 to 3 per cent in the last decade.
There are several factors that can increase a mother's risk of preterm birth, such as:
The greater use of in-vitro fertilisation (IVF). Women who get pregnant via IVF end up giving birth too early; chances of preterm births are higher given that there are multiple embryos
When women become pregnant at an older age. Dr Chong said that the risk of preterm labour increases with age
Mothers facing increased stress during pregnancy and from work and family
Mothers having medical problems such as severe high blood pressure, uncontrolled diabetes, heart problems, chronic smoking and infections
Pregnancy complications such as bleeding from placenta previa — which Ms Lim experienced during her pregnancy — is another risk factor of premature birth.
Dr Chong explained: "Severe bleeding can cause severe placental insufficiency and the mother and the foetus to die. Infection can cause the water bag to burst and can trigger labour, which is difficult to stop."
This pregnancy complication may also cause the foetus to not grow well while in the womb, requiring an early delivery.
CAN A PRETERM BIRTH BE PREVENTED?
Dr Chong said, though, that for most of the cases, the cause of preterm birth is not known and is often not preventable.
"For example, a road traffic accident may cause abruptio placenta (which refers to the premature separation of a normally implanted placenta from the uterus). But it is not possible for pregnant women not to travel."
He advised pregnant women to:
Not over-do strenuous activities
See their gynaecologist to treat any infection early
Go for regular prenatal follow-up checks and scans
Conceive only when their medical conditions such as

severe high blood pressure 

are under control
"Relax, reduce stress, take things easy. See your gynae if premature contractions are imminent — the earlier it is, the better the chance to stop the contractions," Dr Chong said.
There were some doctors who told us she won't make it. Sometimes, I would cry and feel like I would never be able to step out of the darkness, but I am glad I had my husband to walk through the dark period with me

Ms Astral Lim, mother of two
SAVE BABY 'AT ALL COST'
Hours after Ms Lim was transferred to KKH, a decision was made for an emergency Caesarean-section to be carried out when both mother and baby started showing signs of distress and a fast heart rate.
The couple faced the agonising prospect of choosing between actively resuscitating their premature baby or providing "comfort care", which is a term used to refer to the stopping of treatment and care — meaning the baby will die.
Mr Chua and Ms Lim said that they told the medical team to save their baby "at all cost".
A HARROWING CHOICE: TO RESUSCITATE OR TERMINATE
1. When happens if baby is born at 24 weeks and above
Dr Tan Pih Lin, consultant at the department of neonatology with KK Women's and Children's Hospital (KKH), said that resuscitation is usually offered to premature infants delivered at and above 24 weeks' gestation.
"At this stage in foetal development, the infant would already have basic lung structures to allow resuscitation and facilitate 'breathing' outside the uterus.
"This allows for more than 50 per cent chance of survival to discharge with higher chances of growing and developing normally."
2. When happens if baby is born at 23 weeks
If preterm labour is predicted at 23 weeks' gestation, the neonatologist will meet with parents to counsel them on the statistical outcomes for babies resuscitated at 23 weeks, Dr Tan said.
The survival is less than 50 per cent chance and about 90 per cent of the survivors have more than one major complication.
"If parents are keen for full resuscitation after the counselling, then resuscitation is provided."
3. When happens if baby is born earlier than 23 weeks
Due to foetal development, resuscitation is not usually offered to babies at below 23 weeks' gestation, Dr Tan said.
"However, in extremely rare cases, resuscitation was given," she added.
"In addition to this, the birth weight of babies is an important consideration because medical care is limited by the size of the equipment available to support care.
Therefore, for a baby that is an extremely low survival case, the estimated weight at birth helps in giving measured expectations to parents.
Dr Tan also said that the neonatal resuscitation team will be on standby during the delivery. When the baby is delivered, he or she will be managed and the response to treatment is monitored.
For the extremely low survival cases, when the babies do not show any response to the care given, their parents are counselled.
Dr Tan said: "During this difficult period, the parents are closely supported by the nursing and medical team, which includes the medical social worker, where decision for care of the baby can be openly discussed."
In extreme situations, the team may need to guide parents towards "comfort care", meaning to stop administering care and the baby will perish.
At KKH, the youngest survivor was delivered in 2018, at 22 weeks and three days of gestation, weighing 510g at birth.
The lightest, however, was a 25-week premature baby born in 2014 who weighed just 400g at birth.
Both children do not have major medical concerns now.
Last year, it was reported that the smallest preterm baby in Singapore to have been born and have survived was a baby girl who weighed just 212g. She was born after about 24 weeks' gestation in the National University Hospital.
For the second-time parents, the days after Nini's birth were overwhelming.
They visited the neonatal intensive care unit (NICU) every day so that "Nini would know she is loved and wanted". 
At the same time, they juggled caring for their first-born and earning a living. Ms Lim has since stopped working in order to care for Nini.
The Chuas said that the financial toll is heavy and revealed that the hospital bill is "a seven-digit figure".
Seeing other very ill premature babies on a daily basis has traumatised them.
"It is impossible for anyone to understand how we feel. And how spending hours in the NICU can beat you to the ground, and then still cope with work and also caring for your older child," Mr Chua said.
Already emotionally exhausted from her own ordeal and suffering from postnatal depression, Ms Lim said that she would cry every day when she saw other premature babies and worried parents in the NICU.
She has seen how some parents break down under pressure when caring for their child.
"Some parents cannot take it. We have seen kids whose parents 'abandon' them and just leave them to the medical team.
"It's not easy – you lose your identity, self-worth, you sacrifice everything to care for your child whom you bring into this world."
The couple have been documenting the good and bad days of caring for a premature baby on their social media accounts.
They recently also had to deal with unhelpful comments from some people, who thought that they were "using Nini to gain sympathy" on social media.
Ms Lim said: "It's hard for people to empathise when they don't have a child with special medical needs to care for."
The toddler is predisposed to many health issues, from chronic lung disease to retinopathy of prematurity, a potentially blinding eye disorder affecting premature babies.
"As a parent, I would rather post photos of my child at the playground, rather than of her on a hospital bed for 365 days.
"But we have also come across so many parents who told us that they are thankful we have shared our experience because they are so lonely on this journey."
Mr Chua said: "My hope is that Nini's story will give strength and inspire faith in other parents who are feeling hopeless."
AN UPHILL BATTLE AHEAD
On Tuesday, Nini was finally out of the hospital and went home. Her parents had to complete their caregiver training to properly care for her at home.
Nini has a tracheostomy tube, which is inserted into the windpipe to help her breathe, and she still needs oxygen to support her breathing.
Dr Tan of KKH said that the more premature the baby, the higher the likelihood of short- and long-term complications.
For instance, the majority of extreme preterm babies will need a breathing tube to be inserted into their trachea or windpipe, and ventilator support to help them breathe and regulate the oxygen levels in their blood.
Other challenges include sustaining growth, establishing oral feeding and dealing with intestinal infection, which can be potentially life-threatening.
Extreme preterm babies face a high risk of infections due to their immature immune systems, Dr Tan added.
There are also other longer-term health issues such as chronic lung disease, delayed development and neurological complications.
In the earlier days, it was not known if Nini could hear or talk, since she had been intubated for many months because she could not breathe on her own.
Prolonged intubation can lead to a host of problems, including damage to the vocal cords and lungs, and risk of infection.
The Chuas eventually made the decision to have their baby girl undergo a procedure called a tracheostomy to create an opening at the front of her neck.
A tube was inserted into her windpipe to help her breathe and it has helped her reduce her dependency on a ventilator, Mr Chua said.
He added that the surgery was considered very high-risk — they were told that babies requiring very high oxygen support do not often survive the tracheostomy procedure.
The risk was extremely high for their baby who was completely dependent on oxygen to breathe at the time.
Many people have told us that we are so strong (as parents), but I feel the one who has truly shown strength is Nini. We've come so far only because she fought to live.

Mr Veroy Chua on how he and his wife find strength to be parents to a special needs child
Mr Chua and Ms Lim are eager to leave the traumatic birth experience behind them and are ready for life as a family-of-four.
Recalling the many moments when they had to face the possibility of losing their child, Ms Lim said that she and her husband have learned to lean on each other and, most importantly, their Christian faith to see them through the difficult times.
"There were some doctors who told us she won't make it. Sometimes, I would cry and feel like I would never be able to step out of the darkness, but I am glad I had my husband to walk through the dark period with me," she added.
"We would sit there (by Nini's bedside), praying and singing worship songs. It's like fighting a battle with the devil."
Each time, their baby pulled through the difficult moments.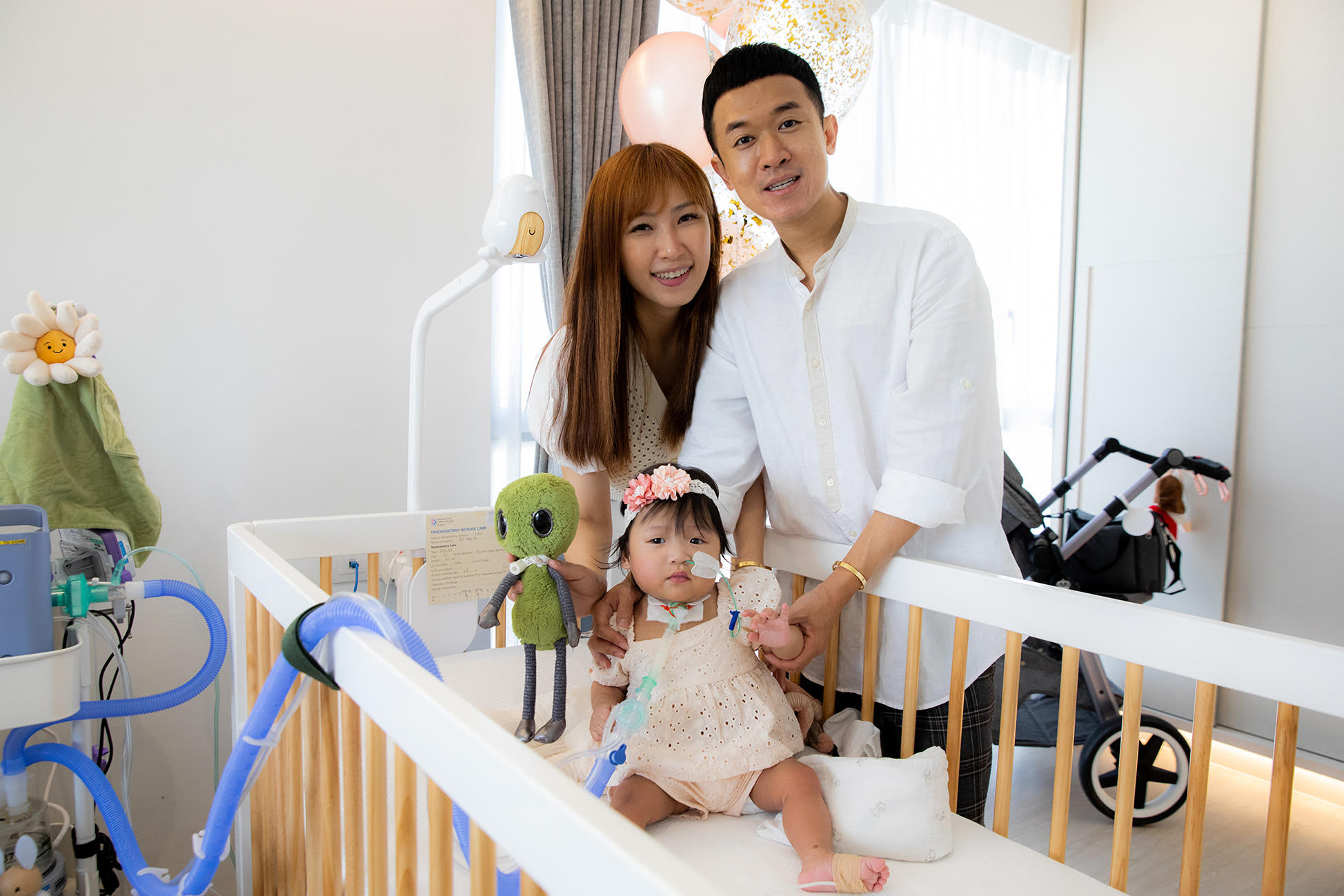 After the tracheostomy procedure, for instance, Nini's dependency on oxygen was significantly reduced and she has started making sounds.
She recently passed her hearing and eye tests as well.
It will be a long and daunting road ahead, but her parents are holding on to the hope that she will grow up healthy and happy.
Mr Chua said: "Many people have told us that we are so strong (as parents), but I feel the one who has truly shown strength is Nini. We've come so far only because she fought to live."