Retail tenants welcome Govt's wage support, rental relief, even if the aid is no gamechanger
SINGAPORE — With tightened restrictions decimating takings by up to 90 per cent, a little bit goes a long way in helping businesses tide over the drastic loss of sales, several retail tenants said as they welcomed an S$800 million support package unveiled by the Government on Friday (May 28).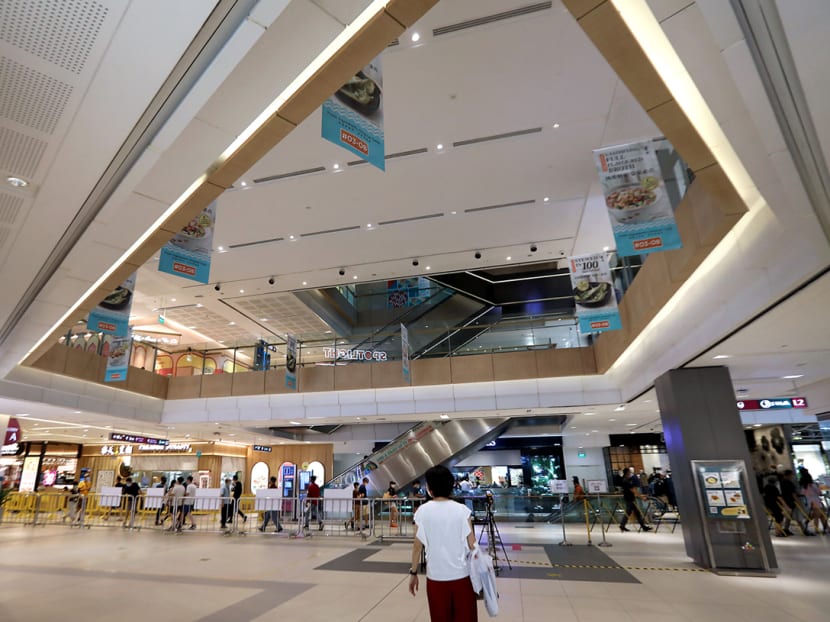 Retail tenants are appreciative of the Government's latest move to offset rents and wages
During this heightened alert period, retailers have suffered a loss of revenue of up to 90 per cent
While the aid is small to some retail tenants, they understood that taxpayers' monies cannot prop up the sector for long
It also falls on landlords to do their part in sharing the brunt of the pandemic's impact, tenants said
SINGAPORE — With tightened restrictions decimating takings by up to 90 per cent, a little bit goes a long way in helping businesses tide over the drastic loss of sales, several retail tenants said as they welcomed an S$800 million support package unveiled by the Government on Friday (May 28).
Mr R Dhinakaran, president of the Singapore Retailers Association and managing director of fashion retailer Jay Gee Melwani Group, said: "In the past two weeks, retailers have lost between 50 and 90 per cent of their usual revenue.
"So, this support from the Government is really a most welcome one that allows retail tenants to directly benefit from this timely help."
Speaking to TODAY, retail tenants were responding to Finance Minister Lawrence Wong's announcement on Friday afternoon that the new measures such as wage support and rental offsets for retail businesses would help those affected by the Phase Two (heightened alert) restrictions from May 16 to June 13.
Tenants said that the most crucial part of the package, which will be debated in Parliament in July, was the rental relief that would cover the full month of the tighter measures for those who lease from government-owned properties.
For those who lease from commercial landlords, they will get a direct cash payout equivalent to half a month of rent through a new Rental Support Scheme.
To qualify, they must be small- and medium-sized enterprises (SMEs) or non-profit organisations with annual revenue not exceeding S$100 million.
The Rental Support Scheme is a change in approach compared with past rental reliefs, in which cash grants were given to landlords, who would then pass on the relief to tenants through rental waivers. This time, tenants will receive the payouts directly from the Inland Revenue Authority of Singapore.
Mr Wong, who also co-chairs the task force leading Singapore's pandemic response, urged commercial landlords to do the same and match the half-month rental relief offered by the Government to their tenants.
'LANDLORDS MUST STEP UP'
To find out if the measures were sufficient for the retail sector, TODAY spoke to seven retail tenants who said that they were thankful for being given a lifeline during a critical period in Singapore's fight against the pandemic.
But considering that the tighter movement control restrictions have pummelled retail sales, some were wondering if more could be done, especially for retail outlets located in malls such as Jem and Westgate in Jurong East that have to be closed for long periods of time due to the discovery of Covid-19 clusters there.
Mr Damien Tan, chief operating officer of workwear retailer Benjamin Barker, said: "In all candour, (the support) is insufficient but we understand there is no simple and fair system."
Adding that his company's outlet in Jem has been greatly impacted, Mr Tan said sales have dipped "rather drastically" for both its retail and food-and-beverage stores since May 16.
"We are also concerned for the health and safety of our frontline personnel during this period as they continue to turn up every day and put in their best despite the circumstances." 
Some tenants also wondered if the half-month cash payouts for commercial tenants could match the one-month relief for those who lease from government-owned properties, but also acknowledged that taxpayer monies cannot be used to prop up the sector for long.
Mr Wilson Chew, managing director of curtains and window blinds retailer Mc.2, said: "Definitely, the more (support we can get), the merrier, but we are very appreciative of the Government's support so far."
Mr Dhinakaran, a former Nominated Member of Parliament, said that it was unrealistic to expect the Government to provide 100 per cent rental rebates, like it did during the partial lockdown last year.
Today, retail businesses are still allowed to operate under the present safe management rules, save for those that had to be shuttered due to the discovery of viral cases there, he said.
Painting a picture of the reality faced by retailers in the past 12 days, Mr Terence Yow, managing director of the Enviably Me retail group, said that a shop that had been bringing in S$100,000 in monthly sales typically has to pay around S$30,000 in rental costs, S$30,000 in labour costs and another S$30,000 in material costs.
That monthly sales figure has plummeted to between S$20,000 and S$30,000 due to the tightened measures, he said. Mr Yow chairs the Singapore Tenants United for Fairness movement.
"So, even with the aid package, (retailers) are bleeding badly and we need landlords to do their part to share the burden of rental costs." 
He stressed that if landlords chip in, there will be no need to use taxpayer funds or to dip into national reserves to rescue the stricken sector.
DIRECT HANDOUT OF RELIEF IS BETTER
Retail tenants also said that the change to a more direct disbursal of funds could mean that they would get the funds faster, compared with the past when there could be disputes between landlords and tenants over the relief.
These disputes would have to be heard by an independent assessor, which would ultimately take more time to resolve.
"In a sense, there was a lot of unnecessary red tape and bureaucracy, which meant giving out the relief required going through too many levels. The direct route is always better and faster," Mr Dhinakaran said.
Mr Logan Wong, founder of Pure Senses, home fragrance business, and distributor of Yankee Candle, lauded the change in execution as it prioritises the tenants who are in urgent need of cash, rather than landlords who might dither on passing on the rebates to tenants.
"Landlords need to recognise they are a part of this ecosystem. We cannot simply hope that the Government continues to bail out tenants while the landlords continue to collect rent in full," Mr Wong said.