Anwar says he has 'convincing majority' support of over 130 MPs, open to rival pact joining govt
SINGAPORE — Countering persistent claims by his political opponents, newly minted Malaysian Prime Minister Anwar Ibrahim declared that he has the "convincing majority" backing of over 130 Members of Parliament (MPs), as he extended an open invitation to all other parties to support the national unity government.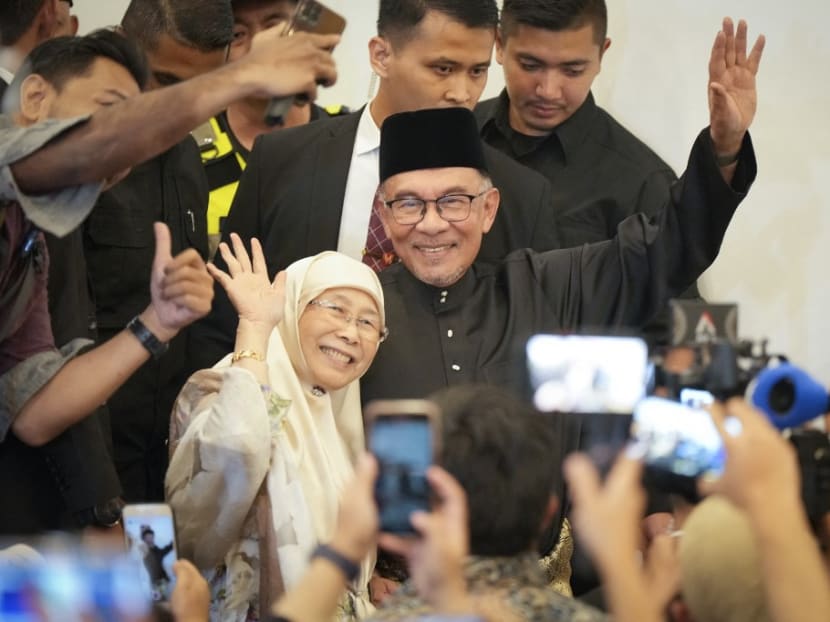 Newly appointed Malaysian Prime Minister Anwar Ibrahim said on Nov 24 night that he has the backing of a "convincing majority" of over 130 members of parliament 
He also extended an open invitation to all other parties to support his national unity government, including rival Perikatan Nasional pact
Mr Anwar's appointment followed five days of political uncertainty after Malaysians voted in their first hung parliament
Experts told TODAY that an aim to curb the rise of the Islamist party Parti Se-Islam Malaysia might have given two political coalitions the nudge to throw their support behind Mr Anwar
SINGAPORE — Countering persistent claims by his political opponents, newly minted Malaysian Prime Minister Anwar Ibrahim declared on Thursday (Nov 24) night that he has the backing of a "convincing majority" of over 130 members of parliament (MPs), as he extended an open invitation to all other parties to support his national unity government.
"(This includes) Perikatan Nasional (PN), even though the earlier statements by their chairman has not been encouraging, namely to question our legitimacy and our numbers," Mr Anwar said at a press conference four hours after he was sworn in as Malaysia's 10th prime minister, referring to the opposing pact led by Mr Muhyiddin Yassin. 
Mr Anwar said that his new government comprised 30 MPs from the Barisan Nasional (BN) coalition and 23 from Gabungan Parti Sarawak (GPS).
Including the 82 seats won by the Pakatan Harapan (PH) coalition that he leads, this means that his government controls at least 135 seats in parliament, well above the 112 simple majority.
He said that this was on top of support by other smaller parties such as the Malaysian United Democratic Alliance and Parti Warisan, as well as ongoing talks with Gabungan Rakyat Sabah (GRS).
"The issue of stability therefore does not arise," he said, adding that he welcomes any party to join the government as long as they commit to the same fundamental principles such as good governance, no corruption and a "Malaysia for all Malaysians".
Minutes before Mr Anwar was sworn in, Mr Muhyiddin had questioned the support that Mr Anwar had received. Mr Muhyiddin also reiterated that he had the numbers to form a government based on the statutory declarations of support for him, which he had submitted to the palace.
Responding to this at the press conference, Mr Anwar said that his new government will convene its first parliamentary session on Dec 19 where aside from an oath-taking ceremony, there will be a motion of vote of confidence on the government to show how many MPs are behind it.
"So to me, there should not be worries about our legitimacy," he added.
Mr Anwar's appointment followed five days of political uncertainty after Malaysians voted in their first hung parliament, and with PN and PH both tussling to form the government in the midst of switching positions from different political parties.
The developments have also thrust the role of the Malaysian king into the spotlight, with Sultan Abdullah Sultan Ahmad Shah urging political parties to form a "unity government" to break the impasse.
Experts who spoke to TODAY earlier on Thursday said that an aim to curb the rise of Parti Se-Islam Malaysia (PAS) might have given political coalitions such as BN and GPS the nudge to throw their support behind Mr Anwar, after initially seen as oscillating on their stance since the election results were out last Sunday morning.
Islamist party PAS, which is part of PN, had won the most number of seats in the election. The 48 seats it won was more than double the 18 it secured in 2018.  
ECONOMIC RECOVERY, RECONCILING MANIFESTOS
Mr Anwar said that a main priority of his new government would be Malaysia's economic recovery, building on what he described as a "surge in the stock market and the strengthening of the ringgit" on Thursday after his appointment was confirmed. 
"Let us now focus on the economy and do whatever it takes to revive (it) so that the welfare of the rakyat (ordinary citizens) — particularly the poor and the marginalised — will be protected," he said.
Mr Anwar's press conference, initially planned to be held soon after the swearing-in ceremony at about 6pm, started much later at about 9pm.
Members of the media had to wait further after Mr Anwar's arrival, as he took a call with Turkish President Recep Tayyip Erdogan in their presence. 
Before beginning the press conference proper, Mr Anwar also thanked other world leaders who had congratulated him, including Indonesian President Joko Widodo and Singapore Prime Minister Lee Hsien Loong.
Addressing the media first in Malay and then in English, Mr Anwar repeated his commitment to maintain the special position of Malays and Bumiputeras in Malaysia, the Malay language and Islam as a federal religion, and the position of the Malay Rulers as stipulated in the country's constitution.
Notwithstanding this, he said that no Malaysians "should feel ignored in any way".
"None should be marginalised under my administration," he said.
Asked how he intends to reconcile the different manifestos by the various coalitions, he said that there were "some core issues we will not compromise", such as good governance, anti-corruption and welfare of the ordinary citizens.
"I don't think there is much contradiction here because, normally, manifestos are statements of good intent," he said.
On the appointments of his deputies, he also said that as the prime minister comes from PH, the deputy prime minister would traditionally come from other main components, namely BN and GPS, adding that these were "our considerations".
He did not give more details on the likely make-up of his Cabinet.
In response to a question on who will keep the government in check if all parties were invited into the unity government, he said that "we will see what happens", and reiterated that PH is open to discussion with those who want to be part of the unity government.
Mr Anwar also said again that he will fulfil his earlier promises of not taking a salary as a prime minister, and announced that he will grant a public holiday next Monday.
WHAT'S AT STAKE FOR POLITICAL PARTIES
The journey to the formation of the unity government was not a straightforward one, particularly with the BN and GPS blocs announcing differing positions since last Sunday.
GPS first announced that it was ready to work with a coalition government made up of PN and BN, among others.
BN's chairman Ahmad Zahid Hamidi later dismissed the statement, saying that no such discussions were held with his coalition.
A meeting between BN and PH leaders took place on Monday, fuelling speculations of an upcoming alliance, before BN later declared that it would not form part of any government and will play the role of the opposition.
Further complicating the picture was PN's refusal to take up the king's call for the formation of a unity government.
It was only on Thursday that BN announced that it would work with any unity government except one with PN, while GPS said that it would heed Sultan Abdullah's call and support a unity government.
GPS' willingness to work with PH was also paved by apologies on Thursday morning by leaders of PH's Democratic Action Party for any offence their previous comments have caused to the Sarawak government and its people.
Experts who spoke to TODAY said that the internal struggles within the United Malays National Organisation (Umno) — the lynchpin party of BN — may have contributed to the changes in its stance in joining hands with Mr Anwar.
The observers noted that it was Dr Ahmad Zahid, BN's chairman and Umno president whose leadership is now being challenged after a poor showing by BN at the polls, who seemed to be the strongest proponent of a partnership with PH.
Mr Adib Zalkapli, a director at advisory firm Bower Group Asia, said that eventually, the own survival of Umno and BN may have led to the decision to lean towards PH.
"It wasn't easy for Umno, working with PN means being swallowed by two larger Malay parties ahead of the next general election. Partnering with PH offers Umno the best chance at survival," he said, referring to PAS and Parti Pribumi Bersatu (Bersatu) of PN, which campaigned strongly on championing the rights of Malays and Muslims.
Dr Oh Ei Sun, a senior fellow at the Singapore Institute of International Affairs, said that there was "more or less a consensus among non-PN parties" to stop PAS' "almost unstoppable onslaught onto the Malaysian polity and society".
Political scientist Meredith Weiss said that a similar motivation might have moved GPS.
"For GPS in particular, it does not like the Islamisation agenda of PAS," the visiting senior fellow from the S Rajaratnam School of International Studies in Singapore said.
Given that the unity government was made up of otherwise rivalling political coalitions, the experts acknowledged that there was always a chance that component parties might withdraw their support for the premier. Such moves had led to the revolving-door government since the 2018 general election in Malaysia. 
They noted that what is different from the situation in 2018 is that any change of support towards the government has to be done as a whole party bloc and not by individual MPs, due to an anti-hopping law passed in July this year.
One notable event in the near term is the upcoming Umno party election. If there is a change of leadership in Umno, it might consequently lead to a change in the party's stance towards PH.
However, Dr Weiss noted that it might not be in Umno's interest to withdraw support from the government and cause its collapse, if Umno was given portfolios in the Cabinet.
Further, PN is widely seen as the stronger Malay coalition after the general election, and any collapse of the government or triggering of an election "could really endanger BN even further", she added. 
Dr Norshahril Saat, a senior fellow at Iseas-Yusof Ishak Institute, said that even if a component party such as Umno withdraws from the government, it would not collapse if Mr Anwar could cobble together enough support from other parties.
"So one of Mr Anwar's duties now is to get as many alliances as possible to support his prime ministership to stabilise the government," Dr Norshahril said.
Mr Adib from Bower Group Asia said that this might bode well for the government.
"Mr Anwar has to keep the coalitions happy. He has to govern by consultation, not a bad thing in a healthy democracy," he added.