The Big Read in short: Caregivers in need of more options for looking after seniors
SINGAPORE — The last domestic helper who cared for Mr Christopher Tan's wheelchair-bound 76-year-old mother packed her bags and took off without a word in the early hours one day in 2021, leaving her all alone in a small apartment.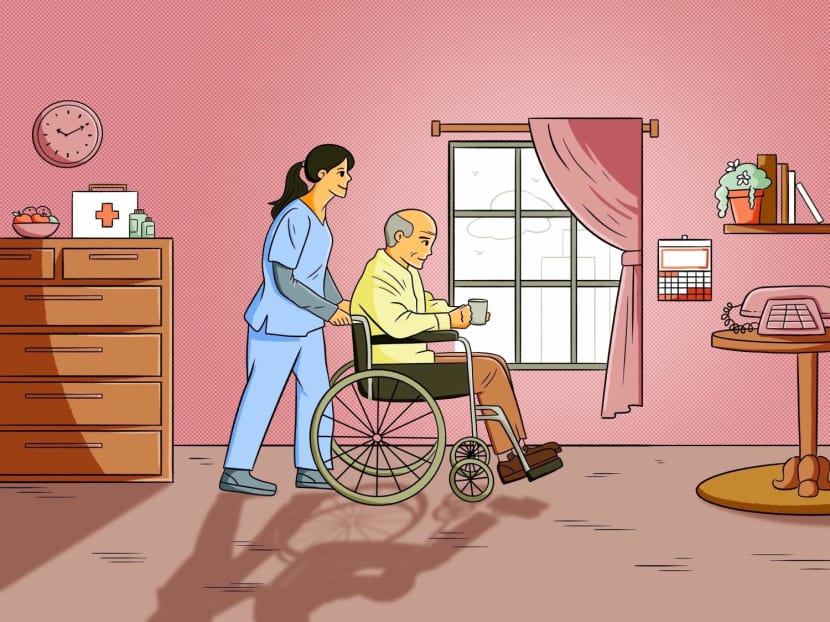 Each week, TODAY's long-running Big Read series delves into the trends and issues that matter. This week, we look at the eldercare options available for a rapidly ageing population in Singapore, including a relatively new option of assisted living services. This is a shortened version of the full feature, which can be found here.
With Singapore society ageing rapidly, one particular eldercare option has sprung up in recent years — community or assisted living to help seniors with basic daily activities 
It is touted as a possible solution for the "missing middle" — seniors who cannot live independently but are not too ill to be cared for in nursing homes
But experts, industry players and caregivers pointed to various factors on why assisted living services has not taken off faster, including costs, regulatory ambiguities and manpower shortages
At the same time, there are different challenges in expanding other caregiving services such as foreign domestic helpers and day care centres 
Experts believe that the right way forward is a shift in approach from reactive to preventive measures in eldercare, and more sustainable public-private partnerships
SINGAPORE — The last domestic helper who cared for Mr Christopher Tan's wheelchair-bound 76-year-old mother packed her bags and took off without a word in the early hours one day in 2021, leaving her all alone in a small apartment. 

"(My mum) needs help to go to the toilet, to shower (and) to change," said the 51-year-old accountant, who told TODAY that it was fortunate that "nothing bad happened" following the helper's sudden departure.

She was the fifth helper whom Mr Tan had hired over the course of two years, but none had worked out or managed to get along with his mother for one reason or another. 
As Mr Tan and his sister both live with their own families, they began to look for other care options for their mother after the incident.
For caregivers like Mr Tan, searching for the right care arrangement for their elderly parents can be a long and stressful process, especially when their needs fall in the middle of being able to live independently and having to be constantly looked after in a nursing home.

"I think the gap exists when you're somewhere in between — you're not that healthy, but you're not that sick, and you're still well enough to be in the community," he said. 
Ms Chia Hui Xiang from the Saw Swee Hock School of Public Health at the National University of Singapore (NUS) calls this group of seniors the "missing middle" — people who face difficulties in one to three activities of daily living and do not have enough family support, but are not so severely disabled that they require a nursing home.
These activities of daily living refer to bathing, feeding, dressing, toileting, transferring and mobility — the ability to sit, stand and move independently. 
WHY IT MATTERS
Mr Tan is among an estimated more than 210,000 caregivers in Singapore — many of whom have had to compromise their careers, finances and sometimes their own health to look after their aged loved ones. 
Those unable to care for the seniors full-time themselves typically turn to hiring a foreign domestic helper, and more seem to be doing so.
Other caregiving alternatives include engaging home care service providers on an hourly basis and sending the aged to senior day care centres, though this can sometimes be easier said than done due to cost and capacity issues, among others. 
Many of these seniors may also not qualify to stay in nursing homes, which typically have a wait list and accept only those who are physically or mentally impaired, unable to be cared for at home and have exhausted all other care options.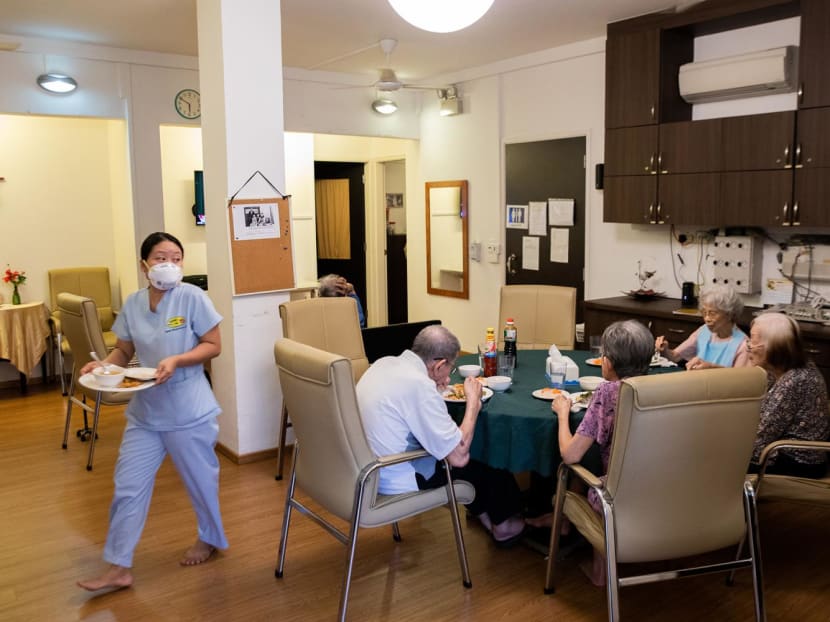 Experts interviewed by TODAY said that the issue of caregiving options has become even more pronounced in light of a rapidly ageing population.
The Ministry of Health (MOH) said this year that by 2030, around 100,000 seniors will require help with at least one daily living activity, while about 83,000 seniors will live alone.
In response to TODAY's queries on how it is boosting caregiving capacity for seniors and whether there are specific plans to help the "missing middle" group, MOH said on Sunday (July 2) that it has "significantly expanded aged care capacity".
Since 2015, MOH has provided around 4,800 more day care places, 4,800 more home care places and 4,900 more nursing home beds to provide a total of 8,300 day care places, 11,700 home care places and 16,900 nursing home beds as of end 2021.
THE BIG PICTURE
In response to the growing need for more eldercare services, one particular type of care arrangement has sprung up in Singapore in recent years — community or assisted living, which provides professional assistance to elderly who require some help with basic activities of daily living as well as the company of other seniors. 
Dr Belinda Wee, who co-founded the Assisted Living Facilities Association in 2018 and an assisted living facility named St Bernadette Lifestyle Village along Bukit Timah Road in 2015, believes that it is crucial for seniors to be placed in the most suitable facility based on their needs in order to age as healthily as possible — and that assisted living facilities can play a key role in filling that gap.
St Bernadette Lifestyle Village has since expanded to include branches at Adam Road and Sembawang. Each landed facility houses eight seniors each.
They each pay about S$4,600 to S$5,800 monthly, depending on location and room type and are looked after by trained caregivers rostered round the clock.
Red Crowns Senior Living, another local care provider that started offering assisted living services in April 2021, came under the microscope when MOM announced last month that it was investigating the firm for a possible breach of foreign manpower laws.
It rents Housing and Development Board (HDB) flats and condominiums for use as assisted living facilities, and is currently serving 130 elderly clients in 33 homes across Singapore.
They each pay S$2,900 to S$6,300 per month for assisted living, depending on location and caregiving service.
The fees charged by Red Crowns and St Bernadette include meals and social activities. 
Last Tuesday (June 20), the Urban Redevelopment Authority (URA) and MOH announced that it had awarded the tender for a Parry Avenue site intended for a private assisted living facility. 
The development in the Kovan area will comprise 200 assisted living apartment units, a nursing home with 100 beds, a wellness clubhouse and a geriatric care centre.
It is expected to be ready in 2026 or 2027.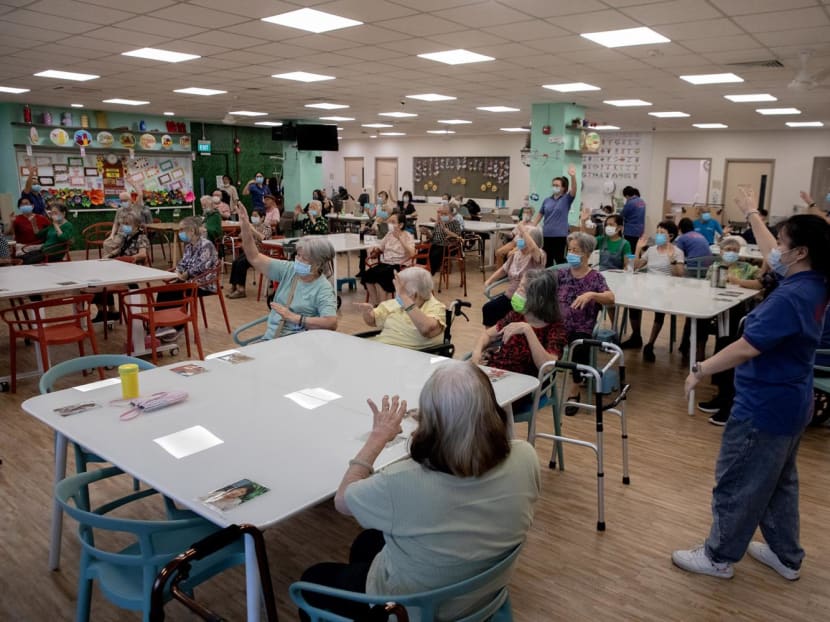 Experts said that while Singapore is finally seeing more assisted living options, they could perhaps have been developed earlier and a faster rate.
TODAY had reported as far back as 2018 about gaps in community-based eldercare, despite the Government's big push for it amid a rapidly ageing population, including heavy investments in building up infrastructure and manpower resources.
That year, the Government had announced that it was studying potential sites for assisted living developments in the public and private residential markets. 
As it stands, the first Community Care Apartment units by HDB in Bukit Batok are expected to be ready next year and the private assisted living facility at Parry Ave will not be ready till even later.
And even then, the total number of seniors these facilities and the current ones can take in are a fraction of the "missing middle" group.
Industry insiders and experts cited manpower constraints, land costs and regulatory ambiguity as some factors why assisted living had not taken off in Singapore earlier.
According to Dr Wee, several developers had previously approached the Assisted Living Facilities Association to enquire about the possibility of setting up assisted living facilities in Singapore. 
However, the cost of land and labour shortage served as major barriers — leading them to opt for other markets like Malaysia or China. 
Ms Chia of NUS said that assisted living service providers had informed her that it was unclear if they should follow regulations for residential housing or nursing homes. 

Such regulations include fire safety regulations or the number of foreign domestic workers or unrelated people who can live in one residence.
Seniors and their loved ones interviewed by TODAY also cited concerns about the affordability of assisted living services, especially in the long run.
THE BOTTOM LINE
Beyond assisted living, TODAY's checks with multiple eldercare service providers in Singapore found that while vacancies for day care centres and nursing homes are mostly filled, the challenges that these facilities face go beyond simply plugging-and-placing. 
For instance, while one day care centre in Toa Payoh has 20 vacancies, it has a waitlist of about 17 elderly clients. This is because it is currently not able to provide transport arrangements due to a lack of elderly-friendly vehicles and staff to drive them.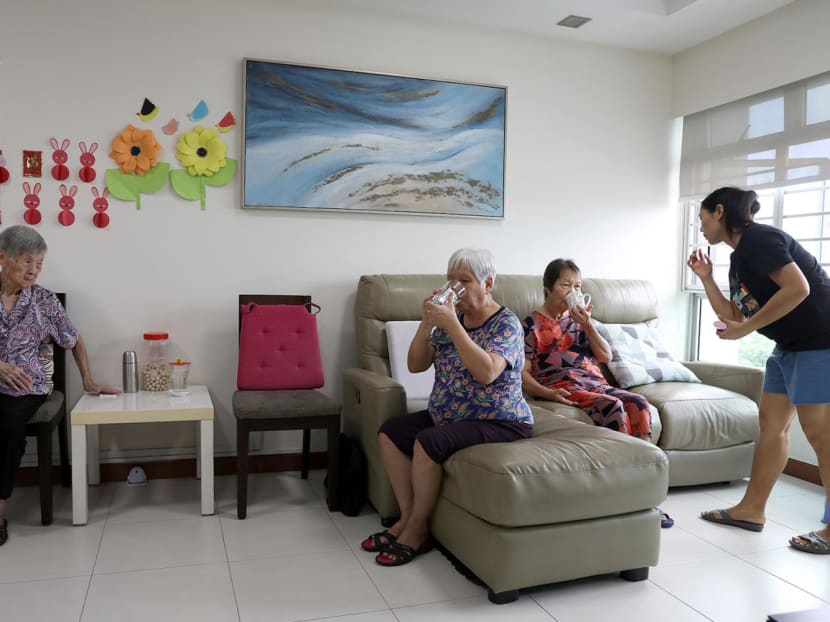 When it comes to ageing at home with the aid of a live-in domestic helper, experts said that the reliance on such workers is not a sustainable model of caregiving, as the countries they hail from are also ageing.

"One day they are going to cut that away from us and we will be in trouble," said Dr Kelvin Tan, head of the Minor in Applied Ageing Studies programme at the Singapore University of Social Sciences (SUSS).
To manage the ageing population better and provide caregivers with more help, there has to be a fundamental shift from "reactive" to "preventive" measures in the country's approach to tackling the issue, said experts and eldercare services providers. 
Mr Tommy Tan of Hovi Care, which provides various eldercare services, said: "One possible way is for the Government to support and encourage the private sector to build up more facilities to augment the public-funded centres." 
Other suggestions by the experts include expanding options and support for caregivers at a grassroots level, such as having community managers at HDB blocks to assist seniors living there. 
The use of technology to overcome manpower shortages was another proposal.
Ultimately, experts and practitioners familiar with Singapore's eldercare industry agree that both the public and private sectors have to work more closely together to provide more options than what currently exists, if the country is to enable its seniors to age well.
For now, piloting new concepts like assisted living and encouraging more private operators are a step in the right direction, though operators must be confident that such models are financially viable. 
Experts cautioned that the stakes are high if Singapore is not able to offer enough suitable caregiving options in the coming years.

In such a scenario, Dr Tan of SUSS said that more people may have to leave the workforce to care for their ageing family members, while the cost of caregiving services will spiral due to higher demand.

He added: "We should really prepare ourselves early."