Govt listens to concerns raised by MPs, does not push single 'dominant narrative', says Ong Ye Kung in rebutting Opposition
SINGAPORE — It is not true that the Government has tried to push a single "dominant narrative" without regards to alternative proposals put up by the Opposition, Health Minister Ong Ye Kung said.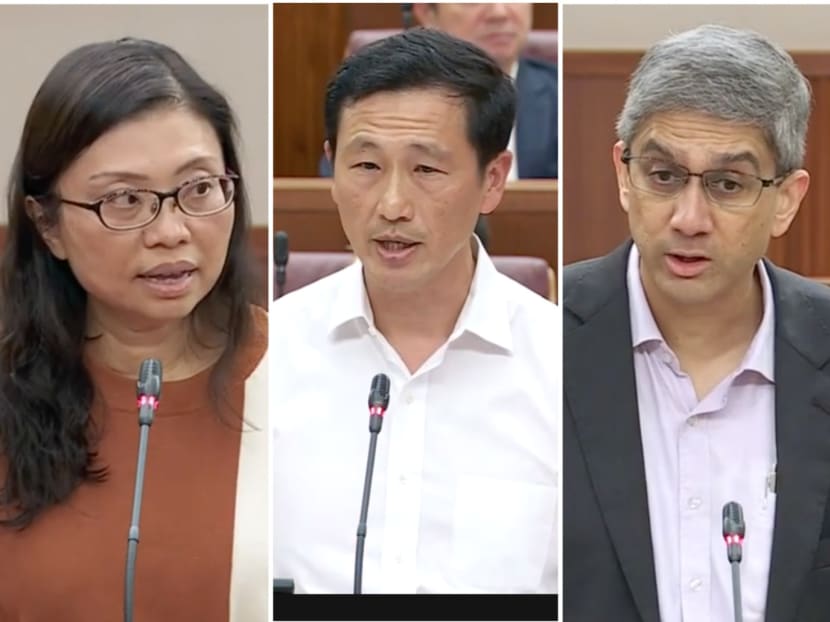 The Government does not push a single "dominant narrative" without regard to proposals from the Opposition, Health Minister Ong Ye Kung said
He was rebutting comments from opposition parties regarding how the Government does not acknowledge or explain why it rejects their ideas
He said that many ideas raised by WP are not fundamentally at odds with existing policies, just in areas of cost sometimes
Mr Ong also addressed the issues on race and foreign talent brought up by the Progress Singapore Party, saying that debates should not divide society's groups here
SINGAPORE — It is not true that the Government has tried to push a single "dominant narrative" without regards to alternative proposals put up by the Opposition, Health Minister Ong Ye Kung said.
"I think it cannot be true. If not, we would not be having such extensive debates on so many issues in this House," he said on Thursday (April 20), the fourth day of a debate on President Halimah Yacob's address to Parliament.
Mr Ong also said that every political party "will have its own dominant narrative" based on its manifesto and values. 
"PAP (People's Action Party) has it. WP (Workers' Party) has it. It is part and parcel of political contestation."
Mr Ong added that the Government has "always acknowledged" the concerns raised by various members of the House, including those from the Opposition.
He was responding to Member of Parliament (MP) Leon Perera from WP and Mr Leong Mun Wai, Non-Constituency MP from the Progress Singapore Party (PSP), who spoke on Tuesday about why and how their parties have come up with proposals and schemes to address residents' needs and concerns.
They were rebutting comments from Deputy Prime Minister Lawrence Wong who said on Monday that he wanted to hear "concrete" alternatives to policies from the Opposition and not "opportunistic or populist ideas".
RESPONSE TO WP
Mr Ong said on Thursday that many MPs, including WP MPs, have raised many ideas in the House.
"We welcome them and, where appropriate, we take those ideas in while formulating or reviewing our policies. And where we have a different view, we will explain why."
Mr Perera earlier alleged that the Government does not explain why it rejects alternative ideas from his party.
Mr Ong said that many ideas raised by WP are not fundamentally at odds with existing policies.
"Sometimes they are shades of the same policy and we need not exaggerate their differences."
However, the fundamental differences are in areas of cost, because WP "very often wants more of what is already being done".
Mr Ong noted that WP "never supported the Goods and Services Tax (GST) system". An alternate budget without GST simply cannot work and is not a viable alternative because the sums do not add up, he added.
WP has also proposed, among other things, changes to the Net Investment Returns Contribution (NIRC) formula.
Instead of drawing half of the NIRC for government spending, WP proposed to draw a higher 60 per cent.
"The PAP government will not agree to it and this is a fundamental difference, too. It has to do with our beliefs and values," Mr Ong said.
The matter of how to use money from NIRC has been debated before and the Government is of the view that the reserves belong to all generations of Singaporeans, now and in the future.
The formula now is deliberately designed to divide the NIRC equally — half for present generation to spend, and the other half adds to the savings for the future.
"It is a formula that is simple, is fair and, I think, is wise."
After Mr Ong's speech, Mr Perera clarified that WP's position is that it accepts a GST of 7 per cent, but it opposed raising it to 8 per cent at the start of this year and then to 9 per cent next year.
If the Government did not raise GST and to make up the loss in revenue, WP had put forth proposals in the past that would generate about S$3.5 billion in incremental revenue.
"It's not that we have not explained, it is not that we have hidden the trade-offs, it is not that we have no explanation for how to finance that gap. We have explained it multiple times in the past," Mr Perera added.
RESPONSE TO PSP
On Mr Leong's comments about the Government painting PSP as xenophobic and racist, Mr Ong said: "We can debate, we can spar, but we should not pit one group against another, over and over again, always looking to tear at the seams of our society. 
"If we keep doing that, it will sow disunity and divide our society. In multiracial, diverse Singapore, our harmony is hard earned."
This was in reference to a debate two years ago about Singapore's foreign talent policy, in particular, its free trade agreement with India and the frustration felt by residents over what they perceived as a free pass for certain Indian professionals here. 
Mr Ong said that he had acknowledged the concern among Singaporeans on jobs and livelihoods in a ministerial statement he delivered in July 2021 on the Comprehensive Economic Cooperation Agreement (Ceca) between Singapore and India.
He added that he had explained how free trade agreements work and how Ceca "preserves our right to immigration policies and setting work pass conditions for foreign nationals who want to work in Singapore".
He recalled having a fairly long exchange with Mr Leong on the matter.
But when Mr Leong filed a motion on foreign talent policy in September 2021, he continued to refer to Ceca as a cause for the widespread anxiety among Singaporeans on jobs and livelihoods, Mr Ong recounted.
"(It) did little to reduce the raw emotions and misimpressions on Ceca that had (been) stoked… It was as if my ministerial statement and explanation… did not happen."
He continued: "All of us, including Mr Leong and the PSP...know that race issues can be played up, especially in multiracial Singapore."
Mr Leong was not present in Parliament on Thursday to respond to Mr Ong. However, fellow party member Hazel Poa said that it was not PSP's intention to target any particular race.
Ms Poa, also a Non-Constituency MP, said that the party was instead factually pointing out that the growth rate of foreign manpower of a "particular nationality is faster than other nationalities".
"Today, we have Compass (Complementarity Assessment Framework), which includes nationality as one of the criteria. So I think that is recognition that this is a valid concern," she added.
"I just want to specify that this is never a matter of race."
She was referring to the Compass points-based assessment system, which is designed to ensure that Employment Pass holders better complement Singapore's domestic workforce.
This pass is given to eligible foreign professionals, managers and executives earning at least S$5,000 a month. 
To this, Mr Ong replied: "We'll see… how the debate moves on from henceforth."
He then gave an analogy of a dispute between two neighbours of different ethnicities over noise or flower pots placed along the corridor.
"You can approach it… based on what the problem is. Or you can approach it with a certain racial undertone.
"A letter can create sworn enemies out of neighbours… Words can be very scary. So be careful what we say.
"We need to preserve the harmony that is so hard-fought and hard-earned."