Expect en blocs, property prices in areas around Paya Lebar Air Base to rise, but not so soon: Analysts
SINGAPORE — With plans to develop Paya Lebar Air Base into a new town, property experts said that homes in the surrounding areas can expect their property prices to rise, though only in more than a decade.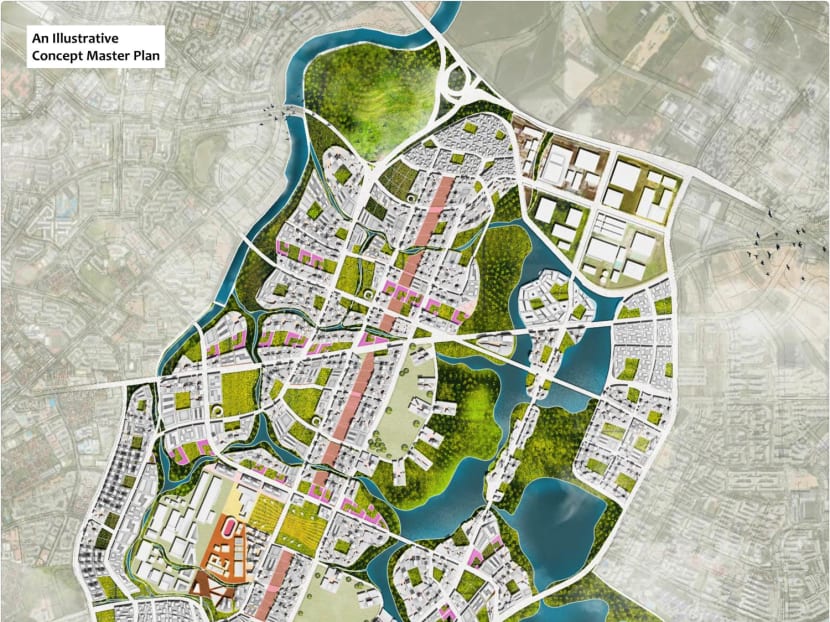 Property experts said redevelopment plans at Paya Lebar Air Base would increase property prices of surrounding homes, but not so soon
They also said that whether an en-bloc boom happens is dependent on the URA Master Plan review slated for 2024
They imagined that the new town will provide 20 to 25 years worth of Build-To-Order flat supply
SINGAPORE — With plans to develop Paya Lebar Air Base into a new town, property experts said that homes in the surrounding areas can expect their property prices to rise, though only in more than a decade.
This is because new towns and Build-To-Order (BTO) flats by the public housing authority often come with new amenities and tend to fetch higher prices than what their owners originally paid for, after the five-year minimum occupation permit. This will lift resale flat prices in surrounding areas. 
Private properties may also appear more attractive to developers looking for opportunities of en-bloc sales.
In his annual National Day Rally speech on Sunday (Aug 21), Prime Minister Lee Hsien Loong said that the air base relocation will start in the 2030s, with the 3.8km runway possibly repurposed into the town's "central spine".
He estimated that 150,000 new homes will be built in the area, which is roughly the number of homes in Punggol and Sengkang combined.
"Once the air base moves out, we can also lift some of the building height restrictions around it, such as in Hougang, Marine Parade or Punggol," he said, adding that these areas can be redeveloped to include more amenities and maximise their use.
"It will not happen overnight. But over decades, we can completely reimagine the eastern part of Singapore."
Experts told TODAY that they do not expect an en-bloc fever in the surrounding areas following the announcement that building height restrictions will be lifted — at least, not just yet.
Mr Nicholas Mak, head of research and consultancy at ERA Realty Network, said: "Just because the height restriction is lifted doesn't automatically lead to an en-bloc sale boom. It must have a corresponding increase in plot ratio, otherwise, there may not be enough incentive for developers to buy over the land."
Plot ratio is the amount of space a developer can build within a plot of land, and is determined in the Urban Redevelopment Authority (URA) Master Plan.
Mr Lee Sze Teck, real estate firm Huttons Asia's senior director for research, said that the master plan will be reviewed next in 2024, which may spell increased property prices and en-bloc sales should the plot ratio increase.
"Maybe in that review, we might see some changes to the land use zoning or even plot ratio. But for now, we don't think there will be any effect on the property prices for homes in the area," he said.
However, Mr Mak said that there are considerations when increasing the plot ratio, which is mainly how much amenities will be required for the future population of the area.
For example, he believes that more infrastructure investments — such as wider roads, schools, hospitals, fire stations and police stations — will be needed. 
Mr Ismail Gafoor, chief executive officer of PropNex Realty, said: "While we do not have specific details on current height restrictions across Hougang, Marine Parade and Punggol, we anticipate that more high-rise developments — perhaps 30 to more than 40 storeys in height — may be built with the lifting of height restrictions in the future.
"This may also be positive for property owners seeking collective sale down the road since the removal of height restriction could likely enhance the en-bloc potential of some developments."
Ms Christine Sun, senior vice-president of research and analytics at OrangeTee and Tie, said that older flats in the Hougang and Marine Parade area may also be redeveloped under the Selective En bloc Redevelopment Scheme (Sers).
This will enable the Government to better optimise land use when height restrictions are lifted, allowing taller flats to be built, she added. There are 8,871 flats in the estate that would be more than 50 years old in 10 years' time.
However, Mr Mak said that redevelopment is unlikely to happen in the Punggol estate since it is a "fairly young town" with most flats being between 10 and 15 years old — making them ineligible for Sers or the Voluntary Early Redevelopment Scheme where ageing properties may be redeveloped before their leases expire.
Plans to utilise the Paya Lebar Air Base for housing and industries were first announced during the 2013 National Day Rally. 
URA said in June this year that the 800ha of land will be transformed into a "new generation town with homes, jobs and lifestyle options".
POSSIBLE PLANS AT REFRESHED AIR BASE SITE
Mr Mak said that once Paya Lebar Air Base moves out, urban planners will have a "blank canvas" to work on, allowing them more flexibility and freedom to plan without having to work around any privately owned property.
Since PM Lee had mentioned that the Paya Lebar Air Base's runway could be conserved and used as the upcoming town's "central spine", experts were guessing that amenities and a train station could be located there.
Mr Lee Sze Teck said: "We think that an MRT station will likely be close to the 'central spine' because that's probably where there will be a lot of amenities, activities, placemaking and stuff located."
He believes that a station covered by the Cross Island Line will be located at the new town, making it popular for developers and property buyers.
"By the time they are able to launch a site for sale, it's definitely after 2030. The Cross Island Line will more or less be completed by then. The amenities in the area, the connectivity and (the whole town) will be much improved, making it attractive," Mr Lee Sze Teck said.
Because of the station, Ms Sun said that there may be integrated developments, white sites or mixed development sites planned in the area.
"We can expect a good mix of low- to high-rise developments as building height restrictions will be lifted," she added.
"For this Paya Lebar site, assuming 30,000 to 50,000 units may be planned for private housing and 100,000 to 120,000 units may be planned for BTO flats, there could be around 100 to 130 BTO launches from this site ranging from 700 to 1,500 units for each project," she said.
Assuming that HDB launches five projects a year, she estimates that the BTO supply will last around 20 to 25 years.
For private homes, there might be around 40 to 70 condominium launches, which will see "healthy" demand from homeowners.
"Due to the generous space available, larger land parcels or bigger condo projects offering ample facilities can potentially be built," she added.