Urban beehive sets Orchard Road abuzz
SINGAPORE — The next time you walk along Orchard Road, you might notice a certain buzz in the air — and not from the crowd of shoppers, or the traffic.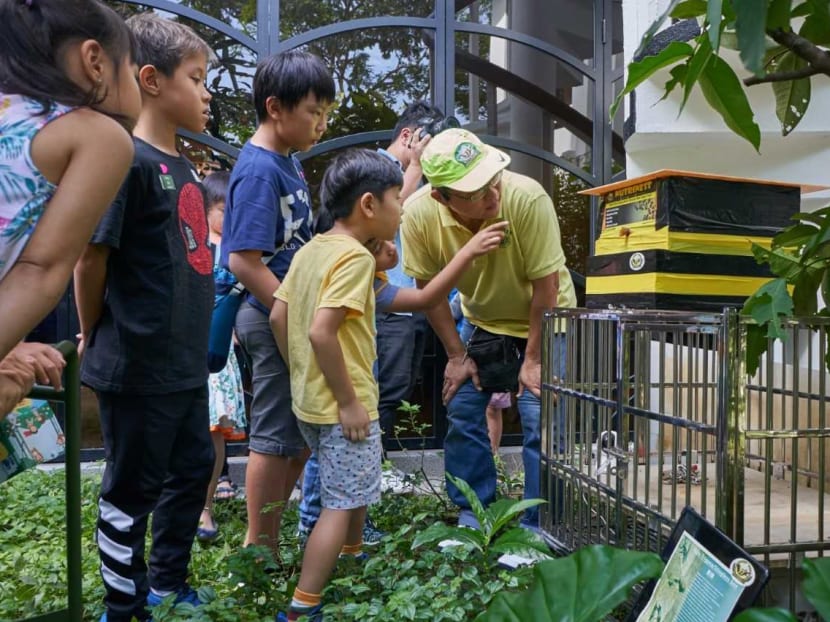 SINGAPORE — The next time you walk along Orchard Road, you might notice a certain buzz in the air — and not from the crowd of shoppers, or the traffic.
Instead, it is quite likely a foraging bee returning with food in the form of pollen to an urban beehive found at the rooftop garden of the Temasek Shophouse, a co-working space opposite Dhoby Ghaut MRT and near MacDonald House. The hive houses a colony of stingless bees called the Trigona.
The hive is a collaboration between Temasek Trust, a philanthropic arm of Temasek Holdings, and local beekeeper Xavier Tan that started in July this year — part of a growing trend of urban beehives worldwide.
The four-storey heritage building, which is managed by Temasek Trust, recently hosted its first urban bee garden workshop for the public on Dec 8.
Mr Tan, who maintains the hive and led the workshop, told TODAY that he hopes that installing the hive in the heart of the city will benefit not only the surrounding gardens, but will also raise awareness of the plight bees are facing around the globe.
In 2006, scientists discovered the Colony Collapse Disorder, a disease that has decimated the bee population worldwide. As the pollinators are responsible for a third of the world's food crops, the discovery sparked panic about a potential food shortage.
Researchers say the global bee population, which also has to contend with bee-harming neonicotinoid pesticides that can cause colony collapses, has yet to return to healthy levels.
Mr Tan said one way to help the bees is by educating the public that the flying insects are not the dangerous pests that people think they are.
"If you don't disturb them (the bees), they will just leave you alone," said the founder and owner of Nutrinest — a one-man operation in Singapore that conducts educational workshops, humane bee removal and beekeeping.
Fresh honeycomb on display at the urban bee garden workshop at Temasek Shophouse in Orchard Road. Photo: Jim Tan/Fly Pixar
The 53-year-old has previously organised events at his apiary in Sembawang, where guests were invited to witness his point first hand.
Ms Yvonne Tay, the director of the Temasek Shophouse, said that bees are critical for the health of our biodiversity, as they are responsible for most pollination. "A drop in the population of bees will adversely affect our food supply," she said.
The Trust wants to take an active role in protecting wild bees, said Ms Tay, and it also hopes to "connect city-dwellers with nature".
At the workshop, apart from learning about the importance of bees, and ongoing conservation efforts, more than 100 attendees learnt how to make ice cream with raw honey and bees' wax lip balm using ingredients from Mr Tan's hives.
"Growing up in a concrete jungle, many of us are suffering from a lack of understanding and ease amongst nature and wildlife," said Ms Tay. "We hope to demonstrate that these bees can thrive peacefully in the modern landscape, and serve as a great example for others to adopt or explore further."
More bee-related workshops are in the pipeline, though no details are available yet.
Beyond the outreach programmes, Mr Tan hopes to create a "bee-friendly environment" by establishing more urban hives within the city — which could complement the many rooftop gardens around town by both pollinating the flowers and providing a source of ingredients for restaurants.
He also envisions a future where apiaries could be established in places like Choa Chu Kang, alongside vegetable farms that require pollinators.
"You'll realise that plants with bees are healthier compared to plants without," he said. "Scientific studies (also) said that with bees around, you will be able to increase the production yield (of vegetables and fruits) by around 30 to 40 per cent."
"Bees benefit people," said Mr Tan. And rather than spending money on technology to replicate what a bee can already do, it could be channelled towards conserving them instead.
"We are just borrowing resources from the Earth when we are still alive," he explained. "If we care for our next generation, we should leave something that is good behind for them."